Endpoint Security Market Research, 2031
The global endpoint security market was valued at $14.6 billion in 2021, and is projected to reach $31.9 billion by 2031, growing at a CAGR of 8.4% from 2022 to 2031.
Complete lockdown, social isolation, and quarantine, among other pandemic response tactics, have had a negative effect on several global industries, including a portion of the IT security sector. Enterprise virtual private network (VPN) servers were essential to groups and institutions because so many workers now worked from home and so many students were enrolled in online courses. As a result, businesses faced greater cyber risks and threats as a result of the quick adoption of new ideas. There has been an increasing number of COVID-19 websites offering fake prepositions in return for personal information, which is one of the main reasons why attacks on corporate emails have increased.
Endpoint security guards against malicious activities and campaigns on endpoints, or entry points, of end-user devices like desktops, laptops, and mobile devices. Technologies for endpoint security stop cyber dangers from getting to endpoints on a network or in the cloud. There is an increase in the number of PCs, laptops, smartphones, tablets, and point-of-sale terminals with rise in population and digitalization of industrial operations. Moreover, the number of endpoints in global networks will increase in tandem with the proliferation of smart gadgets. Security is obligatory because there are more endpoint gadgets.  Furthermore, endpoint security solutions are becoming increasingly important among different end users worldwide as a result of the rise in number of data breaches that have occurred across numerous industries and exposed millions of customer data records to hackers and caused the loss of millions of dollars for several impacted firms. A variety of endpoints that are susceptible to attacks have been developed as a result of the growing adoption of BYOD trends in organizations.
Furthermore, factors such as increased use of bring your own devices (BYOD) and number of connected devices primarily drive the growth of the endpoint security market. However, lack of skilled workers hampers market growth to some extent. Moreover, the increase in adoption of AI enabled automated responses is expected to provide lucrative opportunities for the market growth during the forecast period.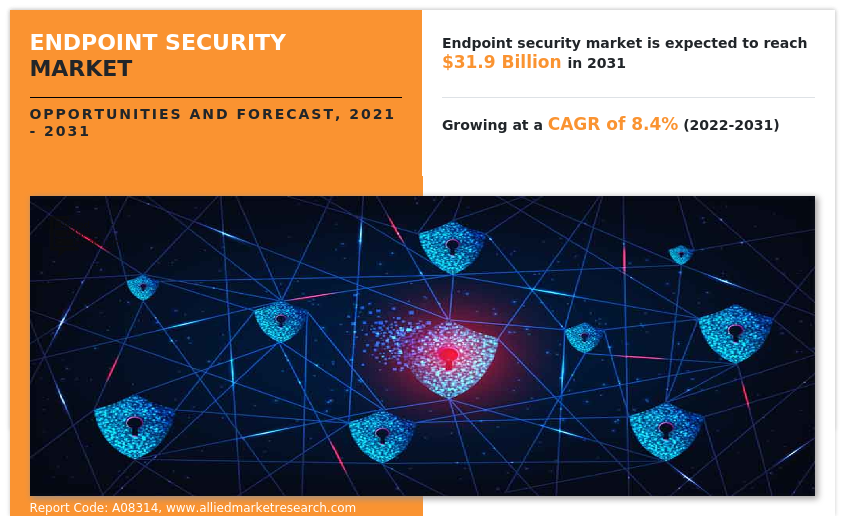 The endpoint security market is segmented into Solution Type, Deployment Mode, Enterprise Size and Industry Vertical.
The endpoint security market is segmented on the basis of solution type, deployment mode, enterprise size, industry vertical, and region. On the basis of solution type, it is bifurcated into endpoint protection platform (EPP) and endpoint detection and response (EDR). On the basis of deployment mode, it is segregated into on-premises and cloud. On the basis of enterprise size, it is classified into large enterprise and Small and Medium-Sized Enterprises (SMEs). On the basis industry vertical, it is divided into IT and telecom, healthcare, manufacturing, BFSI, retail and e-commerce, government and defense, and other. On the basis of region, it is analyzed across North America, Europe, Asia-Pacific, and LAMEA.
The global endpoint security industry is dominated by key players such as Microsoft Corporation, CrowdStrike, Check Point Software Technologies Ltd., Cisco Systems Inc., Trend Micro Incorporated, Broadcom, AO Kaspersky Lab, SentinelOne, McAfee, LLC, and Comodo Security Solutions, Inc.. These players have adopted various strategies to increase their market penetration and strengthen their position in endpoint security industry.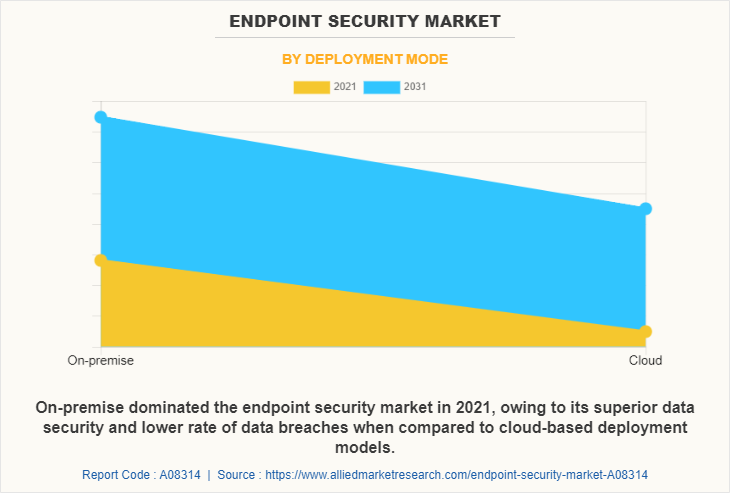 Depending on the deployment mode, the on-premise segment dominated the endpoint security market share in 2021 and is expected to continue this dominance during the forecast period, owing to end-to-end control over the software, protection of intellectual property within the business, and the ability to implement significant customization of the software as needed. On-premises deployments have fewer security issues than cloud-based deployments because the software is deployed on independent computers. However, the cloud segment is expected to witness the highest growth in the upcoming years, owing to the flexibility and financial advantages that come with cloud services. Also, the development of cloud-based endpoint security has boosted venture capital investments among businesses producing endpoint security software.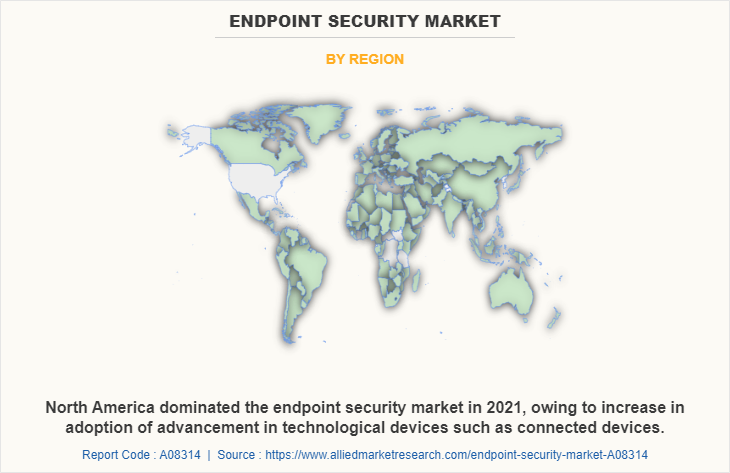 Region wise, the endpoint security market size was dominated by North America in 2021 and is expected to retain its position during the forecast period, owing to the increased number of connected devices in use that has also increased the security risks faced by organizations. However, Asia-Pacific is expected to witness the highest growth in the upcoming years, owing to rapid growth in technologies such as AI, IoT, connected devices, cloud services is attributed to the high demand of high endpoint device protection in Asia-Pacific. Key players in the Asia-Pacific region are adapting strategies such as acquisition and collaboration to improve endpoint security services.
Top impacting factors
Increased use of Bring Your Own Devices (BYOD)
Businesses are increasingly adopting a bring your own device (BYOD) strategy to give employees flexibility. However, using the attackers' strategy targets employee-owned devices because few businesses provide adequate protection for employee-owned devices. Very few companies presently deploy endpoint security for employee's devices in their security management. Similarly, smart smartphones make it simple for hackers to obtain internal data. Furthermore, it is necessary to safeguard and track every internal action, to secure the enterprise's confidential data. The number of endpoints in organizations has grown as a result of the widespread use of mobile devices, connected devices, and remote location servers. The likelihood of assaults and data breaches may rise because of the growing endpoint population. In addition, every terminal is protected by endpoint solutions, which also monitor suspicious activity and device behavior. Therefore, the surge in adoption of BYOD policies is expected to fuel the growth of the endpoint security market.
Rise in number of connected devices
Increase in digitalization and connected gadgets are responsible for an increase in network attacks across all industries. The attackers pick endpoints to access a secure network of a company. These attackers can use laptops, smartphones, wearable technology, and other similar devices to get around the secured corporate network. In addition, endpoint assaults are likely to increase as more solutions like the internet of things (IOT), industrial control systems, and smart sensors are adopted. In recent years, many enterprises disclosed endpoint data breach assaults. However, these are the attacks that were registered, in reality the actual count had been a lot more than these reported attacks. For instance, Cisco Systems, Inc. stated that it could protect its clients from 20 billion threats every day in 2018. The adoption of the endpoint security solutions is being accelerated by these instant detection and reaction solutions. Thus, the rise in number of connected devices and security breaches have significantly increased the endpoint security market growth in recent years.
Government Initiatives
Government agencies in the market introduced various initiatives to provide enhanced endpoint security services for better productivity. In February 2022: The Israeli government joined the Inter-American Development Bank (IDB) to establish a new cybersecurity initiative, committing $2 million USD to help strengthen cybersecurity capabilities in Latin America and the Caribbean (LAC). Israel's funding provides an aid in building cyber capacity across the region by giving officials and policymakers access to forefront practices and world-leading knowledge and expertise. Such factors lead to the growth of endpoint security market.
Key Benefits For Stakeholders
This report provides a quantitative analysis of the market segments, current trends, estimations, and dynamics of the endpoint security market analysis from 2021 to 2031 to identify the prevailing endpoint security market opportunities.
The market research is offered along with information related to key drivers, restraints, and opportunities.
Porter's five forces analysis highlights the potency of buyers and suppliers to enable stakeholders make profit-oriented business decisions and strengthen their supplier-buyer network.
In-depth analysis of the endpoint security market forecast assists to determine the prevailing market opportunities.
Major countries in each region are mapped according to their revenue contribution to the global market.
Market player positioning facilitates benchmarking and provides a clear understanding of the present position of the market players.
The report includes the analysis of the regional as well as global endpoint security market trends, key players, market segments, application areas, and market growth strategies.
 Endpoint Security Market Report Highlights
Aspects
Details
Market Size By 2031
USD 31.9 billion
Growth Rate
CAGR of 8.4%
Forecast period
2021 - 2031
Report Pages
470
By Solution Type

Endpoint Protection Platform
Endpoint Detection and Response

By Deployment Mode
By Enterprise Size

Large Enterprises
Small and Medium-Sized Enterprises (SMEs)

By Industry Vertical

IT and Telecom
Healthcare
Manufacturing
BFSI
Retail and E-commerce
Government and Defense
Other

By Region

North America (U.S., Canada)
Europe (UK, Germany, France, Italy, Spain, Rest of Europe)
Asia-Pacific (China, India, Japan, Australia, South Korea, Rest of Asia-Pacific)
LAMEA (Latin America, Middle East, Africa)

Key Market Players
McAfee, LLC, AO Kaspersky Lab, Check Point Software Technologies Ltd., Cisco Systems Inc., Comodo Security Solutions, Inc., Broadcom, CrowdStrike, Trend Micro Incorporated, Microsoft Corporation, SentinelOne
Analyst Review
According to CXOs of leading market players, the endpoint security industry has become commoditized and saturated. The market has experienced significant renewed growth as many businesses assess their vendor relationships and work to engage in effective and more functional endpoint security solutions. The main factor propelling the growth of the global endpoint security market is the surge in implementation of enhanced security across numerous applications, including IT & Telecom, BSFI, and retail. Furthermore, there is a huge market for endpoint security solutions due to the rise in the number of mobile devices and workplace endpoints with access to confidential data. In addition, physical systems are split up into numerous virtual computers, requiring endpoint security, as virtualization becomes more prevalent. The BYOD trend is also causing a rise in new and undiscovered attacks on the endpoint network of many large and small organizations. The high frequency of these attacks is driving the demand for endpoint security, which is driving the growth of the endpoint security market. 
For instance, in February 2022, RSA business a globally trusted partner for some of the world's largest and most security sensitive organizations, partnered with Exclusive Networks, a global trusted cybersecurity specialist for digital infrastructure, to provide NetWitness' leading threat detection and response solutions to enterprises in the Middle East. Through this partnership NetWitness and Exclusive Networks empowered organizations to improve their cybersecurity strategies in the face of an ever-evolving threat landscape. The NetWitness Platform is an evolved SIEM Threat Detection and Response and open XDR platform that enables security teams to detect, understand the full scope of a compromise, and automatically respond to security threats across modern IT infrastructures. The NetWitness Platform collects and analyzes data across all capture points, including logs, network packets, netflow, endpoint, and IoT, on physical, virtual, and cloud computing platforms. It applies threat intelligence and user behavior analytics to detect, prioritize, and investigate threats, and automate response, improving the effectiveness and efficiency of security operations.