The global energy bar market size was valued at $645.0 million in 2020, and is estimated to reach $1,010.9 million by 2028, registering a CAGR of 6.4% from 2021 to 2028. 
Energy bars are supplement bars that provide energy as well as nutritive value and food benefits. They contain carbohydrates, fats, and proteins, which help to provide immediate energy and are frequently used as a meal replacement. The protein and added carbohydrates in the bar can provide the energy one needs to get through workout or training. It also provides the post-workout nutrition the body requires to build new muscle tissue and repair any minor muscle tears that occurred during the workout.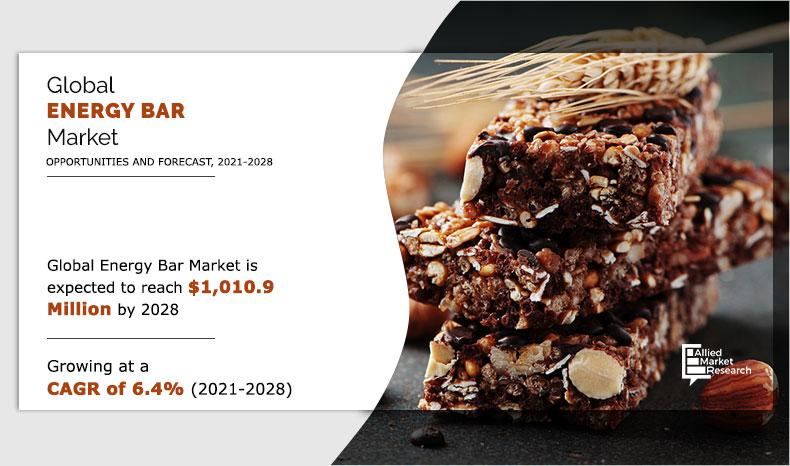 Consumer demand for convenient and healthy on-the-go snack options has been the most important factor driving the global energy bar industry sales. Furthermore, attributed to their small packaging and high energy content, it is an ideal solution for adults who require immediate results. It also contains proteins, other nutrients, and micronutrients that are needed on a daily basis, resulting in a well-balanced diet in a small package. 
Moreover, the growing demand for energy bars to meet a variety of consumer needs has resulted in different types of product innovations and an increase in the use of healthy ingredients. The addition of labels, such as gluten-free, vegan, low fat, low calorie, no added sugars, and sweeteners, to these bars propels the market growth. 
Gym culture and fitness routines are becoming increasingly popular across the world. Memberships in gyms and fitness centers have steadily increased over the last 8 to 10 years. As a result, there has been a significant increase in demand for performance nutrition foods such as energy bars. Energy bars are well-known for providing consumers with instant energy, making them an excellent choice for pre & post-workout meals for gym members. The millennials are known to be more involved in fitness and recreational activities, thereby increasing the demand for energy bars.
Globally, the demand for convenience foods is increasing at a faster rate as a result of changes in social and economic patterns as well as increased food & beverages expenditure, awareness about healthy foods, changes in meal patterns and existing food habits, and a desire to try new products. Due to hectic lifestyles, on-the-go snacking is becoming extremely popular, particularly among working-class people, teenagers, people living in hostels, and bachelors. These are some of the energy bar market trends. Furthermore, the concept of on-the-go snacking is closely associated with the ease of consumption and handling of products, which energy bars provide. Therefore, the demand for energy bars is increasing as a result of the associated convenience of consumption to boost energy aided by disposable packaging that prevents the bars from coming into contact with hands, keeping them clean to work at the same time. 
On the other hand, energy bars cannot be used as a substitute for whole-food sources as they do not contain all the required ingredients and excessive consumption of energy bars adds additional calories to the diet, which are the main factors restricting the market. However, rise in the number of food allergies as a result of specific food products coupled with various regulations regarding specific ingredients is expected to act as a restraint on the growth of the energy bar market while lack of product preference may pose a challenge to the energy bar market growth.
The COVID-19 pandemic created energy bar market opportunity for many private players to emerge in the market to meet the increased demand for snack products, which benefited energy bar manufacturers.
The demand for innovative snacks is consistently high in developed countries, owing to the associated convenience of storage, quick usage, and easy provision for nutrition and energy requirements. During the lockdown, online stores witnessed remarkable increase in sales of products, such as snacks, bars, and other convenience foods, sustaining the energy bar market demand. Most people preferred to buy in bulk as they were afraid of running out of products. As a result, large basket of energy bar market size remained a significant reason for the survival of snacks and bars in all regions. 
The global energy bar market segmentation is done on the basis of type, nature, distribution channel, and region. On the basis of type, the market is categorized into protein bar, nutrition bar, cereal bar, and fiber bar. As per nature, it is divided into organic and conventional. According to distribution channel, it is fragmented into hypermarkets & supermarkets, convenience stores, specialty stores, and online sales channel.
Region-wise, the energy bar market is analyzed across North America, Europe, Asia-Pacific, and LAMEA. In this way, energy bar market analysis is done by considering various segments.
By type, the protein bar segment garnered the highest energy bar market share in 2020 according to energy bar market forecast due to increased consumers' preference for portable convenience foods. On the basis of nature, the organic segment is anticipated to dominate with the highest energy bar market share during the forecast period. This is attributed to increase in organic snack start-ups, consumer awareness of chemical-free products, increase in population that prefers organic food, rise in consumer spending capacity, use of advanced technology for bar processing, food technologists endorsing organic food bars over conventional bars, and product penetration through major retail sectors and online platforms. 
Depending on distribution channel, the specialty stores segment led the market in 2020. This is attributed to the fact that specialty stores offer options such as discounts and convenience of instant gratification. Region-wise, North America is expected to dominate the market. The growing demand for functional food, indulgence, meal replacement, and on-the-go snacking is driving the growth of the energy bar market in North America.
The prominent energy bar industry participants include Brighter Foods Ltd, Cliff Bar & Company, General Mills Inc, Kind LLC, McKee Foods Corporation, NuGo Nutrition, Premier Nutrition Inc, Probar LLC, Quest Nutrition, and Kellogg Company.
Key Benefits For Stakeholders
This report provides a quantitative analysis of the current trends, estimations, and dynamics of the global energy bar market from 2021 to 2028 to identify the prevailing market opportunities.
Porter's five forces analysis highlights the potency of buyers and suppliers to enable stakeholders to make profit-oriented business decisions and strengthen their supplier–buyer network.
In-depth analysis of the market segmentation assists to determine the prevailing market opportunities.
Major countries in each region are mapped according to their revenue contribution to the global market. 
The market player positioning segment facilitates benchmarking while providing a clear understanding of the present position of the key market players.
The report includes analysis of the regional as well as the global market, key players, market segments, application areas, and growth strategies.
Key Market Segments
By Type
Protein Bar
Nutrition Bar
Cereal Bar
Fiber Bar
By Nature
By Distribution Channel
Hypermarkets & Supermarkets
Convenience Stores
Specialty Stores
Online Sales Channel
By Region
North America
Europe 

UK
France
Netherlands
Germany
Turkey
Rest of Europe

Asia-Pacific

China
Japan
India
South Korea
Australia
Rest of Asia-Pacific
LAMEA

Brazil

South Africa
UAE
Rest of LAMEA