EO/IR Gimbal Market Research, 2030
The global eo/ir gimbal market size was valued at $604.90 million in 2020 and is projected to reach $2.1 billion by 2030, growing at a CAGR of 13.3% from 2021 to 2030.
Gimbal refers to a pivoted support allowing rotation of any object on a single axis. EO/IR gimbals are the pivots that majorly consist of electro-optical (EO) and infrared (IR) sensors and a gyroscope to stabilize the camera attached with it. Electro-optics/infrared (EO/IR) gimbal is a small device with a dual sensor, which gives better pointing accuracy. They are featured with 360-degree continuous rotation and gyro-stabilization that help them to reduce the tilt of an aircraft or a boat. Its different applications include search & rescue, aerial survey, fire inspection, and traffic surveillance.
The 2-axis EO/IR gimbals segment has been negatively impacted by the COVID-19 pandemic outbreak.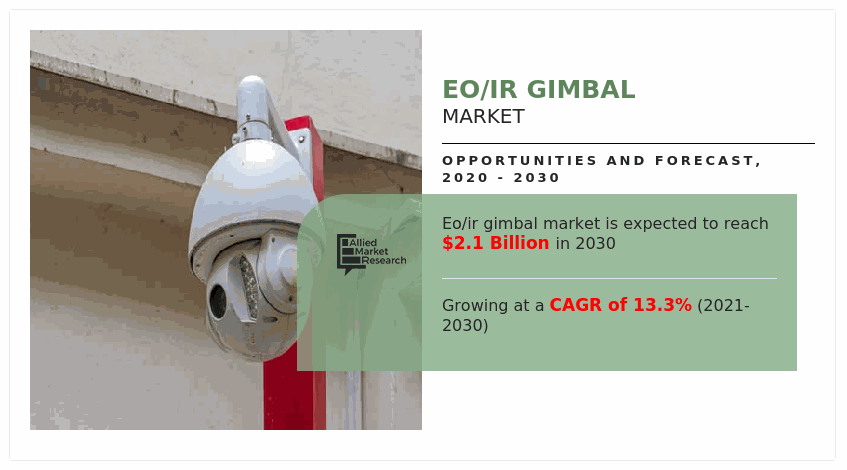 The EO/IR gimbals market growth is majorly driven by an increase in demand for intelligent sensors and sighting devices, countermeasures, and reconnaissance. However, the launch of new upgraded technologies in a similar field hampers the market growth. Some of the prominent features of EO/IR gimbals are object tracking, real-time video stabilization, navigation, onboard video encoding, anti-vibration, and GEO-lock. The rise in interest of businesses to develop next-generation logistics, the surge in demand for drones for recreational purposes, and rise in requirement of intelligent surveillance drive the EO/IR gimbals market growth. Moreover, regulations imposed by various countries on the use of drones limit EO/IR gimbal market growth. However, the increase in investments in defense systems by various countries and the surge in R&D investments by market players for product development are the factors that create lucrative opportunities for the EO/IR gimbal market outlook during the forecast period.

The eo/ir gimbal market is segmented into Product Type and End-Use.
EO/IR Gimbal Market

---
By Product Type
3-Axis EO/IR Gimbals acquired a major share in global EO/IR Gimbal market in 2020
By product type, the market is bifurcated into 2-axis EO/IR gimbals and 3-axis EO/IR gimbals. By end-use, it is divided across UAV/UAS, defense, marine, law enforcement, and other segments.
EO/IR Gimbal Market

---
By End Use
The defense segment dominated teh market in 2020
By region, the market is analyzed across the U.S. and The rest of World. The rest of the World holds the major share in EO/IR gimbal industry, owing to the surge in demand from the marine and defense sectors globally.
EO/IR Gimbal Market

---
By Region
Rest of the World segment garner significant market share in 2020.
TOP IMPACTING FACTORS
Significant impacting factors in the EO/IR gimbals market include an increase in demand for intelligent security and a rise in the interest of consumers in drones for recreational purposes. In addition, the market is also influenced by regulation on drone usage, the development of next-generation logistics, the surge in defense investments, and an increase in R&D activities. Each of these factors is anticipated to have a definite impact on the EO/IR gimbal market share during the forecast period.
COMPETITION ANALYSIS
Competitive analysis and profiles of the major digital mobile radio market players such as Lockheed Martin Corporation, ZHIYUN, Leonardo DRS, L3 WESCAM (L3HARRIS TECHNOLOGIES, INC.), and FLIR Systems, Inc (Teledyne FLIR LLC).
COVID-19 IMPACT ANALYSIS
The outbreak of coronavirus has led to a halting in the production process in 2020, owing to the global lockdown scenario causing disruption in the overall supply chain of electronic components. COVID-19 outbreak has caused a lag in meeting the requirements of end-users, as the epicenter of the virus outbreak Wuhan, China accounts for the largest manufacturing items of electronic components. On January 30, 2020, the outbreak of this disease on a global scale was acknowledged as a Public Health Emergency of International Concern.
In December 2020, DJI Company along with dozens of other Chinese companies was blacklisted by the U.S. government, which eventually fueled the prices of components and technology. This disruption in the demand-supply chain is expected to cause the market share to decline abruptly, owing to travel restrictions on a global basis.
COVID-19 has impacted both consumers and the economy. Electronics manufacturing hubs have been temporarily shut down to limit the COVID-19 spread among individuals. This has majorly affected the supply chain of the EO/IR Gimbal industry by creating a shortage of materials, components, and finished goods. Lack of business continuity ensured a significant negative impact on revenue and shareholder returns, which further resulted in financial disruptions in the market.
In addition, changes in government lockdown patterns and difficulties in reaching consumers are significantly impacting demand and prices. However, demand for EO/IR camera has increased after the lockdown period has shortened as more infrastructure work has started.
Major players operating in the EO/IR Gimbal market are expected to make moderate R&D cuts, which allows them to sustain a rich and evolving product portfolio. In addition, companies strive to fund innovation rather than setting the bare minimum budget required to keep R&D running.
Demand for new and innovative products is expected to surge once the economy begins to recover. Rather than simply improving products using current state-of-the-art technology, companies are looking forward to investing in next-generation products using new technologies. For instance, in February 2022, AeroVironment, Inc., one of the global leaders in intelligent, multi-domain robotic systems, received a contract of worth $8,541,428 from the U.S. Department of Defense Foreign Military Sales (FMS) to provide Puma 3 AE small unmanned systems equipped with EO/IR gimbal payloads. This will help customers to enhance their surveillance, security, and defense capabilities.
Key players in the EO/IR Gimbal market forecast are shifting toward an agile supply chain network model that has multiple pathways to prevent single points of failure. It can help them to balance costs with better assurance for business continuity and sustainability. Shifting from single country hubs to more extensive regional supply networks will initiate collaborative partnerships and industry associations. Stakeholders will be investing in resources and infrastructure that can quickly enable new manufacturing and supply nodes when required.
To stimulate the local economy, several governments have announced subsidies and incentives, which vary by region. However, the COVID-19 crisis is expected to accelerate the adoption of multi-censored EO/IR Gimbals and advanced technology capabilities such as artificial intelligence (AI) and machine learning (ML), which is expected to create a lucrative EO/IR Gimbal market opportunity.
Key Benefits For Stakeholders
This report provides a quantitative analysis of the market segments, current trends, estimations, and dynamics of the eo/ir gimbal market analysis from 2020 to 2030 to identify the prevailing eo/ir gimbal market opportunities.
The market research is offered along with information related to key drivers, restraints, and opportunities.
Porter's five forces analysis highlights the potency of buyers and suppliers to enable stakeholders make profit-oriented business decisions and strengthen their supplier-buyer network.
In-depth analysis of the eo/ir gimbal market segmentation assists to determine the prevailing market opportunities.
Major countries in each region are mapped according to their revenue contribution to the global market.
Market player positioning facilitates benchmarking and provides a clear understanding of the present position of the market players.
The report includes the analysis of the regional as well as global eo/ir gimbal market trends, key players, market segments, application areas, and market growth strategies.
 EO/IR Gimbal Market Report Highlights
Aspects
Details
By Product Type

2-axis EO/IR gimbals
3-axis EO/IR gimbals

By End Use

UAV/UAS
Defense
Marine
Law Enforcement
Others

By Region

North America (U.S.)
Europe (Rest Of The World)

Key Market Players
LEONARDO DRS, FLIR SYSTEMS, INC., LOCKHEED MARTIN CORPORATION, CONTROP PRECISION TECHNOLOGIES LTD., L3 WESCAM (L3HARRIS TECHNOLOGIES, INC., ASCENT VISION TECHNOLOGIES, I2TECH, HARRIS AERIAL, UKRSPECSYSTEMS, ZHIYUN, MERIO, Aerovironment, Inc.