The global ethanol car market was valued at $567.9 billion in 2021, and is projected to reach $1,207.6 billion by 2031, growing at a CAGR of 7.8% from 2022 to 2031.
Ethanol cars are vehicles with an internal combustion engine specifically designed to operate on more than one kind of fuel and are referred to as dual-fuel vehicles. It uses ethanol as an alternative fuel to be used entirely or in a blended form with gasoline as ethanol can be produced synthetically as well as biologically. Synthetic ethanol is readily synthesized from natural gas, coal, and ethylene, a petroleum by-product. Synthetic ethanol from coal is half the cost of ethanol from cane. Ethanol produced by fermentation of renewable food crops, such as sugarcane, maize, wheat, sorghum, beet, and other starches, is known as bioethanol. It is an eco-friendly alternative biofuel. Informally, these vehicles are referred to as flexible-fuel vehicles or FFVs. Although a flex-fuel engine can be designed to run on pure ethanol, FFVs in the U.S. are optimized to run on E85, a gasoline-ethanol blend with 51 to 83 percent ethanol, according to the U.S. Department of Energy. Even though ethanol delivers slightly less gas mileage, its eco-friendly benefits make it a viable option for drivers.
The pandemic hampered the production of crucial raw materials such as steel, which are used to produce alternative fuel-powered vehicles, hurting the global supply of these engines. For instance, in January 2021, Japanese steel output declined by 3.9%, while in January 2020, it plummeted by 9.9%. Flex fuel engine manufacturers' (ethanol cars) production capacity has been hampered by a widening gap between supply and demand for raw materials, as well as the closure of automobile component manufacturing sites. Hence, the pandemic has had a detrimental impact on ethanol car engine suppliers due to decreased vehicle sales and manufacturing. Ethanol car engine manufacturers, on the other hand, have focused their efforts on developing and launching better ethanol vehicles through innovative methods. Owing to the development of advanced environmentally friendly automobiles with the ability to increase vehicle drivability, automotive manufacturers are increasingly using current alternative power sources to power modern automobiles.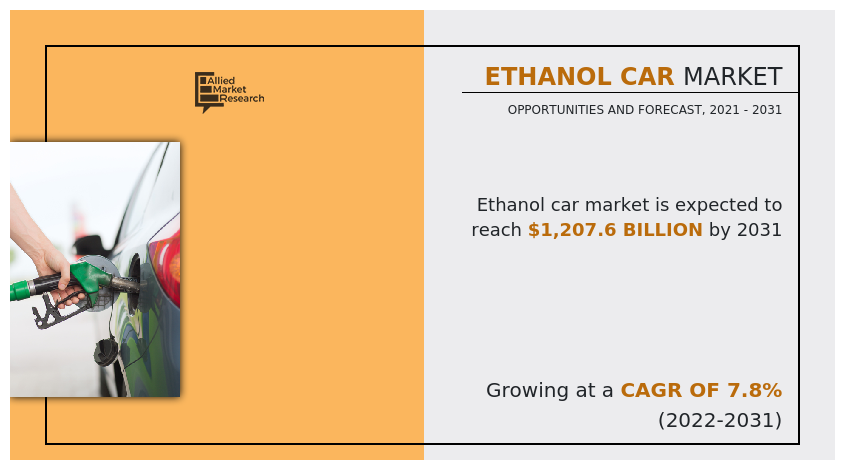 Increased demand for carbon-neutral automobiles around the world to counter the rise in global pollution levels propels the ethanol car market forward during the forecast period. The FFVs have various advantages, including domestic production capabilities and renewability, which might lessen the country's reliance on foreign petroleum. E85 produces fewer greenhouse gas and benzene emissions than gasoline, which encourages the use of flex-fuel engines. For instance, in June 2020, General Motors Company introduced the Chevrolet Silverado HD and GMC Sierra HD, both of which are equipped with Flex Fuel-capable engines that can run on E85 ethanol and gasoline.
The factors such as stringent environmental regulations & vehicle emission norms, depleting fossil-fuel reserves, and less CO2 emission from vehicles supplement the growth of the ethanol car market. However, engine damage concerns and scarcity of ethanol-based fuel stations are the factors expected to hamper the growth of the market. In addition, increase in adoption of sustainable automotive technologies and increased automotive performance on higher ethanol blends creates market opportunities for the key players operating in the ethanol car market.
Ethanol Car Market

---

By Fuel Type
Diesel is projected as the most lucrative segment
The ethanol car market is segmented into fuel type, vehicle class, blend type, drive type, and region. By fuel type, the market is divided into gasoline and diesel. By vehicle class, it is fragmented into hatchback, sedan, SUV, and others. By blend type, it is categorized into E10 to E25, E25 to E85, and Above E85. By drive type, it is further classified into front wheel drive (FWD), rear wheel drive (RWD), and all wheel drive (AWD). By region, it is analyzed across North America, Europe, Asia-Pacific, and LAMEA.
The leading players operating in the ethanol car market are AB Volvo, ADM, Alcogroup SA, BlueFire Renewables, BMW AG, BP p.l.c., Cristal Union Group, CropEnergies AG, Cummins Inc., Ford Motor Company, General Motors, Honda Motor Co., Ltd., Mitsubishi Motors Corporation, Nissan Motor Corporation, Pannonia Bio Zrt., Petrobras, Scania, Stellantis NV, Toyota Motor Corporation, and Volkswagen AG.
Ethanol Car Market

---

By Vehicle Class
Others is projected as the most lucrative segment
Stringent environmental regulations and vehicle emission norms
Vehicles on roads are vital contributors to a nation facilitating the timely movement of goods and other consumer-related activities. According to the International Air Agency, around 6.5 million deaths are recognized each year due to air quality. Hence, governments of developed countries have established initiatives to reduce vehicular and industrial pollution to reduce individual carbon footprints. For instance, a group of 21 state attorneys general, the District of Columbia, and several large U.S. cities encouraged the U.S. government to implement stringent automobile emission laws in September 2021. Automobile manufacturers create alternative fuel-powered vehicles that provide a greener driving experience with little or no hazardous emissions. Furthermore, the Environmental Protection Agency (EPA) finalized federal greenhouse gas (GHG) emissions standards for passenger cars and light trucks in the US through 2026. The final standards leverage advances in clean car technology to unlock $190 billion in net benefits to Americans, including reducing climate pollution, improving public health, and saving drivers money at the pump. Therefore, to match stringent vehicular emission regulations, automotive OEMs focusing on the adoption of ethanol vehicles as consumers become increasingly aware of the impact of vehicular emissions on the environment, thereby foster the EV test equipment market.
Ethanol Car Market

---

By Blend Type
Above E85 is projected as the most lucrative segment
Depleting fossil-fuel reserves
According to the International Energy Agency, fossil fuels continue to dominate the global energy system, accounting for 81% of primary energy consumption. The volume of conventional oil extracted, which accounts for three-quarters of all liquid oils, has been declining since last decade. The volume of energy per barrel of oil has fallen dramatically in recent years, as have the rates of energy return from oil exploration &extraction, resulting in stagnation in the quantity of energy delivered to the world population for use each year from all liquid oil in recent years. The amount of energy accessible per person has already declined internationally due to the rapid rise of the human population. Since exporting countries' domestic consumption has increased, the volume of oil placed on the world market, which is currently around half of total production, has already declined. Furthermore, as fossil fuel supplies have depleted, the cost of fuels has risen, increasing the country's overall import expenditure by relying on petroleum goods from neighboring countries. For instance, Maruti Suzuki announced plans to investigate the potential of ethanol-based engines in India in October 2021. Thus, such concerns about fossil fuel depletion propel the growth of the ethanol car market in the anticipated timeframe.   
Ethanol Car Market

---

By Drive Type
All Wheel Drive is projected as the most lucrative segment
Engine damage concerns
Since flex-fuel (ethanol) collects dirt quickly, it can cause corrosion and engine damage. Various materials, such as some types of plastic, rubber, and metals, can be corroded by ethanol. When a sensitive substance is exposed to ethanol for an extended period of time, it deteriorates. This can cause significant engine damage. Weather and moisture content affect the quality of gasoline; however, ethanol exacerbates the situation. A more substantial proportion of alcohol in a gas tank can grip and hold more water than pure gasoline. If the water concentration increases enough, the alcohol and water are expected to separate from the gasoline, resulting in a mixture that the automotive engine may not be able to use. Hence, these deposits do not dissolve easily; they just get carried along until they get stuck, resulting in engine clogging. Furthermore, ethanol has lower energy content per gallon than gasoline, resulting in a drop in the fuel economy of the vehicle. Thus, such factors related to engine damage concerns are expected to hinder market growth.
Increased automotive performance on higher ethanol blends
Ethanol is a low-cost, high-octane biofuel that is mixed with regular gasoline. The increase in octane provided by biofuel improves engine performance and allows for more efficient engine designs. Also, ethanol offers more power while emitting less pollution, paving the way for widespread adoption in the automotive sector in the future years. The ethanol's cleaner burn promotes cleaner air and improves engine efficiency. Ethanol and other high-octane fuels help generate more horsepower and speed. Most automobiles require fuel with an octane rating of at least 87. Ethanol has an octane value of 113 and is blended with gasoline fuels to achieve an octane rating of at least 87 for usage in modern automobiles. Hence, it gives the desired boost and is incorporated in car fuels since it is clean, renewable, abundant, and inexpensive.
Ethanol contains approximately three times the vaporization heat of gasoline, which means it cools the engine more effectively. The engine's power is expected to rise with a cooler intake charge. Furthermore, by increasing octane and lowering charge temperature, ethanol reduces the engine's susceptibility to a fuel's tendency to auto-ignite or knock. Such enhancements in automotive performance by using higher ethanol blends are expected to create lucrative opportunities for the ethanol car market in the forecast period.
Ethanol Car Market

---

By Region
North America
Europe
Asia-pacific
Asia-Pacific would exhibit the highest CAGR of 11.9% during the forecast period 2022-2031
Key Benefits For Stakeholders
This study presents analytical depiction of the global ethanol car market analysis along with current trends and future estimations to depict imminent investment pockets.

The overall ethanol car market opportunity is determined by understanding profitable trends to gain a stronger foothold.

The report presents information related to the key drivers, restraints, and opportunities of

the global ethanol car market with a detailed impact analysis.

The current ethanol car market is quantitatively analyzed from 2022 to 2031 to benchmark the financial competency.

Porter's five forces analysis illustrates the potency of the buyers and suppliers in the industry.
 Ethanol Car Market Report Highlights
Aspects
Details
Fuel Type
Vehicle Class

Hatchback
Sedan
SUV
Others

Blend Type

E10 to E25
E25 to E85
Above E85

Drive Type

Front Wheel Drive
Rear Wheel Drive
All Wheel Drive

By Region

North America (U.S., Canada, Mexico)
Europe (U.K., Germany, France, Italy, Rest of Europe)
Asia-Pacific (China, Japan, India, South Korea, Rest of Asia-Pacific)
LAMEA (Brazil, Argentina, South Africa, Rest of LAMEA)

Key Market Players
AB Volvo, AUDI, BMW, Cummins Inc., Fiat Chrysler Automobiles, Ford Motor Company, General Motors Company, Honda Motor Co., Ltd., Jaguar, Land Rover, Lexus, Mitsubishi Motors Corporation, Nissan Motor Co., Ltd., Toyota Motor Corporation, Volkswagen AG, Rolls Royce (Key Innovators), Volvo Cars (Key Innovators)