The global EV test equipment market was valued at $40.7 million in 2021, and is projected to reach $346.9 million by 2031, growing at a CAGR of 23.8% from 2022 to 2031.
EV test equipment is a device that is used to check different components of electric vehicles (EV), such as a battery, motor, and others, so that the automotive parts stay ahead of the competition, give a guaranteed performance, and provide customer safety, and satisfaction. It is further used to assess the total vehicle performance, EV battery & charger testing, power electronics testing, and motor and dynamometer testing. Moreover, it covers the back-office systems to communicate with one another, known as interoperability or conformance testing.
The COVID-19 crisis is creating uncertainty in the EV test equipment industry. Governments of different regions have announced total lockdown and temporarily shutdown of industries, thereby adversely affecting the overall production and sales. It also resulted in flight cancellations, travel bans, and quarantines, which led to massive slowing of the supply chain and logistics activities across the world. Since the beginning of 2020, more and more countries across the globe shut down their borders and limited transportation & travel to contain the coronavirus (COVID-19) outbreak, thereby creating impediments for international trade and transportation. Moreover, mandatory preventive measures among nations to contain the spread of the pandemic has resulted in disrupted trade flow and fragmented supply lines, dealing a blow to the logistics industry, which is viewed as an auxiliary for trade and commerce, enabling other industries to deliver goods and services to consumers. Also, the COVID-19 outbreak severely impacted the automotive sector on a global level, which in turn leads to considerable drop in automotive sales, insufficiency of raw material, and others. Many small and big players in the automotive sector have witnessed issues such as halt of production activities, mandated plant closures by the government, and others. Moreover, the demand for replacement parts has also declined since less maintenance is required at the moment because all the people are working from home. On the contrary, COVID-19 had a positive impact on the electric vehicles market since the sales of electric vehicles has increased than the previous year (2021). In addition, Germany, France, and Italy registered 55% higher electric car sales in Europe during the first half of 2020 than in 2019. The growth of the EV test equipment market in Europe is due to rising need for manufacturers to comply with stricter European Union CO2 standards for new passenger cars and vans from January 2020. However, according to experts, it has been projected that the sales of electric vehicles were hampered, due to the pandemic for a short term; thus, the industry is set to bounce back with higher growth than that of the previous year (2020), owing to consistent rise in fuel prices and rise in concerns toward environmental pollutions coupled with provision of the subsidies by various governments. Hence, after the pandemic, the need of EV test equipment is expected to increase again since the market of EV is also witnessing growth.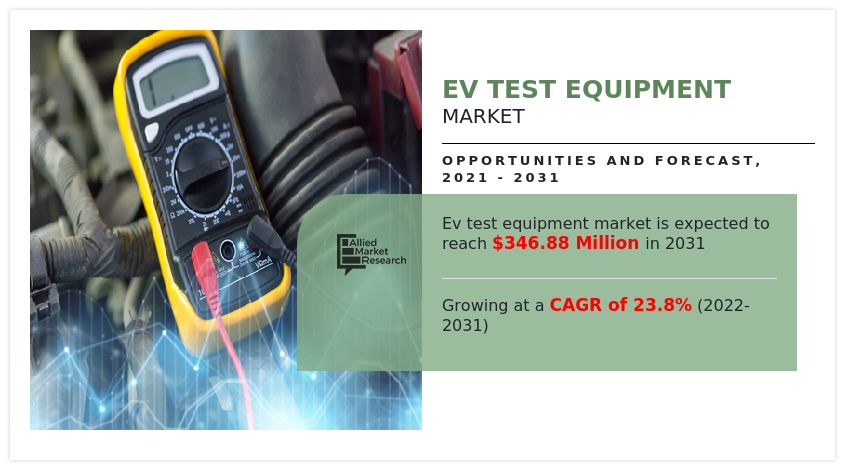 Initially, there were a variety of batteries used in electric vehicles. These include lithium ion, molten salt, zinc-air, and nickel-based designs. Hence, to increase the range of electric vehicles, the testing of battery packs is becoming more prominent, and as a result, new battery technologies have been developed to pose an ever-greater potential safety hazard with a smooth ride. For instance, in April 2021, FEV Group GmbH developed the Testbench Battery Management System (T-BMS), a standardized interface solution for testing battery modules on test benches. It featured a simple calibration system that allowed for quick test operations of different battery modules without the need for time-consuming conversion and adaptation work on the test equipment. This resulted in decreased costs of battery development for the e-mobility segment.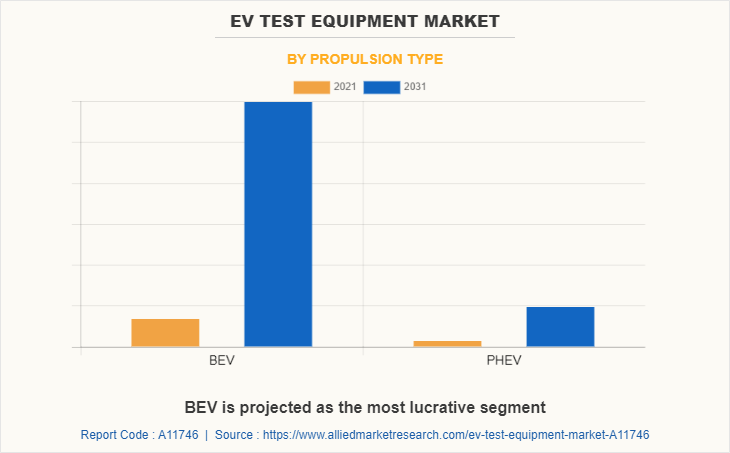 The factors such as increasing demand for electric vehicles, advancements in battery technologies, and stringent vehicular emission norms & regulations supplement the growth of the EV test equipment market. However, high cost of advanced technology equipment and reduction in EV subsidies are the factors expected to hamper the growth of the market. In addition, advancements in EV charging stations and proactive government initiatives for promotion of electric vehicles are some factors expected to create ample opportunities for the key players operating in the EV test equipment market.
The ev test equipment market is segmented into propulsion type, vehicle type, vehicle top speed, vehicle class, application and region. By propulsion type, the market is divided into battery electric vehicle (BEV) and plug-in hybrid electric vehicle (PHEV). By vehicle type, it is categorized into passenger car and commercial vehicle. By vehicle top speed, it is fragmented into less than 100 MPH, 100 to 125 MPH, and more than 125 MPH By vehicle class, it is fragmented into mid-priced and luxury. By application, it is further classified into EV component, EV charging, and powertrain. By region, it is analyzed across North America, Europe, Asia-Pacific, and LAMEA.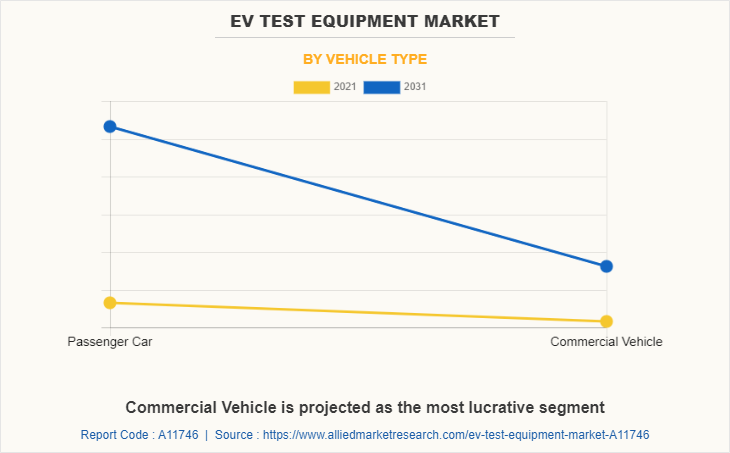 The leading players operating in the EV test equipment market are Arbin Instruments, ATESTEO GmbH, AVL, Blum-Novotest GmbH, Burke Porter Group, Chroma ATE Inc., Durr Group, FEV Group GmbH, HORIBA, Ltd., Intertek Group Plc, Keysight Technologies, KUKA Aktiengesellschaft, SGS SA, Sierra Instruments, Inc., Softing AG, Tasi Group, TÜV Rheinland, and ZF Friedrichshafen AG.
Increase in demand for electric vehicles
Electric vehicles (EVs) are experiencing a rise in popularity over the past few years as the technology has matured & costs have declined, and support for clean transportation has promoted awareness, increased charging opportunities, and facilitated EV adoption. Furthermore, growing vehicle emission concerns and depletion of non-renewable energy resources have attracted the attention of several governments to invest in electric vehicles. The European countries are among the frontrunners in adopting electric mobility. According to European Environment Agency, in 2020, electric car registrations surged, accounting for 11% of newly registered passenger cars in which battery electric vehicles (BEVs) accounted for 6% of total new car registrations, while plug-in hybrid electric vehicles (PHEVs) represented 5%. Also, the production and sales of electric vehicles globally have been growing at a high rate, owing to positive regulatory environment, such as subsidies and tax exemptions for both the industry and consumers in the European and Asia-Pacific region. For instance, the federal government of Canada has announced that 10% of the new passenger cars sold in 2025 should be zero-emission in 2025, 30% by 2030 and 100% by 2040. Thus, increasing demand for electric vehicles is expected to drive the growth of the EV testing equipment market.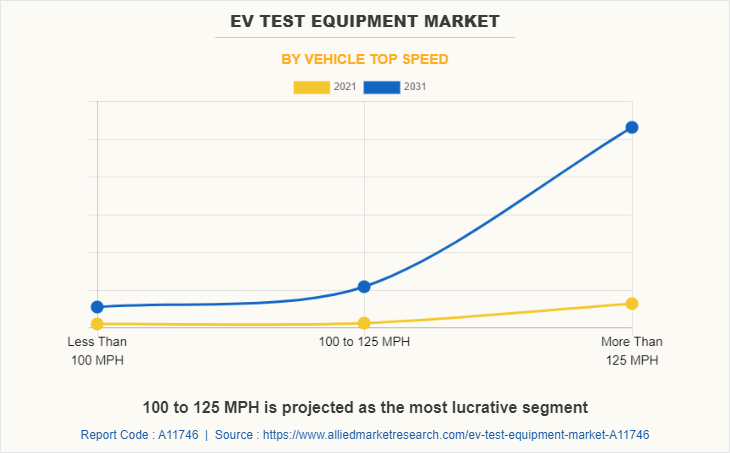 Advancements in battery technologies
The battery is a major component in an electric vehicle (EV). The majority of electric vehicles use a lithium-ion family battery in which positively charged lithium ions are carried by a liquid electrolyte from the anode to the cathode through a separator. New developments in battery chemistry are expected to help & increase the efficiency of lithium-ion batteries and test systems for these innovative battery packs. At present, EVs were developed using lithium cobalt oxide and lithium manganese oxide cathodes as these were already in use in consumer-focused electronics, such as smartphones, in order to extend the battery life of EVs and increase their commercial viability. Also, researchers focusing on conventional lithium-ion, solid-state, advanced lithium-ion using an intermetallic anode (silicon alloy composite), and future advanced lithium-ion (lithium metal, including lithium-sulfur and lithium-cobalt) batteries with innovative designs and chemistries. Such rapid developments in battery technologies are expected to lead to the demand for new and advanced battery testing systems, thereby driving the EV test equipment market.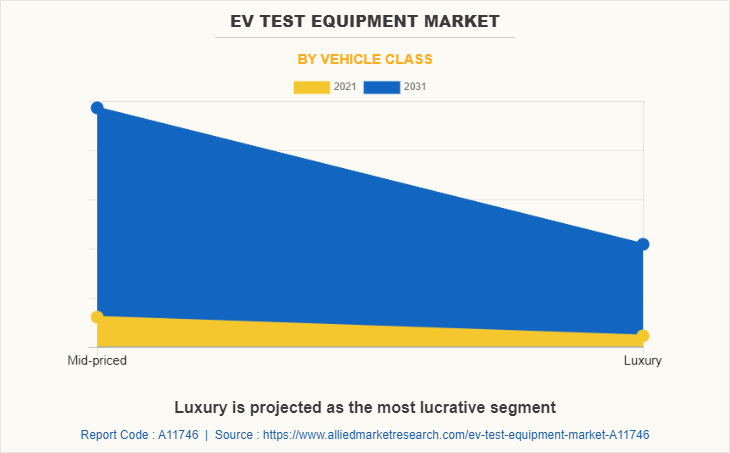 High cost of advanced technology equipment
Electric vehicles are advantageous over conventional vehicles; however, their cost is higher than traditional vehicles. This large price difference between internal combustion and electric vehicles has made many fleet owners skeptical about investment, as there are many unknown variables present in determining total cost of ownership of electric vehicles. As the EV test equipment industry is niche, there is a lack of standard set of regulations for manufacturing & development of advanced EV test equipment technologies. The cost associated with the testing equipment will remain high as the tool developers are less, making it costlier and thus, affecting its growth. Hence, the high cost of advanced technology equipment devices for EVs & lack of standard protocol for their development are critical factors that may hamper the EV test equipment market.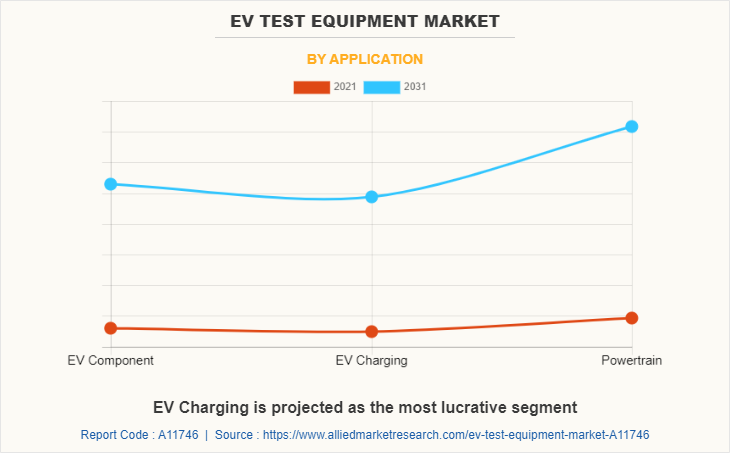 Proactive government initiatives for promotion of electric vehicles
Government programs in countries such as China, India, France, and the U.S., promote the adoption of alternative fuel and hybrid vehicles in these regions. This has led to increased penetration of electric vehicles (EVs) in the automotive industry. Moreover, the emission norms implemented by national and regional government authorities are driving research in fuel-efficient technologies, which has led to the rapid increase in technological advancements in EV test equipment. This can be majorly attributed to the increased demand for fuel-efficient vehicles. Moreover, in 2021, the District of Columbia offers incentives to support the deployment of EVs or alternative fuel vehicles & supporting infrastructure, either through state legislation or private utility incentives within the state. Legislative incentives include measures that provide high-occupancy vehicle (HOV) lane exemptions, financial incentives for purchasing electric vehicles or electric vehicle supply equipment (EVSE), vehicle inspections or emissions test exemptions, parking incentives, and utility rates reductions. Utilities also offer incentives, rebates, and grants for transportation electrification. Hence, the proactive initiatives by government organizations for promotion of electric vehicles create market opportunities for the EV test equipment market.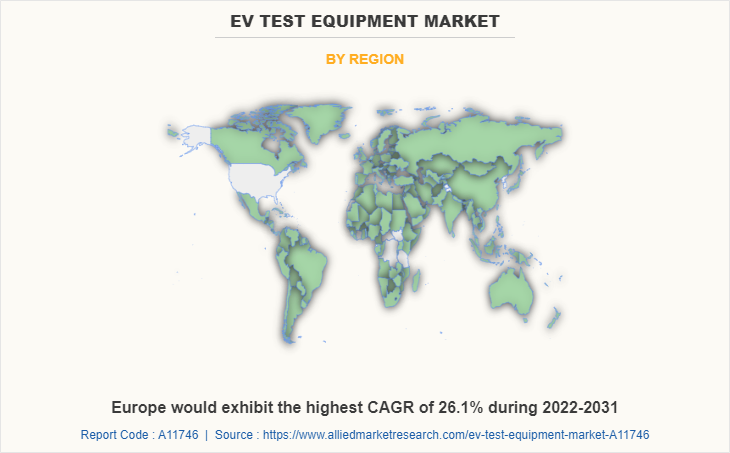 Key Benefits For Stakeholders
This study presents analytical depiction of the global EV test equipment

market analysis along with current trends and future estimations to depict imminent investment pockets.

The overall EV test equipment

market opportunity is determined by understanding profitable trends to gain a stronger foothold.

The report presents information related to the key drivers, restraints, and opportunities of the global EV test equipment

market with a detailed impact analysis.

The current EV test equipment

market is quantitatively analyzed from 2022 to 2031 to benchmark the financial competency.

Porter's five forces analysis illustrates the potency of the buyers and suppliers in the industry

.
 EV Test Equipment Market Report Highlights
Aspects
Details
By Propulsion Type
By Vehicle Type

Passenger Car
Commercial Vehicle

By Vehicle Top Speed

Less Than 100 MPH
100 to 125 MPH
More Than 125 MPH

By Vehicle Class
By Application

EV Component
EV Charging
Powertrain

By Region

North America (U.S., Canada, Mexico)
Europe (Germany, France, Netherlands, Norway, Rest of Europe, UK)
Asia-Pacific (China, Japan, India, Singapore, South Korea, Rest of Asia-Pacific)
LAMEA (Latin America, Middle East, Africa)

Key Market Players
Kuka AG (Key Innovator), Dynomerk Controls, KEYSIGHT TECHNOLOGIES, INC, Blum-Novotest Gmbh, Durr Group, Arbin Instruments, Dewesoft, Chroma Ate, AVL List Gmbh, Comemso electronics GmbH, Froude, Inc, Maccor Inc (Key Innovator), Atesteo Gmbh, INTERTEK GROUP PLC, Horiba, FEV group Gmbh, Burke Porter Group