Europe 5G Infrastructure Market Outlook – 2027 
The Europe 5G infrastructure market was valued at $359.3 million in 2019, and is projected to reach $42.70 billion by 2027, registering a CAGR of 85.1% from 2020 to 2027. 5G technology is expected to offer an innovation revolution in the world by bringing digital intelligence in the place of analog technologies. 5G speed assures 10 times more connectivity than wireless speeds, which is expected to create seamless connectivity and eliminate latency. This technology is anticipated to boost technologies such as autonomous vehicle, virtual reality, and smart infrastructures.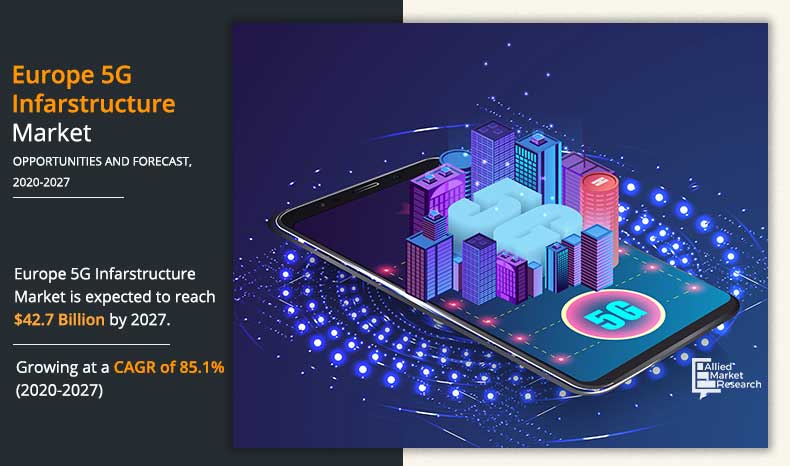 The advanced 5G technology has the ability to substantially expand the network capacity and reduce the overall connectivity cost. Problems such as increased digital traffic and rise in demand for seamless connectivity are expected to be resolved due to the adoption of 5G technology. Various policymakers and regulators in the European Commission are promoting investments and infrastructure developments in the field of telecom, which assist in driving the growth of 5G technology in the region. 
In addition, advent of emerging technologies, such as artificial intelligence, machine-to-machine communication, and internet of things, requires seamless connectivity and networking, which can be attained by 5G technology. For instance, high-end devices such as autonomous vehicles and smart devices require sensors and actuators to detect motions and reactions and provide instant feedbacks. In addition, presence of automotive giants in the European region such as Nissan, Volkswagen, Daimler, and BMW, among others, provides lucrative opportunities for 5G infrastructure in the region as the technology provides ultra-high speed connectivity.
The market growth is supplemented by the proliferation of M2M/IoT connections and increase in demand for mobile broadband services in Europe. However, problems pertaining to slow digitization process in Europe impede the Europe 5G infrastructure market growth to a certain extent. Furthermore, rise in government initiatives for building smart cities in the European region is expected to provide lucrative Europe 5G infrastructure market opportunity.
Europe 5G Infrastructure Market

---
By Communication Infrastructure
Macro Cell segment will dominate the market during the forecast period
Segmentation
The Europe 5G infrastructure market size is segmented on the basis of communication infrastructure, network technology, chipset type, end use, and country. Based on communication infrastructure, the market is divided into small cell, macro cell, radio access network, and distributed antenna system. 
Europe 5G Infrastructure Market

---
By Network Technology
SDN & NFV segment is projected to be the most lucrative segment
On the basis of network technology, it is categorized into software defined networking & network function virtualization, mobile edge computing, fog computing, and self-organizing network. By chipset, the Europe 5G infrastructure market share is classified into application-specific integrated circuit, radio frequency integrated circuit, millimeter wave technology chips, and field-programmable gate array. 
Europe 5G Infrastructure Market

---
By Chipset Type
ASIC segment holds a dominant position in 2019 would maintain the lead during 2020 - 2027
Based on end use, it is segregated into automotive, energy & utilities, healthcare, retail, and others. Based on country, the market is analyzed across Germany, the UK, France, Italy, Denmark, Norway, Sweden, Finland, Switzerland, the Netherlands, Luxembourg, Spain, and rest of Europe. 
Europe 5G Infrastructure Market

---
By End Use
Others segment would maintain the lead throughout the forecast period
The key Europe 5G infrastructure industry leaders profiled in the report include Qualcomm Technologies Inc., Huawei Technologies Co. Ltd., Intel Corporation, Samsung Electronics Co. Ltd., Ericsson, Nokia Corporation, NEC Corporation, Vodafone PLC, Orange Labs, EE Ltd., NTT Corporation, IBM Corporation, ZTE Corporation, Fujitsu Corporation, CISCO, Interdigital Communication, Alcatel Lucent, Siemens, ATOS SE, and Orion Innovations. These key players have adopted strategies, such as product portfolio expansion, mergers & acquisitions, agreements, geographical expansion, and collaborations to enhance their market penetration.
Europe 5G Infrastructure Market

---
By Country
Sweden would exhibit the highest CAGR of 101.2%% during 2020 - 2027
The ongoing spread of the COVID-19 has become one of the biggest threats to the global economy and is causing widespread concerns and economic hardship for consumers, businesses, and communities across the globe. The "New Normal" that includes social distance and working from home has created challenges with daily activities, regular work, needs, and supplies, causing delayed initiatives, and missed opportunities.
COVID 19 scenario to impact IT & Telecom industry in Europe 5G Infrastructure Market positively.
According to Europe 5G infrastructure market analysis, the COVID-19 pandemic has forced carrier service and network equipment providers to operate under totally new conditions. According to the sources, the telecommunications sector is projected to invest upwards of $1 trillion in 5G networks between 2020 and 2025, which is expected to produce $3.5 trillion in economic value and over 20 million new jobs by 2035. 
COVID-19 has caused the overall semiconductor industry to mobilize quickly and to make short-term decisions with long-term implications. The demand from the wireless communication segment is expected to increase due to factors such as increased broadband usage, higher demand for cloud services, and video streaming. In addition, in the medium to long term, COVID-19 is expected to further push up the need for digital transformation and technologies such as 5G, IoT, AI, and intelligent edge computing for future optimization.
Top Impacting Factors
The significant impacting factors in the Europe 5G infrastructure market include proliferation of machine-to-machine communications, industrial internet of things, slow digitization in Europe, and rise in government initiatives for building smart cities in Europe. Each of these factors is anticipated to have a definite impact on the Europe 5G infrastructure market growth during the forecast period. 
Increase in Demand For Mobile Broadband Services in Europe
Mobile broadband services and subscription is growing with an annual rate of more than 20%. Increase in adoption of broadband services in Europe is due to the affordable prices and plans offered by the telecom partners. As a part of Europe 2020 strategy, fast broadband speed (over 100 Mbps) is estimated to be provided to maximum European countries. The strategy also states that around 50% of the European households are expected to use ultra-fast broadband by 2020.
Rise in Government Initiatives For Building Smart Cities in Europe
A smart city is an urban area that incorporates information and communication technologies (ICT) to enhance the quality and performance of urban services such as energy, Fog computing, and utilities to reduce wastage, resource consumption, and overall costs. According to the European Commission estimation, investing €56.6 billion in 5G will yield economic benefits of €113.1 billion annually. In addition, it is estimated to generate 2.3 million jobs opportunities in Europe by 2025.
Key Benefits For Stakeholders
This study includes the analytical depiction of the Europe 5G infrastructure market forecast along with the current trends and future estimations to determine the imminent investment pockets.
The report presents information regarding the key drivers, restraints, and opportunities in the Europe 5G infrastructure market size.
The Europe 5G infrastructure market trends are quantitatively analyzed from 2019 to 2027 to highlight the financial competency of the industry.
Porter's five forces analysis illustrates the potency of the buyers and suppliers in the industry.
 Europe 5G Infrastructure Market Report Highlights
Aspects
Details
By Communication Infrastructure

SMALL CELL
MACRO CELL
RADIO ACCESS NETWORK
DAS

By Network Technology

SDN & NFV
Mobile Edge Computing
Fog Computing
Self-Organizing Network

By Chipset Type

ASIC
RFIC
Millimeter Wave Technology Chips
FPGA

By End Use

Automotive
Energy & Utilities
Healthcare
Retail
Others

By Country

EUROPE

Germany
France
UK
Italy
Spain
The Netherlands
Sweden
Norway
Denmark
Finland
Switzerland
Luxembourg
Rest of Europe

Key Market Players
ALE INTERNATIONAL, ERICSSON, INTERNATIONAL BUSINESS MACHINES CORPORATION (IBM), NEC CORPORATION, .ATOS SE, INTERDIGITAL, INC., CISCO SYSTEMS, INC., SAMSUNG ELECTRONICS CO. LTD., NOKIA CORPORATION, VODAFONE, HUAWEI TECHNOLOGIES CO., LTD., ORION INNOVATIONS PC, QUALCOMM TECHNOLOGIES, INC., INTEL CORPORATION, ORANGE, FUJITSU LIMITED, ZTE CORPORATION, SIEMENS AG, NIPPON TELEGRAPH AND TELEPHONE CORPORATION (NTT)