Events Industry Market Research, 2032
The global events industry market was valued at $1.1 trillion in 2019, and is projected to reach $2.1 trillion by 2032, growing at a CAGR of 6.4% from 2023 to 2032.
Events refer to public gathering of populace at a determined time and place for a purpose. The purpose for staging an event can be to increase business profitability, celebratory, entertainment, and community causes. The most popular events include conference & exhibition, corporate events & seminar, promotion & fundraising, music & art performances, sports, festival, trade shows, and product launch. The key stakeholders within the events industry are corporate organizations, public organizations & NGOs, and similar others.
The growth of the global events industry is majorly driven by an upsurge in frequency of corporate meetings, inductions, conferences, exhibitions, music concerts, and sports events. Furthermore, deployment of best-in-class technology that can handle the entire event propels the industry growth. Moreover, customarily held multi-dimensional events act as a key driver of the global events industry. In addition, sponsorships from various brands such as Redbull, Monster Energy, Nike, Cocoa Cola, and others, for a major global three-day festival as well as a small gig or act in a social club or arena boost the market growth.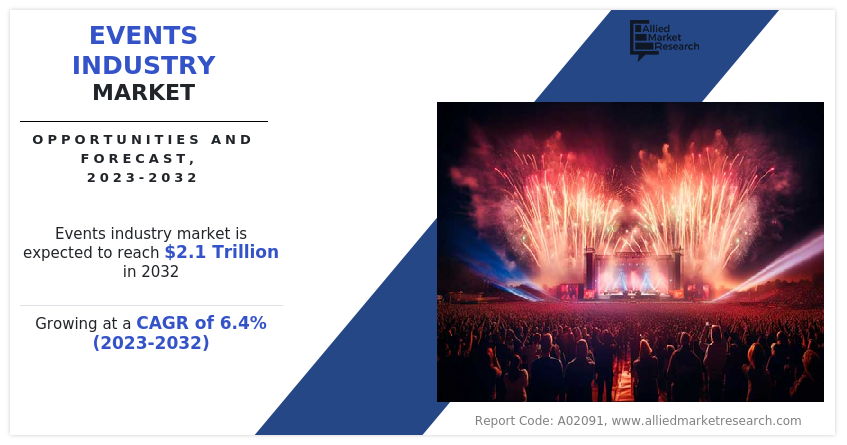 MARKET DYNAMICS
The primary factor behind the expansion of the events industry market is the surge in event sponsorships on a global scale. Leading players across diverse industries are heavily investing in events, such as sporting competitions and concerts, as a strategic means to promote and raise awareness about the products and services offered by their respective businesses. By sponsoring these events, companies aim to capitalize on the extensive reach and audience engagement that such gatherings command, thereby fostering brand visibility, customer engagement, and potential business growth opportunities. This trend of heightened sponsorships underscores the pivotal role events play in the modern business landscape, making it a key driver of market growth and competitiveness. Event sponsorship is a crucial strategic investment for businesses seeking enhanced brand visibility and targeted marketing opportunities. Sponsorship is used to provide financial assistance to an event or organization. In addition, sponsorship allows the main players to advertise their products and reach a diverse consumer base, which ultimately increases product acceptance. Tax deductions on sponsorship expenses present added incentives for businesses to capitalize on these opportunities, maximizing returns on their marketing investments. This event sponsorship offers a comprehensive array of benefits that facilitate the achievement of marketing, branding, and financial objectives of the business. Moreover, it also promotes brand loyalty and helps to concentrate on consumer preferences, which helps with the growth of events market industry. Furthermore, events serve as effective means to captivate the interest of existing and prospective customers, which thus leaves a positive impression that fosters heightened brand loyalty. 
However, the process of event organization entails intricacies and significant expenditures that consists of various cost factors that collectively contribute to the overall operational outlay. These expenses include on-site fees, venue costs, food and catering expenditures, event rentals, entertainment expenses, and production costs. On-site expenses entail charges imposed by the event venue, which can significantly add to the overall budget of the event. In addition, venue costs comprise various components such as security deposits, room rentals, insurance coverage, and parking fees. The food and catering aspect involves the cost of providing beverages, meals, and labor fees for servers, among other related expenses. Another substantial cost in event organization is the production expenditure, which covers the logistics of planning and managing administrative elements, along with efforts to attract attendees. These costs collectively contribute to the high operational expenses incurred in the process of organizing events. Therefore, the substantial financial burden associated with event planning becomes a prominent factor that hampers the growth of the global event market.
The evolution of event management was significantly influenced by technological advancements, transforming the way communication and transactions take place in real time. Online booking, phone calls, emails, and video conferences have revolutionized event planning, making it cost-effective and easily accessible. This shift in approach enabled event organizers to reach a broader customer base through various creative means facilitated by digital evolution. The proliferation of smartphones, desktop apps, and mobile apps played a pivotal role in streamlining event organization, which thus makes it more efficient and manageable. These technological tools empowered individuals to organize, coordinate, and execute tasks with ease and minimal time and effort investment. As a result, events are conducted seamlessly through webinars and video conferences, which opens lucrative opportunities for market expansion in the foreseeable future. With the help of technology, event managers can now efficiently handle event logistics, registration, and ticketing processes, leading to enhanced attendee experiences and increased satisfaction. Moreover, real-time communication tools facilitate better coordination among event teams, which ensures smoother execution and reduced chances of errors. In addition to optimizing internal processes, technology paved the way for enhanced customer engagement and personalization. Event organizers may leverage data analytics to understand preferences and behaviors of attendees and may tailor the event experiences to suit individual needs. This not only boosts customer satisfaction but also strengthens brand loyalty and increases the likelihood of repeated attendance. Furthermore, the trend of online events through webinars and video conferences is expected to grow continuously. This presents new opportunities for businesses to expand their market reach beyond geographical boundaries, tapping into global audiences and fostering international collaborations, which may bring significant changes in Events Industry statistics. 
SEGMENTAL OVERVIEW
The events industry is segmented into type, revenue source, organizer, age group, and region. Based on type, the market is divided into music concerts, festivals, sports, exhibitions & conferences, corporate events & seminars, and others. On the basis of revenue source, it is segregated into ticket sale, sponsorship, and others. As per organizer, it is categorized into corporate, sports, education, entertainment, and others. By age group, it is fragmented into below 20 years, 21–40 years, and above 40 years. Region wise, the market is analyzed across North America, Europe, Asia-Pacific, and LAMEA.
BY TYPE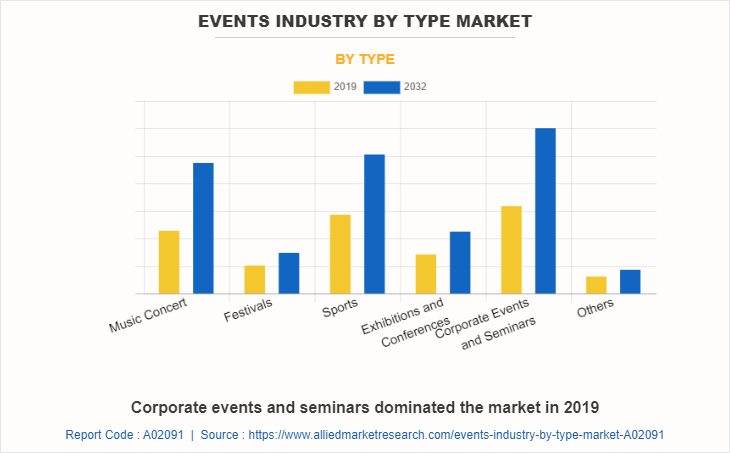 The corporate events and seminars segment, as per type, dominated the global events industry market in 2022 and is anticipated to maintain its dominance throughout the forecast period. Corporate events and seminars are organized to create a learning-by-doing atmosphere through experiments, discussions, and interactions among participants. They comprise various types of gatherings, such as conventions, symposia, congresses, incentive group events, marketing events, special celebrations, seminars, courses, public or trade shows, product launches, exhibitions, company general meetings, corporate retreats, study tours, or training programs. Corporate events & seminars play a crucial role in fostering and reinforcing relationships with current and potential clients and agencies, while also serving as a means of inspiring and motivating employees, stakeholders, and business associates through effective messages. This segment has helped to increase the Events Industry Size, along with Events Industry Share, thus which has brought events industry trends leading to events industry growth.
BY REVENUE SOURCE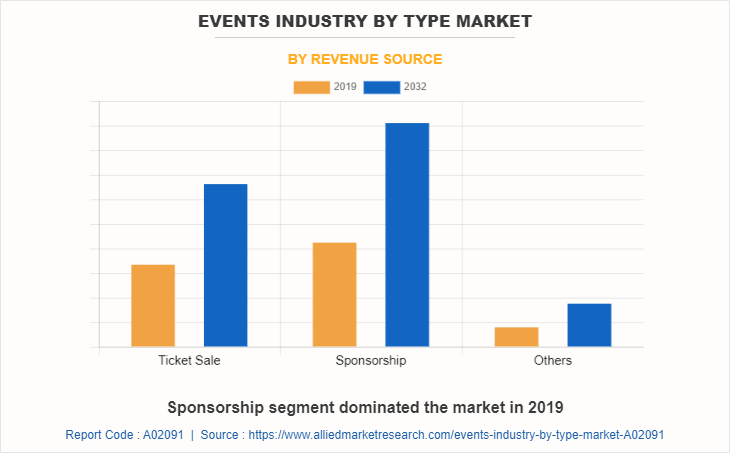 As per revenue source, the sponsorship segment dominated the global events industry market in 2022 and is anticipated to maintain its dominance throughout the forecast period. Sponsorship plays a crucial role in effective marketing due to its ability to enhance event programs and offset increasing expenses. It serves as a potent complement to other marketing initiatives, as it effectively delivers messages to the target audience and helps to build brand awareness. Thus, by sponsoring events, businesses can expand their reach to potential buyers and customers, ultimately driving sales. These factors are expected to contribute to the growth of the events industry in the foreseeable future.
BY ORGANIZER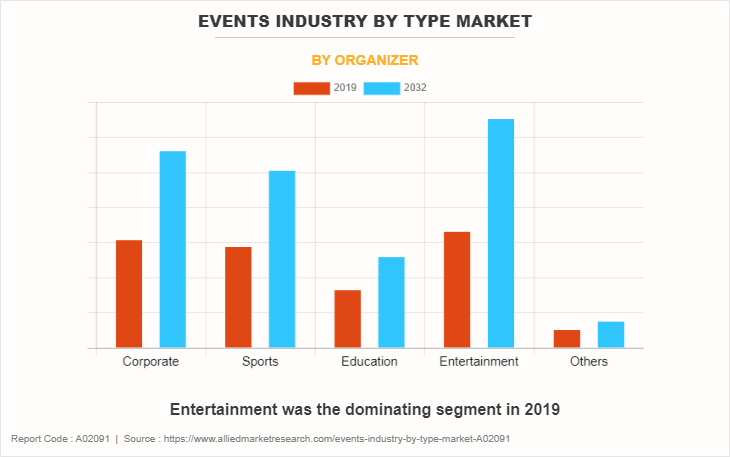 As per organizer, the entertainment segment dominated the global events industry market in 2022 and is anticipated to maintain its dominance throughout the forecast period. The entertainment industry comprises club festivals that feature music conferences and international music professionals. These conferences bring together performing artists and speakers from around the globe to network and share ideas. The lineup of speakers includes entrepreneurs, artists, producers, and industry leaders. These events primarily aim to innovate, educate, and inspire professionals in the electronic music field and foster discussions on new technologies and social & environmental responsibility. Event management companies prioritize aspects such as social media presence, on-site food offerings, live music experiences, virtual reality encounters, and other amenities.Therefore, this segment has helped to increase the Events Industry Size, along with Events Industry Share, thus which has brought events industry trends leading to events industry growth.
BY AGE GROUP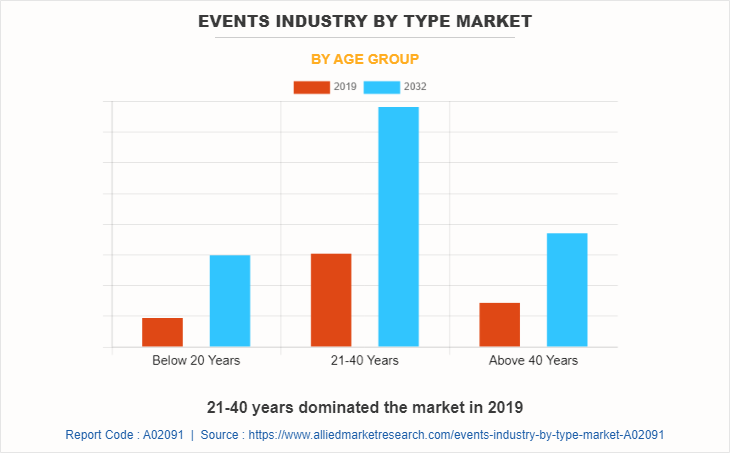 As per age group, the 21-40 years segment dominated the global events industry market in 2022 and is anticipated to maintain its dominance throughout the forecast period. The significant growth of this market, especially among individuals aged between 21 and 40 years, can be attributed to their enthusiastic engagement in diverse events, including exhibitions, conferences, seminars, and music concerts. This age group actively participates in various gatherings and shows, contributing to the overall market expansion. In addition, there is a rising interest in entrepreneur and business-focused seminars and conferences, where young individuals who seek to establish their own ventures can gain valuable guidance and insights. Aspiring entrepreneurs find these events beneficial in gaining essential knowledge and direction, which further fuels the market expansion within this age segment. The rising popularity of music concerts and festive gatherings is also expected to positively impact the overall events industry market growth.
BY REGION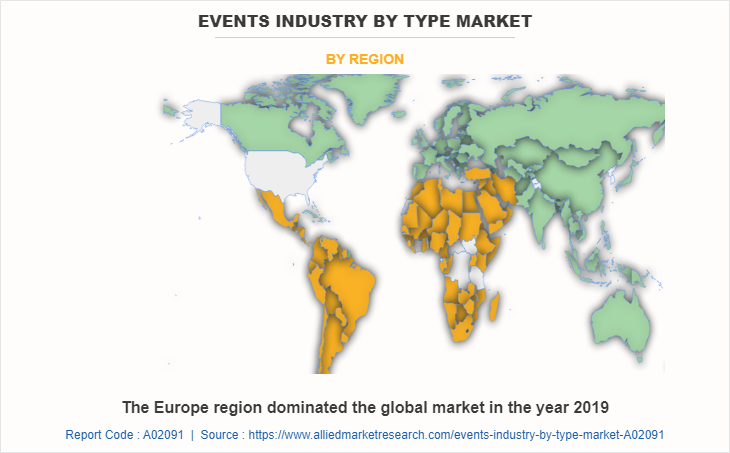 Region-wise, Europe is predicted to dominate the market with the largest share during the forecast period (2023-2032). Germany and Spain are expected to experience the highest increase in activity, with various types of meetings witnessing growth in both numbers and attendees. Companies in the region have become more prudent with their spending, which thus leads to a demand for events within closer proximity and at mid-scale venues such as conferences, seminars, and festivals. Europe has been successful in attracting international association conferences, with over half of the top destinations for such conferences located in the region. The events industry in Europe experiences further growth due to the increase in adoption of smart devices and internet usage, which resulted in a gradual rise in online bookings for music concerts, sports events, and other gatherings. Moreover, owing to the substantial impact on the GDP of western European countries such as the UK, Germany, the Netherlands, Belgium, and Czechia, European governments actively support and promote the events sector. Europe has high Events Industry Demand owing to increasing number of events in the region which is promoting Events Industry Opportunities
The events industry in Asia-Pacific is experiencing rapid growth driven by strong economic expansion, regional cooperation, and intellectual advancement, which may create Events Industry Opportunities during the Events Industry Forecast period. Countries in the region have witnessed an increase in sports leagues, digital activation, and adoption of innovative technology. The growing interest of youth, particularly in India and China, in attending conferences, exhibitions, concerts, shows, and other events is contributing to market growth. The robust economic growth in the region provides attractive business opportunities for investors, while high internet and technology penetration in densely populated countries enhances awareness about upcoming events. Social media has emerged as a crucial tool to reach a wide audience and understand preferences to conduct successful events. Thus, Asia-Pacific region is expected to boost in terms of market growth in coming years.
COMPETITION ANALYSIS
The major players analyzed for the events industry market are Access Destination Services, BCD GROUP (BCD MEETINGS & EVENTS), ATPI Ltd., Riviera Events, Entertaining Asia, Live Nation Worldwide Inc., StubHub, Anschutz Entertainment Group, Pollstar, Cvent Inc., Capita Plc., Reed Exhibitions, Questex LLC, Outback Concerts, The Freeman Company, Penguins Limited, CL Events, Seven Events Ltd., Clarion Events Ltd., and Versatile Event Management.
Manufacturers in the events industry market are actively engaged in meeting dynamically changing customer demands by continuous production of new and innovative services with enhanced features. During the Events Industry Analysis it was observed that market players invest in research and development to drive innovation, improve functionality, and provide greater choice to their customers. As a result of which they collaborate with production partners, regulatory bodies, and industry stakeholders to navigate different services, regulatory compliance, and stay ahead of industry trends. Manufacturers are focused on expansion of their services while optimizing costs, which may help them to cater to the increase in demand from the customer.
Key Benefits For Stakeholders
This report provides a quantitative analysis of the market segments, current trends, estimations, and dynamics of the events industry market analysis from 2019 to 2032 to identify the prevailing events industry market opportunities.
The market research is offered along with information related to key drivers, restraints, and opportunities.
Porter's five forces analysis highlights the potency of buyers and suppliers to enable stakeholders make profit-oriented business decisions and strengthen their supplier-buyer network.
In-depth analysis of the events industry market segmentation assists to determine the prevailing market opportunities.
Major countries in each region are mapped according to their revenue contribution to the global market.
Market player positioning facilitates benchmarking and provides a clear understanding of the present position of the market players.
The report includes the analysis of the regional as well as global events industry market trends, key players, market segments, application areas, and market growth strategies.
 Events Industry Market Report Highlights
Aspects
Details
Market Size By 2032
USD 2.1 trillion
Growth Rate
CAGR of 6.4%
Forecast period
2019 - 2032
Report Pages
249
By Type

Music Concert
Festivals
Sports
Exhibitions and Conferences
Corporate Events and Seminars
Others

By Revenue Source

Ticket Sale
Sponsorship
Others

By Organizer

Corporate
Sports
Education
Entertainment
Others

By Age Group

Below 20 Years
21-40 Years
Above 40 Years

By Region

North America (U.S., Canada, Mexico)
Europe (Germany, France, UK, Italy, Spain, Russia, Netherlands, Sweden, Belgium, Denmark, Finland, Poland, Czehia, Hungary, Romania, Rest of Europe)
Asia-Pacific (Japan, China, Australia, India, Singapore, Indonesia, Philippines, Thailand, Malaysia, Rest of Asia-Pacific)
LAMEA (Brazil, Argentina, Saudi Arabia, South Africa, UAE, Qatar, Egypt, Nigeria, Rest of LAMEA)

Key Market Players
Clarion Events Limited, Cvent Holding Corp., Capita plc., Entertaining Asia, DRPG Group, ATPI Ltd., Access Destination Services, LLC, Anschutz Entertainment Group, BCD Group International BV, CL Events
Analyst Review
According to the perspective of the top-level CXOs, the events industry is growing at a significant pace, and is anticipated to continue this trend in the coming years. Events are playing a vital role in revenue generation and brand equations for corporates and associations. It has been witnessed that events of the recent years are equally interesting than the past decade, driving shifts in choice and pressurizing event planners and owners. This industry is witnessing the entry of new and independent players who are leveraging technology to gain a competitive advantage in today's consolidated environment.
However, companies are facing challenges in this industry to manage live inventory for simple and small events. Conversely, the focus of companies is to enhance attendee experience and witness successful completion of an event without any hindrance. The events industry serves as a potent means for businesses to establish meaningful connections with their customers, employees, and partners. In an increasingly digital world, the events sector is poised to undergo further advancements and expansion. By leveraging events, companies can foster valuable relationships, enhance brand visibility, and create impactful experiences that contribute to their overall success and growth. In response to the ongoing evolution of technology and shifting consumer preferences, businesses will proactively adjust their event strategies to maintain relevance and effectively engage their target audiences.
Furthermore, there is a growing trend in the corporate events sector driven by businesses seeking innovative ways to enhance employee and customer engagement. Now-a-days customers seek distinctive, impactful experiences that leave a long lasting impression for them. This growing demand is expected to be effectively addressed by the event industry in the coming years. The global events industry is a dynamic and growing industry. There are many different perspectives on the future of the industry, but all of them agree that it is projected to witness continued growth.