Explosive Detector Market Outlook - 2027
The global explosive detector market size was valued at $5.97 Billion in 2019 and to reach  $11.10 Billion by 2027, growing at a CAGR of 8.2% from 2020 to 2027. Explosive detectors are non-destructive inspection devices that help its users detect explosives and other flammable materials. These devices are commonly used at airports, seaports, borders of countries, and in structures such as the government buildings. The detection of explosives at airports, land borders, and seaports is an essential task to prevent terrorism and organized crime.
military & defense segment impacted positively due to COVI-19 scenario
As per the explosive detector market analysis, the market is segmented into technology, product type, end-user, and region. The technology is further bifurcated into trace and bulk types. The product type is classified into vehicle mounted, handheld, robotics, and others. The end-user segment is further categorized into military & defense, cargo & transport, aviation, public places, and others. Region wise, the market is analyzed across North America, Europe, Asia-Pacific, and LAMEA.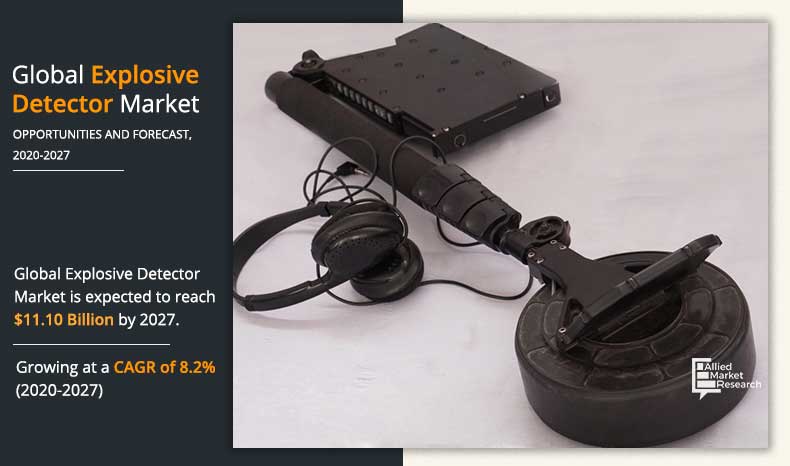 Top Impacting Factors
The significant factors impacting the growth of the global explosive detector market include increase in terrorist activities across the globe, government regulation for greater and effective security checking, especially at critical establishments such as airports and railway stations, are the factors that drive the explosive detector market growth. Whereas, improvised explosives and risk of failure of the device in public safety hampers the market growth. Whereas, strict government regulations for safety measure at sensitive places is expected to create lucrative opportunity for the explosive detector market growth. 
Some major factors impacting the explosive detector market growth are given below:
Increase in terror activities 
With the increase in terrorist activities across the globe, it has become mandatory to check every belonging of persons gathering for a public meeting such as an award show or important meetings by eminent persons. This is done so as to reduce the threat, if any, from attacks. With the number of terrorist attacks increasing every year, it has become very important to guard those important places leading to the need to screen objects at public places, and public gatherings. Also, because of constant threat of terrorists, the explosive detectors are widely accepted and used now-a-days. 
Government regulations for enhanced and effective security
With the increase in developments and construction of critical structures such as airports and railway stations in the developing countries as well as the developed countries, and also the government across the globe is mandating the rule for installation of explosive detectors in such places to minimize the threat of any hazardous situation, which is expected to fuel the growth of the market for explosive detectors. The developments in the form of infrastructure coming up rapidly in the developing countries is the key reason why the market will flourish even more. 
Explosive Detector Market

---
By Type
Robotics segment is projected as one of the most lucrative segments.
Increase in government funding in the Aerospace & Defense Sector
A substantial increase has been noticed in defense spending from countries such as Russia, China, India, Saudi Arabia, and Oman over the past few years. There is a growing explosive detector market trend for different aerospace and aeronautic related products. The significance of air transportation is anticipated to witness high growth with simultaneous increase in air cargo business. To maintain the global competitiveness, the aerospace industry requires to make huge investments in the R&D sector. In aerospace & defense sector, intelligence data from numerous bands and media (visual, radar, signals, emissions, infrared, ultraviolet, and others) is exploding in volume, requiring signal analysis to analyze quickly. This sector is experiencing an increased adoption of explosive detectors with higher-frequency and higher-speed measurements capability in aerospace radar signal applications, which is expected to boost the explosive detector market.
Explosive Detector Market

---
By Technology
Trace segment is projected as one of the most lucrative segments.
Disadvantages and hazards in using lasers for explosives detection and improvised explosives
The laser explosive detectors are bulky and thus, lack the stability for external use i.e. for field environments. Also, devices made out of LASER technology are too expensive for application. Another disadvantage that such detectors possess are they might activate the explosive during the checking process. This might lead to fatal results. The explosives used have been modified over time by the terrorist groups so that they can easily pass the security check done by explosive detectors. Moreover, every terrorist organization uses different explosives. Also, the failure to detect such explosives will lead to a chaos and a situation that one cannot imagine. These factors may lead to a permanent damage to the growth of the market. 
Explosive Detector Market

---
By End User
public places segment generated the highest revenue in 2019.
Competition Analysis
Key players which have a major explosive detector market share include Westminster International Ltd., Analogic Corporation, Chemring group PLC, FLIR Systems, Inc., NOVO DR Ltd., L-3 Technologies, Inc., Cobham PLC, Nuctech Company Ltd., OSI Systems, Inc., and Smiths Detection, which are profiled in this report. The explosive detector industry key market players adopt various strategies such as product launch, product development, collaboration, partnership, and others to influence the market growth.
Explosive Detector Market

---
By Geography
Asia-Pacific region would exhibit the highest CAGR of 9.8% during 2020-2027
Key Benefits For Stakeholders
This study comprises analytical depiction of the global explosive detector market size along with the current explosive detector trends and future estimations to depict the imminent investment pockets.
The overall explosive detector analysis is determined to understand the profitable trends to gain a stronger foothold.
The report presents information related to key drivers, restraints, and opportunities with a detailed impact analysis.
The current explosive detector forecast is quantitatively analyzed from 2019 to 2027 to benchmark the financial competency.
Porter's five forces analysis illustrates the potency of the buyers and suppliers in the explosive detector.
 Explosive Detector Market Report Highlights
Aspects
Details
By Product Type

Vehicle Mounted
Handheld
Robotics
others

By Technology
By End User

Military and Defense
Cargo and Transport
Aviation
Public Place
Others

By Region

North America (U.S., Canada, Mexico)
Europe (Germany, France, UK, Rest of Europe)
Asia Pacific (China, Japan, India, Rest of Asia Pacific)
LAMEA (Latin maerica, Middle East, AFRICA)

Key Market Players
Analogic Corporation, Chemring Group PLC, COBHAM PLC, FLIR SYSTEMS, INC, WESTMINSTER INTERNATIONAL LTD., L-3 TECHNOLOGIES, INC, OSI SYSTEMS, SMITHS GROUP PLC, NUCTECH CO. LTD., NOVO DR LTD.