Face Compact Market Research, 2031
The global face compact market size was valued at $1.3 billion in 2021, and is projected to reach $2.2 billion by 2031, growing at a CAGR of 5.7% from 2022 to 2031.
Face compact are expected to gain major traction in developing countries during the forecast period; this is majorly attributed to growing disposable income, high working-age population, and high inclination to have an aesthetic appearance which creates demand for the face compact across the globe.
Face compact powder is the ideal method for setting makeup. The compact powder may be difficult to find that properly matches skin tone, despite the fact that they are practical and versatile. On days when consumers do not use foundation, compact powders are widely considered to enhance the look contributing towards the face compact market growth. Compact powder is a great way to make skin sparkle when the face appears dull or oily. These powders may provide light to full coverage depending on the type of skin. 
 Almost all cosmetic kits include face compact powder as it is an important stage in the process of applying makeup. It assists in offering face light coverage or makes the perfect makeup finishing touch, hence propelling the face compact market demand.  Most women prefer using a brush to apply compact powder to their face skin as it produces the best makeup appearance. One of the key advantages of using a face compact is that it is highly absorbent. It prevents the face from overproducing oils and prolongs the duration of the shine. It also has other benefits, such as ensuring an equal skin tone. Compact assists in fixing makeup errors that frequently come from improper foundations. Furthermore, face compact powder assists in enhancing makeup. The face compact industry is thus anticipated to witness market growth during the forecast period due to a number of advantages including maintaining makeup for a longer amount of time.  
Cosmetic use has developed into an essential social control tool. Customers may hide anxieties, flaws, or facial characteristics they would not necessarily want others to see using cosmetics. Makeup is used by people as a temporary mask to alter or improve their appearance. It is used in movies, live performances, and on social media. Cosmetics promote sexual dimorphic traits, making women appear more seductive, according to scientific research. Face contrast is the variation in luminance and color of various facial features, such as the eyes, lips, nose, and eyebrows.  The depth of the cheekbones and other surface areas are sculpted and deepened to achieve this using facial treatments like face compact. There is a rise in demand for face compact powder globally owing to the rise in social media followers and societal expectations. As a result, the market for face compacts is expected to grow rapidly. 
It has been noted that the Face Compact industry initially drew just a small number of businesses specifically for men. In addition, due to the overwhelming demand, producers concentrated mostly on goods geared at women consumers. However, as time went on, the majority of male consumers globally tended to favor cosmetics, including various makeup items like face compacts, in order to look appealing. Furthermore, the desire to look attractive in the fashion and film industries is projected to increase the market demand for face compacts. In addition, attitudes of men regarding cosmetics have evolved over time, and they increasingly recognize that using cosmetics may improve their appearance. Moreover, some firms benefit from their excellent reputations while already addressing the requirements of women, which lends them credibility, an air of expertise, and the necessary financial resources, before ever making the switch to providing care for men. As a result, these companies are expected to benefit from customer loyalty and credibility and have a strong propensity to maximize earnings from the things they are selling to the male population. 
However, face compact powder may absorb excess skin oils while also producing a light, natural appearance. In addition, due to its sweat-resistance, face compact powder is expected to stay in place than any liquid makeup. Some female consumers prefer face compact powder to foundation.  It may be relatively innocuous when used sparingly. However, there are disadvantages to daily use of this cosmetic product. It might take in a tiny bit too much natural oil from the face, which could harm the skin and make breakouts and clogged pores. The major problem with using face powders frequently is that it may raise the risk of face powder poisoning, a serious condition. According to Drugwatch, breathing in makeup items such as facial compact powder unintentionally may be extremely dangerous. Breathing difficulties, a burning sensation in the throat, coughing, and eye pain are all possible signs of inhalation exposure. It is thus anticipated that such negative effects from frequent use is anticipated to restrain market expansion. 
Cosmetics are substances that are applied to the body with the goal of enhancing attractive traits and improving, cleaning, or beautifying  the appearance of a person. The human body is exposed to more of the numerous chemical components used in cosmetic compositions as they become more and more popular across the globe, including makeup and skin care products. It is challenging to estimate how frequently unpleasant cosmetic consequences happen since customers who experience modest side effects are less likely to seek medical assistance. The primary source of the health hazards associated with the use of cosmetics is exposure to numerous chemical components. A minor hypersensitivity reaction, anaphylaxis, or even a potentially lethal intoxication are all possible side effects. The use of cosmetics may result in a variety of health risks, such as mild hypersensitivity reactions, anaphylactic shock, and even death from intoxication. Numerous studies on powders suggest that this  safety of the product may not be as great as advertised. This drug may be linked to ovarian cancer, mesothelioma, and other lethal diseases. All these factors are anticipated to lead to a decline in global demand for the items in this market.  
The packaging of cosmetics, including face compact powder, is frequently done to protect it from damage and promotional items. In order to market the product or add value to it, the packaging is made with a unique shape and look to increase consumer appeal. But it is done with an oversized or overstuffed bundle. The objective is to make the product appear fashionable, useful, and attractive. . One of the most often used plastics in the cosmetic packaging industry is polyethylene (PE), a thermoplastic resin created by polymerizing ethylene. As a result, it is possible to replace materials and reduce packing in order to decrease waste and safeguard the environment. The development of materials may have an effect on the packaging of cosmetics. The packages could potentially be replaced with more environment-friendly materials as their principal function is as containers. Furthermore, a suitable substitute, like bamboo, is a sustainable material that may be utilized in the face compact market forecast period..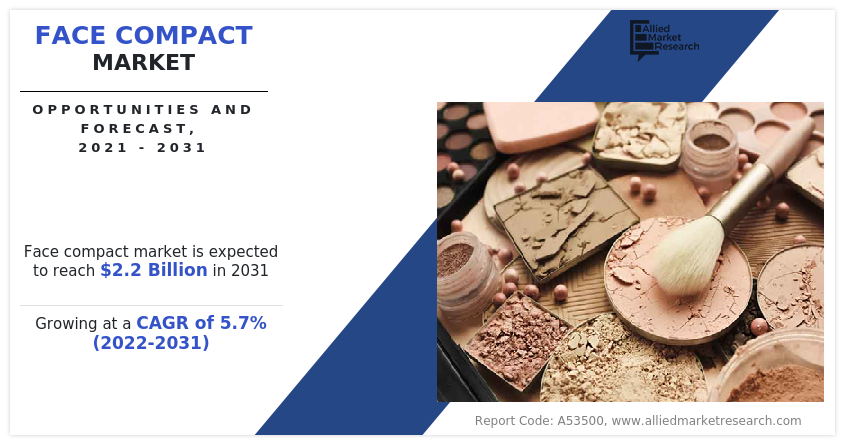 The face compact market is segmented on the basis of skin type, end user, distribution channel, and region. On the basis of skin type, the market is categorized into combination skin, oily skin, dry skin, sensitive skin, and others. On the basis of end users, the face compact market is bifurcated into men and women. On the basis of distribution channel, the market is bifurcated into direct and indirect sales. The distribution channel is further classified. On the basis of indirect sales, the market is categorized into hypermarkets/supermarkets, E-commerce, specialty stores, and others. On the basis of region, the market is studied across North America (the U.S., Canada, and Mexico), Europe (Germany, France, the UK, Italy, Spain, Switzerland, and the Rest of Europe), Asia-Pacific (China, India, Japan, South Korea, Australia, and the Rest of Asia-Pacific), and LAMEA (Brazil, South Africa, UAE, Argentina, and the Rest of LAMEA). 
Face Compact Market

---
By Skin Type
Combination skin holds the largest share in the market due to the sebaceous glands that produce excessive sebum, the waxy material that keeps dry and stretchy.
On the basis of skin type, combination skin has the largest face compact market share in 2021 with a CAGR of 6.3%. Multiple different skin types are present in combination skin, and the condition of the skin might alter with the seasons. The cheeks of people with combination skin often have dry, flaky skin while other portions of their faces have an abundance of shine and oil. In addition, a number of environmental factors may have a role in the development of combination skin in consumers. The excessive sebum production from sebaceous glands, which maintains skin dry and supple, is expected to drive up demand for face compacts globally. In addition, people with combination skin types frequently have glands in their T-Zones that are more active and produce more sebum than normal, which may cause shine and lead to breakouts. All these factors lead to the prediction that the market for face compacts may rise rapidly. 
Face Compact Market

---
By End User
Women holds the largest share in the market due to even skin tone are expected to boost the demand in the face compact market. Moreover, women across the globe may achieve even skin tones using a compact powder, hence the demand for the face compact is expected to grow rapidly.
On the basis of end users, women has the largest face compact market size in 2021 i.e., $1070.8 million in 2021, and is expected to reach $1843.1 million by 2031 at a CAGR of 5.6%. A compact powder may help women everywhere achieve even skin tones, thus demand for face compacts is anticipated to increase quickly. Applying some compact powder might also be a great option for a consumer who only wants to level out the skin tone of the face and wear minimum makeup. On the other hand, if a customer decides to wear a lot of makeup, a compact powder may be used to blend all the cosmetics applied to the skin, such as foundation, concealer, and color corrector to improve the evenness and smoothness of the skin. Advantages like evening of skin tone is projected to boost the face compact market. 
Face Compact Market

---
By Distribution Channel
Indirect sales holds the largest share in the market due to the availability of a broad range of nutritional products under a single roof. Consumers prefer to buy health-benefit products including face compacts that are on sale.
On the basis of distribution channel, indirect sales held the largest share in 2021 and are expected to have the largest market share in 2031 due to the availability of a wide variety of nutritional items under one roof, indirect sales are gaining popularity. Customers prefer to purchase facial compacts and other items with health benefits when they are on sale. Moreover, products are positioned close to one another, allowing customers to compare them easily and choose which item to purchase. The popularity of indirect sales is further boosted by rise in urbanization, an increase in the working-class population, and competitive prices. Customers may purchase goods from these sales formats at competitive prices, and they are typically situated in locations that are simple to get to. As a result, consumers may fulfill all of their buying demands, saving them time and drawing a sizable consumer base to this market. 
Face Compact Market

---
By Region
North America holds the largest share in the market due to the presence of numerous manufacturers and the progressive lifestyle of the population. Moreover, government initiatives have helped the region to expand its investment in innovative products.
On the basis of region, North America holds the largest share in 2021 i.e., $387.4 million in 2021, and is expected to reach $656 million by 2031 at a CAGR of 5.5%. In order to survive in the cutthroat industry, corporations have been influenced by the high penetration of face compacts in the North American market to introduce new and inventive products. Some of the nations in the region with enormous potential for face compacts include the U.S., Canada, and Mexico. 44% of American women prefer to apply makeup when leaving the house, according to scienceofpeople.com. Utilizing cosmetics in this area, such as face compacts, primer, and concealers, not only improves look but also boosts confidence. Moreover, one of the trends in the North American region is sustainable packaging for cosmetics like face compacts. 
The market is being driven by factors such as rapid growth in infrastructural development as well as various advancements in developing countries. The major players operating in the global face compact market are M.A.C, Colorbar Cosmetics,  L'Oréal, Fenty Beauty, Laura Mercier, Kosas, NARS Cosmetics, NYX Cosmetics, IT Cosmetics, Huda Beauty,  Lakmé, SUGAR Cosmetics, Revlon, Rimmel London, Chanel, Chambor, Bourjois and Faces Canada. 
Key Benefits For Stakeholders
This report provides a quantitative analysis of the market segments, current trends, estimations, and dynamics of the face compact market analysis from 2021 to 2031 to identify the prevailing face compact market opportunities.
The market research is offered along with information related to key drivers, restraints, and opportunities.
Porter's five forces analysis highlights the potency of buyers and suppliers to enable stakeholders make profit-oriented business decisions and strengthen their supplier-buyer network.
In-depth analysis of the face compact market segmentation assists to determine the prevailing market opportunities.
Major countries in each region are mapped according to their revenue contribution to the global market.
Market player positioning facilitates benchmarking and provides a clear understanding of the present position of the market players.
The report includes the analysis of the regional as well as global face compact market trends, key players, market segments, application areas, and market growth strategies.
 Face Compact Market Report Highlights
Aspects
Details
Market Size By 2031
USD 2.2 billion
Growth Rate
CAGR of 5.7%
Forecast period
2021 - 2031
Report Pages
471
Skin Type

Combination Skin
Dry Skin
Oily Skin
Sensitive Skin
Others

End User
Distribution Channel

Direct Sales
Indirect Sales

Subtype

Hypermarket/Supermarket
Specialty Stores
E-commerce
Others

By Region

North America (U.S., Canada, Mexico)
Europe (Germany, UK, France, Italy, Spain, Switzerland, Rest of Europe)
Asia-Pacific (China, India, Japan, South Korea, Australia, Rest of Asia-Pacific)
LAMEA (Brazil, South Africa, UAE, Argentina, Rest of LAMEA)

Key Market Players
Coty Inc., Chanel, Revlon, Inc., Kendo Holdings, Inc., ColorBar Cosmetics Pvt. Ltd., Vellvette Lifestye Private Limited, LOREAL S. A., The Estee Lauder Companies Inc., NARS Cosmetics, Kosas Cosmetics, LLC, Hindustan Unilever Limited, HB USA Holdings, Inc., Baccarose, Laura Mercier Cosmetics, The Procter & Gamble Company