The global fat replacers market size was valued at $3.3 billion in 2021, and is projected to reach $6.4 billion by 2031, growing at a CAGR of 6.4% from 2022 to 2031.
Fat replacers, also known as fat substitutes, are chemicals that replace all or part of the fat in a product while maintaining the same flavor, texture, and mouth feel. Fat replacers are useful in two ways. They lower the fat content of food while also lowering the calorie count. Carbohydrate, protein, and lipid-based fat replacers are all available. Various fat replacers from various sources are used in most cuisines. Many of the ingredients have long been found in foods, but they are now being employed in new ways.
The impact of COVID-19 pandemic on the global fat replacers market was moderate in nature. The supply chain disruption due to trade and lockdown restrictions had negative impact on the market. On the other hand, the growing trend of healthy and nutritious diet had positive impact on the market.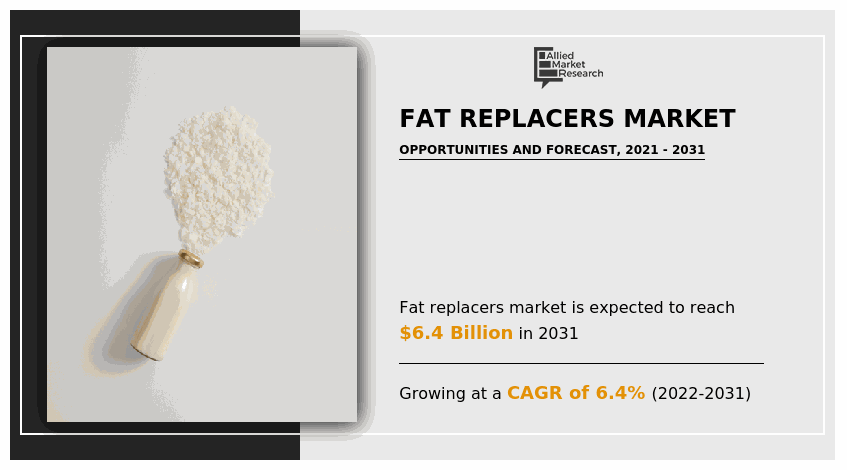 Get more information on this report : Request Sample Pages
Fat replacers are chemically similar to lipids, proteins, and carbs. Consumers' growing awareness of health issues is causing them to adjust their eating habits and consume less fat. As a result of these factors, fat replacers have a significant market opportunity. Currently, fat replacers are a blessing to society, as a high fat diet can lead to obesity, cancer, high blood cholesterol, and coronary heart disease. Over the projection period, demand for low-calorie dietary items and innovative food components is expected to drive growth. The food industry's changing landscape is expected to drive demand for more refined products. Food manufacturers are always spending in research and development to make goods with the fewest calories possible.
According to global fat replacers market analysis, the global market is segmented on the basis of source, type, application, and region. On the basis of source, the fat replacers market is classified into plants and animals. On the basis of type, the market is classified into carbohydrate-based, protein-based, and fat-based. On the basis of application, it is segmented into bakery & confectionary, processed meat products, dairy & frozen desserts, and others. Region wise, the fat replacers market is analyzed across North America, Europe, Asia-Pacific, and LAMEA.
Fat Replacers Market

---
By Source
Plants

is the largest revenue generating segment in 2021
The animals segment is the fastest growing segment in the market, owing to simulate the texture and sensory qualities of fat in food. Developing regions of Asia-Pacific and LAMEA are anticipated to provide great opportunities to the market during the fat replacers market forecast period.
Fat Replacers Market

---

By Type
Protein based segment is the fastest growing segment during the forecast period
The carbohydrate-based segment is the most lucrative in the market, owing to low calorie density. In addition, the presence of various popular brands such as Archer Daniels Midland Company and Koninklijke DSM boosts the expansion of premium quality of fat replacers. The market is more concentrated in Asia-Pacific and grows rapidly in Europe.
Fat Replacers Market

---

By Application
Bakery and Confectionary segment is the largest revenue generating segment in 2021
The fat replacers are mostly preferred as bakery and confectionary products. This is attributed to the growing preference for ready to eat and baked food products. Thus, the processed meat products segment is the largest segment in the market.
Fat Replacers Market

---

By Region
North America
Asia-pacific
Lamea
Asia-Pacific is the fastest growing region through the forecast period
Region wise, Europe dominated the market with largest fat replacers market share during the forecast period. Fat replacers and its different varieties are the mostly consumed in Europe, especially in the UK and Germany. The preference for fat replacers of different types changes with different geographical locations. Thus, the growing preference for nutritious and healthy food products as well as ready to eat products are driving the fat replacers market growth in Europe region. Due to increased population and rising nutritional requirements per person, Asia-Pacific is expected to grow at a fast pace during the projection period.
The main benefit of a fat replacer is that it substitutes fat in food with protein, which is an added benefit. Because of the increased knowledge of its different health benefits among the health business, this fat replacers market is rising rapidly. It has a wide range of uses, particularly in nations like Europe, where baked cuisine is one of the most popular foods. The primary element propelling overall sales is growing customer awareness of the importance of replacing fat without sacrificing the nutritious composition of food. The majority of regions are adapting to the transition, and a protein-based fat replacer is one of the most popular.
One advantage of protein-based fat replacers over carbohydrate-based fat replacers is that they are partially or totally digested, increase food quality, nutritional value, and functional qualities, and lower cholesterol, fat content, and calorie density of low-fat diets. In addition, the rising prevalence of obesity and the emergence of health-related programmes has been a major driving force for this market. Protein-based foods are not only important for your health, but they also improve the texture and smoothness of your cuisine. As new and innovative goods are introduced, it is finding new applications in the confectionary sector. It's a market with a lot of room for expansion and a lot of advantages.
The major players analyzed for the fat replacers industry are Archer Daniels Midland Company, Ashland Global Holdings Inc., Associated British Foods Plc., BENEO, Corbion NV, CP Kelco U.S., Inc., Epogee, Grain Processing Corporation, Ingredion Incorporated, and JELU-WERK J. Ehrler GmbH & Co. KG. The other players operating in market are Kerry Group PLC., Koninklijke DSM, Nestlé S.A., Tate & Lyle PLC, and Ulrick & Short. To improve their product offers, businesses are working on new product development and collaborations. Companies are anticipated to see enormous revenues in the next years as people become more aware of their health.
Key Benefits For Stakeholders
This report provides a quantitative analysis of the market segments, current trends, estimations, and dynamics of the market analysis from 2021 to 2031 to identify the prevailing fat replacers market opportunities.
The market research is offered along with information related to key drivers, restraints, and opportunities.
Porter's five forces analysis highlights the potency of buyers and suppliers to enable stakeholders make profit-oriented business decisions and strengthen their supplier-buyer network.
In-depth analysis of the fat replacers market segmentation assists to determine the prevailing market opportunities.
Major countries in each region are mapped according to their revenue contribution to the global market.
Market player positioning facilitates benchmarking and provides a clear understanding of the present position of the market players.
The report includes the analysis of the regional as well as global fat replacers market trends, key players, market segments, application areas, and market growth strategies.
 Key Market Segments
By Source
By Type

Carbohydrate based
Protein based
Fat based

By Application

Bakery and Confectionary
Processed Meat Products
Dairy and Frozen Desserts
Others

By Region

North America
Europe

U.K.
Germany
France
Russia
Italy
Rest of Europe

Asia-Pacific

China
Japan
India
South Korea
Australia
Rest of Asia-Pacific

LAMEA

Brazil
South Africa
United Arab Emirates
Rest of LAMEA
 
Key Market Players
Archer Daniels Midland Company
Associated British Foods Plc.
Ingredion Incorporated
Kerry Group PLC.
Koninklijke DSM
Nestlé S.A.
Tate & Lyle PLC
CP Kelco U.S., Inc.
Ashland Global Holdings Inc.
Corbion NV