FMCG Logistics Market Statistics 2021-2027:
The global FMCG logistics market was valued at $1,056.58 billion in 2019, and is projected to reach $1,400.80 billion by 2027, registering a CAGR of 4.6% from 2020 to 2027. By mode of transportation, the roadways segment was the highest revenue contributor in 2019, accounting for $431.66 billion, and is estimated to reach $518.08 billion by 2027, registering a CAGR of 3.30% during the forecast period. 
The impact of COVID-19 has been widely visible across all the logistics-dependent mode of transport around the world. Although there are some industries that are struggling due to the pandemic, some are thriving, such as healthcare & pharmaceuticals, e-commerce, and daily essentials goods industry, which are expected to affect the logistics industry positively during the COVID-19 outbreak globally. However, online food & beverages and essential good demand surged by 11.3% and 36.7%, respectively, in the first quarter of 2020. The COVID-19 situation has also prompted major FMCG brands, which have strong and widespread distribution networks, to evaluate and adopt new models to achieve last-mile delivery to their consumers. To ease last-mile connectivity and distribution challenges, some of the FMCG leaders have tied up with food delivery and hyper-local delivery applications.
Logistics is widely known as the process of coordinating and moving resources, such as equipment, food, liquids, inventory, materials, and other products, from one location to the storage or the desired destination. It is the management of the flow of goods from one point of origin to the point of consumption to meet the requirement of customers. FMCG logistics management focuses on the efficiency and effective management of daily activities concerning the transportation of daily usable goods from one place to another.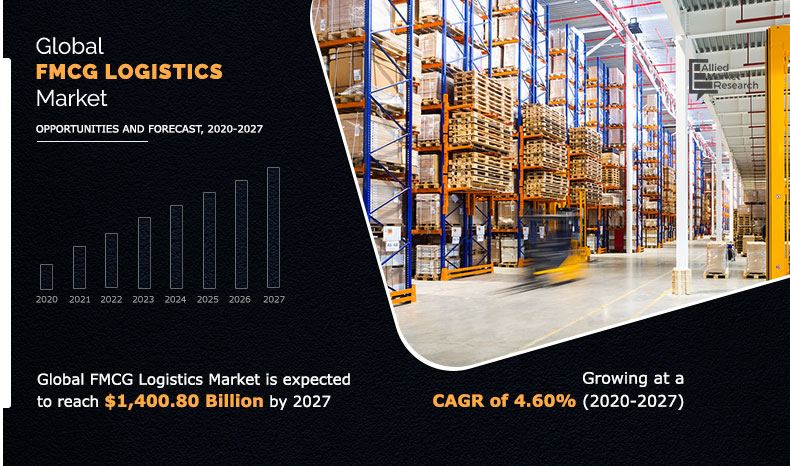 This type of management forms a part of the supply chain management; and plans, implements, & controls the efficient, effective forward, reverse flow, and storage of goods. Logistics mainly comprises various services such as third-party logistics (3PL), fourth-party logistics (4PL), inbound logistics, outbound logistics, reverse logistics, green logistics, construction logistics, digital logistics, military logistics, and others logistics services. 
The global FMCG logistics market is driven by factors, such as growing penetration of e-commerce in the FMCG logistics industry, changing lifestyles, rapidly evolving consumer habits, growth in disposable income, rise of tech-driven logistics services, and growing adoption of IoT-enabled connected devices. Moreover, poor infrastructure & higher logistics costs and lack of control of manufacturers and retailers on logistics service hamper the growth of the global market. However, last mile deliveries, logistics automation, cost cutting, and lead time reduction due to the adoption of multi-modal system are expected to offer lucrative opportunities for the growth of the global FMCG logistics market.
COVID-19 impact analysis 
With the advent of COVID-19 pandemic across the globe, countries were left with no choice but to temporarily discontinue their trading activities with one another, which adversely impacted the supply of goods and caused disruptions in the supply chain. Moreover, countries across the world imposed nationwide shutdown of almost all retail outlets for non-essential consumer goods, including clothing, electronics, and fashion accessories. This has eliminated the need for transportation of these products, thereby causing a massive blow to the FMCG logistics industry around the world. The food & beverages industry has also faced the wrath of the global pandemic as offline dining venues, such as restaurants and cafes, were shut down and even online food orders witnessed a decline.
The global FMCG logistics market is segmented based on product type, service type, mode of transportation, and region. Product type includes food & beverages, personal care, household care, and other consumables. Service type includes transportation, warehousing, and value added services. Mode of transportation includes railways, airways, roadways, and waterways. Based on region, the market is analyzed across North America, Europe, Asia-Pacific, and LAMEA. 
The Asia-Pacific is estimated to be the largest region for FMCG logistics industry owing to the booming e-commerce industry in emerging economies. In addition, increased adoption of outsourced logistics services in the region drives the growth of the FMCG logistics industry in Asia-Pacific. Moreover, high government support for development of logistics infrastructure in the region also boosts the market growth.
The rapid growth in cross-border e-commerce transactions is one of the major factors driving the FMCG logistics industry in China. The expansion of the FMCG logistics market in China is also fueled by the rapid expansion of industrial and manufacturing activities as well as rising export and cross-border trade. The National Intellectual Property Administration estimates that China's cross-border e-commerce transactions are expected to reach to over $3.15 trillion (about $20.5) in 2022, sustaining a 30% annual growth rate.
India is one of the market in the Asia Pacific area with the greatest growth. The government-supported reforms, plans for the development of the transportation sector, rising online retail sales, and the e-commerce industry are the primary drivers of the India FMCG logistics market's expansion.
The market is further boosted by the expanding automotive sector, technological development, surge in last-mile connectivity, and increase in cross-border trade activities. For instance, the Multi-Modal Logistics Parks Policy (MMLPs) was introduced by the Indian government to enhance the nation's logistics industry.
In addition, the Union Minister of Commerce and Industry announced a proposal to spend $500 billion in the logistics industry by 2025. The National Logistics Portal was also introduced by the government to act as a transactional e-marketplace that links buyers, logistics service providers, and pertinent government organizations. Additionally, as part of the bilateral India-Japan cooperation, the government started the Logistics Data Bank Project to track containers using RFID tags in almost real-time.
The key players operating in the FMCG logistics market include A.P. Moller – Maersk, C.H. Robinson Worldwide, Inc., DB SCHENKER (Deutsche Bahn Group (DB Group)), Deutsche Post AG (DHL Group), DSV (DSV Panalpina), FedEx, Geodis, Kuehne+Nagel, United Parcel Service, Inc. (UPS), and XPO Logistics, Inc. 
Key Developments:
In February 2021

, Deutsche Post AG (DHL Group) declared to invest about $47 million (€40 million) in its Indonesian operations over the next few years. Under this investment plan, DHL unveiled a new 17,000 square meter warehouse located in Cimanggis, which includes specialty features tailored for customers in the fast-moving consumer goods (FMCG) industry.

In January 2021,

C.H. Robinson Worldwide, Inc. entered into a partnership with data analytics company SAS to help retail and consumer product-goods companies adjust to rapid shifts in customers' habits. The partnership is aimed to offer an end-to-end supply chain solution that integrates inventory and demand signal data with real-time transportation data. Retail and CPG (consumer packaged goods) companies in North America will benefit first from this integration.

In December 2020,

A.P. Moller - Maersk opened its warehouse and distribution facility in Abidjan, Ivory Coast. The newly opened 5,000 m2 facility is designed to handle 3,900 pallet positions and meet the endto-end requirements of Maersk's global customers, including retail, fast moving consumer goods, and technology.

In September 2020,

DB SCHENKER opened a warehousing hub located in Badli, Gurgaon for effective and efficient supply chain management within NCR and North India. This hub offers a complete range of logistics and chain solutions for automotive, pharma, retail & consumer, industrial, electronics, and aerospace sectors
Growing penetration of e-commerce in the FMCG industry
E-commerce refers to the buying and selling of goods by using internet. It is reshaping the global retail industry due to its facility of providing visibility of inventory status, expected delivery time, and a variety of shipping options, including tracking options and easy returns. In addition, online grocery stores and retailers, such as Big Basket, Flipkart, and Amazon, help FMCG products to be easily available with different discounts, festive sales, and same-day delivery options to consumers. 
FMCG Logistics Market

---
By Mode Of Transportation
Waterways segment is projected as the most lucrative segments
Moreover, introduction of 'direct-to-consumer' initiative by FMCG companies, wherein a consumer can order FMCG products direct to the home through online channel also propels the market growth. For instance, in May 2020, a leading beverage company, PepsiCo, launched two direct-to-consumer websites where shoppers can order an assortment of the company's products, including snack and beverages. In August 2020, Storia Food & Beverages launched direct-to-consumer e-commerce initiative known as shop.storiafoods.com to gain an edge via online shopping amid shifting consumer behavior. Therefore, consumer goods companies and e-commerce platforms tie up with logistics providers to deliver goods quicker and more cost-effectively, thereby driving the growth of the FMCG logistics market.  
Rise in tech-driven logistics services and growing adoption of IoT-enabled connected devices
Changing technological trends and implementation in FMCG application have completely changed the FMCG logistics market. Companies started integrating new-age technologies, such as IoT, robotics, analytics, and Big Data, into their FMCG supply chain. The implementation of modern technology, such as drone delivery, in logistics has also reduced the lead time and inventories for FMCG companies, thus fulfilling their demand for customization and fast delivery. For instance, in September 2019, FedEx collaborated with Wing Aviation LLC, an Alphabet company, and Walgreens, a retail pharmacy company, to launch a first-of-its-kind drone delivery service in Christiansburg, Virginia. Moreover, increasing penetration of IoT in the logistics sector enables freight companies and consumers to directly access real-time information via internet. Therefore, the implementation of tech-driven logistics services is expected to help FMCG companies to optimize their assets efficiently, thereby propelling the growth of the FMCG logistics market.
FMCG Logistics Market

---
By Product Type
Other Consumables segment is projected as the most lucrative segments
Changing lifestyles & consumer habits coupled with rise in disposable income
Earlier, consumers used to buy products by going to the shop; however, now changing habits have resulted in online ordering and online processes. The rising awareness of personal care products, adoption of health & wellness goods, and the growing popularity of cosmetics and many others contributed to the popularity and sale of consumer goods. Moreover, growing disposable income and changes in consumption patterns and lifestyles along with improved purchasing power promise exciting growth opportunities for the FMCG logistics market. Furthermore, increase in income, urbanization, and growth in organized retail drive the food & beverages consumption among consumers. These factors are anticipated to boost the consumption of consumer goods, products, and services, thereby offering extensive opportunities for the FMCG logistics market.
Lack of control of manufacturers and retailers on logistics service
By using logistics service, a manufacturing or retailing company has to rely on the reliability, competency, and honesty of logistics service providers. In this scenario, manufacturers or retailers must rely on logistics service provider, which results in lack of direct control. In several cases, the manufacturer or retailer is unable to monitor the operations at the warehouse, which is a serious threat to the quality of products primarily for perishable goods. Moreover, outsourcing to a third-party logistics (3PL) could potentially lead to breach of confidentiality, resulting in the exposure of customer personal data or the sharing of commercially-sensitive information. Therefore, lack of control of manufacturers and retailers on logistics service is anticipated to hinder the growth of the FMCG logistics market. 
FMCG Logistics Market

---
By Service Type
Value Added Services segment is projected as the most lucrative segments
Emergence of last mile deliveries coupled with logistics automation
Last mile logistics refers to the final step of the delivery process from a distribution center or facility to the end user. With continuously increasing proliferation of e-commerce companies, the provision of efficient last mile deliveries is witnessing a major upswing in the logistics industry. In addition, getting a package within the same day of delivery is almost common in the present day, resulting in the growth of last mile delivery services. Moreover, due to rise in FMCG, such as groceries, perishables, and food & beverages, e-commerce industries are also witnessing greater emphasis on last mile delivery options across logistics industries. Furthermore, the continuous effort of logistics companies to offer efficient last mile deliveries is another opportunity that is expected to fuel the FMCG logistics market growth in near future. For instance, in January 2021, Mahindra Logistics (MLL) launched cargo last-mile delivery service under the brand name 'EDel' for customers in e-commerce, FMCG, and other markets.
Cost cutting and lead time reduction due to adoption of multi-modal system
Reduction in cost of transportation and timely delivery of consumer goods, such as perishable items and groceries, pose a challenge to logistics service providers. Logistics companies have the opportunity to use multi-modal transportation system due to rising amount of orders to be delivered in limited time. Multi-modal transport uses the most efficient combination of transport modes, keeping the freight costs down to increase the efficiency of the supply chain. For example, APL Logistics provides ShipMax solution to its customers. It includes pairing with compatible trucking partners as well as allowing customers to take advantage of better load utilization and delivery optimization, thereby enabling customers to maximize transportation budget. Therefore, cost cutting and lead time reduction by adopting multi-modal system pose exponential growth opportunities for the key players operating in the FMCG logistics market.
FMCG Logistics Market

---
By Region
Asia-Pacific segment is projected as the most lucrative segments
Key Benefits For Stakeholders
This study presents analytical depiction of the FMCG logistics market analysis along with the current trends and future estimations to depict the imminent investment pockets.
The overall market potential is determined to understand the profitable trends to gain a stronger foothold.
The report presents information related to key drivers, restraints, and opportunities of the market with a detailed impact analysis.
The current FMCG logistics market size is quantitatively analyzed from 2019 to 2027 to benchmark the financial competency.
Porter's five forces analysis illustrates the potency of the buyers and suppliers in the FMCG logistics industry.
 FMCG Logistics Market Report Highlights
Aspects
Details
By Product Type

Food & beverages
Personal care
Household care
Other consumables

By SERVICE TYPE

Transportation
Warehousing
Value added services

By MODE OF TRANSPORTATION

Railways
Airways
Roadways
Waterways

By Region

North America (US, Canada, Mexico)
Europe (Germany, France, UK, Italy, Rest of Europe)
Asia-Pacific (China, Japan, India, Australia, Rest of Asia-Pacific)
LAMEA (Latin America, Middle East, Africa)

Key Market Players
GEODIS, A.P. MOLLER – MAERSK, XPO LOGISTICS, INC., KUEHNE+NAGEL, C.H. ROBINSON WORLDWIDE, INC., DEUTSCHE POST AG (DHL GROUP), DSV (DSV PANALPINA), UNITED PARCEL SERVICE, INC. (UPS), FEDEX, DB SCHENKER (DEUTSCHE BAHN GROUP (DB GROUP))