Food Cultures Market Research, 2032
The global food cultures market size was valued at $47.7 billion in 2022, and is projected to reach $75.8 billion by 2032, growing at a CAGR of 4.8% from 2023 to 2032.
A significant rise in the demand for processed food and functional food across the globe is expected to boost the growth of the food cultures market in the forthcoming years. Moreover, the growing demand for clean-label products among the consumers in the developed economies is offering a lucrative growth opportunity to the market players.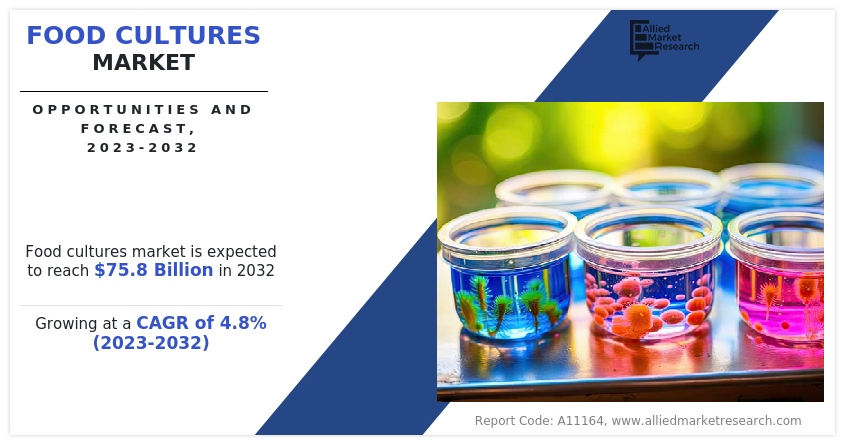 The food cultures market is segmented into Product, Application and Function.
Food cultures or microbial food cultures are microorganisms which are grown with an intent to bring desired alteration in the food product. These include bacteria, yeast, and molds, which are often used to enhance fermentation process. These cultures further perform multiple functions such as prevention of undesired growth of flora, retaining flavor and texture, and simultaneously provide numerous health benefits. Food cultures are classified as probiotics, protective and starter cultures, and are used in a vast number of applications such as in dairy, meat, and beverages.
The increase in trend among consumers toward maintaining and improving their health is one of the significant factors which is contributing to elevating the demand for food and beverages, which offer compelling health benefits. Consumers are looking for food that meet their daily calories requirements, while simultaneously maintaining their health.  They are educating themselves about prevalent health concerns and the solutions available in the market. Food cultures are used in food meats, cheese, other dairy products and a variety of beverages, affecting the major portion in daily diet. Moreover, there is an increase in the demand for Probiotics, as these are attributed to numerous health benefits and help in strengthening immune system, thus providing support for preventing diseases and are increasingly becoming used in dietary supplements.
Manufacturers are also expanding their focus with increased spending on innovating and developing new food and beverages using food cultures.  Food cultures are used widely for increasing the shelf-life of the products along with improving flavor and textures. Moreover, there is an increase in the demand for trending products like kombucha and kimchi owing to the associated health benefits. One of the leading manufacturers of food cultures, International Flavors & Fragrances, Inc. (IFF) that produces flavors and fragrances has recently debuted its starter culture Choozit Vintage, which is mainly marketed toward cheese manufacturers to reduce problems related to crystal and gas formation and increasing flavor. These developments are mainly associated with addressing the challenges faced by consumers and producers.
Consumers in developed nations such as Germany, U.S., France, Italy, and Japan are demanding customizable food and beverages to meet their unique nutritional demands. Consumer awareness about healthy food is increasing, due to widespread knowledge about the availability of better alternatives; the demand for food which only meets general needs is no longer popular a popular choice. According to Chr. Hansen 75% of consumers are aware of probiotics. Consumers are adopting functional food which is increasing the food cultures market demand. Organizations are also investing heavily in research and development of food cultures to strengthen their position in the market. According to Atura Proteins, which provides plant-based proteins, 56% of food and beverages manufactures are planning to invest in plant-based food products in 2022. These brands are collaborating in order to use each other's capabilities to overcome challenges in the market. APC Microbiome Ireland, which is a microbiome institute has collaborated with Kraft Heinz, a food company, to increase the focus on food safety and infant formula.
Changes in consumer preferences and perception toward cleaner plant-based food with elevated flavoring are gaining popularity in developing economies. As per capita income is increasing in growing economies like Asia-Pacific, consumers adopt more luxurious lifestyle, including premium food, medicine, and increased focus on personal care. This leads to an increase in demand for food that meet certain requirements such as food which are additive-free, nutritional and vegan friendly. Kingdom Supercultures, which develops food cultures has developed cultures to shorten production time and also helps manufacturers to produce plant-based food products. Furthermore, there is an increase in per capita income in Latin America and Middle East regions which is expected to drive the demand for premium food. These cultures are also used to develop plant-based meat alternatives and numerous brands are investing to expand their product offering in more novel markets like alternative dairy and meat. Nestle SA, a leading food company, announced the development of alternative meat products based on plant-based ingredients.
Consumers are opting for precautionary measures with rise in awareness about infections and diseases. They have become more health-conscious and companies are using various marketing strategies to increase consumer confidence and strengthen brand relations. These brands use different strategies to build positive perception through the use of labels and special logos on their packaging to gain recognition and make people aware of the immune health benefits which their unique products offer.  Chr. Hansen uses Lactobacillus rhamnosus, LGG, which is a probiotic strain, used by companies for marketing and brand recognition as logo on their packaging. These strategies help in building consumer trust.
The food cultures industry is growing with the new advances in the microbial technological sphere and has also brought changes to the field of food sciences. Incorporation of synthetic biology, under which cellular engineering is used to develop new solutions, improve existing strains of food cultures which altogether lead to improvement in final products with minimum wastage. These developments collectively lead towards the development of safer food. In addition, these developments are anticipated to assist manufacturers to innovate food more sustainably and economically. Changes in climate and land degradation are the leading causes  for increased food scarcity, prices and insufficient supply of food in many regions. Manufacturers are addressing these challenges with the use of microbial food cultures. . These further allow brands to address the sustainability challenges, as microorganisms have low carbon footprints.
The food cultures market has witnessed numerous developments as companies introduce advanced products. Lallemand Inc., which specializes in yeast and bacteria, launched a LALCULT Protect MC1 to combat fungal contamination. With this, it will help prevent consumers from ingesting contaminated products, which leads to digestive disorders. Royal DSM also introduced Delvo Cheese CP-500 cultures for mozzarellas cheese production. These developments were primarily focused on meeting the demand for high quality cheese by enhancing production efficiency. Moreover, manufacturers are also innovating microbial food cultures to address trends toward alternative dairy products. Kingdom Supercultures introduced biobank of microbial cultures to enter into alternative dairy market.  
The food cultures market is analyzed on the basis of product, function, application, and region. By product, the market is classified in starter cultures, protective cultures, and probiotic cultures. On the basis of function, the market is analyzed under flavoring, preservatives, texture and others. Depending on application, the market is categorized into dairy, meat, beverage and others. Region wise, the market is analyzed across North America (the U.S., Canada, and Mexico), Europe (Germany, UK, France, Italy, Spain, and the rest of Europe), Asia-Pacific (China, India, Japan, Australia, South Korea, and rest of Asia-Pacific), and LAMEA (Brazil, Argentina, Saudi Arabia, South Africa, and rest of LAMEA).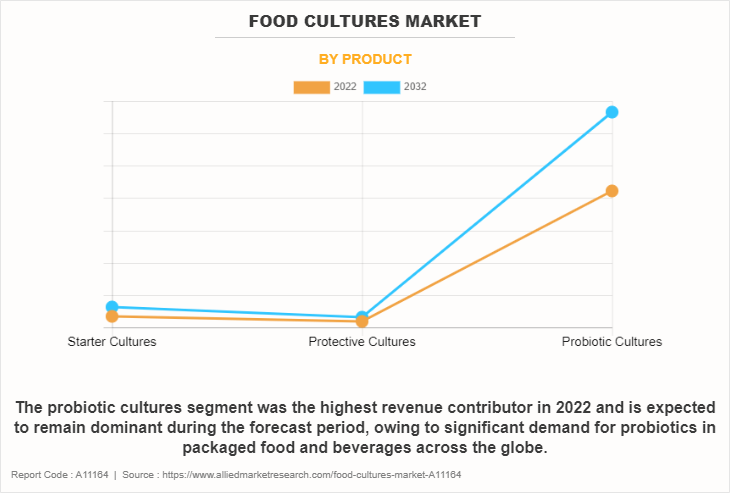 As per the food cultures market forecast, on the basis of product type, the starter cultures is expected to be the fastest growing segment during the forecast period. is anticipated to grow at a significant rate during the forecast period. Starter cultures help in improving production processes related to various dairy products by enhancing flavor and help in reducing formation of undesired bitterness. Consumers are investing more time and effort into strengthening their immunity and are taking precautionary health measures with an increase in trends toward health and wellness due to the awareness caused by COVID-19 pandemic. They seek healthy food to achieve such needs. Consumers are looking for food products which are packed with elements which are for improving gut microbiome without compensating flavor and taste. There is an increase in demand for starter cultures  to meet surging demand for food which require longer shelf life and to keep flavors intact.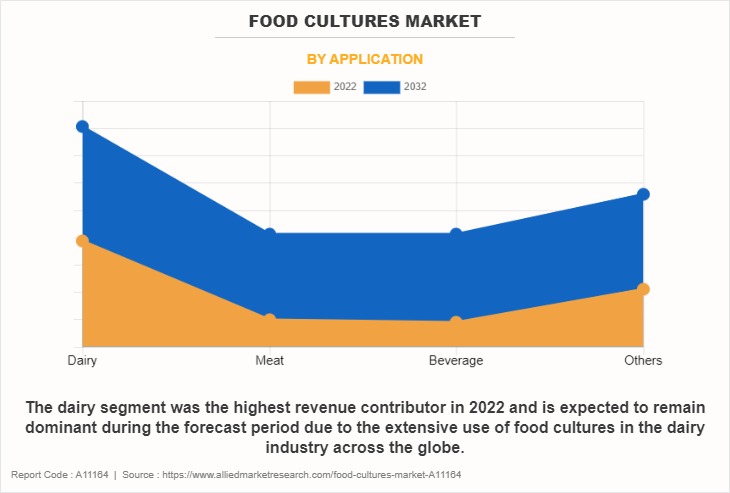 As per application, beverage was the fastest growing segment in 2022. Food cultures are becoming widely used in fermented beverages such as yogurt, kombucha and  kimichi. These beverages are gaining recognition due to the presence of numerous healthy proteins, calcium, and live cultures. Furthermore, kombucha, a type of fermented beverage is consumed as it provides numerous health benefits and also aids in digestion, improved metabolism and energy. Leading beverages manufacturer PepsiCo, Inc., has also invested in KeVita, a leading fermented probiotic and kombucha brand in North America, to address the changing needs of consumers in health and wellness.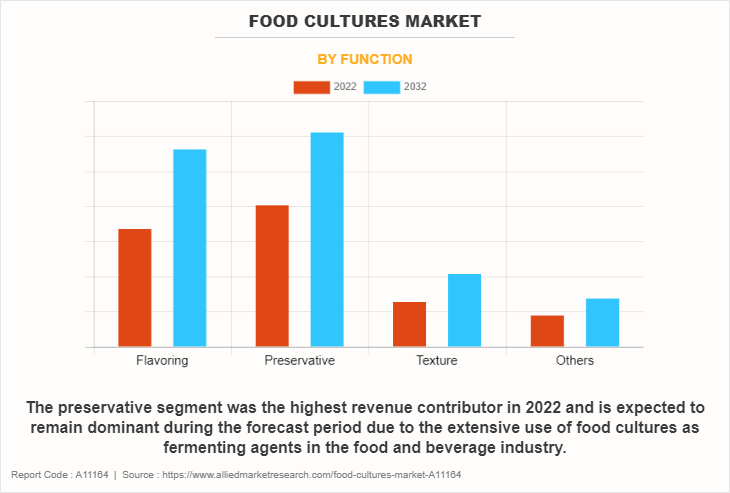 Based on function, flavoring segment garnered the major food cultures market share in 2022. The increase in demand for preservation, flavor retention, plant-based food and rise in population of flexitarians are the leading contributing to surge in demand for food cultures.  This is largely due to rise in awareness about health concerns and consciousness about animal welfare. Consumers are demanding food which are vegan friendly and to address this demand, manufacturers are developing food which incorporate flavors from original products such as beef and pork flavors. Thus, cultures are largely used for infusing a variety of flavors in alternative meats and also for keeping flavors intact.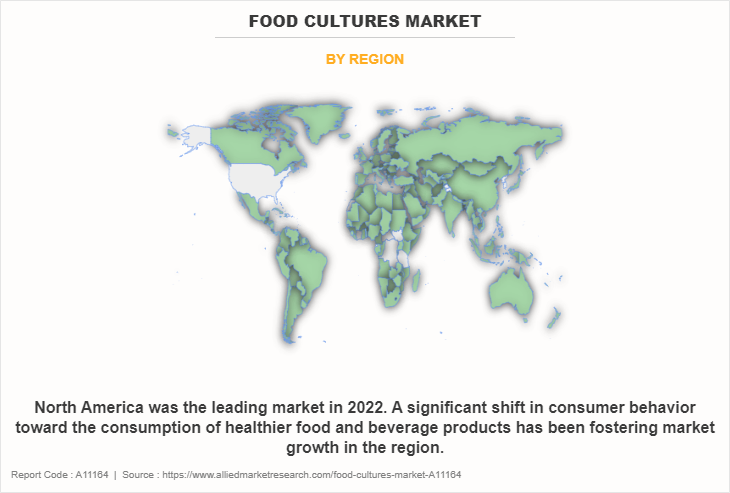 Region-wise, Asia-Pacific is anticipated to witness the highest growth in the food cultures market. With rising per capita income and awareness about the benefits of healthy food, consumers' demand for nutritional and functional food increases.  Many food products such as cheese, yogurt, meat, and seafood which are high in proteins and are associated with numerous health benefits and are witnessing a rise in demand. Furthermore, improvement in distribution channels such as online and offline retail in countries such as China and India allow consumers to access these products more efficiently and contributes to the food cultures market growth.
Some examples of product launches include:
In April 2022, Chr. Hansen Holding A/S launched Vega Safepro culture for the plant-based meat alternatives.
In May 2022, Chr. Hansen Holding A/S launched new Vega boost cultures in order to meet the consumer demands for plant-based products.
In November 2022, Angel Yeast Co., Ltd. launched six new products including yeast extract, and yeast protein in order to provide a comprehensive portfolio for taste and innovation for food and beverages.
Some examples of expansion include:
In September 2023, Chr. Hansen Holding A/S opened a new innovation campus in Hoersholm in order to expand its business. This new campus focuses on innovation, knowledge-sharing, and customer support.
In October 2023, International Flavors & Fragrances Inc. opened its new Singapore innovation center, in order to accelerate innovation and expand its regional footprint in Singapore.
In July 2021, Koninklijke DSM N.V., announced to build a new head office in Maastricht, the Netherlands. This new office will serve as a connected network of global business and R&D headquarters, regional head offices, (home) offices, and manufacturing locations.
Key Benefits For Stakeholders
This report provides a quantitative analysis of the market segments, current trends, estimations, and dynamics of the food cultures market analysis from 2022 to 2032 to identify the prevailing food cultures market opportunities.
The market research is offered along with information related to key drivers, restraints, and opportunities.
Porter's five forces analysis highlights the potency of buyers and suppliers to enable stakeholders make profit-oriented business decisions and strengthen their supplier-buyer network.
In-depth analysis of the food cultures market segmentation assists to determine the prevailing market opportunities.
Major countries in each region are mapped according to their revenue contribution to the global market.
Market player positioning facilitates benchmarking and provides a clear understanding of the present position of the market players.
The report includes the analysis of the regional as well as global food cultures market trends, key players, market segments, application areas, and market growth strategies.
 Food Cultures Market Report Highlights
Aspects
Details
Market Size By 2032
USD 75.8 billion
Growth Rate
CAGR of 4.8%
Forecast period
2022 - 2032
Report Pages
300
By Product

Starter Cultures
Protective Cultures
Probiotic Cultures

By Application

Dairy
Meat
Beverage
Others

By Function

Flavoring
Preservative
Texture
Others

By Region

North America (U.S., Canada, Mexico)
Europe (France, Germany, Italy, Spain, UK, Rest of Europe)
Asia-Pacific (China, Japan, India, South Korea, Australia, Rest of Asia-Pacific)
LAMEA (Brazil, South Africa,, Saudi Arabia, Argentina, Rest of LAMEA)

Key Market Players
Angel Yeast Co., Ltd., Lallemand Inc., E&O Laboratories Ltd, Koninklijke DSM N.V., Chr. Hansen Holding A/S, Lactina Ltd., Wyeast Laboratories, Inc., LB Bulgaricum Ltd., International Flavors & Fragrances Inc., Dohler GmbH
Analyst Review
According to CXOs, the occurrence of obesity, rise in health consciousness, and increase in cases of obesity and overweight among individuals are the major reasons encouraging people to change toward healthier eating options. Obesity increases an individual's risk of various health problems such as diabetes, cardiovascular mortality, and hypertension. Sugary products are not ideal for long-term consumption; therefore, the popularity of fermented food and artificially synthesized food culture products is expected to increase in the upcoming years.
The hectic lifestyles of individuals and the growth in urban population as well as surge in the working population have reduced the time available for the consumption of cooked meals. This has encouraged the population to shift toward the consumption of processed and fermented food to fulfill hunger. As a result, to meet their calorie requirements, the population is shifting toward the consumption of food culture products.
The CXOs further added that manufacturers are focusing on displaying the transparency of the ingredients that are added to the product, as many consumers choose products by reading the labels. In addition, consumers prefer products with organic and plant-based food ingredients. Moreover, the increase in the application of functional food in sports nutrition and clinical nutrition further boosts the growth of the functional food cultures market.
Furthermore, rise in rate of internet penetration around the major parts of the world makes way for manufacturers to initiate several key online marketing programs. These online platforms are one of the easiest ways to create awareness about the benefits of food fortified with functional food cultures with respect to various diseases including cardiovascular diseases, cancer, and obesity-linked diseases. Hence, tapping into such markets is expected to create potential opportunities for the expansion of the global functional food cultures market.