The global freight forwarding market was valued at $192.50 billion in 2021, and is projected to reach $285.15 billion by 2031, growing at a CAGR of 4.1% from 2022 to 2031.
The outbreak of COVID-19 resulted in flight cancellations, travel bans, and implementation of quarantine measures, which made massive disruption of the supply chain and logistics activities across the globe. The impact of the COVID-19 pandemic has resulted in workforce changes, and temporary restriction on the movement of goods. Several countries across the globe shut down their borders and limited transportation & travel to contain the coronavirus outbreak. For instance, in 2020, in European Union, trucks formed a 37-mile-long lines on A4 highway after Poland closed its border with Germany in mid-March to stop coronavirus spread. The pandemic affected almost every dimension of economic activity and individuals globally. As a consequence of the coronavirus outbreak, important supply chains in the logistics and transportation industry were hampered, though differently across air, land, and sea mode of transportation. The supply chain disturbance created by COVID-19 is expected to impact competitiveness, economic growth, and jobs lost in the logistics industry for a while. For instance, according to a report by the International Finance Corporation (IFC), total container volumes handled at Chinese ports dropped by 10.1% in the first months of 2020. In addition, air freight volumes fell by 19% in March 2020. In addition, as business to business (B2B) logistics industry suffered and came to a halt, business to customer (B2C) emerged during the pandemic, owing to the growth of the online retail and e-commerce industry. Attributed to the lockdown and social distancing impact, the demand for online retailing has increased compared to offline retailing. For instance, in 2019, online shopping rose by 20% and then by 30% during lockdown. Rise in online sales compelled companies to restructure their warehouse to manage e-commerce logistics. Moreover, increase has been witnessed in the demand for healthcare and FMCG supplies such as hospital supplies, gloves, sanitizers, vaccinations, and perishable food items, which propels growth of the logistics market during the pandemic.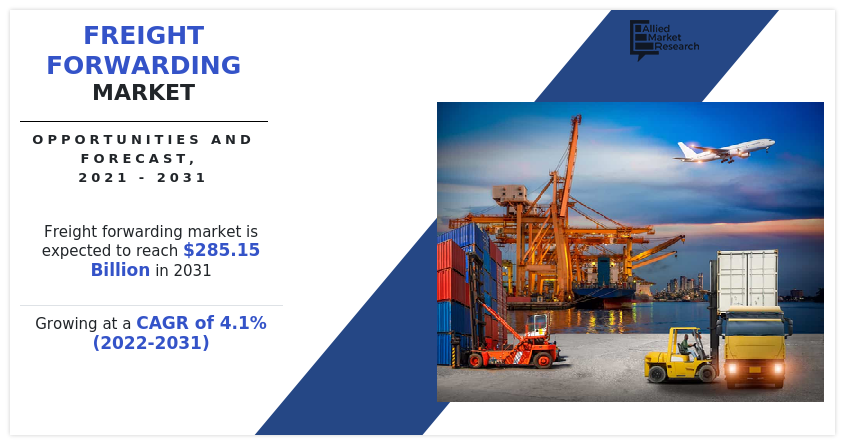 Freight forwarding is the process of organizing, coordinating, and shipping of goods from one place to another across international borders through a single or multiple carriers. The shipment of the goods occurs via air, land or sea. The company responsible for organizing the shipment is known as freight forwarder. Freight forwarders manage the risks and benefits of shipping both nationally and internationally by performing the required tasks such as freight rate negotiations, container tracking, customs documentation and freight consolidation. Moreover, freight forwarding comprises numerous stages such as export haulage, export customs clearance, origin handling, import customs clearance, destination handling and import haulage.
Growth of the global freight forwarding market is propelling, owing to growth in international trade, expansion of the e-commerce industry globally, and rise in the free trade agreements between nations. However, stringent emission regulations restrain growth of the market. Furthermore, technological advancements, and cost cutting & lead time reduced by adopting multimodal system are factors expected to offer growth opportunities during the forecast period.
Freight forwarding Market

---

By Service
Value-added Services segment is projected as the most lucrative segment
The freight forwarding market is segmented on the basis of service, mode of transport, logistics model, customer type, end-use industry, and region. By service, it is segmented into transportation & warehousing, packaging & documentation, and value-added services. By mode of transport, it is classified into air freight forwarding, sea freight forwarding, and land freight forwarding (road & rail).
By customer type, it is bifurcated into B2B and B2C. By end-use industry, it is fragmented into retail & e-commerce, manufacturing, healthcare, automotive, and others. By region, the report is analyzed across North America, Europe, Asia-Pacific, and LAMEA.
Some leading companies profiled in the freight forwarding market report comprises Bollore Logistics, CEVA Logistics, DB Schenker, DHL Global Forwarding, Dimerco, DSV Panalpina A/S, Expeditors International, Fedex, Hellman Worldwide Logistics, Kuehne+Nagel International AG, MGF (Manitoulin Global Forwarding), Nippon Express Co., Ltd., Transporteca, UPS Supply Chain Solutions, and UBER Freight LLC.
Freight forwarding Market

---

By Mode Of Transport
Air Freight Forwarding segment is projected as the most lucrative segment
Growth in international trade
International trade is the exchange of goods and services between countries and continents. It has an important share in GDP in different countries. Recently, COVID-19 affected the international trade across the globe and resulted in slowdown of economic activities among countries. COVID-19 pandemic brought global economy to a standstill and decline in international trade activities was observed. Emerging countries such as China and India also faced temporary suspension of manufacturing and logistics activities, owing to government enforced lockdown.
However, as the COVID-19 vaccine was introduced and lockdown restrictions were lifted, international trade activities started to resume. Several major trading economies has observed rise in exports and imports levels in 2021. In addition, as per the United Nations Conference on Trade and Development (UNCTAD), the global trade has reached a record level of $28.5 trillion in 2021 which is an increase of 25% as compared to 2020 and 13% as compared to 2019.
Moreover, rise in e-commerce activities also contributed toward growth of international trade and is expected to continue to contribute in upcoming years. Thus, growth in international trade is the major factor that drives growth of the freight forwarding market during the forecast period.
Expansion of e-commerce industry globally
E-commerce refers to buying and selling of goods by utilizing internet. E-commerce is a virtual store where goods & services do not require any physical space and are sold through websites. The e-commerce industry utilizes logistics services to manage and oversee supply chain of e-commerce companies, thus, allowing these companies to focus on marketing and other business operations. Easy accessibility, convenient shopping experiences, and heavy discounts & offers make e-commerce a popular medium for purchase of a wide variety of products. These factors have collectively contributed toward growth of the freight forwarding industry for e-commerce services.
In addition, COVID-19 also contributed in growth of the e-commerce industry across the globe. Several governments-imposed lockdown in their regions to restrict spread of the virus. As there were no access to physical marketplace, people started to purchase goods or products online, which, in turn, resulted in growth of the e-commerce sector.
Moreover, rise of the e-commerce industry has forced freight forwarders to adopt digital technologies to address the increasing demand of customers. They have also started to use artificial intelligence, internet of things (IoT), and other technologies to ensure timely delivery of goods or products to customers. Thus, expansion of the e-commerce industry globally propels growth of the digital freight forwarding market.
Freight forwarding Market

---

By Region
Asia-Pacific would exhibit the highest CAGR of 4.1% during 2022-2031
The freight forwarding market is segmented into Service, Mode of Transport, Customer Type and End-use Industry.
Key Benefits For Stakeholders
This report provides a quantitative analysis of the market segments, current trends, estimations, and dynamics of the freight forwarding market analysis from 2021 to 2031 to identify the prevailing freight forwarding market opportunities.
The market research is offered along with information related to key drivers, restraints, and opportunities.
Porter's five forces analysis highlights the potency of buyers and suppliers to enable stakeholders make profit-oriented business decisions and strengthen their supplier-buyer network.
In-depth analysis of the freight forwarding market segmentation assists to determine the prevailing market opportunities.
Major countries in each region are mapped according to their revenue contribution to the global market.
Market player positioning facilitates benchmarking and provides a clear understanding of the present position of the market players.
The report includes the analysis of the regional as well as global freight forwarding market trends, key players, market segments, application areas, and market growth strategies.
 Freight forwarding Market Report Highlights
Aspects
Details
Service

Transportation and Warehousing
Packaging and Documentation
Value-added Services

Mode of Transport

Land Freight Forwarding
Sea Freight Forwarding
Air Freight Forwarding

Customer Type
End-use Industry

Retail and E-Commerce
Manufacturing
Healthcare
Automotive
Others

By Region

North America (U.S., Canada, Mexico)
Europe (Germany, U.K., France, Italy, Rest of Europe)
Asia-Pacific (China, Japan, India, South Korea, Rest Of Asia Pacific)
LAMEA (Latin America, Middle East, Africa)

Key Market Players
Kuehne+Nagel International AG, MGF, Nippon Express Co., Ltd., Transporteca, United Parcel Service of America, Inc., Bolloré Logistics, CEVA Logistics AG, Schenker Deutschland AG, Deutsche Post DHL, Dimerco, DSV A/S, Expeditors International of Washington, Inc., FedEx, Hellmann Worldwide Logistics, Uber Freight LLC