The global freight trucking market was valued at $2,732 billion in 2021, and is projected to reach $4,457.4 billion by 2031, growing at a CAGR of 5.1% from 2022 to 2031.
Freight trucking comprises heavy-duty trucks which are utilized for the transportation of commodities, goods and cargo from one place to another. These heavy-duty trucks comprise a strong chassis and a powerful engine to easily carry heavier loads. Usually, these trucks transport cargo between warehouses, factories, wholesalers, and retailers. In addition, these trucks are available in different variants ranging from small pickups and semi-trailers trucks to large goods to heavy haulers that can handle oversized cargo.
The outbreak of COVID-19 resulted in flight cancellations, travel bans, and implementation of quarantine measures, which made massive disruption of the supply chain and logistics activities across the globe. The impact of the COVID-19 pandemic has resulted in workforce changes, and temporary restriction on the movement of goods. Several countries across the globe shut down their borders and limited transportation & travel to contain the coronavirus outbreak. For instance, in 2020, in European Union, trucks formed a 37-mile-long lines on A4 highway after Poland closed its border with Germany in mid-March to stop coronavirus spread. In addition, the impact of the COVID-19 pandemic has also resulted in supply-chain disruptions causing decline in the sales of automobiles, shortage of semiconductor components, and temporary shutdown of many production sites across the globe, which in turn impacted the demand for freight trucks. For instance, in 2020, global automobiles production recorded a drop of 16% in vehicle production. Several automobile manufacturers faced shortage of components such as semiconductor chips, and others, which further resulted in delay in production of freight trucks. Heavy-duty truck manufacturers are still struggling to keep up with demand as shortages of semiconductors and other parts curb production. Moreover, COVID-19 also impacted the production of trucks across the globe. It forced automobile manufacturers to temporarily shut down their production plants, owing to lack of workforce. For instance, in May 2020, Ford temporarily shut down its two separate production plants as the employees tested positive for COVID-19. One plant in Chicago that manufactures Ford Explorer, the Lincoln Aviator, and Ford Interceptor; and the second plant in Dearborn Michigan that manufactures F-150 pickup truck, were temporarily shut down. However, with the easing of lockdown restrictions, several truck manufacturing companies has observed growth in the sales of truck and buses, which fuels the growth of the market during the forecast period. For instance, in 2021, Daimler Truck has reported 20% year-on-year growth in sales of truck and buses with 455,400 units sold across the globe. Furthermore, post-pandemic, several technological advancements such as introduction of Internet of things (IoT) in trucks has been observed, which in turn will supplement the growth of the market during the forecast period.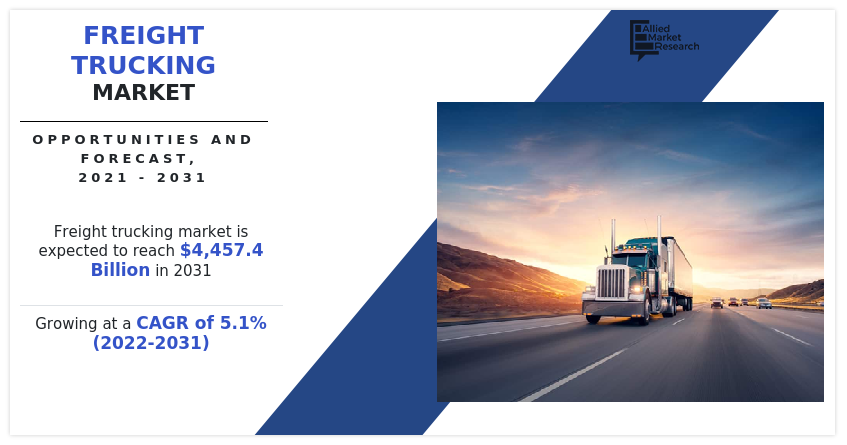 The growth of the global freight trucking market is propelling, due to increase in use of telematics in automotive sector, expansion of e-commerce industry globally, and rise in urbanization. However, poor infrastructure and higher logistics costs are hampering the growth of the market. Furthermore, development of self-driving trucks is the factor expected to offer growth opportunities during the forecast period.
The freight trucking market is segmented on the basis of truck type, cargo type, end-user, and region. By truck type, it is segmented into dry van & box, refrigerated truck, tanker truck, flatbed truck, and others. By cargo type, it is classified into dry bulk goods, liquids, temperature controlled goods, and others. By end-user, it is categorized into retail & e-commerce, manufacturing & industrial, healthcare, automotive, and others. By region, the report is analyzed across North America, Europe, Asia-Pacific, and LAMEA.
Freight Trucking Market

---

By Truck Type
Refrigerated truck is projected as the most lucrative segment
Some leading companies profiled in the freight trucking market report comprises A.P. Moller-Maersk, CEVA Logistics AG, Deutsche Post AG, ESTES Express Lines, FedEx, J.B. Hunt Transport Services, Inc., Knight Transportation Holding Inc., Landstar System, Inc., Nippon Express Co., Ltd., Old Dominion Freight Line Company, Saia, Inc., Schneider National, Inc., United Parcel Service of America, Inc., XPO Logistics, Inc., and YRC Freight.
Increase in use of telematics in automotive sector
Telematics plays an important role in developing unique solutions for efficient fleet management. Trucks with telematics and wireless solutions can get live traffic updates, monitoring, tracking, and roadside-assistance during a breakdown, smart routing, and others. This in turn, enhances the operational efficiency of fleets. Telematics solutions also aids in fuel cost reduction, resource optimization, and others.
In addition, several companies are also introducing new telematics solutions to enhance the capabilities of fleets. For instance, in January 2021, Mix Telematics announced the launch of a new app-based tracking solution for fleets, specially designed for providing real-time monitoring capabilities to aid the customers in improving the driver safety level and manage the risks. Thus, increase in use of telematics in the automotive sector is expected to drive the growth of the freight trucking industry during the forecast period.
Freight Trucking Market

---

By Cargo Type
Temperature controlled goods is projected as the most lucrative segment
Expansion of e-commerce industry globally
E-commerce refers to buying and selling of goods by utilizing internet. E-commerce is a virtual store where goods & services do not require any physical space and are sold through websites. The e-commerce industry utilizes logistics services to manage and oversee supply chain of e-commerce companies, thus, allowing these companies to focus on marketing and other business operations. Easy accessibility, convenient shopping experiences, and heavy discounts & offers make e-commerce a popular medium for purchase of a wide variety of products. These factors have collectively contributed toward growth of the freight trucking industry for e-commerce services.
In addition, COVID-19 also contributed in growth of the e-commerce industry across the globe. Several governments-imposed lockdown in their regions to restrict spread of the virus wherein, people started to purchase goods or products online, which, in turn, resulted in growth of the e-commerce sector.
Moreover, rise of the e-commerce industry has forced freight truckers to adopt digital technologies to address the increasing demand of customers. They have also started to use artificial intelligence, internet of things (IoT), and other technologies to ensure timely delivery of goods or products to customers. Thus, expansion of the e-commerce industry globally propels growth of the freight trucking market.
Rise in urbanization
In recent years, several countries have experienced wide-scale development, with most rural areas being converted into urban landscape. This implies that it is easier for trucks to be able to traverse through different parts of the country which they were unable to traverse in previous years. This will lead the freight trucking industry to widen its scope and reach and offer its services to a much wider customer base, thereby, helping the freight trucking industry to generate significantly more business in the process. Thus, rising urbanization is the factor contributing to the growth of the freight trucking market during the forecast period.
Freight Trucking Market

---

By End-user
Retail and e-commerce is projected as the most lucrative segment
Poor infrastructure and higher logistics costs
Logistics demands for good infrastructure, supply chain, and trade facilitation. Without these, firms have to build up more stock reserves and working capital, which can strongly affect national and regional competitiveness due to high financial costs. In addition, lack of infrastructure hinders the freight trucking market as it increases costs and reduces supply chain reliability.
These include significant inefficiencies in transport, complex tax structure, low rate of technology adoption, and poor skills of logistics professionals. For instance, according to a report by the Economist, an international newspaper, Latin America lacks adequate infrastructure. More than 60% of the region's roads are unpaved. Further, inconsistency in the address and postal system is the other challenge for parcel delivery in Latin American countries. As many countries lack postal codes and rely on local landmarks for addresses, shipping companies often have trouble delivering parcels successfully. Moreover, logistics costs are heavily determined by the availability and quality of infrastructure. Infrastructure directly influences transport costs and indirectly affects the level of inventories, and consequently financial costs.
Thus, owing to poor transport infrastructure, firms need to have high levels of inventories to account for contingencies, which can result in higher overall logistics cost. Therefore, poor infrastructure along with high inventory prices and insufficient warehousing space are expected to hamper the freight trucking market growth.
Freight Trucking Market

---

By Region
Asia-Pacific would exhibit the highest CAGR of 6.3% during 2022-2031
The freight trucking market is segmented into Truck Type, Cargo Type and End-User.
Key Benefits For Stakeholders
This report provides a quantitative analysis of the market segments, current trends, estimations, and dynamics of the freight trucking market analysis from 2021 to 2031 to identify the prevailing freight trucking market opportunities.
The market research is offered along with information related to key drivers, restraints, and opportunities.
Porter's five forces analysis highlights the potency of buyers and suppliers to enable stakeholders make profit-oriented business decisions and strengthen their supplier-buyer network.
In-depth analysis of the freight trucking market segmentation assists to determine the prevailing market opportunities.
Major countries in each region are mapped according to their revenue contribution to the global market.
Market player positioning facilitates benchmarking and provides a clear understanding of the present position of the market players.
The report includes the analysis of the regional as well as global freight trucking market trends, key players, market segments, application areas, and market growth strategies.
 Freight Trucking Market Report Highlights
Aspects
Details
By Truck Type

Dry van & box truck
Refrigerated truck
Tanker truck
Flatbed truck
Others

By Cargo Type

Dry bulk goods
Liquids
Temperature controlled goods
Others

By End-User

Retail and E-Commerce
Industrial and Manufacturing
Healthcare
Automotive
Others

By Region

North America (U.S., Canada, Mexico)
Europe (Germany, UK, France, Italy, Rest of Europe)
Asia-Pacific (China, Japan, India, South Korea, Rest Of Asia Pacific)
LAMEA (Latin America, Middle East, Africa)

Key Market Players
Knight-Swift Transportation Holdings Inc., Saia, Inc., CEVA Logistics AG, Landstar System, Inc., Nippon Express Co., Ltd., J.B. Hunt Transport Services, Inc., A.P. Moller - Maersk, Deutsche Post AG, Estes Express Lines, XPO Logistics, Inc., Schneider National, Inc., Yellow Roadway Corporation, Old Dominion Freight Line, Inc., United Parcel Service of America, Inc., FedEx Corporation