The frozen food market size was valued at $291.8 billion in 2019, and is estimated to reach $404.8 billion by 2027, registering a CAGR of 4.2% from 2020 to 2027. Frozen food is defined as food products that are preserved under low temperature and used over a long period. The product market comprises various food products, including ready meals, vegetables & fruits, potatoes, meat & poultry, seafood, and soup. Frozen ready meals further include packaged ready-to-eat foods, bakery, snacks, and desserts. Business buyers such as hotels, caterers, restaurants, and fast food chains are among major users of frozen food products that include frozen vegetables & fruits, potatoes, and non-veg products. 
Frozen meat & poultry and seafood are among the most commonly used grocery items across North America and Europe. Europe is the largest market of frozen bakery and desserts. The retail frozen food industry is evolving, and is in its nascent phase in markets such as India. However, it has witnessed a steady growth since the past few years.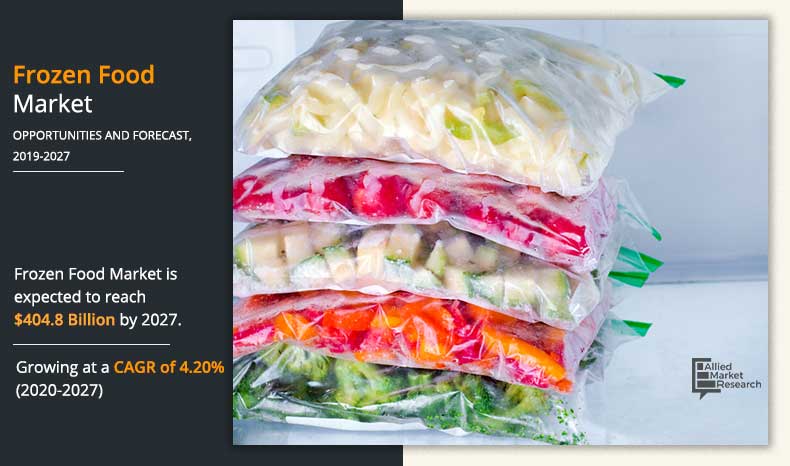 Increase in use of frozen food products by giants such as KFC, McDonald's, Pizza Hut, Subway, and Frozen Potatoes acts as a key driver of the global frozen food market. Moreover, the utilization of these products by numerous end users such as full-service restaurants, hotels & resorts, and quick service restaurants is expected to drive the growth of this market.  
The world has witnessed a significant growth in the women employment rate. With increase in number of employed women, it becomes significantly difficult for them to cook meals, which results in consuming frozen ready meals. For instance, according to the United States Department of Labor, the U.S. female employment rate in 2019 was 46%. Similarly, in China, the women employment rate was around 43.7%, and in South Africa it was around 45%. All these factors collectively drive growth of the market during the forecast period. Popular frozen ready meals include Birds Eye 4 Chicken Pies, mini cottage pie, smoked haddock kedgeree, and broccoli & cheddar bake.
The report segments the market into product type, user, and region. On the basis of product type, the market is categorized into frozen ready meals, frozen meat & poultry, frozen seafood, frozen vegetables & fruits, frozen & refrigerated soups and frozen potatoes. By end user, it is classified into food service industry, and retail users. Region wise, it is analyzed across North America (U.S., Mexico, and Canada), Europe (Germany, UK, France, Italy, Spain, and rest of Europe), Asia-Pacific (China, India, Japan, Australia, South Korea, and rest of Asia-Pacific), and LAMEA (Brazil, South Africa, Argentina and rest of LAMEA).
According to frozen food market analysis On the basis of product type, the ready meals segment is the largest revenue generator in the current scenario, followed by frozen meat and poultry products. This is attributed to surge in use of frozen pizza crusts, bread, and frozen bakery products, which acts as a key driver of the ready meals segment. Frozen potatoes segment is expected to grow at the fastest CAGR of 4.8% from 2019 to 2027, followed by the segment of frozen seafood products segment, which is expected to witness a CAGR of 4.4% during the same period. New launches in frozen ready meals owing to increased investment in R&D of food processing coupled with strengthening distribution network of frozen food items is expected to contribute significantly to the growth of frozen ready meals market segment.
Frozen Food Market

---
By Product Type
Ready Meals segment helds the major share of 34.6% in 2019
By user, the food service industry segment dominated the market, garnering 53.9% share in 2019, and is expected to continue throughout the frozen food market forecast period. This is attributed to the fact that the food service industry is among the major consumers of frozen foods. The food service industry includes hotel chains, fast food restaurants, cash & carry outlets caterers, and other business buyers. In addition, the popularity of frozen food in the food service sector is increasing, as they can be stored and used over a long period of time, which saves operational costs. Moreover, as they require less time to cook and reduce customer-waiting time, fast food chains and quick service restaurants have adopted them as substitutes to fresh ingredients. In addition, increase in internet penetration and quick access to smartphones have resulted in more purchase through online channels. As a result, several food chains are shifting toward online portals to enhance online food ordering for these fast food chains, which, in turn, augment the growth of the product market.
Frozen Food Market

---
By User
Food Servcie Industry segment helds the major share of 53.9% in 2019
Region wise, Europe was the prominent market in 2019, which accounted for the maximum share. Large spending capabilities of consumers and economic stability are some of the major reasons for the growth of the product market in the European region. In addition, busy lifestyle of consumers acts as a key factor driving the frozen food market growth. Frozen ready to-eat healthy breakfast segment has gained popularity in recent years, owing to rise in health-conscious consumers in the region. Europe has been one of the most lucrative markets for frozen food, owing to the fact that it is home for numerous food and bakery giants. Moreover, these players operating are continuously striving to increase their market share by means of effective research & development and product innovation. In addition, companies are entering into partnerships with other companies to utilize each other's capabilities and outperform the competitors. Players such as Aryzta have maintained their leadership in high-end frozen bakery market on account of efficient operational excellence and research & development capabilities. However, Asia-Pacific is anticipated to witness major demand for frozen food during the forecast period, owing to presence of developing countries. Manufacturers all around the world invest in these economies, which is projected to surge the frozen food market demand in Asia-Pacific.
Frozen Food Market

---
By Regiom
Europe region helds the higest market share of 34.9% in 2019
The players in the product market have adopted various developmental strategies to expand their frozen food market share, increase profitability, and remain competitive in the market. The key players profiled in this report include Aryzta A.G., Ajinomoto Co. Inc., Cargill Incorporated, General Mills Inc., JBS S.A., Kellogg Company, the Kraft Heinz Company, Nestle S.A., ConAgra Brands, Inc., and Associated British Foods Plc..   
Key Benefits for Stakeholders:
The report provides a quantitative analysis of the current frozen food market trends, estimations, and dynamics of the market size from 2019 to 2027 to identify the prevailing opportunities.  
Porter's five forces analysis highlights the potency of buyers and suppliers to enable stakeholders to make profit-oriented business decisions and strengthen their supplier–buyer network.
In-depth analysis and the market size and segmentation assists to determine the prevailing frozen food market opportunities.  
The major countries in each region are mapped according to their revenue contribution to the market.   
The market player positioning segment facilitates benchmarking and provides a clear understanding of the present position of the market players in the frozen food industry.  
 Frozen Food Market Report Highlights
Aspects
Details
By Product Type

Ready meals
Frozen seafood
Frozen meat & poultry
Frozen fruit & vegetables
Frozen potatoes
Frozen soups

By User

Food service industry
Retail users

By Region

North America (U.S., Mexico, Canada)
Europe (Germany, France, UK, Italy, Spain, Rest of Europe)
Asia-Pacific (China, India, Japan, Australia, South Korea, Rest of Asia-Pacific)
LAMEA (Brazil, South Africa, Argentina, Rest of LAMEA)

Key Market Players
ARYZTA A.G., AJINOMOTO CO. INC., CARGILL INCORPORATED, GENERAL MILLS INC., JBS S.A., KELLOGG COMPANY, THE KRAFT HEINZ COMPANY, NESTLE S.A., CONAGRA BRANDS, INC., ASSOCIATED BRITISH FOODS PLC.