The functional food market size was valued at $177,770.0 million in 2019, and is estimated to reach $267,924.4 million by 2027, registering a CAGR of 6.7% from 2021 to 2027. 
Functional food can be stated as a modified food that claims to improve health. It does not cure disease but it helps to reduce the risk of deadly diseases by improving the health of the body by providing essential nutrients and proteins. Functional food in the diet adds benefits to individual physiological state.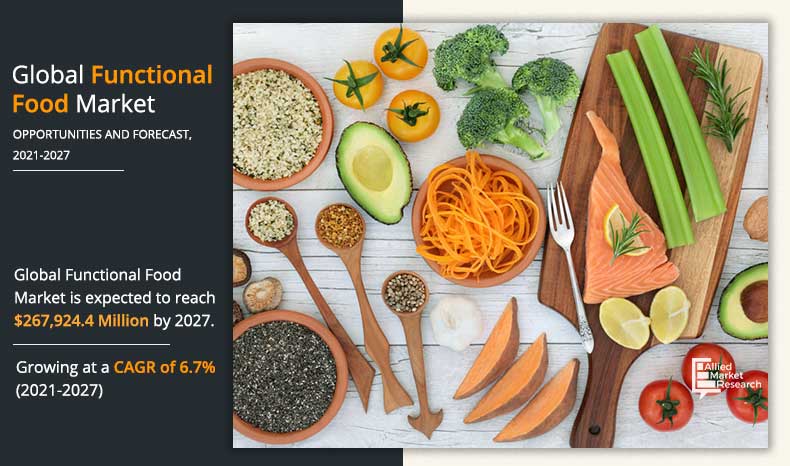 Sports nutrition emerged as the second largest segment after cardio health applications of the functional food owing to increasing commercialization of these sport nutrients and availability of wide product range including creatine and whey protein-based functional food. There has been an increase in the demand for functional food over the past decade as new product-types launches have permeated the food industry. Moreover, the utilization of these products by numerous end-users such as sport nutrition, clinical nutrition, and weight management is expected to drive the growth of this market. 
Functional Food Market

---
By Ingredients
Probiotics segment helds the major share of 28.3% in 2019
The report segments the functional food market into ingredient, product, application and region. On the basis of ingredient, the market is categorized into probiotics, minerals, proteins & amino acids, prebiotics & dietary fibers, vitamins, others. By product, it is segregated into bakery & cereals, dairy products, meat, fish & eggs, soy products, fats & oils and others. According to application, it is divided into sports nutrition, weight management, clinical nutrition, cardio health and others. Region wise, the market is analyzed across North America (the U.S., Canada, and Mexico), Europe (Germany, the UK, France, Russia, Italy, Spain, and rest of Europe), Asia-Pacific (China, India, Japan, Australia, South Korea, and rest of Asia-Pacific), and LAMEA (the Middle East, Latin America, and Africa).  
According to Functional Food Market Analysis, On the basis of ingredients, the probiotic segment accounted for the around one-third half of the global functional food market share in 2019, and is expected to sustain its share during the forecast period. This is majorly attributed to increasing awareness regarding the benefits of the probiotics contained food, Benefits includes help to balance digestive system, prevent & treat diarrhea and supplements to improve mental health conditions.
Functional Food Market

---
By Product
Bakery & Cereals segment helds the major share of 27.8% in 2019 Fats & Oils
Depending on product, the dairy product segment was valued at $48,831.8 million in 2019, and is expected to grow to $73,030.0 million by 2027, with a CAGR of 6.6%. Milk is considered as a nearly complete food as it is a good source of protein, fat and major minerals. Dairy products includes any food made from milk, including butter, cheese, ice cream, yogurt, and condensed and dried milk. People are increasingly consuming dairy products as it is important for building healthy bones and for maintaining a healthy weight. Yogurt is majorly used as functional food owing to its high nutritional value and enormous health benefits. Yogurt is produced using various fruits such as peaches, cherries, apricots, papaya, cactus pear and blueberries, which makes it healthier and more nutritious.  
Functional Food Market

---
By Application
Sport Nutrition segment helds the major share of 27.4% in 2019
By application, sports nutrition is projected to grow at $ 72,114.6 million by 2027, registering a CAGR of 6.5%. Increasing awareness about the fact that nutritional factors can influence the physical and mental performance capacity of individuals who are involved in intense exercises including bodybuilders, and sportsmen.  Specific nutritional substances can be required for the body after heavy exercise which can be fulfilled by the functional food. Furthermore, increase in number of health clubs and fitness centers is expected to boost the demand for functional food through sport nutrition application.
Functional Food Market

---
By Region
Asia Pacific region helds the higest market share of 46.8% in 2019
Region wise, Asia-Pacific dominated the functional food market in 2019, and is expected to sustain its dominance dominate throughout the functional food market forecast period. Growing urbanization, increasing spending on health products and awareness regarding the medicinal benefits of the functional food are expected to drive the functional food market growth in Asia-Pacific during the forecast period. Furthermore, change in lifestyle and drastic changes in the food preference is further influencing the growth of the market.
The players in the functional food market have adopted various developmental strategies to expand their market share, increase profitability, and remain competitive in the market. The key players profiled in this report include Danone, Glanbia PLC, Hearthside Food Solutions LLC, Mars, Incorporated, Meiji Co., Ltd., Nestlé S.A., Raisio PLC, Royal frieslandcampina N.V., Sanitarium Health Food Company and The Kraft Heinz Company.      
 Key Benefits for Stakeholders:
The report provides a quantitative analysis of the current functional food market trends, estimations, and dynamics of the market size from 2019 to 2027 to identify the prevailing opportunities.  
Porter's five forces analysis highlights the potency of buyers and suppliers to enable stakeholders to make profit-oriented business decisions and strengthen their supplier–buyer network.
In-depth analysis and the market size and segmentation assists to determine the prevailing functional food market opportunities.  
The major countries in each region are mapped according to their revenue contribution to the market.   
The market player positioning segment facilitates benchmarking and provides a clear understanding of the present position of the market players in the functional food industry. 
 Functional Food Market Report Highlights
Aspects
Details
By INGREDIENT

Probiotics
Minerals
Proteins & Amino Acids
Prebiotics & Dietary Fiber
Vitamins
Others

By PRODUCT

Bakery & Cereals
Dairy Products
Meat, Fish & Eggs
Soy Products
Fats & Oils
Others

By APPLICATION

Sports Nutrition
Weight Management
Clinical Nutrition
Cardio Health
Others

By Region

North America (U.S, Canada, Mexico)
Europe (Germany, UK, France, Russia, Italy, Spain, Rest Of Europe)
Asia-Pacific (China, India, Japan, Australia, South Korea, Rest of Asia-Pacific)
LAMEA (Latin America, Middle East, Africa)

Key Market Players
MEIJI CO., LTD, NESTLÉ S.A, THE KRAFT HEINZ COMPANY, HEARTHSIDE FOOD SOLUTIONS LLC, ROYAL FRIESLANDCAMPINA N.V, RAISIO PLC, GLANBIA PLC, DANONE, SANITARIUM HEALTH FOOD COMPANY, MARS, INCORPORATED