The global furniture market size was valued at $ 5,56,367.80 million in 2020, and is projected to reach $ 8,77,438.20 million by 2031, registering a CAGR of 3.8% from 2022 to 2031. Furniture is used in laboratories, spas, offices, clean rooms, restaurants, camping, bedroom, outdoor, library, parks, and stores. Most furniture is manufactured using a variety of materials and is available in different designs. Furniture are movable items such as chairs, beds, cupboards, tables, shelves, or in form of decorative art used at various places. Furniture offers different solutions such as sleeping, dining, seating, and storage function. In commercial spaces, furniture plays an important role in seating arrangements and document storage. Depending on end use, furniture designs can be modified through machine-based processes and handcrafting. Rise in number of small-size houses has encouraged multi-functional furniture, which has facilitated for extra storage. It was observed that there is increasing utilization of extra home spaces for an office which has led to a demand for office furniture. The furniture market is highly fragmented, owing to multiple vendors in both international and regional players. Booming real estate industry in the current scenario propels the global furniture market. In addition, increase in disposable income has influenced individuals to spend more on comfortable lifestyle, which, in turn, is expected to provide growth opportunities for the global furniture market. Low-cost furniture producers such as China and Vietnam are also anticipated to drive growth of the furniture market. However, scarcity of skilled labor, better transportation facilities, and infrastructure facilities acts as a hindrance for the global furniture market.
The market is driven by various factors such as rise in disposable incomes, growth of real estate and hospitality industries, and demand for luxury and premium furniture from certain consumer sections. In addition, emerging new species of wood tree for furniture manufacturing and marketing through internet are some of the factors that are expected to contribute toward growth of the market across the globe. In addition, increase in government investments in infrastructural development boosts the furniture market demand in the residential and commercial sector in the future. Integration of internet of things into furniture products is projected to further escalate the market growth. Development in manufacturing technology has substantially reduced the cost of furniture, which fuels use of furniture products. Rise in the global economy has increased the spending capacity of the consumers, which, in turn, has impelled the sale of branded furniture items in the market. Moreover, development of automated manufacturing system is anticipated to have a significant impact on the furniture industry during the forecast period.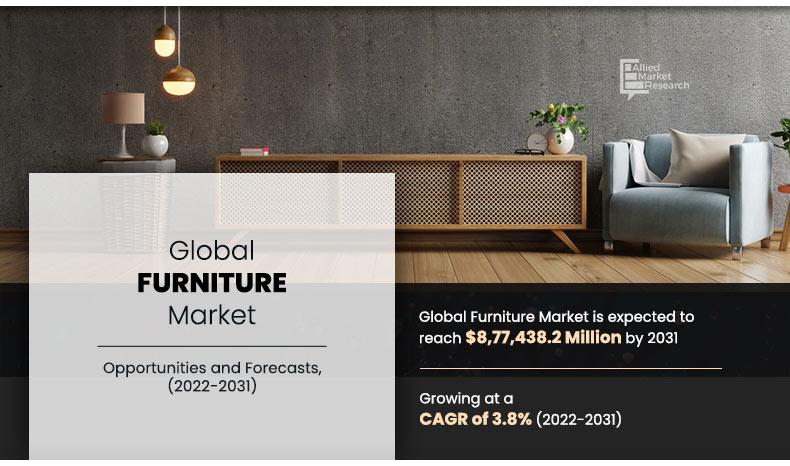 The global furniture market is segmented on the basis of type, distribution channel, and region. By type, it is classified into RTA, residential, and commercial. The distribution channel comprises supermarkets & hypermarkets, specialty stores, e-commerce, and others. Region wise, the market is analyzed across North America (the U.S., Canada, and Mexico), Europe (Germany, Spain, the UK, Italy, France, and rest of Europe), Asia-Pacific (China, India, Japan, Australia, South Korea, and rest of Asia-Pacific), and LAMEA (Brazil, South Africa, Saudi Arabia, the UAE, and rest of LAMEA).
On the basis of type, in 2020, the residential segment lead the market, owing to rise in global economy, which has increased spending capacity of consumers, which, in turn, has led to rise in sales of branded furniture items in the market. In addition, growing commercial infrastructure and real estate sector has led to rise in demand for residential furniture products across the globe.
On the basis of distribution channel, in 2020, specialty store was the leading segment in the global market, owing to wide range of furniture category that is offered by specialty stores. In addition, increase in income levels and change in lifestyle of consumers are expected to further drive the market growth.
Rise in penetration of smartphones has led to lower cost of internet and easy availability of cheap smartphones have led to an exponential rise in number of online shoppers across the globe. The online channel can be accessed by large number of consumers, owing increase in internet penetration across the globe. In addition, some companies provide "designing your own interior sitting at home" service with the help of an online interactive room designer software. These factors are expected to boost sales of furniture though the e-commerce segment during the forecast period. The overall demand for furniture has increased among urban households as consumers in urban areas furnish their homes to increase comfort level and live luxuries lifestyle, coupled with increase in propensity to spend on lifestyle and consumer products, driven by increased ease of financing for consumer durables and increased exposure to global furniture products. All these factors have had a positive impact on the furniture sector and are expected to drive demand for furniture during the forecast period.
Commercial segment would exhibit the highest CAGR of 4.1% during 2022-2031, owing to increase in government investments in infrastructural development boosts demand for the furniture products in the commercial sector
Get more information on this report : Request Sample Pages
By region, North America was the largest market for furniture in 2020, owing to increase in spending capacity of consumers and real estate sector. Online retailing and increase in demand for multifunctional furniture presents significant opportunities for growth of the North America furniture market.
Some major players in the global furniture industry analyzed in this report are Haworth, Inc., Inter IKEA Systems BV, Steelcase Inc., Masco Corporation, HNI Corporation, L. & J.G. STICKLEY, INC., Kimball International, Inc., Okamura Corporation, Heritage Home Group LLC, and Durham Furniture Inc.   
Furniture Market

---
By Distribution Channel
E-Commerce segment would exhibit the highest CAGR of 4.4% during 2022-2031, owing to the increased association of internet and e-shopping with consumers in developing region.
Get more information on this report : Request Sample Pages
COVID-19 Impact on global furniture market:
The COVID-19 pandemic has had a huge impact on the economy, environment, and most human activities, and an economic downturn is evident in almost every country. Starting in 2020, the COVID-19 pandemic not only lowered expectations of the global economic growth, but also negatively impacted the international market demand for furniture exports. After the outbreak of the COVID-19 pandemic, majority consumer markets in Europe and the U.S. gradually decreased and consumption expectations dropped significantly; foreign trade companies were generally faced with cancellation of orders by international buyers, especially in the furniture industry, which witnessed a significant drop in export volume caused by demand-side factors, economic recession and decreased consumer demand caused by the severe COVID-19 pandemic inn major destination countries. As COVID-19 spreads globally, a common public policy response is to force temporary closure of non-essential business activities, owing to which the furniture industry has impacted negatively due to COVID-19.
The furniture industry has significant opportunities in the post-COVID scenario, as countable number of corporates are willing to work from home, with the trend of remote working is growing significantly. These are the major factors, owing to which it is expected to get stronger growth in the furniture industry in coming years.
Furniture Market

---
By Region
Asia-Pacific would exhibit the highest CAGR of 4.6% during 2022-2031, owing to the increase in westernization and increase infracture growth in the region.
Get more information on this report : Request Sample Pages
Key Benefits for Stakeholders
This report provides a quantitative analysis of the current furniture market trends, estimations, and dynamics of the global furniture market size from 2020 to 2031 to identify the prevailing furniture market opportunity.
The key countries in all the major regions are mapped on the basis of their furniture market share.
Porter's five forces analysis highlights the potency of buyers and suppliers to enable stakeholders to make profit-oriented business decisions and strengthen their supplier-buyer network.
A comprehensive analysis of factors that drive and restrict the furniture market growth is provided.
An in-depth analysis of the global market helps determine the prevailing market opportunities.
The report includes details of the analysis of the regional and global markets, key players, market segments, application areas, and growth strategies.
 Key Market Segments
By Type

RTA
Residential
Commercial

By Distribution Channel

Supermarkets & Hypermarkets
Specialty Stores
E-Commerce
Others

By Region

North America
Europe

Germany
Spain
UK
Italy
France
Rest of Europe

Asia-Pacific

China
India
Japan
Australia
South Korea
Rest of Asia-Pacific

LAMEA

Brazil
South Africa
Saudi Arabia
UAE
Rest of LAMEA