Gamification Market Research, 2030
The global gamification market was valued at $9.9 billion in 2020, and is projected to reach $95.5 billion by 2030, growing at a CAGR of 25.6% from 2021 to 2030.
The gamification market was positively impacted by COVID-19 pandemic as it led to rise in demand for mobile gaming apps and software to a whole different level. In addition, the pandemic has created perfect demand for gamification, especially as it created an opportunity to drive engagement during lockdown.
Gamification is the application of game-design elements and game principles in non-game contexts. It can also be defined as a set of activities and processes to solve problems by using or applying characteristics of game elements. In addition, games and game-like elements have been used to educate, entertain, and engage people for thousands of years. Some classic game elements are; points, badges, and leaderboards.
Rewards and recognition to employees over performance to boost the employee engagement and providing lucrative offers to the customers and consumers boost the growth of the gamification market. In addition, gamification yields higher ROI positively impacts the gamification market growth. However, complexities in developing gamification application and short lifecycle of gamification hinders the market growth. On the contrary, adoption of AI for processing and showing personalized results is expected to offer remunerative opportunities for expansion of the market during the forecast period.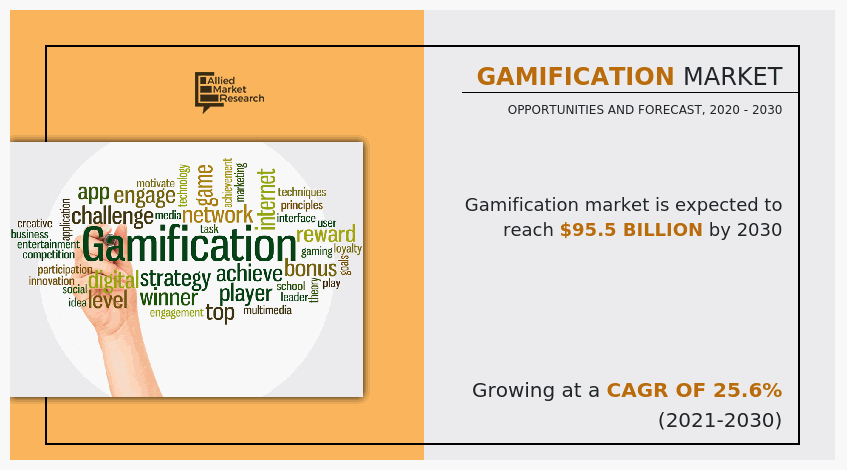 The gamification market is segmented into Industry Vertical, Component, Deployment Model, Enterprise Size and Application.
The gamification market is segmented on the basis of component, deployment model, enterprise size, application, industry vertical, and region. On the basis of component, it is divided into solution and service. Depending on deployment model, it is segmented into on-premise and cloud. As per the enterprise size, it is studied across large enterprises and small and medium-sized enterprises (SMEs). By application, it is fragmented into marketing, sales, support, product development, human resource, and others. By industry vertical, it is fragmented into retail, education, IT & telecom, BFSI, manufacturing, media & entertainment, and others. Region wise, the market is analyzed across North America, Europe, Asia-Pacific, and LAMEA.
Key players that operate in the gamification market are Ambition, Axonify Inc., Bunchball Inc., callidus Software Inc., Cognizant Technology Solution Corp, Cut-e GmbH, G-Cube, Iactionable Inc, Microsoft Corporation, and MPS Interactive Systems Limited.
Depending on component, the solution segment holds the largest gamification market share as it offers numerous features, including maintenance management, space management, asset management, move management, and real-estate portfolio management. It reduces complication rate and expenses associated with space management. Furthermore, it extends lifespan of assets and reduces energy related expenses. This positively impacted the gamification market.
However, the services segment is expected to grow at the highest rate during the forecast period, owing to adoption of IT as a service model among organizations. It is an IT service model for enterprises that manages strategic business requirements of organizations along with usual operations, which are expected to experience considerably higher growth rates during the forecast period.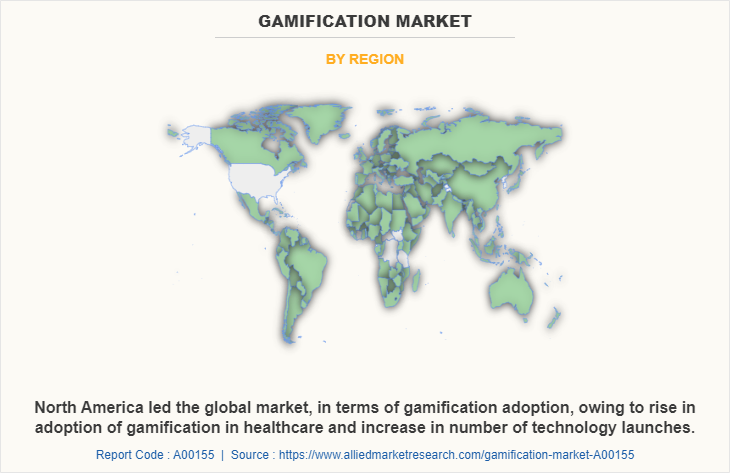 Region wise, the gamification market size was dominated by North America in 2020, and is expected to retain its position during the forecast period as games offer rehabilitation patients the ability to express themselves, which is not otherwise the case in majority of patients thereby helping professionals to design a better therapy, leading to effective treatment outcomes. However, Asia-Pacific is expected to witness significant growth during the forecast period as many e-commerce websites in this region are making live shopping experience more similar to offline shopping by integrating AR capabilities.
The gamification industry has witnessed significant growth in past few years; however, owing to the outbreak of the COVID-19 pandemic, the market witnessed a sudden increase in demand. The COVID-19 pandemic also led to rise in demand for mobile gaming apps and software to a whole different level. In addition, the pandemic has created perfect demand for gamification, especially as it created an opportunity to drive engagement during lockdown. In addition, many large enterprises have already adopted gamification solutions and are increasing investments in gamification for wide range of application from marketing to recruitment. Moreover, according to a report in 2020, gamification has been adopted by more than 70% of businesses belonging to the global top 2000 list of companies. This trend is expected to continue to grow as more organizations gamify their business operations either through the creation of mobile applications or connected via a learning management system (LMS) or an e-learning platform. Companies such as Oracle, Hewlett Packard, IBM, and Google are helping drive this trend, communicating with both internal and external stakeholders, encouraging them to achieve tasks and milestones. Gamification can be used to build communities, create entertainment, and a team environment.
Top Impacting Factors
Rewards and recognition to employees over performance to boost the employee engagement
Rewarding and recognizing efforts of employees lead to greater employee engagement, which increases retention and helps create a more positive overall workplace. Moreover, incorporating rewards and recognition programs help increase employee engagement, leading to many benefits for companies, such as rise in productivity and increase in employee retention.
According to a survey in 2021, employees cited personal recognition as the top way a manager or company could get them to produce great work. In addition, intermittent rewards increase employee engagement by adding an element of spontaneity. Furthermore, unexpected rewards make it more likely that employees will learn and repeat behaviors that are good for businesses such as recruitment, teaching, and marketing.
On-the-spot recognition certificates are an easy and powerful gamification tools to make workplaces more exciting. In addition, according to a survey of generation z and millennials in 2021, 78% of respondents would be more loyal to their employer if recognition rewards were a part of the job. Therefore, gamification is a proven way of increasing employee engagement.
Lucrative offers to the customers and consumers
Gamification as a service can help businesses to nudge customers toward certain behaviors by rewarding them. This helps businesses to better plan their future as they have a better estimate of customer behaviors and thus, can be used in improving customer and employee engagement strategies. Instilling these behaviors eventually result in sustainable engagement.
For instance, in 2020 Pepsi launched a special AR-driven promotional campaign featuring four top international football players Lionel Messi, Paul Pogba, Mohamed Salah, and Raheem Sterling. The promotion featured special limited edition Pepsi cans with scannable QR codes, which loaded AR versions of the players on phones of user. Users could then participate in a virtual kick-up game with social sharing features via Instagram. The AR game was part of the 'Pepsi, For the Love of It' campaign, a cross-channel digital experience aimed at increasing customer engagement and driving brand recognition, which propels growth of the market.
KEY BENEFITS FOR STAKEHOLDERS
The study provides an in-depth analysis of the global gamification market forecast along with current & future trends to explain the imminent investment pockets.

Information about key drivers, restraints, & opportunities and their impact analysis on global gamification market trends is provided in the report.

The Porter's five forces analysis illustrates the potency of the buyers and suppliers operating in the industry.

Quantitative gamification

market analysis from 2021 to 2030 is provided to determine the market potential.
 Gamification Market Report Highlights
Aspects
Details
By COMPONENT
By DEPLOYMENT MODEL
By ENTERPRISE SIZE
By APPLICATION

Marketing
Sale
Support
Product Development
Human Resource
Others

By INDUSTRY VERTICAL

Retail
Education
IT and telecom
BFSI
Manufacturing
Media and Entertainment
Other

By Region

North America (U.S., Canada)
Europe (UK, Germany, France, Spain, Italy, Rest of Europe)
Asia Pacific (China, Japan, India, South Korea, Australia, Rest Of Asia Pacific)
LAMEA (Latin America, Middle East, Africa)

Key Market Players
BI WORLDWIDE (Bunchball Inc.), Callidus Software Inc. (SAP SE), IActionable, Cognizant, Axonify Inc., Ambition, Microsoft Corporation, Aon plc., G-Cube, MPS Interactive Systems Limited