Generative AI Market Research, 2031
The global generative ai market size was valued at $8.2 billion in 2021, and is projected to reach $126.5 billion by 2031, growing at a CAGR of 32% from 2022 to 2031.
The COVID-19 outbreak had a positive impact on the market, owing to the rise in the need for generative AI among enterprises for improving their customers' needs and creating personalized experiences, such as personalized music playlists, personalized news feeds, and personalized product recommendations driving the growth of the market.
Generative AI produces text & images, spanning blog posts, program code, poetry, and artwork. It uses complex machine learning models to predict the next word based on previous word sequences. In other words, it allows computers to abstract the underlying pattern related to the input, and then use that to generate similar content. In addition, generative AI produces a targeted summary after searching through various legal study sources. Therefore, countless hours of human investigation can be reduced through technology. In addition, it generates code in-editor in real-time and offers whole functions, snippets, and even fully working modules, which is anticipated to help the industry expand in the approaching years.
Broad usage of artificial intelligence-integrated systems across various verticals and the rising need to create virtual worlds in the metaverse and modernize the workforce across the industry are driving the growth of the market. In addition, the growing popularity of generative AI in the healthcare industry for rendering several products is fuelling the growth of the generative AI market. However, Generative AI has security issues as some models can be used fraudulently, leading to increased identity theft and lack of skilled workforce and high implementation cost limits the growth of this market. Conversely, an increase in demand for machine learning and deep learning is anticipated to provide numerous opportunities for the expansion of the market during the forecast period.
The report focuses on growth prospects, restraints, and analysis of the global generative AI market trends. The study provides Porter's five forces analysis to understand the impact of various factors, such as bargaining power of suppliers, competitive intensity of competitors, the threat of new entrants, threat of substitutes, and bargaining power of buyers on the global generative AI market share.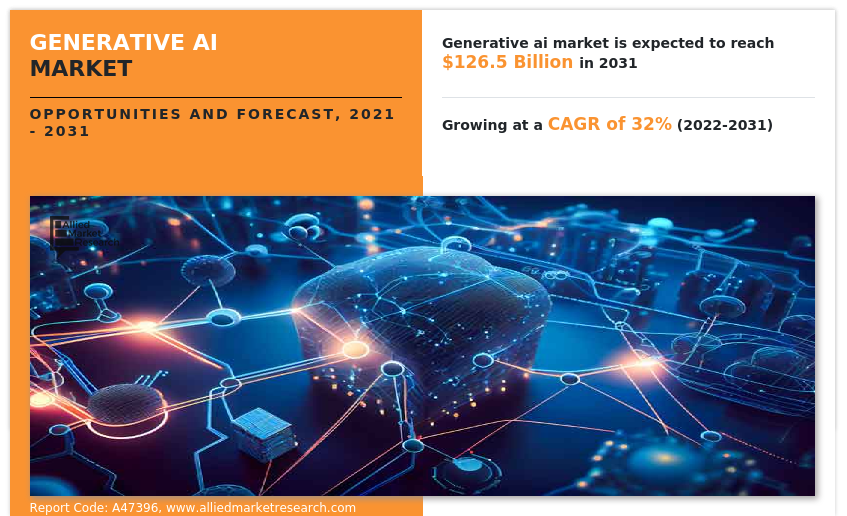 The generative ai market is segmented into Component, Technology and End User.
Segment review
The global generative AI market is segmented into component, technology, end user, and region. Depending on the component, the market is divided into software and services. By technology, it is divided into generative adversarial networks (GANs), transformers, variational auto-encoders, and diffusion networks. Based on application, it is bifurcated into media & entertainment, BFSI, IT & telecom, healthcare, automotive & transformation, and others. Region-wise, it is analyzed across North America, Europe, Asia-Pacific, and LAMEA.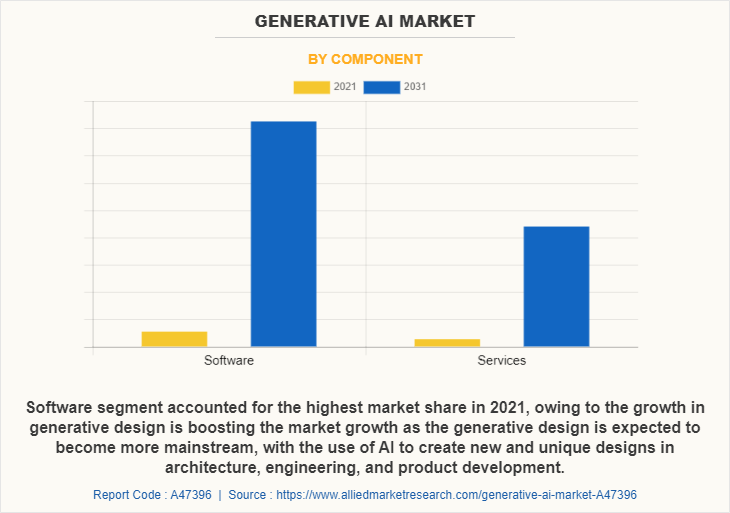 Depending on the component, the software segment dominated the generative AI market growth in 2022 and is expected to continue this trend during the forecast period, owing to the surge in advancements in NLP is expected to aid the market growth. However, the services segment is expected to witness the highest growth in the upcoming years, owing to the increase in the use of cloud-based generative AI services are expected to become more popular as they provide scalability, flexibility, and cost-effectiveness.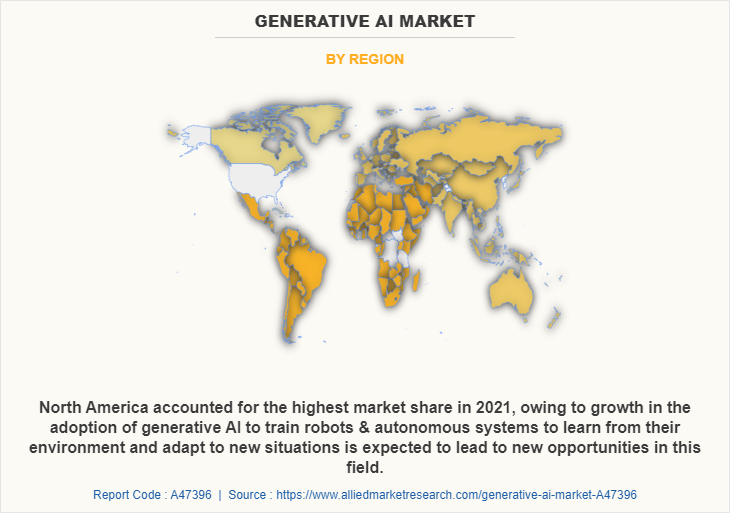 Region wise, the generative AI market was dominated by North America in 2021 and is expected to retain its position during the forecast period, owing to the driving demand for pre-training models on large amounts of data and fine-tuning them for specific tasks is becoming a growing trend in the industry. However, Asia Pacific is expected to witness significant growth during the forecast period, owing to businesses that have rapidly digitized, straining cloud networks and data centers, where the adoption of AI is helping the organization to enable civil society members to be responsible and informed users of AI devices.  
The global generative AI market is dominated by key players such as Adobe, Inc., Amazon Web Services, Inc., D-ID, Genie AI Ltd., Google LLC, IBM Corporation, Microsoft Corporation, MOSTLY AI Inc., Rephrase.ai, and Synthesia. These players have adopted various strategies to increase their market penetration and strengthen their position in the industry.
Top impacting factors
Rise in usage of artificial intelligence-integrated systems across industry verticals
The demand for generative AI applications among sectors such as entertainment, medicine, engineering, finance, and defense is being driven by growth in uses of innovative solutions such as super-resolution, text-to-image conversion, and text-to-video conversion, as well as rise in demand for modernized workflow across industries. Further, rise in application of AI is a result of its improved computational capacity and ability to address issues in a diverse industrial sector. Correspondingly, generative AI finds suitable applications in a range of industries to help in picture processing and film restoration.
Moreover, it assists with the intelligent upscale of low-resolution photos to high-resolution photographs. It is generally managed by scaling old pictures & old movies up to 4K or higher, which produces 60 frames per second. It further improves by removing noise, adding colors, and sharpening the image. For instance, in January 2023, Alethea AI and Polygon created a generative AI collectibles campaign, which allows rapid creation, training, and trading of AI characters as NFTs on Polygon. Alethea AI received development funds from Polygon to undertake the generative AI characters project. With generative AI, computers exhibit creativity that allows producing original content in response to queries, drawing from data that is ingested and interactions with users. Such development has helped the growth of generative AI market.
Rising need to create virtual worlds in the metaverse and modernize the workforce across the industry
The potential applications of generative AI are vast and have the great potential to revolutionize industries and business models by changing the way organizations perform their work. AI developers often use generative AI for creating new virtual worlds and game environments. As generative AI helps virtual reality (VR) developers create an endless library of unique & immersive game environments, implementing it within appropriate use cases such as VR games and VR training simulations has the potential to significantly improve their efficiency. Hence, the initial adoption of generative AI in business is likely to focus on human-AI augmentation with the workforce (human workers cooperate with digital worker, cobots, or intelligent virtual assistants), which is considerably paving the market growth around the globe.
Furthermore, generative AI in the metaverse requires a few human-made assets such as images, sound, or 3D models, and then applying the randomness and processing power of computers to create similar original assets. For instance, in January 2023, Nvidia introduced new metaverse technologies such as AR & VR for enterprises with a suite of generative AI tools such as omniverse portals. It introduced its Omniverse portals with generative AI for 3D and RTX, updates to its Omniverse Enterprise platform, and an early access program for developers that aim to build avatars and virtual assistants. Nvidia has added a new suite of experimental generative AI tools for 3D artists, including Audio2Face, Audio2Gesture, and Audio2Emotion, enabling users to animate 3D characters. The updates to these tools further enable creators to generate facial expressions from an audio file with Audio2Face and create emotions with Audio2Emotion and gestures with Audio2Gesture. Such strategic advancements or developments undertaken by key players is expected to fuel the growth of generative AI market.
Growing popularity of generative AI in the healthcare industry  
Rise in popularity of generative AI in the healthcare industry for rendering products, such as prosthetic limbs and organic molecules from scratch using 3D printing, CRISPR, and other technologies is considered to be the major driving factor for the market growth. Moreover, it enables early identification of potential malignancy to bring more effective treatment plans. Apart from this, the elevating requirement for this technology to assist chatbots in enabling effective conversations and boosting customer satisfaction is often acting as another significant growth-inducing factor for the market growth. For instance, in January 2023, Nvidia, in partnership with Evozyne, a pharmaceutical startup, launched a new generative AI model capable of producing proteins for use in medicine and other industries. This new protein transformer variational auto-encoder (ProT-VAE) is built on Nvidia's BioNeMo framework and uses generative AI to rapidly create synthetic protein designs that fit into the given parameters. Such tactical factors are accelerating the market growth.
Digital Capabilities:
Generative AI improves the efficiency and effectiveness of various development programs. For example, with machine learning algorithms we can analyze vast amounts of data to identify patterns and trends, which can then be used to inform decision-making and improve program outcomes. In addition, generative AI market analysis is also used to create personalized learning experiences, which can help to improve literacy and digital skills among individuals and communities.
In addition, generative AI enhances old images and old movies by upscaling them to 4K and beyond, which generates 60 frames per second and removes noise, adds colors, and makes it sharp. It also can render any computer-generated voice into one that truly sounds like a human voice. Furthermore, to ensure that the benefits of generative AI are inclusive and equitable, it is crucial to have a comprehensive and inclusive approach to digital literacy and education. This includes providing access to technology, and the internet and providing training and resources to develop the skills needed to effectively use and benefit from these technologies.
End-User Adoption:
Generative AI, which uses machine learning techniques to generate new data or content, has impacted om number of industries, from healthcare to finance. Technology is used to create new forms of art, music, and literature, leading to an explosion of creativity and new forms of expression. In addition, generative AI is used to analyze medical images and assist in diagnoses, as well as to develop new drugs and treatments. It is also used to analyze financial data and make predictions about markets, as well as to create new financial products and services. Furthermore, generative AI can be used to analyze audience data and create personalized content. Moreover, it is also used to maximize energy efficiency, enhance the efficiency of power plants, and develop new sources of renewable energy.
Government Initiatives:
Governments of many countries support end-users to innovate new technologies such as generative AI across a range of verticals owing to the growing adoption of machine learning and deep learning. For instance, in August 2022, the General services administration (GSA) in U.S. leveraged generative AI and machine learning to help optimize, manage, and advance procurement functions. Generative AI and ML are providing the key ability to optimize procurement processes, provide visibility into key metrics, and generate insights and forecasts to procurement trends.
Furthermore, the Chinese government is interested in generative AI as new funding was announced to support innovations arising from the COVID-19 outbreak. In January 2023, Chinese tech companies took efforts to develop their own AI universe has government backing. Local Chinese governments are also investing in several projects on their own through IDEA, a research lab owned and backed by the Chinese Communist Party.  Chinese tech companies have also showcased a few AI bots to the public which work with a twist that suits the country's tastes and political climate. 
KEY BENEFITS FOR STAKEHOLDERS              
The study provides an in-depth analysis of the global generative AI market forecast along with current & future trends to explain the imminent investment pockets.

Information about key drivers, restraints, & opportunities and their impact analysis on global generative AI trends is provided in the report.

Porter's five forces analysis illustrates the potency of the buyers and suppliers operating in the industry.

The quantitative analysis of the market from 2022 to 2031 is provided to determine the market potential.
 Generative AI Market Report Highlights
Aspects
Details
Market Size By 2031
USD 126.5 billion
Growth Rate
CAGR of 32%
Forecast period
2021 - 2031
Report Pages
261
By Component
By Technology

Generative Adversarial Networks (GANs)
Transformer
Variational Autoencoder (VAE)
Diffusion Networks

By End User

Media and Entertainment
BFSI
IT and Telecom
Healthcare
Automotive and Transportation
Others

By Region

North America (U.S., Canada)
Europe (UK, Germany, France, Italy, Spain, Rest of Europe)
Asia-Pacific (China, India, Japan, Australia, South Korea, Rest of Asia-Pacific)
LAMEA (Latin America, Middle East, Africa)

Key Market Players
Genie AI Ltd., Synthesia, Adobe., Google LLC, D-ID, Rephrase.ai, IBM Corporation, Amazon Web Services, Inc., MOSTLY AI Inc., Microsoft Corporation