Geothermal Turbines Market Research, 2031
The global geothermal turbines market size was valued at $67.5 billion in 2021 and is projected to reach $99.5 billion by 2031, growing at a CAGR of 4% from 2022 to 2031.
In the second quarter 2021, due to eco-friendly and clean resources leads to a rise in security concern for electricity and are continuously driving the market growth for the geothermal power market.However, it is anticipated that sales of geothermal turbine for power generation will increase in the next years due to elements including supportive government policies and initiatives to fulfil expanding energy demand using renewable energy sources.
The geothermal turbines market majorly focuses on the indicators that are comprehensively included while conducting a thorough analysis. The key indicators include product mapping of players, impact of key regulations on the market, value chain analysis, porter's five forces, top player positioning, market dynamics, covid impact, top investment pockets, market size, and forecast in terms of value($Million), and top winning strategies that have helped understand the growth strategies adopted by the key players and their potential impact on the market.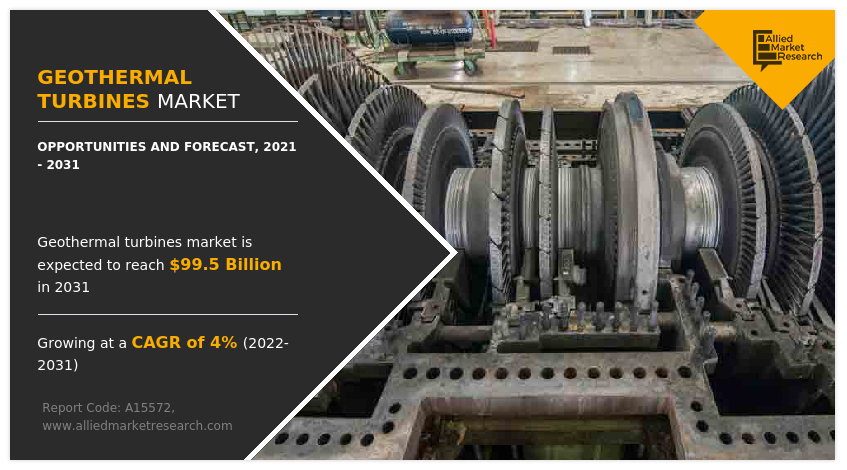 Geothermal is a dependable and unvarying source of energy that can be acquired without burning any external fuel. The energy can be managed from underground sources such as hot rocks, hot dry steam, and wet steam sources. The use of geothermal energy is greatly impacted by factors including steam & water temperature, accessibility, reservoir porosity, and permeability. The energy can be used for cooling, district heating, or for electricity generation depending on its properties.
The rise in the share of renewable energy sources and the demand for clean energy are the key factors propelling the growth of the global geothermal turbines market. In addition, it is projected that rising demand for heating and cooling systems, such as district heating and ground source heat pumps, will propel the geothermal turbines market growth. Moreover, as renewable energy is becoming a larger portion of the overall energy mix, the global geothermal turbine market is predicted to rise at a rapid rate during the forecast period.
Energy generation from geothermal power plants is capital-intensive and the development of these power plants needs substantial capital requirements, owing to high exploration costs and resource assessment, including field infrastructure, drilling of production and injection wells, geothermal fluid collection and disposal systems, and other surface installations. This is one of the main factors preventing a lot of new competitors from entering the industry. However, these plants have a considerable initial cost. The market expansion among medium and large-tier businesses has been encouraged by their extremely low and predictable operational expenses.
Furthermore, as energy from the earth's surface is used to generate electricity, geothermal energy serves as one of the clean energy sources. Currently, demand for heating and cooling systems that use ground-source heat pumps and district heating is growing substantially. In addition, governments offer several incentives to support market growth. To promote this market, the Alberta government introduced Bill-36, the Geothermal Resource Development Act, in 2020 which aims at defining a working framework for developing geothermal resources in Alberta. Moreover, an increase in the adoption and advancement of binary cycle technology enable the effective use of geothermal resources and creates a wide range of opportunities for the market.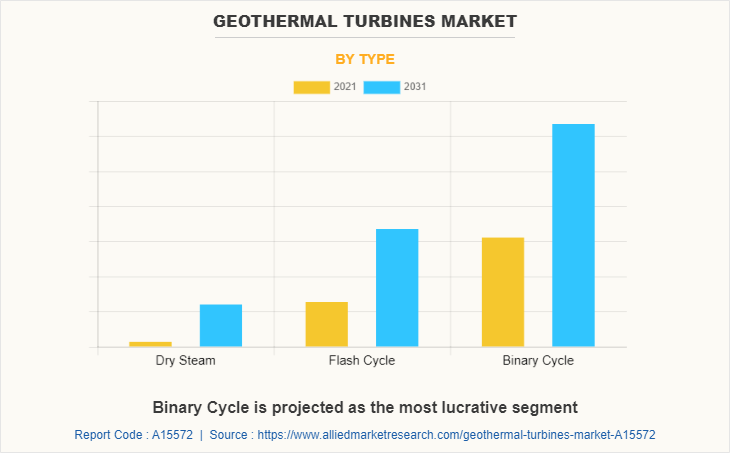 Depending on the type, the binary cycle is the fastest-growing segment during the forecast period. This is attributed to the Majority of binary plants being utilized in low- or medium-enthalpy geothermal fields, where resource fluid is heated in a closed loop by process fluid which leads surge in demand for the market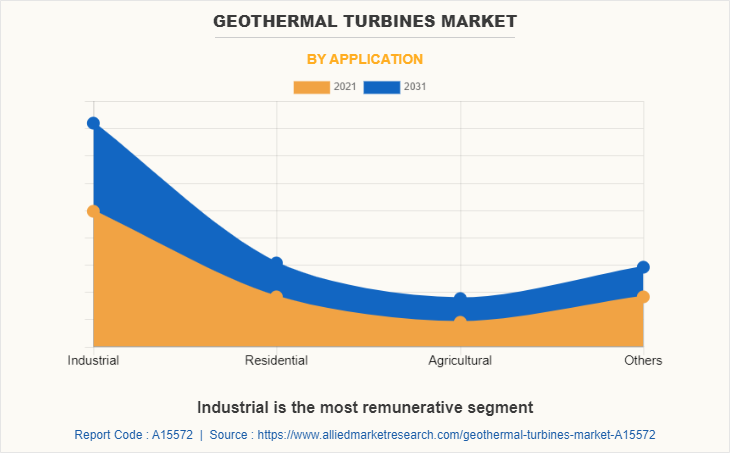 Based on application, the industrial segment witnessed the highest geothermal turbines market share in 2021. Owing to mainly certain industries heating needs can be fulfilled by geothermal heating, as long as they do not require extremely high temperatures. Geothermal heating can replace fossil fuels and provide continuous industrial output.
Region-wise Asia-Pacific is the largest segment during the forecast period. This is attributed to the fact that the national government has been forced to take action and adopt laws as a result of the tremendous potential for geothermal energy generation in these economies. These policies may make it possible for oil & gas firms to explore regional geothermal energy potential, hence fostering market expansion.
The geothermal turbine market analysis is segmented based on type, application, and region. Based on type, the market is categorized into dry steam, flash cycle, and binary cycle. Based on application, it is divided into residential, industrial, agricultural, and others. Region-wise, the market is studied across North America, Europe, Asia-Pacific, and LAMEA.
The global geothermal turbine market forecast profiles leading players, including Ansaldo Energia, Calpine, Enel Spa, Exergy International Srl, ElectraTherm Inc., Fuji Electric Co., Ltd., General Electric, Halliburton, Mitsubishi Electric Corporation, Ormat Technologies Inc., Toshiba Corporation and Turboden S.p.A. The global geothermal turbine market report provides an in-depth competitive analysis as well as profiles of these major players.
Recent Development Strategies Undertaken By Key Players:
In April 2021, Ansaldo Energia has been awarded from Gruppo Arvedi a contract for supply and refurbishment of new combined cycle plant in Servola. Such plant includes an AE64.3A gas turbine, equipped with latest generation technologies already validated to guarantee high efficiency, operational flexibility, and low emissions.
In June 2022, EXERGY International Srl and Geothermal Development & Investment Inc. signed a partnership agreement for the exclusive distribution of turnkey geothermal power plants in Japan using advanced, highly efficient ORC (Organic Rankine Cycle) technology.
In July 2022, Enel Green Power agreed with Vulcan Energy for geothermal lithium research by leveraging development opportunities offered by the "Cesano" license in the outskirts of Rome. This agreement brings together the respective expertise of these companies in geothermal energy and lithium extraction to develop joint initiatives at the site located in Latium and beyond.
Impact of COVID-19 on the global geothermal turbines industry
The novel coronavirus is an incomparable global pandemic that has spread to over 180 countries and caused huge loss of lives and the economy around the globe. The adoption of geothermal turbines for electricity generation, which was strongly dependent on China and India, as well as the world economy both, suffered from the health crisis brought on by the spread of COVID-19.
Due to supply chain interruption and a lack of raw materials, manufacturing units were forced to shut down during the lockdown and, in turn, negatively impacting the geothermal turbine for power generation market statistics. Additionally, labor shortage caused supply chain issues in the United States, a dominating country in the geothermal turbine market, and a nationwide lockdown hampered industrial progress.
Further, the disruptions to transport and logistics affected due to strict government regulations as well as nationwide lockdown led to a significant pause in delivering the product, rising shipment costs and price of fuel, taxes, workforce, and disruptions to shipping facilities. However, it is anticipated that sales of geothermal turbines for power generation will increase in the next years due to elements including supportive government policies and initiatives to fulfill expanding energy demand using renewable energy sources.
Key Benefits For Stakeholders
This report provides a quantitative analysis of the market segments, current trends, estimations, and dynamics of the geothermal turbines market analysis from 2021 to 2031 to identify the prevailing geothermal turbines market opportunities.
The market research is offered along with information related to key drivers, restraints, and opportunities.
Porter's five forces analysis highlights the potency of buyers and suppliers to enable stakeholders to make profit-oriented business decisions and strengthen their supplier-buyer network.
In-depth analysis of the geothermal turbines market segmentation assists to determine the prevailing market opportunities.
Major countries in each region are mapped according to their revenue contribution to the global market.
Market player positioning facilitates benchmarking and provides a clear understanding of the present position of the market players.
The report includes an analysis of regional and global geothermal turbine market trends, key players, market segments, application areas, and market growth strategies.
 Geothermal Turbines Market Report Highlights
Aspects
Details
Market Size By 2031
USD 99.5 billion
Growth Rate
CAGR of 4%
Forecast period
2021 - 2031
Report Pages
218
By Type

Dry Steam
Flash Cycle
Binary Cycle

By Application

Industrial
Residential
Agricultural
Others

By Region

North America (U.S., Canada, Mexico)
Europe (Germany, UK, France, Italy, Spain, Russia, Rest of Europe)
Asia-Pacific (China, Japan, India, South Korea, Australia, Rest of Asia-Pacific)
LAMEA (Brazil, Saudi Arabia, South Africa, Rest of LAMEA)

Key Market Players
MITSUBISHI ELECTRIC CORPORATION, GE, Ansaldo Energia, Fuji Electric, ElectraTherm Inc., Calpine, Chevron Corporation, Enel SpA., Exergy International Srl, Toshiba Corporation