The global automotive glass market size was valued at $16.4 billion in 2021 and is projected to reach $31.2 billion by 2031, growing at a CAGR of 6.8% from 2022 to 2031.
Automotive glass refers to the specially designed glass used in vehicles, such as cars, trucks, and buses. This glass is typically made of laminated or tempered glass, which is highly resistant to impact and shattering. The front and rear windshields, as well as side windows, are made of automotive glass to provide protection against weather, debris, and other hazards on the road. In addition, the automotive glass may include specialized features such as tinting, heating elements, or coatings to reduce glare or enhance visibility. The use of high-quality automotive glass is essential to ensure the safety and structural integrity of a vehicle.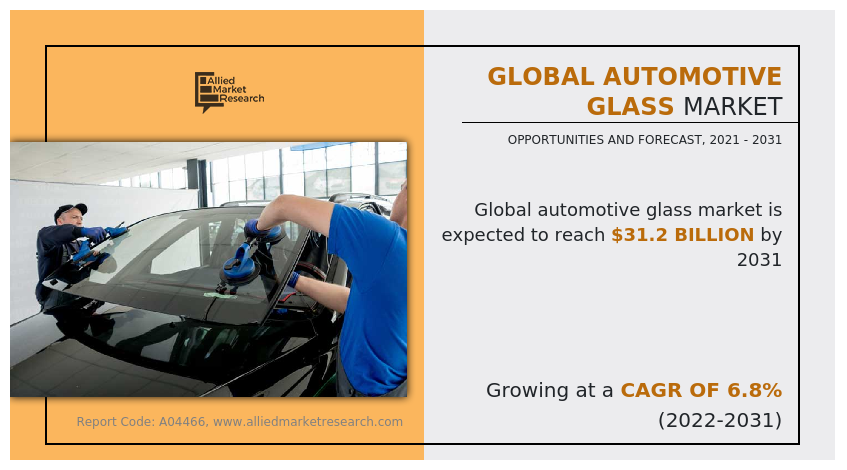 The automotive glass market is driven by factors such as the increased use of laminated glass, rise in demand for lighter-weight glass, and safety standards implemented by various governments concerning occupant crash protection. However, high manufacturing costs and poor adoption in developing nations restrict market growth. Moreover, technological advancements and increase in vehicle production create lucrative growth opportunities for the market.
In addition, demand for automotive glass is expected to rise in tandem as the global automotive industry continues to grow. This presents an opportunity for manufacturers to invest in new production facilities and expand their market share. Furthermore, some automakers are engaged in experimenting with augmented reality windshields that display real-time information, such as navigation directions, speed, and weather. These windshields use special coatings and projectors to display the information, enhancing the driving experience and reducing the need to look away from the road.
Automotive Glass Market

---

By Type
Tempered segment is projected as the most lucrative segment
Get more information on this report :
Request Sample Pages
The automotive glass market is segmented into type, application, vehicle type, end-user, and region. On the basis of type, the market is bifurcated into laminated and tempered. On the basis of application, the market is segmented into windshield, sidelite, sunroof, and backlite. On the basis of vehicle type, the market is bifurcated into passenger cars and commercial vehicles. On the basis of end-users, it is bifurcated into Original Equipment Manufacturers (OEM) and aftermarket. Region-wise, the market is analyzed across North America, Europe, Asia-Pacific, and LAMEA.
Asia-Pacific comprises China, Japan, India, South Korea, and the rest of Asia-Pacific. The rest of Asia-Pacific includes countries such as Indonesia, Singapore, Thailand, Vietnam, and Malaysia. The demand for electric vehicles (EVs) has been on the rise in the Asia-Pacific region with an increase in concerns about climate change and rising fuel prices. This has led to a growth in demand for specialized automotive glass that is lighter, more durable, and provides better insulation.
In addition, the market is highly competitive, with several local and international players vying for the automotive glass market share. With improved customer service and cost-effective pricing strategies to stay ahead in this competitive landscape, manufacturers are investing in product differentiation.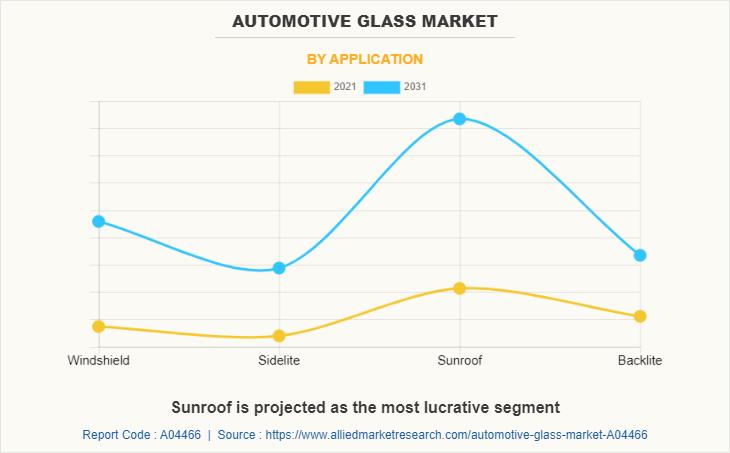 The replacement of damaged windshields is a common occurrence in China, and the aftermarket segment is expected to have a significant share of the automotive glass market. As a result, companies focus on developing and marketing products specifically for the aftermarket segment.
Competitive analysis and profiles of the major automotive glass market players include Asahi Glass Co. (AGC), Nippon Sheet Glass Co., Ltd., Fuyao Group, Xinyi Glass, Saint Gobain S.A., Guardian Industries, Webasto SE, Magna International Inc., Corning Incorporated and Taiwan Glass Ind Corp. The leading companies are adopting strategies such as acquisition, agreement, expansion, partnership, contracts, and product launches to strengthen their market position. In February 2023, Webasto Group developed innovative automotive glazing out of Luxembourg. This new production line enables us to compete in the growing market of glass roofs for electric and self-driving cars and to introduce high-tech features into automotive glazing.
In April 2022, Fuyao Group through its subsidiary Fuyao Glass America Inc., a venture of China-based Fuyao Glass Industry Group Co. Ltd. expanded its operations in Greenville County. Its $34.5 million investment create 121 new jobs. In December 2022, Corning Incorporated collaborated with LG electronics to create curved display modules for vehicle interiors. It used cold-form technology that allows curved displays to be developed with a 25 percent carbon reduction compared to traditional glass forming. In July 2021, Magna International, Inc. entered into an agreement to acquire Veoneer, a leader in automotive safety technology. Due to this, it builds strengths & positions and the company's advanced driver assistance systems ("ADAS") business as a global leader with comprehensive capabilities. In October 2020, Magna International, Inc. developed Magna's CLEARVIEW technology. It used a unique combination of camera & mirror technology to provide drivers with an enhanced field of view.
Increasing Application of Smart Glass in Automobiles
The latest technologies and applications in the automotive glass industry such as smart glass and gorilla glass are aimed at enhancing the safety and comfort of drivers and passengers in vehicles. There is a rapid growth in smart glass options in sunroof and sunroof production, especially in Europe, in line with changing consumer prejudices and automakers which propel the demand for the automotive glass market. For instance, in January 2021, GM unveiled a new  Cadillac CELESTIQ electric car with smart glass for sunroom. Its new SPD-SmartGlass Nanotechnology roof allow passengers personalized control over each of the individual roof quadrants. In addition, each passenger will be able to set their own preferred level of roof transparency allows. Furthermore, the development of advanced ADAS systems in new vehicles is anticipated to contribute to the growth of the industry. Moreover, the market is gaining strong traction, especially in luxury vehicle applications. These materials offer passengers a higher level of comfort with superior features in terms of security, privacy, and temperature control, enhancing their market penetration in the coming years.
Rise in demand for safety, comfort, and convenience features
The increase in demand for safety, comfort, and aesthetic features has led to several technological advancements in vehicles, such as installing sunroofs that allow better air circulation. For instance, in India, Kia Seltos and Hyundai Venue are the ones to sport the sunroof. In addition, the demand for sunroofs by the Indian audience has pushed the automakers to provide the sunroof even in the hatchback segment, with the greater need for comfort & convenience features which in turn propels the demand for the automotive glass market during the forecasted year. For instance, AGC Automotive developed glazing technologies that reduce noise and increase thermal comfort in summer to deliver a pleasant experience.
Automotive Glass Market

---

By Region
North America would exhibit the highest CAGR of 9.8% during forecast period 2022-2031
Get more information on this report :
Request Sample Pages
Fluctuating raw material prices
The automotive glass market is heavily dependent on various raw materials, such as silica, soda ash, limestone, and natural gas. Fluctuating prices of these raw materials can have a significant impact on the market globally. For instance, the prices of silica, which is the primary component of automotive glass, have been volatile in recent years due to factors such as changes in demand and supply, changes in the cost of production, and geopolitical factors. This volatility has resulted in price fluctuations in automotive glass, leading to challenges in pricing strategies for manufacturers.
Moreover, the prices of other raw materials used in the manufacturing of automotive glass, such as soda ash and natural gas, can also be impacted by factors such as transportation costs, supply chain disruptions, and government regulations.  Automotive glass manufacturers often engage in long-term contracts with suppliers to secure a stable supply of raw materials at fixed prices to mitigate the impact of fluctuating raw material prices.
Increase in penetration of solar sunroof
The automotive solar sunroof comes in all forms, such as pop-up, in-built, tile and slide, and top mount mounted on the top of the vehicle roof. Solar sunroofs are made from glass with inlaid photovoltaic solar cells in the glass. Furthermore, the rise in demand for electric vehicles in developed and developing countries boosts the solar sunroof system in the EV segment which in turn provides growth opportunities for the market. For instance, Panasonic made the 180-watt roof for the Toyota Prius Prime model in the Japanese market to make the equivalent amount of energy for 3–6 km/day.
Furthermore, increase in usage of sunroof glass, particularly in high-end vehicles, is anticipated to positively impact the automotive glass market growth. Nowadays, consumers prefer sunroofs for their cars, leading to an increase in the use of glass. Installation of the sunroof is not only limited to the luxury car segment but has also been introduced to other segments by car manufacturers, such as Honda and Toyota.
The spread of the COVID-19 pandemic negatively impacted the global automotive glass market owing to the lockdown imposed in the majority of countries across the globe. According to the International Organization of Motor Vehicle Manufacturers (OICA), global auto production decreased by 16% to less than 78 million vehicles in 2020, equivalent to sales levels in 2010. However, the automobile sector continued to strive & increase production & sales in India during the second wave of COVID-19 with the support of government nationwide vaccination drives for employees & workers in the factory. Furthermore, the reduction in the cost of raw materials and glass sensors required for the production of the sunroof of the vehicle and cutting down tax rates imposed on the automotive sector helped the automotive industry to recover faster in the country.
Key Benefits For Stakeholders
This report provides a quantitative analysis of the market segments, current trends, estimations, and dynamics of the global automotive glass market analysis from 2021 to 2031 to identify the prevailing global automotive glass market opportunities.
The market research is offered along with information related to key drivers, restraints, and opportunities.
Porter's five forces analysis highlights the potency of buyers and suppliers to enable stakeholders make profit-oriented business decisions and strengthen their supplier-buyer network.
In-depth analysis of the global automotive glass market segmentation assists to determine the prevailing market opportunities.
Major countries in each region are mapped according to their revenue contribution to the global market.
Market player positioning facilitates benchmarking and provides a clear understanding of the present position of the market players.
The report includes the analysis of the regional as well as global automotive glass market trends, key players, market segments, application areas, and market growth strategies.
 Automotive Glass Market Report Highlights
Aspects
Details
Market Size By 2031
USD 31.2 billion
Growth Rate
CAGR of 6.8%
Forecast period
2021 - 2031
Report Pages
400
By Type
By Application

Windshield
Sidelite
Sunroof
Backlite

By Vehicle Type

Passenger Cars
Commercial Vehicles

By End User

Original Equipment Manufacturer
Aftermarket

By Region

North America (U.S., Canada, Mexico)
Europe (UK, France, Germany, Netherlands, Rest of Europe)
Asia-Pacific (China, Japan, India, South Korea, Rest of Asia-Pacific)
LAMEA (Latin America, Middle East, Africa)

Key Market Players
Fuyao Group, Taiwan Glass Industry Corporation, Magna International, Inc., Xinyi Glass Holdings Limited., Webasto Group, Guardian Industries, Nippon Sheet Glass Co., Ltd, Corning Incorporated, AGC Inc., Saint Gobain
Analyst Review
The automotive glass market is projected to witness a moderate growth rate, owing to the rise of electric and autonomous vehicles as these vehicles have unique requirements for glass, including improved insulation and reduced weight.  The demand for specialized glass is projected to increase as more electric and autonomous vehicles hit the market.
Experts also predict customers are interested in eco-friendly products, and glass manufacturers respond by developing new products and processes that reduce waste and energy consumption. In addition, the integration of digital technologies into automotive glass further provides growth opportunities. Companies develop smart glass and other technologies that can improve visibility, reduce glare, and enhance the driving experience.
The key factors that drive the growth of the market are technological advancements in the automotive sector, along with continuous upgradation in vehicle design, which has compelled market players to introduce advanced products for automotive manufacturers. Moreover, the rise in the production of electric vehicles and the incorporation of various new technologies in terms of display and battery are further expected to have a positive influence on the demand for automotive glass over the forecast period.
Among the analyzed regions, Asia-Pacific is expected to account for the highest revenue in the global market throughout the forecast period, followed by North America, Europe, and LAMEA. Moreover, LAMEA is expected to witness the highest growth rate owing to the growth of the manufacturing industry.