Global Sulfonic Acid Market Research, 2031
The global sulfonic acid market was valued at $700.2 million in 2021, and is projected to reach $1.7 billion by 2031, growing at a CAGR of 9.2% from 2022 to 2031. Sulfonic acid, usually spelled sulphonic, is any of a class of sulfur-containing organic acids with the general formula RSO3H, where R is an organic combining group. Sulfonic acids are among the most important organosulfur compounds; free acids are widely employed as catalysts in chemical synthesis, while salts and other derivatives are used to make detergents, water-soluble dyes and catalysts, sulfonamide medicines, and ion-exchange resins.
The COVID-19 pandemic has caused significant disruptions in the demand, supply, import-export, and availability of alpha olefins across end-use industries. Alpha olefins are widely used in the chemical, construction, papermaking, and other industries. The growth of the sulfonic acid market has been significantly impacted by government laws and regulations enacted as a result of the global spread of coronavirus. The lockdown in many locations slowed market growth due to the suspension of industries and transportation, reducing the market size of sulfonic acid.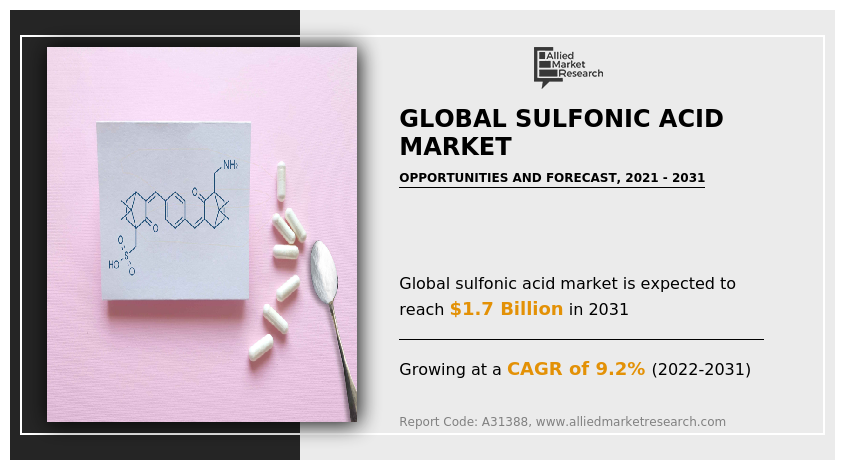 Increased use of sulfonic acid in lithium batteries, which helps to store energy, has led to increased demand from the automotive industry. As the number of electric cars and bikes grows, the need for sulfonic acid from the automotive industry rises. Sulfonic acid is used in numerous industries such manufacturing of dyes, detergents, pharmaceuticals, and catalysts. Sulfonic acid is employed in a variety of sectors, including the metal, automotive, and agricultural industries. Sulfonic acid is mostly used as a cleaning agent in the metal industry, and preventing corrosion helps to expand its market.
Due to the substantial adverse consequences and environmental damage by sulfonic acid, chemical industries are subject to strict regulation. Sulfonic acid is a hazardous substance that is subject to strict regulation.
Due to the rising use of electronics in daily life, sales in the electroplating industry such as those of sulfate, sulfonic acid, fluoroborate, and halide baths will increase. Sulfonic acid demand is being boosted by the increased production of home appliances, pharmaceuticals, and medications. Over the course of the assessment period, demand for  sulfonic acid is anticipated to rise due to its critical role as a catalyst in the manufacturing of biodiesel and several chemical synthesis. Sulfonic acid is a crucial component that is expected to create new opportunities in the market for sulfonic acid worldwide.
The key players profiled in this report include Vinati Organics Ltd, Cepsa, Stepan Company, Arkema SA, Kuantum Corp. Co., Ltd., Nandadeep Chemicals Private Limited, BASF SE, National Company for Sulfur Products, Vizagchemicals, and New India Detergents 
The global sulfonic acid market is segmented on the basis of application, detergent and surfactant, end-use industry, and region. By Application, the market is sub-segmented into acid catalysts, detergent and surfactant, paper making and pharmaceutical. By end-use industry, the market is classified into construction, cosmetic and personal care, paints and coatings, chemical manufacturing, and others. By region, the market is analyzed across North America, Europe, Asia-Pacific, and LAMEA.
The global sulfonic acid market is segmented into Application and End-use Industry.
Global Sulfonic Acid Market

---
By Application
Detergent and surfactant segment holds the major market share in 2021 and is expected to grow with a fastest CAGR during the forecast period
By Application, the detergent and surfactant, sub-segment dominated the market in 2021.  Without surfactants, soaps would not mix with water and would simply roll off, rendering cleaning considerably more difficult. Surfactants are also found in lubricants such as shaving foam, where surfactants allow razors to easily remove stubble while reducing irritation. Surfactants in automobile engine lubricate and help avoid particles from clinging to engine parts, enabling the components to move freely and keep the car in good working condition. These are predicted to be the major factors affecting the sulfonic acid market size during the forecast period too.
Global Sulfonic Acid Market

---

By End-use Industry
Chemical manufacturing segment holds the major market share in 2021 and is expected to grow with a fastest CAGR during the forecast period
By end-use industry, the Chemical Manufacturing sub-segment dominated the global sulfonic acid market share in 2021. End-user industries such as agriculture, food processing, home care, and medicines have seen an increase in demand. Chemical manufacturing takes place on a value-added and distribution network basis, with materials and other renewable sources such as sulfonic acid, natural gas, ores, biomass, agricultural yields, water, and waste streams being cleansed and separated. The chemical substances can then be used for other chemical production processes that produce materials such as lubricants, printing inks, pesticides, fertilizers, plastics, other processed petrochemicals, explosives, pharmaceuticals, vitamins, soaps, soda, salts, alcohols, finishes, coatings, paints, detergents, caustics, solvents, and a variety of economically important chemicals.
Global Sulfonic Acid Market

---
By Region
Europe held the highest market share in 2021
By region, Europe dominated the global market in 2021 and is projected to remain the fastest-growing sub-segment during the sulfonic acid market forecast period. The utilization of sulfonic acid is likely to rise across a wide range of industries, including pharmaceutical, fabric, paper, and pulp, driving the Europe sulfonic acid market. With rising demand for the recovery of waste printed circuit boards, the Europe sulfonic acid market growth is likely to be driven by the use of sulfonic acid to reclaim various metals including gold, silver, iron, and copper. Furthermore, sulfonic is currently generated for industrial usage by the petroleum and natural gas industries all over the world. As a result, the quantity of sulfonic reserves around the world presents a potential for the European sulfuric acid industry to flourish. 
Impact of COVID-19 on the Global Sulfonic Acid Industry
The disease has expanded to nearly 200 nations since the COVID-19 viral outbreak in December 2019, with the World Health Organization labelling it a public health emergency. The global effects of the coronavirus illness 2019 (COVID-19) had had a considerable impact on the sulfonic acid market in 2020.
COVID-19 has the potential to impact the global economy in three ways: directly impacting production and demand, causing supply chain and market disruption, and having a financial impact on enterprises and financial markets.
The market for sulfonic acid has expanded rapidly in recent years, particularly in China. Leading suppliers such as BASF and Mitsubishi Chemical have shown significant growth since 2013.
Key Benefits For Stakeholders
This report provides a quantitative analysis of the market segments, current trends, estimations, and dynamics of the global sulfonic acid market analysis from 2021 to 2031 to identify the prevailing global sulfonic acid market opportunities.
The market research is offered along with information related to key drivers, restraints, and opportunities.
Porter's five forces analysis highlights the potency of buyers and suppliers to enable stakeholders make profit-oriented business decisions and strengthen their supplier-buyer network.
In-depth analysis of the global sulfonic acid market segmentation assists to determine the prevailing market opportunities.
Major countries in each region are mapped according to their revenue contribution to the global market.
Market player positioning facilitates benchmarking and provides a clear understanding of the present position of the market players.
The report includes the analysis of the regional as well as global global sulfonic acid market trends, key players, market segments, application areas, and market growth strategies.
 Global Sulfonic Acid Market Report Highlights
Aspects
Details
Market Size By 2031
USD 1.7 billion
Growth Rate
CAGR of 9.2%
Forecast period
2021 - 2031
Report Pages
260
Application

Acid Catalysts
Detergent and Surfactant

Detergent and Surfactant

Heavy-duty Laundry Liquid
Laundry Powder
Light-duty Dish-washing Liquid
Industrial Cleaners
Household Cleaners

Paper Making
Pharmaceutical

End-use Industry

Construction
Cosmetic and Personal Care
Paints and Coatings
Chemical Manufacturing
Others

By Region

North America (U.S., Canada, Mexico)
Europe (Germany, UK, France, Spain, Italy, Rest of Europe)
Asia-Pacific (China, Japan, India, South Korea, Australia, Rest of Asia-Pacific)
LAMEA (Brazil, United Arab Emirates, Saudi Arabia, South Africa, Rest of LAMEA)

Key Market Players
Vinati Organics Ltd, Cepsa, Stepan Company, Arkema SA, Kuantum Corp. Co., Ltd., Nandadeep Chemicals Private Limited, BASF SE, national company for sulphur products, Vizagchemicals, New India Detergents