Graph Database Market Outlook - 2026
Graph database is a database that uses graph structures for semantic queries with nodes, edges, and properties to represent and store data. The graph relates the data items in the store to a collection of nodes and edges; the edges representing the relationships between the nodes. It is a mainstream technology especially in data management for enterprises, which finds applications in numerous industries and sectors. The graph database technology offers several advantages for overcoming problems faced while analyzing large and complex data as compared to other database solutions. These benefits and systems possess the ability for scaling and handling naturally large data sets. The global graph database market size was valued at $651 million in 2018, and is projected to reach $3,731 million by 2026, growing at a CAGR of 24.5% from 2019 to 2026.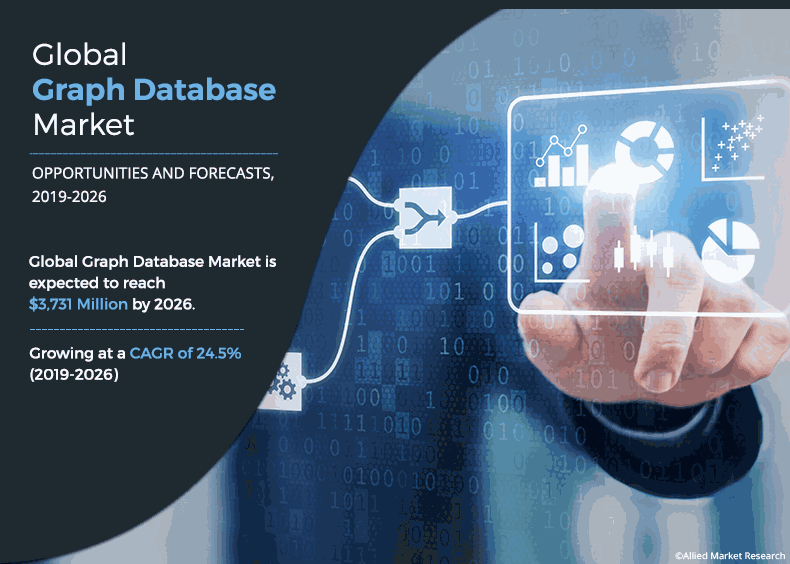 The software segment dominated the overall graph database market in 2018, and is expected to continue this trend during the forecast period, owing to surge in need for software, as massive volume of data is continuously  generated due to which managing data using a traditional relational database infrastructure is difficult for enterprises. However, the service segment is expected to witness the highest CAGR during the forecast period, due to increase in adoption of services among end users, as they ensure effective functioning of software and platforms throughout the process.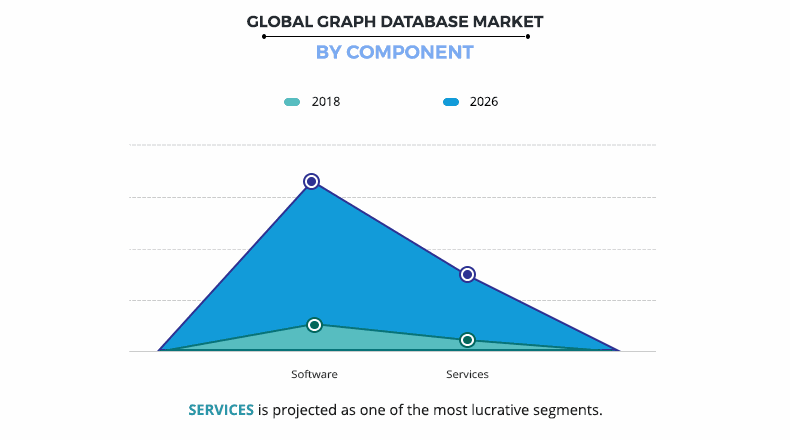 The IT & telecom industry dominated the graph database market in 2018, and is expected to continue this trend during the forecast period. This is attributed to the fact that telecommunication operators are increasingly focusing on this technology to achieve competitive gain, as many of the critical data sets in telecommunications are graphs, such as network graph, social graph, call center graph, and the master data graph. However, the transportation & logistic industry is expected to witness highest CAGR during the graph database market forecast period, due to increase in adoption of graph database technology in this industry to compute fast, to enable localized door-to-door delivery of goods between buyers & sellers, and to scale their business to include the supply chain.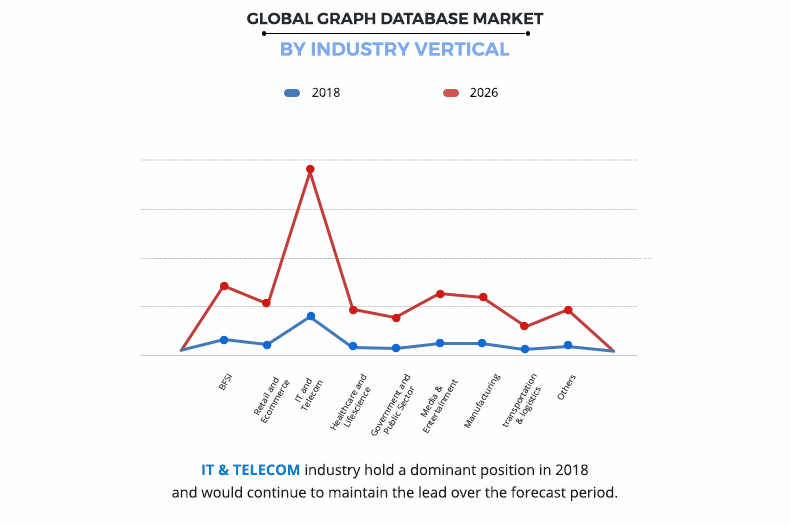 North America dominated the overall graph database market share in 2018, as the organizations operating in this region highly rely on data, which is driving the adoption of graph database tools and related technologies. Furthermore, the emergence of technology-based enterprises and industries has created the significant growth opportunities for the graph database vendors in this region. However, Asia-Pacific is expected to grow at the highest CAGR during the forecast period, as many Asian countries are leveraging information-intensive technologies to gain a competitive edge over other players.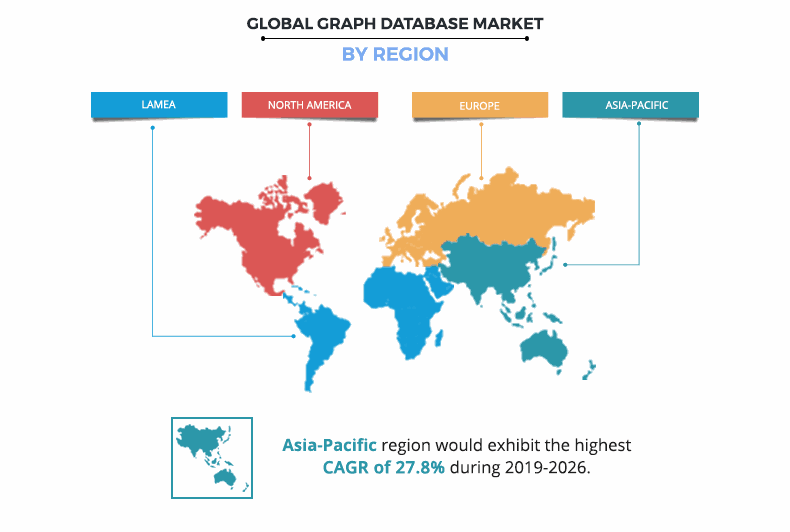 The report focuses on the growth prospects, restraints, and graph database market trends. The study provides Porter's five forces analysis of the graph database industry to understand the impact of various factors such as bargaining power of suppliers, competitive intensity of competitors, threat of new entrants, threat of substitutes, and bargaining power of buyers on the graph database market growth.
Segment review
The global graph database market is segmented into component, deployment model, type of databases, analysis type, application, organization size, industry vertical, and region. Based on component, the market is bifurcated into software and services. By deployment mode, it is divided into on-premise and cloud. On the basis of analysis type, it is classified into path analysis, connectivity analysis, community analysis, and centrality analysis. The applications covered in the study include fraud detection & risk management, master data management, customer analytics, identity & access management, recommendation engine, privacy & risk compliance, and others. Depending on organization size, it is categorized into large enterprises and small & medium enterprises. As per industry vertical, it is segregated into BFSI, retail & e-commerce, IT & telecom, healthcare & life science, government & public sector, media & entertainment, manufacturing, transportation & logistics, and others. Region wise, it is analyzed across North America, Europe, Asia-Pacific, and LAMEA.
The key players operating in the global graph database industry include DataStax, Franz Inc., Neo4j, Inc., Oracle Corporation, OrientDB, MongoDB, Objectivity Inc., Stardog Union Inc., Teradata Corporation, and Microsoft Corporation. 
Top impacting factors   
Surge in adoption of graph database software in the healthcare sector, increase in application areas of graph database, rise in need for better response time & accuracy to discover new data correlations, and upsurge in penetration of connected data to optimize marketing performance are the key factors that impact the growth of the graph database market. However, lack of technical expertise and high setup costs are expected to hamper the market growth. Furthermore, increase in use of virtualization for big data analytics and ongoing technological advancements in graph database technology are expected to provide lucrative opportunities for the graph database market.
Increase in adoption of graph database software in healthcare sector
Graph database software plays a key role in the healthcare and life sciences sectors for recording patient's information and to provide this information to numerous patients or healthcare providers. Healthcare-focused start-ups are leveraging the graph database technology to cater to the unmet needs of customers. For instance, Zephyr Health, a health-focused start-up is leveraging graph database technology as one important component of its service offerings. Moreover, healthcare organizations and institutions are using graph database tools to improve and enhance the operational efficiency, safety, reduce costs, and improvise the quality of patient care, thus fueling its adoption in the healthcare sector. Furthermore, by using graph database technology, healthcare organizations are leveraging the connections within their existing data such as connected genome or information related to patient treatments, which is opportunistic for the graph database market.
Rise in penetration of connected data to optimize marketing performance
Graph databases are majorly designed for highly interconnected data. It works best when the data is connected, and should be represented by how it links or refers to other data, by way of many-to-many relationships; for instance, the application of graph database technology in social network. Moreover, graph databases reduce the amount of work needed to construct and display the data views found in social networks, such as activity feeds, or determining whether or not the user might know a given person in the network. Moreover, for highly connected data, graph database technology provides numerous benefits as compared to other relational databases, including enhanced performance, improved flexibility, and easier data modeling, which are expected to provide lucrative opportunities for the graph database market. For instance, highly connected data can cause a lot of joins, which generally are expensive. After over seven self/recursive joins, the relational database management system slows down considerably as compared to graph databases.
Covid-19 Impacts on Graph Database Market-
The demand for graph database tool is anticipated to surge during the Covid-19 pandemic to identify and track the people affected from corona virus. This is done by collecting and processing the GPS coordinate and real time location details of the affected people and links them in a searchable database.
In addition, its demand is also likely to surge from government agencies to identify the Covid-19 containment zones to control the transmission of corona virus.  
Key Benefits for Graph Database Market:
This study includes the global graph database market analysis, trends, and future estimations to determine the imminent investment pockets.
The report presents information related to key drivers, restraints, and graph databases market opportunity.
The graph database market size is quantitatively analyzed from 2018 to 2026 to highlight the financial competency of the graph databases industry.
Porter's five forces analysis illustrates the potency of buyers & suppliers in the industry.
Graph Database Key Market Segments:
By Component
By Deployment Model
By Type Of Database
Relational (SQL)
Non-relational (NoSQL)
By Analysis Type
Path Analysis
Connectivity Analysis
Community Analysis
Centrality Analysis
By Application
Fraud Detection & Risk Management
Master Data Management
Customer Analytics
Identity and Access Management
Recommendation Engine
Privacy and Risk Compliance
Others
By Organization Size
Large Enterprises
Small & Medium Enterprises
By Industry Vertical
BFSI
Retail and Ecommerce
IT and Telecom
Healthcare and Life Science
Government and Public Sector
Media & Entertainment
Manufacturing
Transportation & Logistics
Others
By Region
North America
Europe

Germany
France
UK
Italy
Spain
Rest of Europe

Asia-Pacific

Japan
China
Australia
India
South Korea
Rest of Asia-Pacific

LAMEA

Latin America
Middle East
Africa
Key Market Players
DataStax
Franz Inc.
Neo4j, Inc.
Oracle Corporation
OrientDB
MongoDB
Objectivity Inc.,
Stardog Union Inc.
Teradata Corporation
Microsoft