Green Cement Market Industry - 2023
The Global Green Cement Market size was valued at $14,947 million in 2016, and is anticipated to reach at $36,481 million by 2023, growing at a CAGR of 14.1% from 2017 to 2023. At present, the global cement industry is facing certain challenges related to growth in environmental concerns, scarcity of raw materials, and depletion of fossil fuel reserves. It is estimated that, on average, a single ton of Portland cement releases approximately 6% of the total global man-made carbon emissions, significantly contributing to the current environmental issues. This leads to emission of high volume of carbon dioxide and greenhouse gasses, which has enforced several builders, governments, and architects to opt for greener solutions such as development and use of green cement.
The global green cement market is driven by growth in awareness related to reduction in carbon emissions and its detrimental effect on the environment. In addition, the green cement provides better functionality, requires less natural materials during production, and releases less carbon dioxide than the traditional cement, resulting in higher market penetration during the forecast period. Moreover, stringent environment regulations, government initiatives to improve tax conditions, and subsidy grants for green materials production are expected to boost the market growth.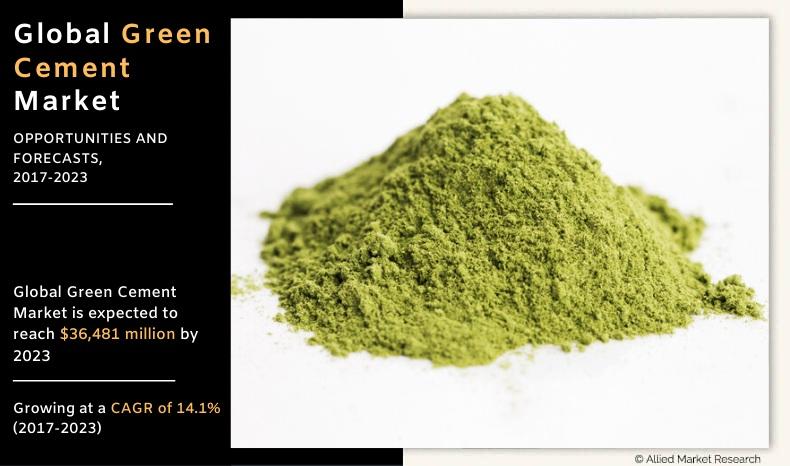 The report emphasizes on the different product types of green cement in the market, which include fly-ash based, slag based, recycled aggregates, and others. Based on application, the market is classified into residential, commercial, and others. Geographically, it is analyzed across North America, Europe, Asia-Pacific, and LAMEA. In addition, the report highlights various factors that impact the market growth, such as key drivers, restraints, growth opportunities, and the role of key players. It presents the quantitative data, in terms of both value and volume, which are obtained from secondary sources, such as company publications, Factiva, Hoovers, OneSource, and others.
Global Green Cement Market Segmentation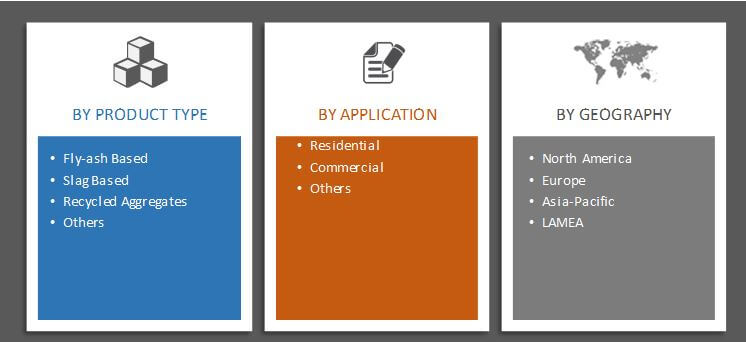 Various companies are undertaking R&D activities to improve the technology. These companies have utilized numerous raw materials to obtain cost-effective green cement mixture. Thus, such initiative and advancements by manufacturers are expected to provide lucrative opportunities for the market growth.
Green Cement Market Share, By Geography, 2016 (%)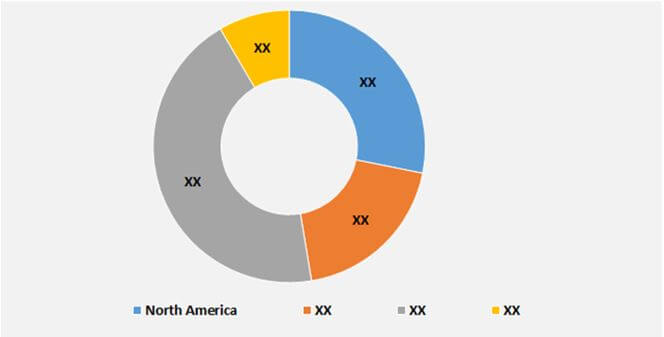 Top Investment Pockets
The commercial segment is expected to be the most lucrative for investment in the market, followed by the residential segment between 2017 and 2023. The growth in demand for green cement in the commercial segment is due to the increase in its application in commercial establishments such as office spaces, shopping malls, theaters, and hospitals. Furthermore, certain properties of cement, such as greater resistance to extreme weather conditions, compressive strength, and short setting time, are expected to boost the industry growth.
Top Inestment Pocket, By Product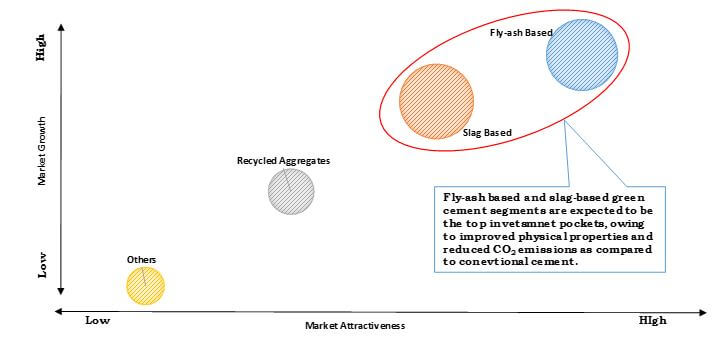 Europe Green Cement Market Analysis
In 2016, Europe accounted for the highest share in the global market, owing to the stringent regulations pertaining to carbon emissions and increase in the taxes that could be levied on industrial emissions. However, Asia-Pacific is expected to surpass Europe's share during the forecast period.
Italy Green Cement Market Growth, 2016-2023 ($Million)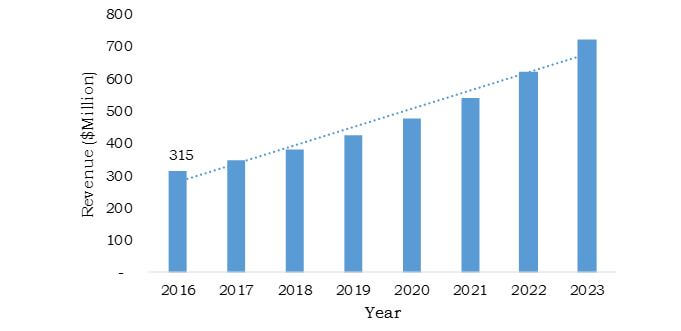 The key players profiled in the report are LafargeHolcim, HeidelbergCement AG, Anhui Conch Cement, CEMEX S.A.B. de C.V., Taiheiyo Cement Corporation, China National Building Material, Votorantim cimentos S.A., UltraTech Cement Ltd., Taiwan Cement Corporation, and ACC Limited.
The other major players (not profiled in report) in the market include Ecocem Ireland Ltd., Calera Corporation, Ceratech, Inc., Solidia Technologies, Cenin Cement, Zeobond Pty Ltd., and Green Island Cement Limited.
Key Benefits:
This report provides an extensive analysis of the current & emerging market trends and dynamics of the global green cement market.
The green cement market trends analysis for all the regions is done by constructing estimations for key segments from 2017 to 2023 to identify the prevailing opportunities.
The report assists to understand the strategies adopted by the leading companies in the industry.
This study evaluates competitive landscape of the industry to understand the global market scenario.
The global green cement market forecast analysis from 2017 to 2023 is included in the report.
Extensive analysis is conducted by key player positioning and monitoring the top competitors in the global market.
Market Key Segments:
By Product
Fly-ash Based
Slag Based
Recycled Aggregates
Others
By Application
Residential
Commercial
Others
By Geography
North America
Europe

Germany
Italy
UK
Russia
France
Rest of Europe

Asia-Pacific

China
India
Japan
South Korea
Rest of Asia-Pacific

LAMEA

Brazil
Argentina
South Africa
Rest of LAMEA