Hands-Free Faucet Market Research, 2031
The global Hands-Free Faucet Market Size was valued at $6.3 billion in 2021, and is projected to reach $10.3 billion by 2031, growing at a CAGR of 5.2% from 2022 to 2031.
Trade restrictions imposed by several countries across the globe to curb the spread of coronavirus has significantly affected global logistics and transportation, thereby affecting the hand-free faucets market. Restrictions have had a direct impact on the supply chain with the tightening of transportation and port capacities while leading to an increase in shipping and freight costs.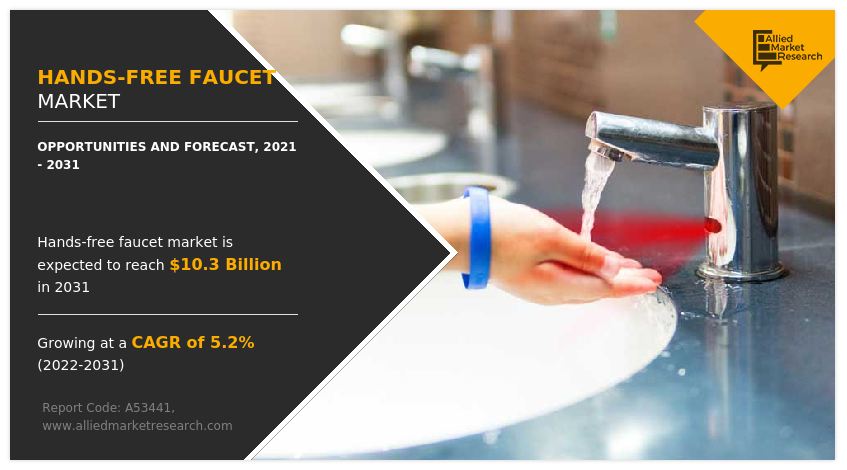 Handles on manual faucets in bathrooms are an ideal environment for the growth of germs. Touching faucet handles after washing hands only reinfects them and negates the majority of the benefits of cleansing in the first place. The reality is that users are either uninformed of this advice, do not care to follow it, or restrooms are not stocked with paper towels. Some experts advise that users use a paper towel to turn faucets off.
Touchless, sensor-operated faucets can thereby promote better handwashing hygiene. Most other types of handwashing stations can benefit from sensor-operated faucets' advantages outside of public restrooms, especially in situations where the greatest standards of cleanliness are necessary. For instance, it is crucial for healthcare professionals to wash their hands properly since they can unintentionally hasten the spread of germs from patient to patient and worker to patient. Furthermore, everyone participating in food preparation should take extra care to avoid food contamination, which can be tricky to spot and much trickier to stop. Therefore, growing awareness regarding hygiene is fostering the demand for hands-free faucets in the market.
In addition, to increase user accessibility in compliance with the Americans with Disabilities Act (ADA), as well as to improve general hygiene and restroom cleanliness, sensing technologies based on electronics are most frequently utilized for hands-free activation of plumbing fittings like faucets. Electronic plumbing fixtures can only dispense water when a user is detected by the sensor, which saves water and energy. They can also set a time restriction on how long the water will be delivered, making them hygienic and touch-free.
Since the 1970s, when they were promoted to provide several benefits, such as more convenience, less maintenance, and enhanced hygiene, hands-free faucets have been available. At that time, they were known as "proximity faucets" and were sold under that name. In order to reduce the transmission of germs in public restrooms and to make faucets more accessible for people with disabilities, many firms tried to develop faucets that would allow water to flow without the use of a handle or push-button.
Over time, sensing technology has advanced. Digitally calibrated electronics avoid false faucet starts while retaining operating sensitivity by automatically adjusting to external conditions. The same technology also enables the faucet to adapt to different sink sizes, shapes, and finishes, ensuring uninterrupted water flow and obviating the need for human sensor adjustment during installation. Spout designs have gradually mimicked those found in popular home models. Recently, businesses have had a step-up choice to match other fixtures and fittings in their buildings thanks to the emergence of specialty finishes.
Typically, an infrared sensor is used to control an electronic faucet. The solenoid starts the water flow when the user approaches the sensor's useful range. When hands are removed from the faucet, the flow of temperate water is stopped by an electrical signal that deactivates the solenoid valve and stops the flow of water. After that, the circuit automatically resets and is prepared for the following user.
High prices and remarkable popularity of faucets brands such as Delta, Grohe, Kohler, Peerless, Moen, and others, have led to the advent of counterfeit brands. Counterfeit brands are generally prevalent in developing economies where customers are highly price sensitive. This factor restricts the sale of the existing original faucet brands in these regions. Counterfeit brands are of low quality and often lead to inconvenience & safety issues that subsequently develop negative perceptions among customers. An online distribution channel is one of the major platforms, where transactions of counterfeited brands can be easily concealed. Counterfeit faucets are dangerous to consumer health as they can introduce toxic materials such as lead, arsenic, and others, into the drinking and cooking water in small quantities. Thus, these counterfeit products create a negative image of faucet products among consumers and thus hamper the market growth. There are a growing number of untested, contraband faucets being sold in the U.S. and Canada. By far the greatest number of counterfeit product manufacturers and suppliers are from Mainland China. Thus, the proliferation of the counterfeited industry is anticipated to hamper the growth of the faucet market.
Power harvesting is a relatively recent method being used to enhance smart faucets that are environmentally safe. Compared to the battery- or hardwire-only solutions, this way of powering the fixture is more environment friendly. While turbine or hydraulic technology uses electricity from the water supply, solar or photovoltaic technology uses ambient light (such as that from fluorescent lights). Electronic plumbing fixtures can save energy and money by using power harvesting technologies, which increase battery life. A power harvesting technique that charges a capacitor that powers a specific fixture function supports the battery in an ideal placement. This enables an extremely extended battery life that is frequently only constrained by the battery's own shelf life.
The hand free faucets market is segmented on the basis of type, application, end user, and region. The segmentation for application includes bathroom, kitchen, and others. By product type, it is classified into sensor tap, hardwired faucet, battery faucet, and plug-in faucet. By end user, the market is bifurcated into commercial and residential. By region, the market is analyzed across North America (U.S., Canada, and Mexico), Europe (UK, France, Germany, Italy, Spain, Russia and rest of Europe), Asia-Pacific (China, India, Japan, Australia, South Korea, ASEAN, and rest of Asia-Pacific), and LAMEA (Latin America, Middle East, and Africa).
Hands-Free Faucet Market

---
By Type
On the basis of type, the sensor tap segment dominated the global market in the year 2021.
On the basis of type, the sensor tap segment dominated the global market in the year 2021. Water conservation is crucial to figure out strategies to conserve water. Aerators in the spout, modest flow rates, and leak-proof systems are typical features of electronic tap designs. For instance, Giampieri sensor taps would not utilize more than 6 liters per minute, and its solenoid valve is closed by default, but standard basin taps pour between 10 and 15 liters per minute (and placed before the hose, which in this case supports up to 15 bar). Remember that a dripping tap can waste anywhere from 300 ml to 1 liter of water every hour.
Hands-Free Faucet Market

---
By Application
On the basis of application, the bathroom segment dominated the global market in the year 2021.
On the basis of application, the bathroom segment dominated the global market in the year 2021. With the increasing trend of modular bathrooms, customers are opting for advanced and sophisticated in-built bathroom appliances. Thus, a rise in the application of faucets in modernized bathrooms is projected to drive the Hands-Free Faucet Market Growth during the forecast period. The bathroom segment held the largest Hands-Free Faucet Market Share owing to the prominent application of multiple faucets in the washrooms/bathroom. In addition, it was noticed that consumers have been shifting their preferences from low-budget faucets to high-end technologically upgraded faucets. Manufacturers are introducing new varieties of bath faucets with an aim to provide a premium consumer experience in both residential and commercial sectors. However, the others segment is likely to be the fastest growing segment during the Hands-Free Faucet Market Forecast period. Rising public toiletries and lavatory in various emerging nations has increased the Hands-Free Faucet Market Demand. Moreover, food service faucets easily adapt to the various types of kitchen and bathroom designs trending in the Hands-Free Faucet Market. Hence, there has been an increase in demand for food service and recreational application faucets from residential and commercial sectors.
Hands-Free Faucet Market

---
By End User
On the basis of end users, the commercial segment dominated the global market in the year 2021.
On the basis of end users, the commercial segment dominated the global Hands-Free Faucet Market in the year 2021. The demand for faucets is expected to grow substantially because of a rise in investments in commercial spaces such as airports, hospitals, hotels, and construction projects. Furthermore, increased demand for premiumization further propels the demand for faucets for the commercial segment in the upcoming years. Changing lifestyles due to increased disposable income has allowed consumers to visit restaurants on a regular basis rather than on particular occasions as in earlier days. However, residential segment is likely to be the fastest growing segment during the forecast period.
An increase in the propensity to live in single-family housing for people aged between 30s and 40s, contributes significantly to growth in demand for single-family housing, which in turn have increased the demand for new house sales; and thus, positively impacts the growth of the residential hand free faucets market. Furthermore, the rise in home improvement and remodeling of residential houses creates high demand for conventional as well as customized faucets in the region. The Hands-Free Faucet Market is witnessing a growing trend of faucets among household consumers. Customers are opting for advanced and sophisticated built-in kitchen appliances, to enhance the aesthetic value of the kitchen. Further, the launch of technology driven faucets is encouraging consumers to transform their basic kitchen into a smart kitchen.
Hands-Free Faucet Market

---
By Region
On the basis of region, the Asia-Pacific region dominated the global market in the year 2021.
On the basis of region, the Asia-Pacific region dominated the global Hands-Free Faucet industry in the year 2021. Rise in residential and commercial construction in the Asia Pacific region is expected to generate the heavy demand for faucets during the stipulated period. Various government initiatives have been given headway for residential construction in the emerging economies including China, India, Indonesia, Singapore among others. For instance, according to the Government of India, the Indian government has initiated Pradhan Mantri Awas Yojana (PMAY) in which affordable housing is expected to be provided to the urban poor population with a target of building 20 million affordable houses by 31 March 2020. This intensifies the rise in government support for building homes and is estimated to accelerate the demand for faucets in the Asia-Pacific region. Moreover, Housing for All by 2022, is also one of the schemes initiated by the government of India to facilitate the housing for urban poor. Singapore is anticipated to gain considerable traction in the global hand free faucets market owing to growing commercial construction and rising tourism industry.
The key players in the hand-free faucets market include Hardly Décor, Euronics Industries Pvt Ltd, Jaquar, Masco Corporation, Sloan Valve Company, Inter IKEA Systems B.V., GROHE, Zurn Industries, LLC, LIXIL Corporation, Kohler Co., Symmons Inc., Geberit Group, Archiproducts, Professional Plumbing Group, and Zurn Industries, LLC.
Key Benefits For Stakeholders
This report provides a quantitative analysis of the Hands-Free Faucet industry segments, current trends, estimations, and dynamics of the hands-free faucet market analysis from 2021 to 2031 to identify the prevailing hands-free faucet market opportunities.
The market research is offered along with information related to key drivers, restraints, and opportunities.
Porter's five forces analysis highlights the potency of buyers and suppliers to enable stakeholders make profit-oriented business decisions and strengthen their supplier-buyer network.
In-depth analysis of the hands-free faucet market segmentation assists to determine the prevailing market opportunities.
Major countries in each region are mapped according to their revenue contribution to the global market.
Market player positioning facilitates benchmarking and provides a clear understanding of the present position of the market players.
The report includes the analysis of the regional as well as global hands-free faucet market trends, key players, market segments, application areas, and market growth strategies.
 Hands-Free Faucet Market Report Highlights
Aspects
Details
Market Size By 2031
USD 10.3 billion
Growth Rate
CAGR of 5.2%
Forecast period
2021 - 2031
Report Pages
250
Type

Sensor Tap
Hardwired Faucet
Battery Faucet
Plug In Faucet

Application
End User

Residential
Commercial

Subsegment

Restaurants
Malls
Public Utilities

By Region

North America (U.S., Canada, Mexico)
Europe (UK, Germany, France, Italy, Spain, Russia, Austria, Netherlands, Denmark, Poland, Rest of Europe)
Asia-Pacific (China, Japan, India, Australia, South Korea, Thailand, Malaysia, Singapore, Indonesia, New Zealand, Rest of Asia-Pacific)
LAMEA (Brazil, Argentina, South Africa, Middle East, Saudi Arabia, Egypt, Nigeria, Rest of LAMEA)

Key Market Players
Jaquar Group, Zurn Industries, LLC, PlumbMaster, Euronics Industries Pvt. Ltd., Professional Plumbing Group, Inc., Archiproducts, Kohler Co., Symmons Inc. , Sloan Valve Company, Masco Corporation