Hard Kombucha Market Research, 2031
The global hard kombucha market size was valued at $40.1 million in 2021, and the hard kombucha market forecasted to reach $1.7 billion by 2031, growing at a CAGR of 41.9% from 2022 to 2031.
Kombucha is typically made by combining ingredients such as yeast, bacteria, sugar, and tea and allowing them to ferment for a few weeks in a warm environment. While all kombucha contains a trace of alcohol, usually less than 0.5% by volume as a by-product of the fermentation process. Hard kombucha needs a few extra weeks of fermentation, as well as different amounts of added sugar and yeast, for an ABV ranging from 3% to around 11%.
Because of health-related concerns around the world, interest in products with low and no alcohol content increased dramatically during the spread of the Covid-19 pandemic. The global hard kombucha market benefited from the COVID pandemic. During the pandemic manufacturers were focused on creating innovative products to meet the increasing consumer shift towards low-alcoholic beverages. Strong global concerns about the pandemic have benefited the global hard kombucha industry, as the pandemic has shifted consumers' attention to healthy food and beverage alternatives.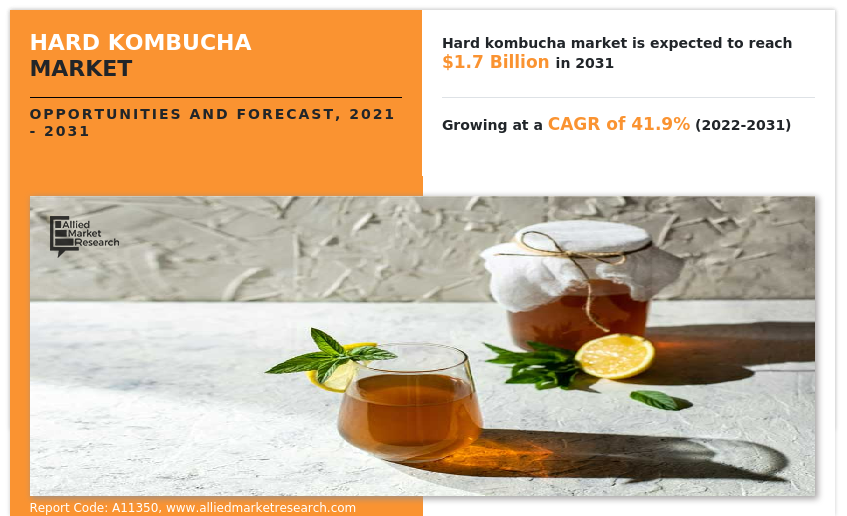 Kombucha is a fermented drink with trace amounts of alcohol. While the drink was initially sold as a non-alcoholic beverage, controversy over its alcohol content caused retailers to remove it from their shelves in 2010. The alcohol content in some GT Kombucha and Synergy brands had crept up to as high as 2.5% ABV due to continued fermentation within the bottles, according to U.S. government tests. These controversies brought kombucha to the attention of consumers, and thus driving sales of the beverage once it was restocked.
Fermented probiotic drinks have established themselves as a cornerstone of the wellness drinks category, incorporating the two macro trends of functionality and natural products. Probiotics have become popular as a result of ongoing research into the role of the gut microbiome in everything from mood regulation to chronic illness. Major hard kombucha market trends was, the product appeals to health-conscious consumers seeking alternatives to beer and artificially flavored 'ready-to-drinks.' Kombucha brands are frequently found in the organic and non-GMO markets because they are naturally low in carbs, sugar, and gluten. Enzymes, organic acids, vitamins, and minerals are all found in Kombucha. High alcohol kombucha contains beneficial acids such as acetic, lactic, glucuronic, and butyric, which have been shown to reduce inflammation, lower blood sugar, and aid in blood sugar homeostasis.
Hard kombucha also comes in a wide range of flavors, making it a versatile substitute for beer, wine, cocktails, or cider. Even in alcohol, there is a huge opportunity to create healthier alternatives that appeal to millennials' desire for functionality. When it comes to purchasing a product, these health-conscious consumers have come to expect functional benefits, low sugar, low carb, free-from, and natural ingredients. Shelf-stable probiotics, adaptogens, botanical infusions, and cold-press juice blends all contribute to the natural appeal and holistic wellness claim of hard kombucha. Hybridization, trend-forward flavors, and colorful unisex packaging are modernizing the drinks' image and increasing visibility among a diverse audience which is expected to create hard kombucha market opportunity.
Hard kombucha industry is driven by retail outlets, though the beverage is available on the menus of some bars and restaurants. On-premise locations are increasingly offering hard kombucha on draught or in cans, in addition to mixing it into cocktails. Regional specialty grocers that focus on wellness products, such as Nugget Market and Bristol Farms in California, are prime retail locations for hard kombucha. Grocers such as Safeway, Kroger, and H-E-B are making shelf space for hard kombucha, as are larger players such as Whole Foods and Sprouts Farmers Market. Hard kombucha appeals to those who want to eat healthier without sacrificing flavor or ingredients. Hard kombucha consumers are generally concerned with sustainability, how their products are manufactured, and the values for which their brands stand.
Hard kombucha market size is following in the footsteps of the seltzer craze, offering not only freedom from carbohydrate and calorie concerns but also additional health benefits. Kombucha is thought to help with the treatment of chronic illnesses such as diabetes and arthritis. Most importantly, kombucha has been shown to improve digestion thanks to its symbiotic culture of beneficial bacteria and yeast. When made from fermented wines and teas, hard kombucha can provide the same health benefits as regular kombucha. Hard kombucha, according to Openfit Nutrition Specialists, has the same benefits as regular non-alcoholic kombucha. In fact, the beneficial bacteria in the drink have been shown to withstand high alcohol concentrations and do not die when consumed. Hard kombucha drinks can range from 5 to 10% in alcohol content and on average contain 100 to 160 calories per serving.
Impressive sales of regular kombucha have pointed to a promising future for the hard kombucha industry in the alcohol market. According to the article "Kombucha On The Rise", the kombucha beverage category has grown from $1 million in sales in 2014 to $1.8 billion in sales in 2019. Alcohol and kombucha companies are taking note of the new health-conscious product gaining traction in the market, as consumers continue to seek new ways to improve their health while having fun.
For many years, sustainable packaging solutions have been at the forefront of the drinks industry's corporate and social responsibility agendas. Concerns about climate change, on the other hand, have grown in intensity, particularly in the aftermath of events such as the United Nations (UN) Climate Change Conference (COP26). Consumers and influential industry figures are increasingly looking for beverage companies to demonstrate a clear commitment to sustainable practices. Solidarity with local brands and businesses was another important trend during the pandemic, and it is closely related to consumers' sustainable mindset. According to IWSR consumer research, 48% of U.S. alcohol drinkers say a company's sustainability or environmental initiatives influence their purchase decisions, with 72% of Brazilian alcohol drinkers and 70% of urban affluents Chinese alcohol drinkers. These factors are creating an opportunistic market for hard kombucha manufacturers.
Consumers' preference for substitutes such as carbonated soft drinks, unprocessed milk, alcoholic beverages, and all-natural & unprocessed fruits & vegetable juice has increased. This is due to the fact that these substitutes contain more proteins, fiber, minerals, vitamins, and carbohydrates than hard kombucha, limiting its demand. These substitutes are unadulterated, naturally formed, and easily available at a lower cost than hard kombucha, which is expected to impede market growth during the forecast period.
The hard kombucha market is segmented into Category, Distribution Channel and Product Type. 
Product type includes the study of plain and flavored hard kombucha. On the basis of category, the market is bifurcated into conventional and organic. By distribution channel, the market has been divided into food service and food retail. The food retail sub segment has been further divided as store-based and non-store-based. On the basis of region, the market is categorized into North America, Europe, Asia-Pacific and LAMEA.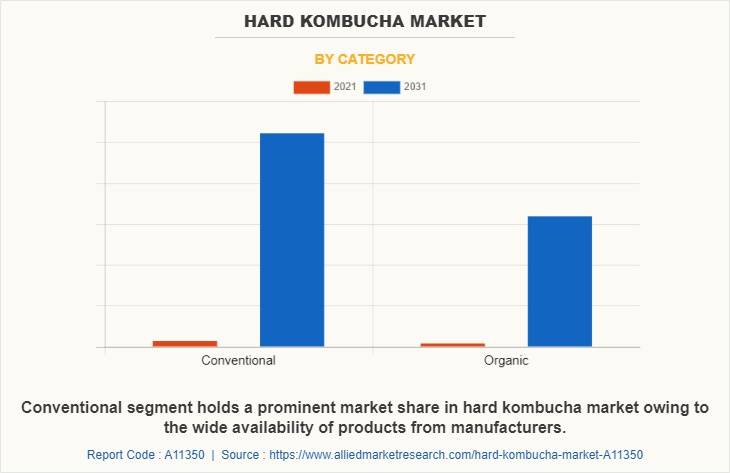 On the basis of category, the conventional segment dominated the global hard kombucha market demand in 2021. Hard kombucha made with conventional ingredients is less expensive than organic ones. Conventional ingredients are readily available. Therefore, the conventional segment is expected to receive the largest share of hard kombucha due to low prices and ready availability of ingredients.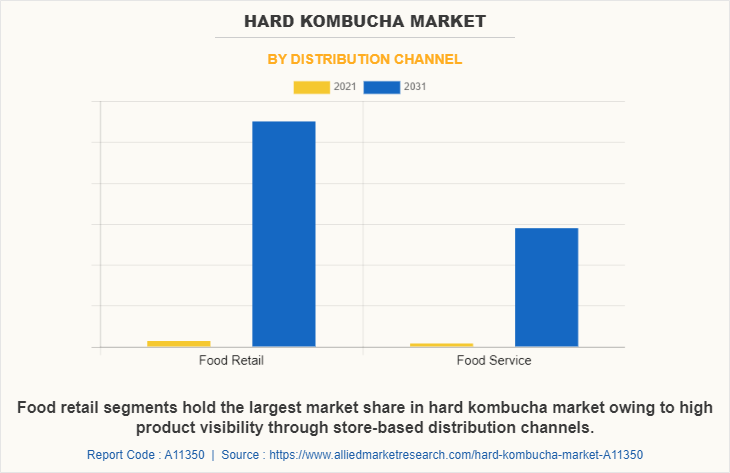 On the basis of distribution channel, food retail segment garnered the largest market share in 2021. Food retail is further subdivided into store-based and non-store-based segments. Consumer demand for store-based channels is driven by the availability and visibility of in-stock products. A store with a variety of products that can be chosen from a single type. Consumers can also compare the prices, ingredients, and quantities of various products to find the one that best meets their needs. As a result, the increased availability of products from various manufacturers will increase demand for hard kombucha.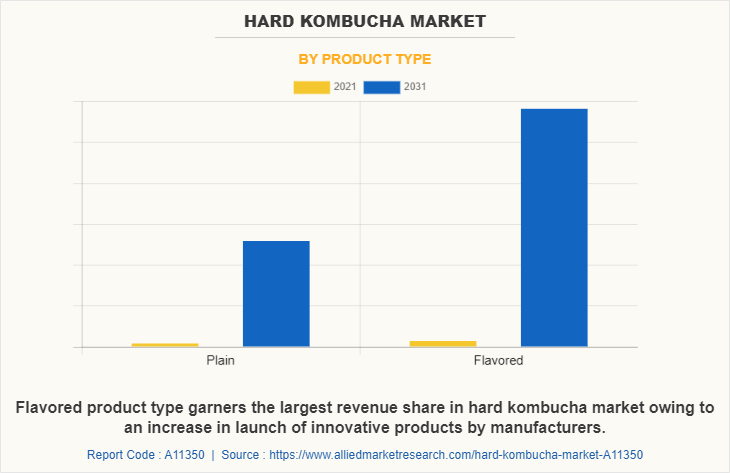 On the basis of product type, the flavored segment garners a largest hard kombucha market share in 2021. And the same segment is projected to grow at a fastest CAGR during the projected period. The growing trend of customer preferences for taste, flavors, and quality, as well as healthy ingredients, is driving the growth of the flavored hard kombucha market. Furthermore, rising disposable income allows consumers to experiment with new flavors in foods and beverages on a regular basis. These factors are accelerating the growth rate of the flavored hard kombucha market. Furthermore, many beverage manufacturers are shifting their focus to launching new and innovative flavors, which is expected to fuel the growth of the flavored hard kombucha market in the coming years.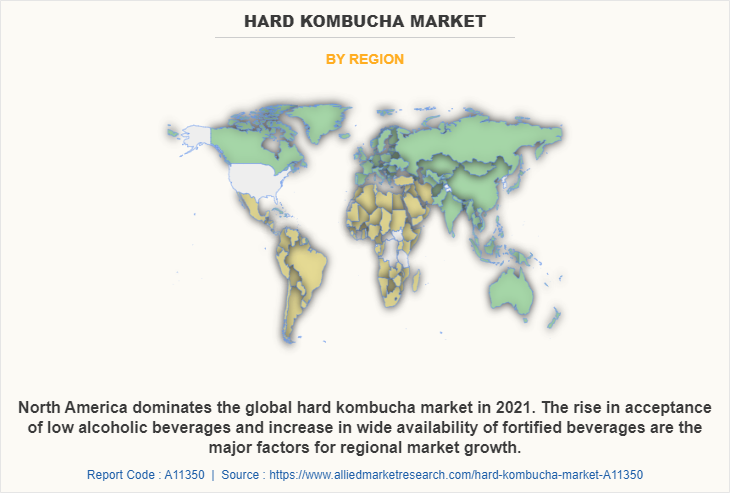 Region wise, North America was the highest revenue contributor and is estimated to reach $ 807.74 million by 2031. The presence of major manufacturers in the region, such as KYLA Hard Kombucha, Jiant, Juneshine, Inc., and Boochcraft, is expected to drive hard kombucha market growth during the review period. Furthermore, the growing demand for craft beverages and consumer preferences for low ABV cocktails are expected to drive market growth in this region. Moreover, the availability of products in a variety of flavors attracts a diverse consumer base. For example, Boochcraft sells hard kombucha in both core flavors and seasonal varieties. Their signature flavors are Ginger Lime and Orange Pomegranate, with seasonal variations such as watermelon chili JuneShine also sells hard kombucha in Blood Orange Mint, Acai Berry, Hopical Citrus, Honey Ginger Lemon, and other flavors that are popular with customers. As a result of these factors, North America  is expected to dominate the hard kombucha market throughout the forecast period. Asia-Pacific is expected to grow at a highest CAGR of 45.08% during the estimated period. The growing acceptance of low-alcohol beverages among the young population is expected to drive the market for hard kombucha. Furthermore, rapid urbanization, demographic changes, and an increase in disposable income offer a high potential for the development of the Asia-Pacific hard kombucha market.
The key players operating in the global hard kombucha market includes Boochcraft, JuneShine, Inc., Jiant, Kombrewcha, KYLA Hard Kombucha, Unity Vibration Kombucha, Dr Hops Kombucha Beer, LLC., Flying Embers, GTs Living Foods LLC., Tailored Beverage Company, Buddha's Brew, Inc., New Holland Brewing Company, LLC, Wild Tonic, Ummi kombucha, and Odell Brewing.
Key Benefits For Stakeholders
This report provides a quantitative analysis of the market segments, current trends, estimations, and dynamics of the hard kombucha market analysis from 2021 to 2031 to identify the prevailing hard kombucha market opportunities.
The market research is offered along with information related to key drivers, restraints, and opportunities.
Porter's five forces analysis highlights the potency of buyers and suppliers to enable stakeholders make profit-oriented business decisions and strengthen their supplier-buyer network.
In-depth analysis of the hard kombucha market segmentation assists to determine the prevailing market opportunities.
Major countries in each region are mapped according to their revenue contribution to the global market.
Market player positioning facilitates benchmarking and provides a clear understanding of the present position of the market players.
The report includes the analysis of the regional as well as global hard kombucha market trends, key players, market segments, application areas, and market growth strategies.
 Hard Kombucha Market Report Highlights
Aspects
Details
Market Size By 2031
USD 1.7 billion
Growth Rate
CAGR of 41.9%
Forecast period
2021 - 2031
Report Pages
385
By Category
By Distribution Channel

Food Retail

Food Retail

Store-Based
Non-Store-Based

Food Service

By Product Type
By Region

North America (U.S., Canada, Mexico)
Europe (Germany, UK, France, Switzerland, Rest of Europe)
Asia-Pacific (China, Japan, South Korea, Australia, Rest of Asia-Pacific)
LAMEA (Brazil, Argentina, South Africa, Rest of LAMEA)

Key Market Players
KYLA Hard Kombucha, Dr Hops Kombucha Beer, LLC., Tailored Beverage Company, Wild Tonic, GTs Living Foods LLC., New Holland Brewing Company, LLC, Odell Brewing Co., Kombrewcha, Unity Vibration Kombucha, Flying Embers, Boochcraft, Jiant, Buddha's Brew, Inc., JuneShine, Inc., ummi kombucha