The hard seltzer market size was valued at $3,831.9million in 2019, and is estimated to reach $10,921.9million by 2027, registering a CAGR of 12.7% from 2021 to 2027. 
Hard seltzer is basically alcoholic, carbonated, fruit flavored water. Most hard seltzers are 4.5-7% ABV and are typically 100 calories a can or less. It is available in various flavors, including lemon, watermelon, and tangerine.
Rise indemand for low alcohol content, low calories, and low carbohydrates beverages is likely to boost the demand for hard seltzer in developed countries such as Japan, the U.S., and Australia. Furthermore, gluten free beverages have been gaining considerable popularity among the health-conscious consumers, as people with celiac disease or allergies find the benefits of a gluten-free beverages and for the people who are struggling with inflammatory diseases and autoimmune disorders, gluten-free hard seltzer beverage has proven to be beneficial.
The continuous COVID-19 outbreak has unfavorably influenced the hard seltzer market with assembling tasks incidentally suspended across significant assembling center points, prompting a considerable log jam in the creation. Significant producers suspended their product launch and assembling activities in emerging economies including Asia Pacific and LAMEA region. Furthermore, affecting the creation, the continuous pandemic has negatively affected the buyer request. Hard Seltzer is untapped potential market and unexplored by the alcohol beverage industry, which likely to show dynamic and lucrative business opportunities for new entrants. Many countries are practicing lock down to control the spread of corona virus, which is biggest challenge for the hard seltzer manufactures and dealers to outspread their business in untapped regions.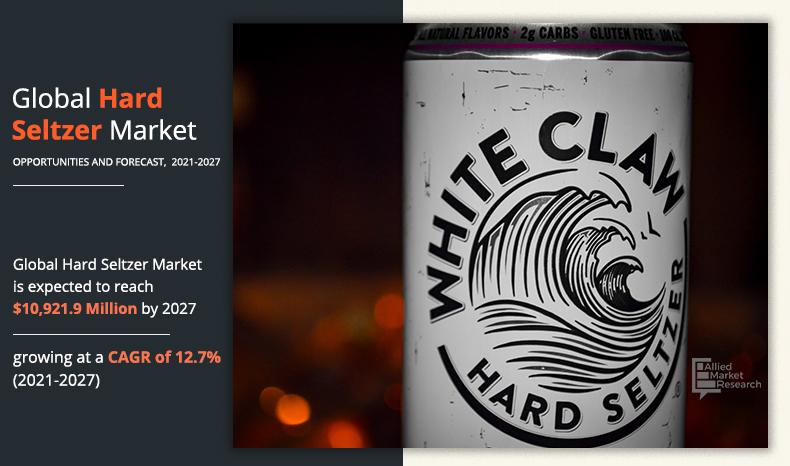 The report segments the hard seltzer market into ABV content, packaging, distribution channel, and region. On the basis of ABV content, the hard seltzer market is categorized into ABV less than 5% and ABV more than 5%. By packaging, it is segregated into metal cans, glass bottles, and plastic bottles. According to distribution channel, it is divided into off-trade and on-trade. Region wise, the market is analyzed across North America (the U.S., Canada, and Mexico), Europe (Germany, the UK, Ireland, the Netherland, Sweden, and rest of Europe), Asia-Pacific (Japan, Australia, Singapore, and rest of Asia-Pacific).
Hard Seltzer Market

---
By Abv Content
ABV more than 5% segment helds the major share of 54.6% in 2019
According to hard seltzer market analysis, on the basis of ABV content, the ABV more than 5% segment accounted for the around one-third half of the global hard seltzer market share in 2019, and is expected to sustain its share during the forecast period. This is majorly attributed to increase in shift of consumers from alcoholic beverages such as sprits, beer, and wine toward hard seltzer with more than 5% of ABV. Furthermore, hard seltzer with 5% ABV is considered as standard proportion of ingredients, which is majorly produced by the manufactures.  
Hard Seltzer Market

---
By Packaging
Metal Cans segment helds the major share of 51.6% in 2019
Depending on packaging, the metal cans segment was valued at $1,975.6million in 2019, and is expected to grow to $5,330.7million by 2027, with a CAGR of 11.9%. Metal cans has been gaining major share in global hard seltzer market and is expected to sustain its share during the forecast period. Metal cans are majorly used as container in the beverage industry, owing to its commercial benefits including durability, application of multi-color printing, supporting the marketing activities, convenience, and sustainability. Furthermore, beverages filled in metal packaging do not need any additives and do not lose their nourishing properties and keep their original taste for long.
Hard Seltzer Market

---
By Distribution Channel
Off-trade segment helds the major share of 61.5% in 2019
By distribution channel, the off-trade segment is projected to grow at $6,435million by 2027, registering a CAGR of 12.3%.Off-trade includes retail outlets such as super market, hypermarket, and convenience stores and wines & spirits shops. Growing urbanization and rapid expansion of the retail sector expected to drive the hard seltzer market growth through off-trade channels. Furthermore, online stores are majorly contributing to increase off-trade sales of the hard seltzer during the pandemic. The U.S. market is witnessing significant growth of off-trade sales, owing to the lockdown and benefits associated with online stores such as door step delivery and bulk discounts.    
Hard Seltzer Market

---
By Region
North Ameica region helds the higest market share of 83.1% in 2019
Region wise, North America dominated the hard seltzer market in 2019, and is expected to sustain its dominance throughout the hard seltzer market forecast period. The key factor driving the growth of the hard seltzer market in the region is growing consumer preferences for the low alcohol content, calories, and gluten free beverages. Furthermore, millennial sare getting attracted toward the flavored alcoholic beverages, which in turn boosts the demand for hard seltzer during the forecast period. For instance, according to the White Claw, the hard seltzer producing company launched three flavors of hard seltzer, which include lemon, watermelon, and tangerine.
The players in the hard seltzer market have adopted various development alstrategies to expand their market share, increase profitability, and remain competitive in the market. The key players profiled in this report include Truly, White claw, Barefoot Cellars, Future Proof Brands LLC, Bon & Viv, Ficks & Co, Nude, Kona Brewing Co., Lift Bridge Brewing Co., and Bud Light Seltzer.
Key Benefits For Stakeholders
The report provides a quantitative analysis of the current hard seltzer market trends, estimations, and dynamics of the market size from 2019 to 2027 to identify the prevailing opportunities.
Porter's five forces analysis highlights the potency of buyers and suppliers to enable stakeholders to make profit-oriented business decisions and strengthen their supplier–buyer network.
In-depth analysis and the market size and segmentation assist to determine the prevailing hard seltzer market opportunities.
The major countries in each region are mapped according to their revenue contribution to the market. 
The market player positioning segment facilitates benchmarking and provides a clear understanding of the present position of the market players in the hard seltzer industry.
 Hard Seltzer Market Report Highlights
Aspects
Details
By Abv Content

ABV Less Than 5%
ABV More Than 5%

By Packaging

Metal Cans
Glass Bottles
Plastic Bottles

By Distribution Channel
By Region

North America (U.S., Canada, Mexico)
Europe (Germany, UK, Ireland, Netherland, Sweden, Rest Of Europe)
Asia-Pacific (Japan, Australia, Singapore, Rest of Asia-Pacific)

Key Market Players
BUD LIGHT SELTZER, LIFT BRIDGE BREWING CO., WHITE CLAW SELTZER WORKS, BAREFOOT CELLARS, HARD SELTZER BEVERAGE COMPANY, LLC, BON & VIV, FUTURE PROOF BRANDS LLC, NUDE BEVERAGES, KONA BREWING CO., FICKS & CO