The global hazardous goods logistics market was valued at $200 billion in 2021, and is projected to reach $382.9 billion by 2031, growing at a CAGR of 7% from 2022 to 2031.
Hazardous good or dangerous good is any substance or material that is capable of posing a risk to health, property, and environment when transported or stored. Hazardous goods cover a significant portion of global freight, which includes widely used commodity and products such as batteries, chemicals, bio-hazardous and gasoline. People handling the transportation and storage of hazardous goods such as explosive, radioactive, flammable, and bio-hazardous products are required to have special training. Therefore, transporting of hazardous goods requires special precautionary measures, careful handling, and good packaging. In addition, there are special safety regulations and standards for transportation of hazardous goods via pipeline, rail, highway, air and marine. International organizations, domestic institution, aviation and shipping division have issued new stringent policies for better management of hazardous goods. These policies implementation are expected to boost the growth of the hazardous goods logistics market.  For instance, International Maritime Organization (IMO) developed International Maritime Dangerous Goods (IMDG) Code. The IMDG Code is developed as an international code for the maritime transport of dangerous goods in packaged form, in order to enhance and harmonize the safe carriage of dangerous goods and to prevent pollution to the environment.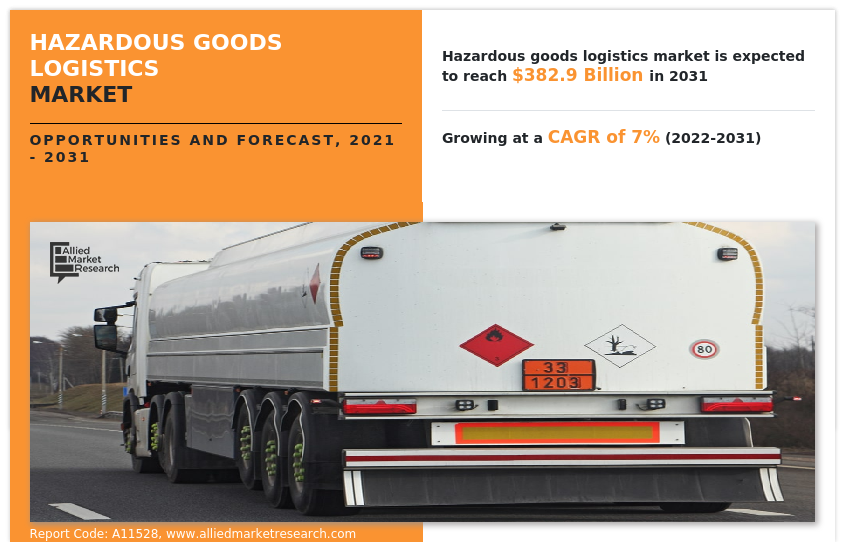 Moreover, increase in demand for hazardous waste management in order to prevent environment is propelling the growth of hazardous goods logistics market. According to the Environmental Protection Agency (EPA), in 2019, the U.S. generated 34.9 million tons of hazardous waste were generated by 23,700 industries/generators. Increase in industrialization massively produces hazardous waste. Hazardous waste includes various toxic, chemical, and flammable substances. Moreover, chemically reactive components can produce harmful fumes when exposed to any other components. These factors majorly impact the environment; thus, it is necessary to dispose them properly. In addition, government of several countries have enforced stringent regulations toward the inadequate, storage, and transportation of hazardous waste. For instance, in July 2020, the giant Boise-based J.R. Simplot Company was fined $775,000 for violating the federal hazardous waste. All such instances are anticipated to boost the growth of the hazardous waste management which in turn hazardous goods logistics market.
Factors such as stringent rules and regulations for hazardous goods transportation & storage, surge in digitization, increase in use of drones for delivering hazardous goods and rise in oil & gas industry are anticipated to boost the growth of the global hazardous goods logistics market during the forecast period. However, probable risk associated with dangerous goods transport & storage, and high cost of transportation are expected to hinder the growth of the global market during the forecast period. Moreover, increase in demand for medical waste management, and shift toward nuclear energy is expected to create an opportunity for the hazardous goods logistics industry in near future.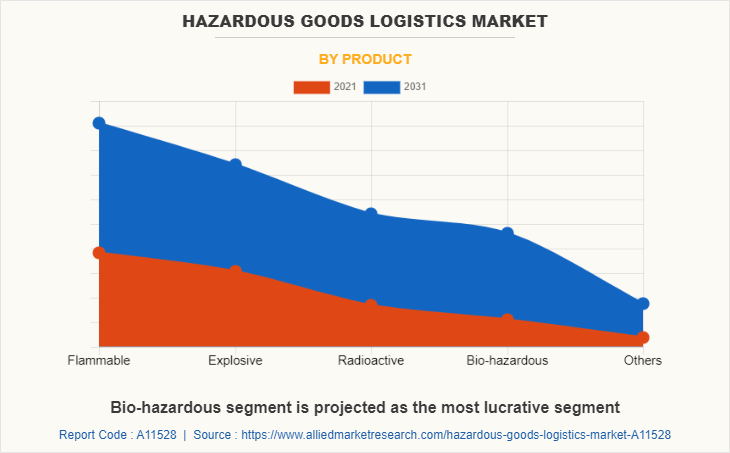 The hazardous goods logistics market is segmented basis of operation, business type, product, application and region. By operation, it is divided into seaways, roadways, railways, airways, and storage & services. By business type, it is categorized into transportation, warehousing, and value-added services. By product, it is divided into flammable, explosive, radioactive, bio-hazardous, and others. By application, it is classified into industrial, healthcare, agriculture, and others. By region, the market is analyzed across North America, Europe, Asia-Pacific and LAMEA.
The key players that operate in this hazardous goods logistics market are Agility, Bollore Logistics, Ceva Logistics, DB Schenker, DGD Transports, DHL Supply Chain, DSV, GEODIS, Hellmann Worldwide Logistics, Kuehne + Nagel, Rhenus Logistics, Toll Holdings Ltd., United Parcel Service of America, Inc., XPO Logistics, Inc., Yellow Corporation, Ych Group, and Yusen Logistics Co., Ltd.
Stringent rules and regulations for hazardous goods transportation and storage
Shippers and carriers of dangerous goods need to meet general vehicle and vessel safety requirements. It also entails regulations related to certain types of hazardous materials, occupational safety, and environmental protection issued by other federal agencies. Stringent government rules and regulations pose strong opportunities to the hazardous goods logistics market during the forecast period. Pipeline and Hazardous Materials Safety Administration (PHMSA) is the agency within the US Department of Transportation (DOT) responsible for developing and enforcing US dangerous goods regulations. The Hazardous Materials Regulations (HMR: 49 CFR Part 100-185) are regulations that must be followed when shipping dangerous goods to, from, or through the United States.  United Nations (UN) Dangerous Goods Model International Regulations. The United Nations Model Regulations on the Carriage of Dangerous Goods provide a basis for developing harmonized regulations for all modes of transport to facilitate the trade and safe and efficient transport of dangerous goods. International Civil Aviation Organization (ICAO) is responsible for issuing technical instructions (Technical Instructions or "TI") for the safe air transportation of dangerous goods. A Dangerous Goods Committee, made up of national authorities, is responsible for updating TI. A new issue comes out every two years. Dangerous goods must bear appropriate identifying labels or marks that can be used to transport dangerous goods on cargo carriers. It also contributes to transportation safety.
Dangerous goods packaging must comply with safety standards and regulations. The regulation demands each package containing dangerous goods to have a unique class label. Freight forwarders carrying dangerous goods should be equipped with tachographs that measure acceleration, time velocity, and other vital signs. By complying with such standards, safer transportation of hazardous materials is expected to boost the growth of the market as transportation and storage of these goods needs specialized services. For instance, The U.S. Department of Transportation (DOT) Pipelines and Hazardous Materials Safety Administration (PHMSA) released a final rule amending the Federal Hazardous Materials Regulations (HMR) to harmonize U.S. law with numerous international standards. The final rule improves security, streamlines the transportation of dangerous goods such as pharmaceuticals, batteries and parts used in manufacturing, and encourages shippers to pack their goods more efficiently.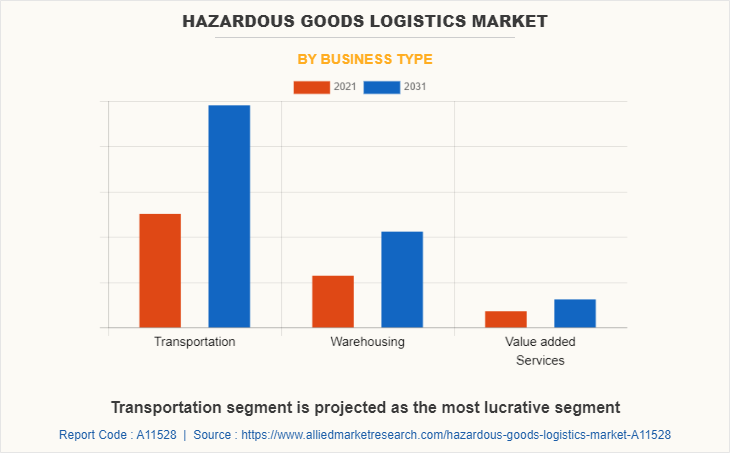 Surge in digitization
Digitization makes information exchange quick and easy. Within seconds, dangerous goods acceptance data and reports can be shared with everyone involved, from shippers to airlines, ground crew to pilots to management. Numerous companies have increased their digitization efforts to speed up processing. By eliminating spreadsheets and paper, organizations speed up workflows, increase productivity, reduce errors, and improve compliance. Therefore, digitization has become the fundamental solution for successful transport of dangerous goods, which is expected to accelerate the growth of the hazardous goods logistics market.
Moreover, logistics companies employ digital supply networks in transportation operations that helps to connect suppliers, buyers, freight forwarders and external logistics providers to enable mutual communication, collaboration and business improvement. There is increase in trend of automation of manual processes such as submitting orders, confirming receipt of orders, and confirming shipments and sharing of documents electronically to improve safety. For instance, in September 2021, United Nations Center for Trade Facilitation and Electronic Commerce (UN/CEFACT) experts finalized work on three air cargo documents: Air Waybill (AWB), Declaration for Dangerous Goods (DGD) and Cargo Security Declaration (CSD) completed. This development marks the completion of a package of standards and artifacts for the digitization of multimodal transport data exchange of key documents.
Moreover, in October 2019, the Federal Ministry of Transport and Digital Infrastructure held workshop on the transport of dangerous goods as part of the "transport logistic 2019" trade fair in Munich. The focus of the workshop was on using electronic transport documents to increase security and cost effectiveness. There is increase in demand for electronic freight documents usage by providers and carriers of dangerous goods. For instance, in December 2020, many trade groups such as American Trucking Associations and the National Tank Truck have petitioned the Pipeline and Hazardous Materials Safety Administration for a rule allowing motor vehicle carriers to use electronic shipping documents for dangerous goods. Such developments are expected to drive the growth of the market.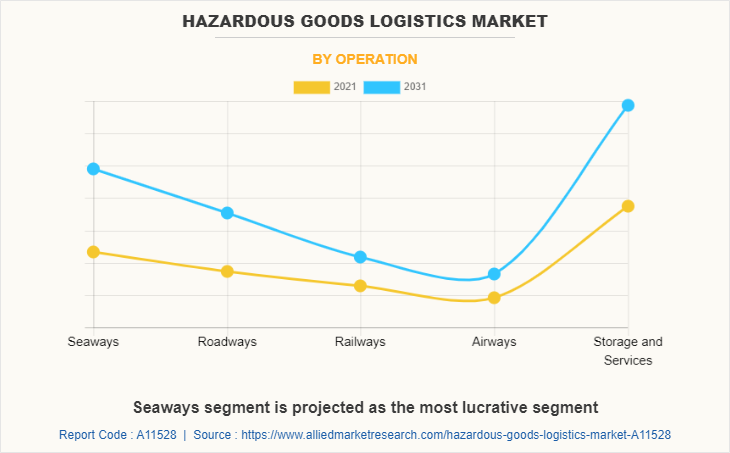 Probable risk associated with dangerous goods transport and storage
Various vehicles such as trucks transport hazardous materials such as petroleum products such as kerosene, gasoline, LPG and naphtha. The movement of such materials is more prone to accidents. Road accidents can bring consequences including fire, explosion, personal injury, property damage and pollution. Many commodities are shipped by sea that are hazardous due to their chemical nature. Uncontrolled release of liquids into the environment, outgassing and waste generation are the main situations in the maritime transport of hazardous materials that affect the environment. For instance, in June 2021, a merchant vessel's fuel tank cracked, spilling 10 kiloliters of oil into the Bay of Bengal. Moreover, in February 2020, a semi-truck overturned near Williamsburg, Kentucky, leaking 5,000 gallons of flammable butyl acrylate onto the tracks. Spilled material could cause explosions and breathing problems for nearby residents. Therefore, the transportation of hazardous materials can be associated with accidents that damage the environment throughout the transportation process, including loading, unloading and storage.  Moreover, the cost of environments is the cost used to restore infrastructure and complex technology and ecosystem after environment damage caused during the transportation of hazardous goods. Thus, with the increase in frequency of accidents, the cost of environment increases significantly that is expected to hinder the growth of the hazardous goods logistics market.
Increase in demand for medical waste management
Medical care is essential to our lives and health, but the waste generated by medical activities poses serious problems to the living natural and human world. It has direct health impacts on communities, healthcare workers and the environment. Hospitals and healthcare facilities around the world generate relatively large amounts of potentially infectious and hazardous waste every day. Indiscriminate disposal of Biomedical waste (BMW) or hospital waste or exposure to such waste poses serious hazards to the environment and human health, requiring special treatment and handling prior to final disposal. Become. Moreover, due to the pandemic, the production of testing kits, transport, testing and waste treatment which lead to rise in medical waste generation. For instance, according to World Health Organization (WHO) estimates released in in February 2022, approximately 87,000 tons of personal protective equipment (PPE) that was procured between March 2020- November 2021 and shipped to support countries' urgent COVID-19 response needs through a joint UN emergency initiative. Most of this equipment is expected to have ended up as waste. In addition, regular training program for all the sections of health care workers with special emphasis on waste handlers is carried out. For instance, in September 2022, the Nagaland Health Project (NHP) held a district level meeting on the implementation of Biomedical Waste Management (BMWM) for all at the District Hospital of Kifia. It involved training for biomedical waste segregation, collection, treatment, storage and transport. Transportation is the critical element in the biomedical waste management.
Medical facilities hire contractors to dispose of their waste. Transportation of biomedical waste involves movement of medical waste over a specific area by trains, tankers, trucks, barges, or other vehicles. There is increase in demand for transportation of hazardous waste to reduce the effect of toxic wastes on the environment and human health. Therefore, surge in demand for biomedical waste management provides lucrative opportunities for the growth of the hazardous goods logistics market.
Hazardous Goods Logistics Market

---

By Region
Asia-Pacific would exhibit the highest CAGR of 8.5% during forecast period.
Get more information on this report :
Request Sample Pages
As a consequence of the coronavirus outbreak, important supply chains in the logistics and transportation industry are hampered, though differently across air, freight, and sea sectors. Moreover, changes in consumers purchase behavior due to pandemic uncertainties significantly impacted the growth of the hazardous goods logistics solutions market. The COVID-19 pandemic is boosting the growth of the hazardous goods logistics market. The increasing demand for medical oxygen in hospitals has increased the need for transportation. Additionally, clinical waste such as pathological waste & human or animal tissue, viral samples, drug or medicines, like creams, pills, antibiotics and surgical instruments must be transported. The lockdown due to the COVID-19 pandemic has made transporting dangerous goods easier and faster. The transport of dangerous goods remained essential as the fight against COVID-19 required the handling and transport of some key products classified as dangerous goods. This concerns medical gases such as medical oxygen, healthcare, and others Hazardous or clinical waste were also moving despite the pandemic, requiring transportation and logistics companies to continue their work. In addition to the fact that various regulations related to dangerous goods are updated year by year, the need for transporting dangerous goods is expected to increase significantly. The increasing need to ship lithium batteries and the region's already established gas and oil industries is expected to grow the hazardous goods logistics market
Key Benefits For Stakeholders
This report provides a quantitative analysis of the market segments, current trends, estimations, and dynamics of the hazardous goods logistics market analysis from 2021 to 2031 to identify the prevailing hazardous goods logistics market opportunities.
The market research is offered along with information related to key drivers, restraints, and opportunities.
Porter's five forces analysis highlights the potency of buyers and suppliers to enable stakeholders make profit-oriented business decisions and strengthen their supplier-buyer network.
In-depth analysis of the hazardous goods logistics market segmentation assists to determine the prevailing market opportunities.
Major countries in each region are mapped according to their revenue contribution to the global market.
Market player positioning facilitates benchmarking and provides a clear understanding of the present position of the market players.
The report includes the analysis of the regional as well as global hazardous goods logistics market trends, key players, market segments, application areas, and market growth strategies.
 Hazardous Goods Logistics Market Report Highlights
Aspects
Details
Market Size By 2031
USD 382.9 billion
Growth Rate
CAGR of 7%
Forecast period
2021 - 2031
Report Pages
424
By Business Type

Transportation
Warehousing
Value added Services

By Operation

Seaways
Roadways
Railways
Airways
Storage and Services

By Product

Flammable
Explosive
Radioactive
Bio-hazardous
Others

By Application

Industrial
Healthcare
Agriculture
Others

By Region

North America (U.S., Canada, Mexico)
Europe (Germany, France, Russia, Netherlands, UK, Poland, Spain, Rest Of Europe)
Asia-Pacific (China, India, Japan, South Korea, Asean, Rest Of Asia-Pacific)
LAMEA (Brazil, UAE, Saudi Arabia, South Africa, Rest Of LAMEA)

Key Market Players
DHL, Bollore Logistics, GEODIS, Ych Group, DSV, Agility Logistics, United Parcel Service, DGD Transport, XPO Logistics, Toll Group, Ceva Logistics, Kuehne + Nagel, Yusen Logistics, Hellmann Worldwide Logistics, YRC Worldwide Inc, DB Schenker, Rhenus Logistics