The global HD map for autonomous vehicles market was valued at $3.7 billion in 2025, and is projected to reach $66.1 billion by 2035, growing at a CAGR of 33.4% from 2025 to 2035.
HD map, also called as high-definition map, is a semantic layer used to detect the distance between two destinations and features other information such as lane placement, road boundaries, the severity of curves, the gradient of the road surface, and more, to navigate autonomous vehicles. HD maps are built and updated in real-time by using the data captured by various sensors, cameras, LiDAR. This data helps autonomous vehicles to make better decisions while performing driving tasks. HD maps can also provide localization information, which will help find the vehicle's accurate position on the map.
The COVID-19 outbreak severely impacted the automotive sector on a global level, which in turn leads to considerable drop in automotive sales, insufficiency of raw material, and others. The HD map for autonomous vehicles is an evolving sector with constant R&D which was disrupted due to lockdown and witnessed a downfall due to COVID-19 pandemic. The companies operating in HD map designing have been impacted from production to R&D due to the pandemic. For instance, Google affiliated Sidewalk Lab's proposed 12-acre smart project in Canada related to AV has been canceled due to economic uncertainty caused by the pandemic. Moreover, COVID-19 also affected a few HD maps operating players, including Momenta, Zenrin, and others as they are majorly dependent on OEMs activities. However, after the first lockdown, production & sales quicky recovered. In addition, countries' governments have supported autonomous vehicle technologies has helped improve the current situation due to COVID-19. For instance, the Korean government, including ICT Board for regulatory sandboxes, has allowed the test operation of Goalies (autonomous patrol car) to proceed and introduced a new system under Autonomous Vehicle Act, i.e., AV Pilot Zone scheme. Furthermore, autonomous vehicle technologies are expected to have prominent growth, creating a competitive advantage among key players in the industry.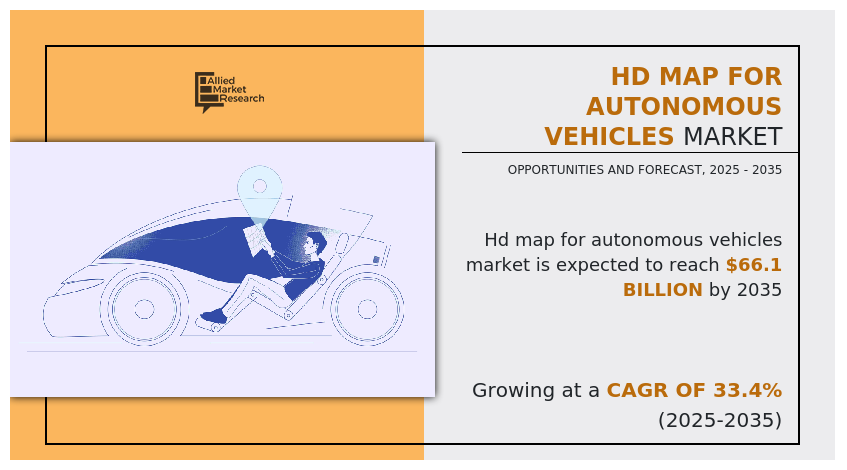 With recent advancements in computer vision and artificial intelligence, visual Simultaneous Localization and Mapping (SLAM) has gained significant accuracy in determining the position and orientation of a device with respect to its localization while simultaneously mapping the environment around that device. For instance, in March 2022, NVIDIA Corporation launched a new mapping platform that provided the autonomous vehicle industry with ground truth mapping coverage. The service is expected to offer 300,000 miles of roadway coverage across North America, Europe, and Asia by 2024. This provided car manufacturers the technology to develop their autonomous driving technologies further.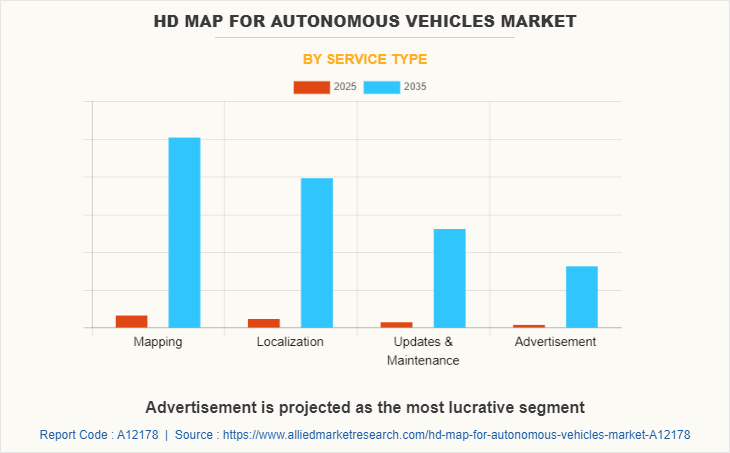 The factors such as rise in the adoption of autonomous vehicles, growing importance of HD map for safe autonomous driving, and advancement in 5G technology supplement the growth of the HD map for autonomous vehicles market. However, high cost associated with technology and limited standardization in HD maps are the factors expected to hamper the growth of the market. In addition, growth in connected infrastructure and improved road regulations and rising investments in mapping technology creates market opportunities for the key players operating in the market.
The hd map for autonomous vehicles market is segmented into service type, vehicle type, usage type, solution, level of automation, and region. By service type, the market is divided into mapping, localization, updates & maintenance, and advertisement. By vehicle type, it is fragmented into passenger cars and commercial vehicles. By usage type, it is categorized into personal mobility and commercial mobility. By solution, it is further classified into cloud-based and embedded. By level of automation, it is categorized into level 2, level 3, level 4, and level 5. By region, it is analyzed across North America, Europe, Asia-Pacific, and LAMEA.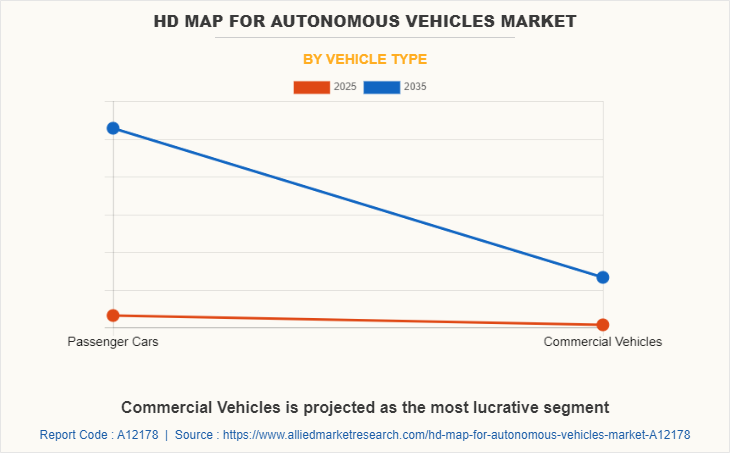 The leading players operating in the HD map for autonomous vehicles market are AutoNavi, Baidu, Inc., Civil maps, DeepMap, Inc., Dynamic Map Platform Co., Ltd., Esri, HERE, Mapbox, Momenta, NavInfo Co., Ltd., Navmii, NVIDIA Corporation, The Sanborn Map Company, Inc., TomTom International BV, Waymo LLC, Woven Planet Holdings, Inc., and Zenrin Co., Ltd.
Rise in the adoption of autonomous vehicles
There has been an increase in curiosity about autonomous vehicles worldwide due to rapid developments in radar technology and microprocessor capacity to make decisions based on self-improving algorithms. As autonomous vehicles help to minimize the driver distraction that causes the majority of highway deaths. According to the U.S. National Highway Traffic Safety Administration (NHTSA), 94% of highway deaths can be attributed to human error or poor driver decisions. Also, these vehicles have several advantages over conventional vehicles, from improved safety to reducing fuel and traffic congestion and emissions. Hence, major players in the autonomous driving space focus on the research and development of autonomous driving technology. Leading OEMs such as Ford, Volkswagen, Mercedes, Toyota, Audi, General Motors, Honda, and Tesla have already developed plans to develop autonomous vehicles. For instance, Audi plans to invest approximately $16 billion by 2023 in self-driving and sustainable technology. In addition, the HD map for autonomous vehicles market is directly dependent on the growth of the autonomous vehicles market as it is used in autonomous vehicles that ensure accurate navigation and safe commute, which will further boost the demand for HD maps. Thus, the rise in the adoption of autonomous vehicles drives the market growth for HD maps.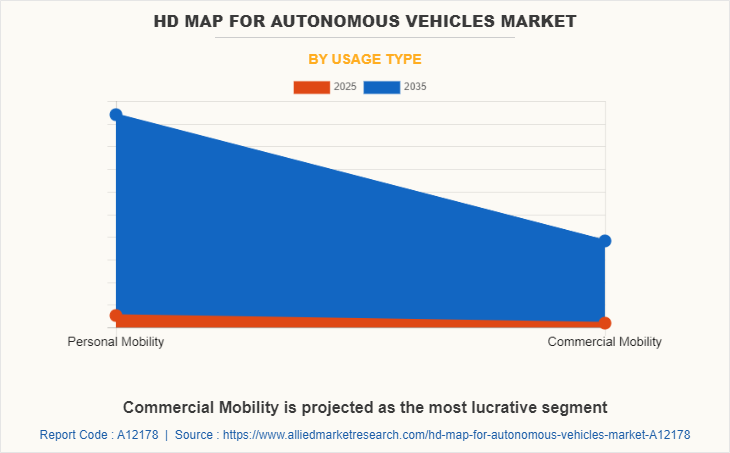 Advancement in 5G technology
The widespread availability of 5G networks is necessary for a 5G-enabled autonomous vehicle deployment. It provides better and fast connectivity solutions between transport systems. It also offers new application options such as autonomous driving, vehicle-2-infrastructure (V2I), vehicle-2-vehicle (V2V), and helps develop autonomous cars. Moreover, the recent rise in the business of shared mobility and taxis has propelled the demand for highly accurate HD mapping technology. The ride-sharing taxi companies also collaborating with autonomous vehicle manufacturers by considering mapping technology's future scope. For instance, Uber launched its ride-hailing services in around 30 cities to expand its business globally. Also, countries such as Finland, Denmark, Chile, and other regional countries have experimented with trials of slow-moving driverless minibuses, autonomous vehicles for tourism in sensitive areas, and many others. In addition, to enable a faster connection between transport systems, the 5G network is offering new application solutions for developing autonomous cars. This car needs regular data updates for navigation, including detailed road maps, the status of traffic congestion, and real-time updates of environmental changes such as rain or black ice. Hence, all factors owing to advancements in 5G technology propel the demand of HD map for autonomous vehicles market.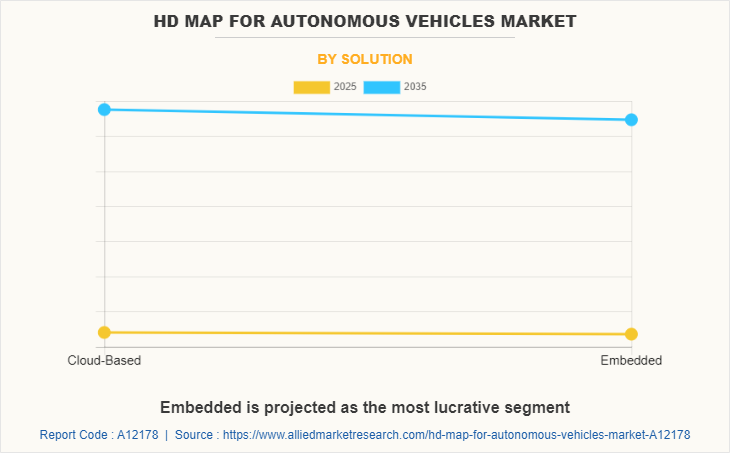 High cost associated with technology
The HD map building is a complex task that includes various aspects such as sourcing data, collating data to make a map, integration of advanced tool/technology platforms such as AI, machine learning, and others. These aspects enable live road data & ongoing maintenance. The overall cost incurred for manual verification & requirement of fresh maps sourcing leads to higher production costs. The high cost of building vehicles also significantly impacts project costs. Moreover, it isn't easy to produce error-free maps due to the high complexity of roads and environmental conditions. Also, most new entrants make commercial maps of satellite imaginary Also, most new entrants make commercial maps of satellite imaginary & vehicle sensor datasets, which is insufficient for building highly precise HD maps. In addition, these maps rely on compiling information from the component used, such as cameras, sensors, GPS devices, high communication networks, Lidar, and many others. The use of such higher-cost components leads to ensuring the high system cost, which is expected to hamper the HD map for autonomous vehicles market growth.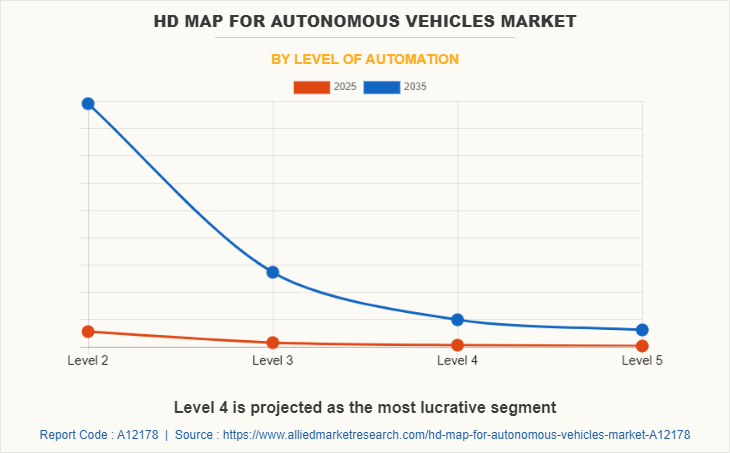 Growth in connected infrastructure
Automation of routine tasks is currently a concept of interests for many industries. Thus, the global transportation infrastructure is evolving quickly with the rapid adoption of the Internet of Things (IoT). Companies like Cisco and IBM have created digital platforms to automate street and traffic lights, optimize trash pickup, and augment surveillance. Furthermore, connected infrastructure includes car parks, toll booths, and intelligent street and traffic lights. In addition, HD maps provide additional layers of data for autonomous vehicles to sense redundancy in instances where lane markings may be unclear, and road signs are affected by outside influences. Therefore, autonomous vehicles can interact with smart streetlights to enable traffic without congestion. Hence, the automotive industry's unstoppable progress makes autonomous vehicles' effects on infrastructure more and more apparent. The Autonomous Vehicles Readiness Index by KPMG claims that the infrastructure readiness for autonomous vehicles is one of the four critical criteria for determining the most developed country. Therefore, growth in connected infrastructure is projected to boost the demand for HD maps in autonomous vehicles, which is expected to create a lucrative opportunity during the forecast period.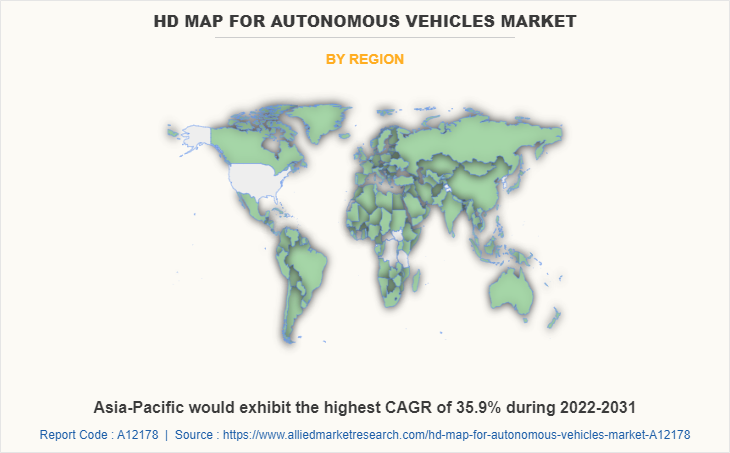 Key Benefits For Stakeholders
This study presents analytical depiction of the global HD map for autonomous vehicles market analysis along with current trends and future estimations to depict imminent investment pockets.

The overall HD map for autonomous vehicles market opportunity is determined by understanding profitable trends to gain a stronger foothold.

The report presents information related to the key drivers, restraints, and opportunities of

the global HD map for autonomous vehicles market with a detailed impact analysis.

The current HD map for autonomous vehicles market is quantitatively analyzed from 2025 to 2035 to benchmark the financial competency.

Porter's five forces analysis illustrates the potency of the buyers and suppliers in the industry.
 HD Map for Autonomous Vehicles Market Report Highlights
Aspects
Details
By Service Type

Mapping
Localization
Updates & Maintenance
Advertisement

By Vehicle Type

Passenger Cars
Commercial Vehicles

By Usage Type

Personal Mobility
Commercial Mobility

By Solution
By Level of Automation

Level 2
Level 3
Level 4
Level 5

By Region

North America (U.S., Canada, Mexico)
Europe (UK, Germany, France, Italy, Rest of Europe)
Asia-Pacific (China, Japan, India, South Korea, Rest Of Asia Pacific)
LAMEA (Latin America, Middle East, Africa)

Key Market Players
The Sanborn Map Company, Inc., Esri, NavInfo, Momenta , Waymo LLC, Navmii, Dynamic Map Platform, Mapbox, Civil Maps, TomTom International BV, NVIDIA Corporation, HERE Technologies, Woven Planet Holdings, Inc., DeepMap, Zenrin Co., Ltd., Baidu, Autonavi