The hookah tobacco market size was valued at $824.8 million in 2020 and is estimated to reach $1,696.4million by 2030, registering a CAGR of 6.5% from 2021 to 2030.
[COVIDIMPACTSTATEMENT]
Hookah tobacco is a type of combustible tobacco that is smoked with a hookah. It is also known as waterpipe tobacco, maassel and shisha.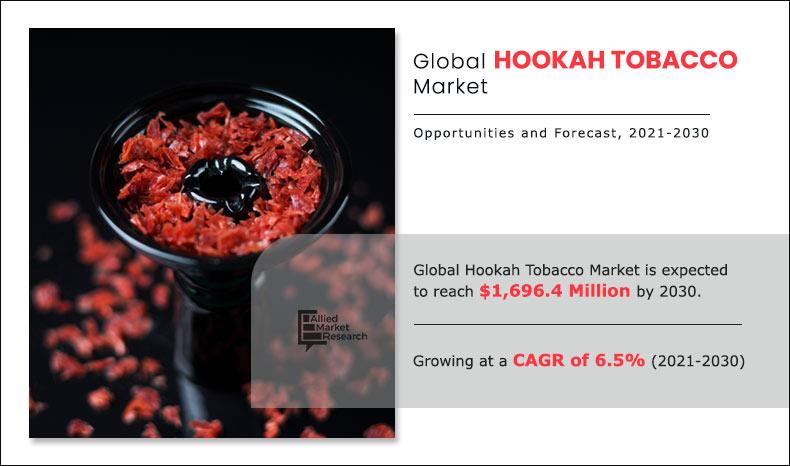 Several factors are driving the growth hookah tobacco market such as rapid rise in health consciousness, tobacco product manufacturers have invested in R&D of several low-risk tobacco products. As a result, these businesses have been able to maintain profits while also expanding their existing customer base. In addition, rising per capita income has given market participants more ways to raise product prices and shift toward premium products. It is consumed for its benefits that calm and energize the mind. Furthermore, Growing hectic and stressful lifestyles have resulted in an increase in the number of both male and female smokers. In addition, tobacco product manufacturers have been releasing feminine-labeled products to increase the number of female consumers. Flavor-infused hookah tobacco has been gaining significant popularity among millennial population.
Innovative marketing techniques that industry players use to attract and target potential consumers particularly the young population. Automated technologies are predicted to lead the global hookah tobacco market by 2030 in combination with the growth of online sales.
The crisis of COVID-19 threatens the hookah tobacco industry. Sales in the first quarter were disappointing and some establishments had to shut their businesses. Although many businesses saw a decline in consumer demand as a result of the COVID19 crisis, the tobacco market is likely to emerge undaunted and develop significantly.
According to the hookah tobacco market analysis, the market segmented into flavor, distribution channel, age group and region. On the basis of flavor, the market is categorized into fruits, mint, chocolate and others. On the basis of distribution channel, the market is segmented into, bars and cafes, specialty stores, online and others. By age group, market is categorized into, below 18 years, 18 to 30 years, 30 to 50 years and above 50 years. Region wise, it is analyzed across North America (the U.S., Canada, and Mexico), Europe (Germany, France, UK, Italy, Spain, Switzerland and Rest of Europe), Asia-Pacific (China, Japan, India, Australia and Rest of Asia-Pacific), and LAMEA (Brazil, Argentina, Saudi Arabia, South Africa and Rest of LAMEA).
According to the hookah tobacco market forecast, based on flavor, the mint segment has gained a major share in the global market in 2020 and is expected to sustain its market share during the forecast period 2021-2030. Mint flavors are majorly preferred over other flavors as they provide a refreshing taste and a sense of cooling effect after consumption. Menthol, a substance present in mint interacts with receptors inside of the mouths to produce the sensation of cold. Due to the increasing global warming and deterioration of the weather, the coolness from the mint provides comfort to the consumers. Due to this reason, the demand for mint flavor hookah tobacco is rising.
According to the hookah tobacco market trends, on the basis of age group, the 18 to 30 years segment was the highest contributor to the market, with $400.0 million in 2020, and is estimated to reach $757.0 million by 2030, at a CAGR of 5.6% during the forecast period. People who are between the ages of 18 and 30 are included in this age group. They are commonly referred to as young adults. This is the age category in which smoking and drinking are permitted in practically every country. This age group's population is very active and on the point of trying new things. They are also of legal age to test different hookah flavors and try out new items. This age group's users may have a significant impact on the global market.
According to the hookah tobacco market analysis, based on distribution channel, the bars and cafes segment has gained a significant share in the global hookah tobacco market in 2020 and is expected to sustain its market share during the forecast period 2021-2030. bar and cafe, sometimes known as a saloon, tavern, pub, or club, is a retail business that provides alcoholic beverages such as beer, wine, liquor, cocktails and hookah. Growing disposable income, increased spending on entertainment and rise in consumer indulgence in leisure activities are majorly attributed for the hookah tobacco market growth through bar and café segment.
According to the hookah tobacco market opportunities. Region wise, Asia-Pacific was the highest revenue contributor, accounting for $306.7 million in 2020, and is estimated to reach $656.3 million by 2030, with a CAGR of 6.9%. There has been increase in the number of hookah users in Asia Pacific region owing to increased spending power, desire to experience the luxurious lifestyle and increased millennial population.
Furthermore, the launch of new hookah products including mint, menthol, and fruit flavors, increased this trend of hookah smoking. Thus, these above mentioned factors are predicted to influence the Asia Pacific hookah tobacco market. In addition, the introduction of innovative tobacco products into various flavor possibilities has been crucial as customers steadily migrate from traditional smoking to hookah smoking.
The players operating in the global hookah tobacco market have adopted various developmental strategies to expand their market share, increase profitability, and remain competitive in the market. The key players profiled in this report include Japan Tobacco, Inc., Alzawrae Industrial Company, Metco Ltd, Al Fakher Tobacco Trading LLC, Cloud Tobacco, Inc., Mujeebsons, Fumari, Inc., Haze Tobacco, LLC, Al Andalus Flavoured Tobacco & Molasses Co. LLC and Social Smoke, Inc.
Key Benefits For Stakeholders
The report provides a quantitative analysis of the current trends, estimations, and dynamics of the market size from 2020-2030to identify the prevailing opportunities.
Porter's five forces analysis highlights the potency of buyers and suppliers to enable stakeholders to make profit-oriented business decisions and strengthen their supplier–buyer network.
In-depth analysis and the market size and segmentation assist to determine the prevailing market opportunities.
The major countries in each region are mapped according to their revenue contribution to the hookah tobacco market share.
The market player positioning segment facilitates benchmarking and provides a clear understanding of the present position of the market players in the Hookah tobaccoindustry.
Key Market Segments  
By Product Type
Flavor
Fruits
Mint
Chocolate
Others
By Distribution Channel
Bars and Cafes
Specialty Stores
Online
Others
By Age Group
Below 18 Years
18 to 30 Years
30 to 50 years
Above 50 years
By Region
North America
Europe

Germany
France
UK
Italy
Spain
Switzerland
Rest of Europe

Asia-Pacific

China
Japan
India
Australia
Rest of Asia-Pacific

LAMEA

Brazil
Argentina
Saudi Arabia
South Africa
Rest of LAMEA