The global hot melt equipment market size was valued at $1,491.2 million in 2020, and is expected to reach $2,822.9 million by 2030, with a CAGR of 6.4% from 2021 to 2030. The hot melt equipment are used for assembly and packaging of products in electronics, food & beverage, automobile and other industries. The coils in the glue guns and bench top heat up using electricity. These coils further heat the glue and melts them to semi-liquid form, which can be further applied on the spots that are to be joined and packed for assembly or logistic purpose.
The market was hampered during the outbreak of COVID-19 pandemic, owing to restrictions of manufacturing activities. In addition, the manufacturing of products that are assembled using hot melt technology was hampered owing to limited sales of the end-use products through retail stores.
The hot melt equipment market is majorly driven by rapid growth of e-commerce industry and logistic industry. The global e-commerce industry witnessed growth from around $400 million in 2010 to about $3,400 million in 2020. This has led to increase in demand for hot melt equipment for packaging and logistic purposes. Moreover, low prices of commonly used adhesives drives the market. Polyethylene prices used for the hot melt adhesive have considerably fallen since the last few years as the production cost and manufacturing technology has developed. Owing to reduced prices, the demand for adhesives and hot melt equipment for the packaging applications has increased.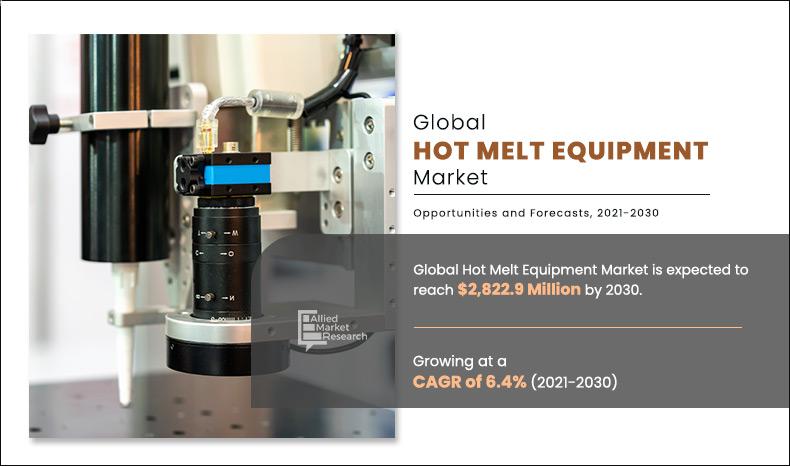 However, the hot melt adhesives used in hot melt equipment are many times used for sensitive packaging in medical and automobile industries. For instance, when temperature goes beyond 65°C, the adhesives start to melt and thus, loosens the bond of packaging. This affects the performance and usage of these adhesives, which is restraining the use of hot melt adhesive and thus, led to other packaging options instead of hot melt equipment market. Furthermore, during the outbreak of the COVID-19 pandemic, construction, manufacturing, hotel, and tourism industries were majorly affected. Manufacturing activities were halted or restricted. Construction and transportation activities, along with their supply chains, were hampered on a global level. This led to decline in manufacturing as well as demand of hot melt equipment in the market, thereby restraining of the hot melt equipment market growth. Conversely, industries are gradually resuming their regular manufacturing and services. This is expected to lead to re-initiation of hot melt equipment companies at their full-scale capacities, which is expected to help the market to recover by end of 2021.
Further, rise in adoption of sustainable and environment friendly products for manufacturing and production purposes is expected to increase the demand for hot melt adhesives. Hot melt adhesives are used for the solar modules. For instance, in December 2021, it was announced that a solar module is being launched in the Netherlands that consists of hot melt adhesives for separating the materials of the module. In addition, European Union is taking initiative to develop various regulations toward renewable energy adoption. For instance, in August 2021, Germany proposed new electricity rules, focusing on purchasing of clean energy from the renewable sources that led to investments and adoption of renewable solar energy. Such factors are anticipated to boost the market during the forecast period.
Hot Melt Equipment Market

---
By Product Type
Bench Top segment holds the largest share in Hot Melt Equipment market
The global hot melt equipment market is segmented on the basis of product type, glue material, end user, and region. Based on product type, the market is divided into glue gun and bench top. The bench top segment holds a major share in the market. Based on glue material, the market is divided into polyurethane, polypropylene, ethylene-vinyl acetate and other. The polyurethane segment holds a major Industry in the market. Based on end user, the hot melt equipment market industry is divided into electronics, food & beverages, medical, automotive and others. The food & beverages segment holds a major share in the market.
Region wise, the global hot melt equipment market analysis is conducted across North America (the U.S., Canada, and Mexico), Europe (the UK, France, Germany, Italy, and rest of Europe), Asia-Pacific (China, Japan, India, South Korea, and rest of Asia-Pacific), and LAMEA (Latin America, the Middle East, and Africa). In 2020, Asia-Pacific was the highest contributor to the global hot melt equipment market share, and LAMEA is anticipated to secure a leading position during the forecast period.
Hot Melt Equipment Market

---
By End User
Food & beverages segment holds dominant position in 2020
Competition Analysis
The major players profiled in the hot melt equipment market include 3M, Banseok Precision Industry Co.Ltd., Glue Machinery Corporation, Graco Inc., Henkel AG & Co. KGaA, ITW Dynatec, Nordson Corporation, Robatech AG, Twin Engineers Pvt. Ltd. and Valco Cincinnati Inc.
Major companies in the market have adopted product launch, agreement, partnership and business expansion as their key developmental strategies to offer better products and services to customers in the market.
Hot Melt Equipment Market

---
By Region
Asia-Pacific holds a dominant position in 2020 and LAMEA is expected to grow at a highest rate during the forecast period.
Key Benefits For Stakeholders
The report provides an extensive analysis of the hot melt equipment market trends and future estimations.  
Extensive analysis of the market is conducted by following key product positioning and monitoring of the top competitors within the market framework.
A comprehensive analysis of all the regions is provided to determine the prevailing opportunities.
The global hot melt equipment market forecast analysis from 2021 to 2030 is included in the report.
The key market players within the global hot melt equipment market are profiled in this report and their strategies are analyzed thoroughly, which help understand the competitive outlook of the global market.
 Hot Melt Equipment Market Report Highlights
Aspects
Details
By Product Type
By Glue Material

Polyurethane
Polypropylene
Ethylene-vinyl acetate
Other

By End User

Electronics
Food & beverages
Medical
Automotive
Others

By Region

North America (U.S., Canada, Mexico)
Europe (Germany, France, UK, Italy, Rest of Europe)
Asia-Pacific (China, Japan, South Korea, India, Rest of Asia-Pacific)
LAMEA (Latin America, Middle East, Africa)