Humidity Sensor Market Outlook - 2027
The global humidity sensor market size is expected to reach from $4.0 billion in 2019 and projected to grow $11.85 billion by 2027, growing at a CAGR of 14.2% from 2020 to 2027. 
Humidity is one of the prominent physical quantities used in a wide range of commercial and industrial applications, including those associated with building ventilation control, environmental chambers for the testing of electronics, clean rooms in the semiconductor & automotive industries, industrial drying, and process monitoring in the chemicals, electronics, food/beverage, pharmaceutical, cosmetics, and biomedical analysis industries.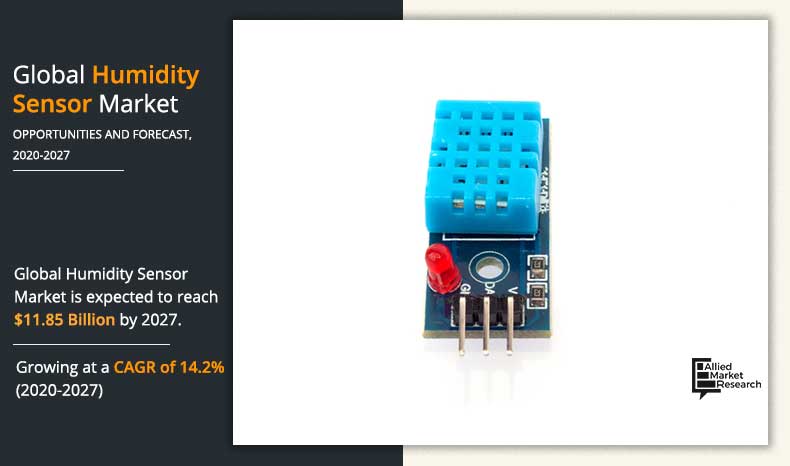 A humidity sensor is an electronic component that senses, measures, and reports water vapor and air temperature. The humidity sensor functions by carefully monitoring environmental conditions and alerting the user of any alarming conditions. It detects any change in the electrical currents or temperature in the air. Accuracy, linearity, reliability, repeatability, and response time of humidity sensors are some of the important parameters considered for its selection. 
Factors such as increase in demand for small-sized humidity sensor, surge in installation of personal weather stations, and developments in the automotive sector drive global humidity sensor market growth. However, the need to improve technical specifications of humidity sensor is expected to hamper the market growth to a certain extent. Furthermore, development and adoption of vertical farming and precise farming is expected to offer lucrative opportunities for the humidity sensor market growth globally.
Humidity Sensor Market

---
By Type
Digital segment is projected as one of the most lucrative segments.
The humidity sensor market is segmented into product, type, end use, and region. By product, the market is bifurcated into relative and absolute humidity sensors. The relative segment is further sub-segmented into relative humidity sensor (RHS) and relative humidity and temperature (RHT). The relative humidity sensor segment dominated the market in terms of revenue in 2019 and is expected to follow the same trend during the forecast period. By type, the market is segregated into digital and analog. The digital segment accounted for the highest humidity sensor market share in 2019. By end use, the market is classified into residential, commercial, automotive, industrial, agriculture, weather station, and healthcare. The industrial segment contributed for the highest market share in 2019, whereas the automotive segment is expected to grow at the highest CAGR from 2020 to 2027.
Humidity Sensor Market

---
By End User
Industrial segment generated the highest revenue in 2019.
By region, the humidity sensor market is analyzed across North America (U.S., Canada, and Mexico), Europe (UK, Germany, France, and rest of Europe), Asia-Pacific (China, India, Japan, South Korea, and rest of Asia-Pacific), and LAMEA (Latin America, Middle East, and Africa). Asia-Pacific accounted for the highest share, owing to its significant contribution to automotive industry with growing economy and advancements in regular framework of the humidity sensors. North America was the second largest contributor in terms of revenue and is expected to witness significant growth during the forecast period, owing to strict environmental regulations, strong government support, and efforts toward automation of agriculture processes 
Humidity Sensor Market

---
By Geography
Asia-Pacific region would exhibit the highest CAGR of 19.8% during 2020-2027
Top Impacting Factors
The significant factors impacting the growth of the global humidity sensor market include increase in use of humidity sensors in the automobile industry, emerging demand for humidity sensors in consumer electronics, and surge in installation of personalized weather stations. However, need of improvement in technical specification acts as the major barrier for its adoption. This hampers the growth of the market. On the contrary, surge in trends toward Internet of Things (IoT) and increase in demand for sensors in the development of vertical farming are anticipated to provide lucrative opportunities for the growth of the humidity sensor market during the forecast period. 
Competition Analysis
Key players operating in the humidity sensor market include Amphenol Advanced Sensors, Guangzhou Aosong Electronics Co., Ltd., Honeywell International Inc., Laird Connectivity, Michell Instruments, Renesas Electronics Corporation, Schneider Electric, Sensirion AG Switzerland, TE Connectivity, and Texas Instruments Incorporated, which are profiled in this report.
Key Benefits For Stakeholders
This study comprises analytical depiction of the global market size along with the current humidity sensor market trends and future estimations to depict the imminent investment pockets.
The overall humidity sensor market analysis is determined to understand the profitable trends to gain a stronger foothold.
The report presents information related to key drivers, restraints, and opportunities with a detailed impact analysis.
The current humidity sensor market forecast is quantitatively analyzed from 2020 to 2027 to benchmark the financial competency.
Porter's five forces analysis illustrates the potency of the buyers and suppliers in the humidity sensor industry.
 Humidity Sensor Market Report Highlights
Aspects
Details
By Product

Relative
Absolute Humidity Sensors

By Type

Digital

Relative Humidity Sensor (RHS)
Relative Humidity and Temperature (RHT) Sensors

Analog

By End Use

Residential
Commercial
Automotive
Industrial
Agriculture
Weather Station
Healthcare

By Region

North America (U.S., Canada)
Europe (UK, Germany, France, Rest of Europe)
Asia-Pacific (China, Japan, South Korea, India, Rest of Asia-Pacific)
LAMEA (Latin America, Middle East, Africa)

Key Market Players
SENSIRION AG SWITZERLAND, AMPHENOL CORPORATION, TEXAS INSTRUMENTS INC., TE CONNECTIVITY, GUANGZHOU AOSONG ELECTRONICS CO., LTD., RENESAS ELECTRONICS CORPORATION (INTERATED DEVICE TECHNOLOGY, INC.), SCHNEIDER ELECTRIC, HONEYWELL INTERNATIONAL INC.