The global HVAC equipment market size was valued at $171.8 billion in 2020, and is projected to reach $290.8 billion by 2030, registering a CAGR of 5.3% from 2021 to 2030.  HVAC system stands for heating, ventilation and air-conditioning and this system provides heating and cooling to residential building, commercial and industrial buildings. The replenishing or exchanging of air inside a room is done by ventilation.
The COVID 19 outbreak has affected the growth of the HVAC equipment industry owing to the lockdown measure in the countries and delay in manufacturing and production of HVAC equipment which are utilized in residential, commercial, and industrial spaces.
This improves indoor air quality by removing moisture, smoke, heat, dust, bacteria, carbon dioxide, and other unwanted pollutants as well as controlling temperature and replenishing oxygen.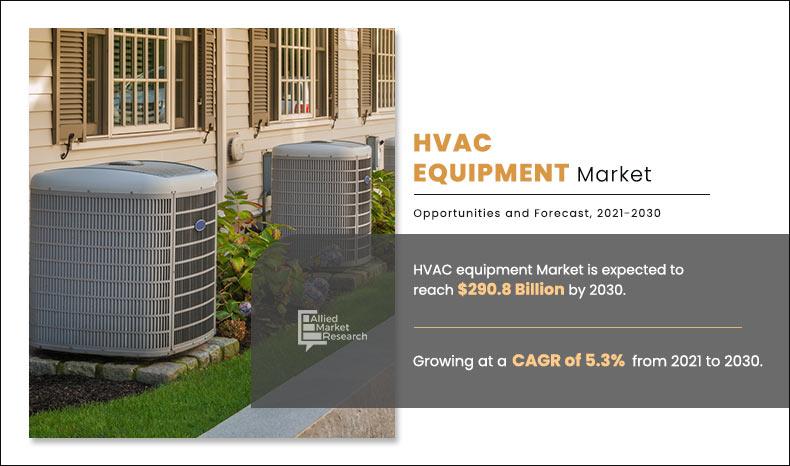 The HVAC equipment market is being propelled by changes in urbanization, industrialization, and migration are some of the key drivers driving HVAC equipment market expansion; as a result, the number of companies, manufacturing units, and residential complexes that utilize HVAC equipment has increased. Furthermore, climate change has resulted in an increase in demand for electrical cooling systems in the summer and natural gas, heating oil, wood, and electrical heating systems in the winter. Climate change has an impact on building energy consumption and air conditioning loads, which vary depending on the ambient temperature and humidity. The energy efficiency of HVAC systems is projected to improve as a result of new regulatory requirements. This has paved the way for smart HVAC control systems to be included in buildings' most modern heating and air conditioning units.
HVAC Equipment Market

---
By System Type
Decentralized segment is projected to grow at a significant CAGR
The novel coronavirus has rapidly spread across various countries and regions, causing enormous impact on lives of people and overall community. Originating as a crisis to human health, it now poses significant threat to worldwide trade, economy, and finance. Due to the continuous lockdown in key global countries, the COVID-19 pandemic has halted production of many items in the HVAC equipment business. The players in HVAC equipment market can afford a complete lockdown only for a limited period, after which they would have to alter their investment plans. Furthermore, number of COVID-19 cases are expected to reduce in the near term as vaccine for COVID-19 has been introduced in the market. This is further expected to lead to re-initiation of HVAC equipment companies at their full-scale capacities, which would aid the HVAC equipment market to recover by the start of 2022. After COVID-19 infection instances start to decline, equipment and machinery producers must focus on protecting their staff, operations, and supply networks in order to respond to urgent emergencies and establish new methods of working.
Various companies are expanding their product portfolio by launching HVAC equipment with advance technology to strengthen their presence in the HVAC equipment market. For instance, in June 2021, Johnson Controls, launched the Quantech QWC4 Water-Cooled System to the brand's expanded chiller portfolio. When compared to standard systems, the QuantechTM QWC4 System employs variable speed drive technology to save up to 30% on energy expenditures and carbon emissions. By directly controlling refrigerant charges and potential leak sites, the QuantechTM QWC4 system also lowers environmental consequences. Hence, rising air pollution are forcing key players to come up with advance technology HVAC equipment and therefore, it will boost the HVAC equipment market during the forecast period.
HVAC Equipment Market

---
By End User
Commercial segment holds dominant position in 2020
The HVAC equipment market is segmented on the basis of system type, business type, end-user, and region. By system type, the market is divided into central, and decentralized. By business type, it is divided into new construction, and retrofits. By end user, it is divided into residential, commercial, and industrial. Region wise, the HVAC equipment market analysis is conducted across North America (the U.S., Canada, and Mexico), Europe (the UK, France, Germany, Italy, and Rest of Europe), Asia-Pacific (China, Japan, India, South Korea and Rest of Asia-Pacific), and LAMEA (Latin America, the Middle East, and Africa).
Competition Analysis
Key companies profiled in the HVAC equipment market report include Daikin Industries, Ltd., Johnson Controls, Hitachi Air Conditioning Company, LG Electronics Inc., Raytheon Technologies Corporation (United Technologies), Emerson Electric Co., Honeywell International, Inc., Mitsubishi Electric Trane HVAC U.S. LLC, Nortek Global HVAC, and Danfoss AS.
HVAC Equipment Market

---
By Region
Asia-Pacific holds a dominant position in 2020 and LAMEA is expected to grow at a significant rate during the forecast period.
Key Benefits For Stakeholders
The report provides an extensive analysis of the current and emerging HVAC equipment market trends and dynamics.  
In-depth emerging HVAC equipment market analysis is conducted by constructing market estimations for key market segments between 2021 and 2030. 
Extensive analysis of the emerging HVAC equipment market is conducted by following key product positioning and monitoring of top competitors within the market framework.
A comprehensive analysis of all the regions is provided to determine the prevailing opportunities.
The global emerging HVAC equipment market forecast analysis from 2021 to 2030 is included in the report.
The key players within emerging HVAC equipment market are profiled in this report and their strategies are analyzed thoroughly, which help understand the competitive outlook of the emerging HVAC equipment industry. 
Global Hvac Equipment Market Segments
Key Segments
By System Type
By Business Type
New construction
Retrofits 
By End User 
Residential
Commercial
Industrial 
By Region
North America
Europe

Germany
France
UK
Italy
Rest of Europe

Asia-Pacific

China
India
Japan
South Korea
Rest of Asia-Pacific

LAMEA

Latin America
Middle East 
Africa
Key Players
Daikin Industries, Ltd.
Johnson Controls
Hitachi Air Conditioning Company
LG Electronics Inc.
Raytheon Technologies Corporation (United Technologies)
Emerson Electric Co.
Honeywell International, Inc.
Mitsubishi Electric Trane HVAC US LLC
Nortek Global HVAC
Danfoss AS