HVAC Filters Market Outlook- 2028
The global HVAC filters market size is expected to reach $11,061.0 million in 2028, from $6,066.1 million in 2020, growing at a CAGR of 7.7% from 2021 to 2028. HVAC filters are important part of any heating, ventilation, and air conditioning system to filter the foreign particles through the air. These filters are utilized for maintaining indoor air quality (IAQ) by filtration of impurities such as pollen, dust, and chemical pollutants in enclosed spaces. Few HVAC filters are highly efficient in trapping around 99.97% particles up to size of 0.3 microns. In addition, HVAC filters also avoid entrance of pollutants in HVAC equipment, which reduces potential damage to equipment due to large foreign particles. 
The COVID-19 pandemic is expected to drive the demand for HVAC filters in the near future owing to the increasing awareness for maintenance of indoor air quality (IAQ).
Moreover, rise in concerns regarding degradation of air quality, especially in urban areas drives sales of HVAC filtration systems. Increase in pollution levels, owing to elements such as vehicular traffic and industries has affected the overall air quality, which is affecting health of people on a large scale. High pollution levels generally cause short term effects such as nausea and dizziness, however, long term exposure to pollutants can cause fatal effects on respiratory, nervous, and reproductive systems. Thus, maintenance of indoor air quality (IAQ) plays a vital role in preserving health and safety of occupants in residential areas and workspaces, where people spend majority of their time. This is expected to drive growth of the HVAC filters market. Furthermore, stringent government policies for maintaining indoor air quality (IAQ) in industrial spaces is expected to drive demand for HVAC filters. For instance, the U.S. Center for Disease Control and Prevention (CDC) recommended use of portable industrial grade HEPA filter units to propel removal of pollutant particles in construction zones, manufacturing & engineering facilities, rooms with inefficient ventilations, and patient care rooms. This is expected to drive the HVAC filters market growth.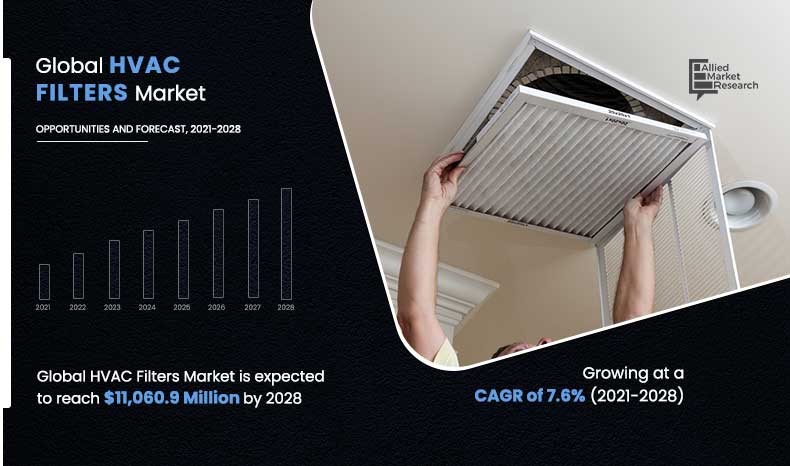 However, HVAC filters require constant cleaning and replacement in spaces with high pollution levels. Highly productive HEPA filters often utilize pleated and thick media for efficient filtration, which gets blocked and prevents free flow of air through HVAC system and reduces productivity of these systems. This is expected to restrain growth of the HVAC filters market. Furthermore, the HVAC filters industry experienced a significant decline during the outbreak of COVID-19 pandemic in 2020. Major players in the industry faced severe reduction in revenues during the first quarter of 2020. For instance, leading company in the HVAC market, Carrier Global Corporation, based in the U.S., witnessed 22% decline in growth in the first quarter of 2020 as compared 2019.
On the contrary, rise in awareness regarding various diseases caused by polluted air and presence of bacteria and pollen is expected to create opportunities for growth of the HVAC filters market in the future.
The HVAC filters market is segmented on the basis of material, technology, end user industry, and region. By material, it is classified into fiberglass, synthetic polymer, carbon, and metal. By technology, it is categorized into electrostatic precipitator, activated carbon, UV filtration, HEPA filtration, and ionic filtration. By application, it is divided into residential, commercial, and industrial. By region, it is analyzed across North America (the U.S., Canada, and Mexico), Europe (the UK, Germany, France, Italy, and rest of Europe), Asia-Pacific (China, India, Japan, and rest of Asia-Pacific), and LAMEA (Latin America, the Middle East, and Africa). Asia-Pacific is expected to hold the largest HVAC filters market share throughout the study period and LAMEA is expected to grow at the fastest rate.
Competition Analysis
The key market players profiled in the report include 3M Company, Parker-Hannifin Corporation, Camfil AB, Mann+Hummel, American Air Filter Company, Inc., Donaldson Company, Inc., Ahlstrom-Munksjö, Filtration Group Corporation, Freudenberg Group, and Sogefi Group.   
Many competitors in the HVAC filters market adopted product launch as their key developmental strategy to expand their production capacities and upgrade their product technologies. For instance, in February 2020, Camfil Group based in Sweden launched two major filtration products, namely, Absolute V and Megalam EnerGuard HEPA filters for cleanroom applications. Megalam EnerGuard filter includes unique filtration media, which reduces chances of filter leaks and resultant room contamination for operations in cleanrooms. Such leakages often cause product failure due to mishandling, which are avoided in Megalam EnerGuard filters.
Key Benefits For Stakeholders
The report provides an extensive analysis of the current and emerging global HVAC filters market trends and dynamics.  
In-depth analysis of the market is conducted by constructing market estimations for the key market segments between 2020 and 2028. 
Extensive HVAC filters market analysis is conducted by following key product positioning and monitoring of the top competitors within the market framework.
A comprehensive HVAC filters market opportunity analysis of all the countries is also provided in the report.
The global HVAC filters market forecast analysis from 2021 to 2028 is included in the report.
The key players within the market are profiled in this report and their strategies are analyzed thoroughly, which help understand the competitive outlook of the industry. 
Global Hvac Filters Market Segments
By Material
Fiberglass
Synthetic Polymer
Carbon
Metal
By Technology
Electrostatic Precipitator
Activated Carbon
UV Filtration
HEPA Filtration
Ionic Filtration
By Application
Residential
Commercial
Industrial
By Region
North America
Europe

Germany
The UK
France
Italy
Rest of Europe

Asia-Pacific

China
India
Japan
Rest of Asia-Pacific

LAMEA

Latin America
Middle East 
Africa
Key Players
3M Company
Parker-Hannifin Corporation
Camfil AB
Mann+Hummel
American Air Filter Company, Inc.
Donaldson Company, Inc.
Ahlstrom-Munksjö
Filtration Group Corporation
Freudenberg Group
Sogefi Group