Hydrogen Fuel Cell Market Research, 2031
The global hydrogen fuel market size was valued at $2.7 billion in 2021, and is projected to reach $5.7 billion by 2031, growing at a CAGR of 8.1% from 2022 to 2031.
Owing to the presence of significant businesses operating as "essential enterprises," COVID-19 had little effect on the hydrogen fuel cell industry. Furthermore, rising consumer awareness regarding need to cut Greenhouse Gas (GHG) emissions and a greater focus on sustainable energy is are expected to drive demand for fuel cells. Furthermore, manufacturers of Electric Vehicle (EV) batteries have started concentrating on lowering up-front costs and extending the range of vehicles by developing more effective power sources.?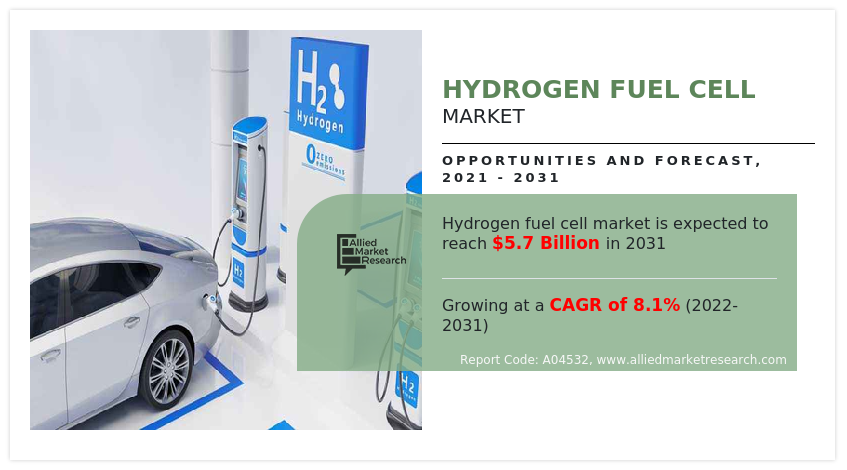 A hydrogen fuel cell is a device that converts hydrogen and oxygen into water while simultaneously generating electricity. In a hydrogen fuel cell device, chemicals are continuously pumped into the cells, preventing the battery from running out. The market for hydrogen fuel cells is being driven by the increase in demand for electric vehicles. The companies in the hydrogen fuel cell market are developing new technologies to reduce the weight, manufacturing costs, and component requirements of hydrogen fuel cells. Advances in technologies improve the efficiency of hydrogen fuel cells.
For example, in July 2021, Hyzon Motors Inc., a U.S.-based manufacturer of commercial vehicles powered by zero-emission hydrogen fuel cells, announced a new commercial vehicle that could reduce the weight and manufacturing costs of a commercial vehicle powered by Hyzon's hydrogen fuel.
An increase in carbon emissions has attracted the government's attention to the usage of electric vehicles. Another factor impacting the market is the growing concern for the environment. The over-exploitation of fossil fuels has created ecological concerns due to harmful gas emissions. The need for reduced dependence on oil and diesel are propelling the demand of in the market. However, the high cost of switching to this technology and reduced a smaller number of hydrogen refilling stations are restraining the market growth.
Furthermore, revenue growth of the market is expected to continue to gain traction in comparison with the rising rise in demand for fuel cell electric vehicles. Rising popularity of electric vehicles has drawn attention of various governments to the possibilities of reducing carbon emissions and carbon footprint. Another aspect supporting revenue growth of the market is that manufacturers are focusing on the hydrogen fuel cell production as environmental concerns continue to rise. Another benefit of hydrogen fuel cells is that they can be scaled up to form fuel cell stacks, which can then be combined to form bigger systems.For instance, these systems include mobile devices for charging smartphones, electric vehicles, and large-scale, multi-megawatt installations that supply electricity directly to the utility grid.
Proton exchange membrane fuel cell segment dominate the hydrogen fuel cell market. Proton exchange membrane fuel cells uses precious metals like such as platinum, along with a polymer for the catalyst. It is known to be preferable over other technologies as it can be operated at cooler temperatures that are between 80 to 200 degrees Fahrenheit. It operates between 40%-60% efficiency, which can also handle large and sudden shifts in power output; also, they are used in telecommunications, residential markets, and data centers.
In February 2022, a project showed that high-temperature proton exchange membrane fuel cells (HT-PEMFCs) offer an attractive solution to electrify heavy-duty vehicles and other large-scale mobility applications due to effective heat rejection. The market is primarily being fueled by increasing research and development (R&D) activities in the field of fuel cells, which have produced several technological advantages over competing products like Li-ion batteries, which include higher power density, faster recharge times, longer storage durability, and more lifespans for proton exchange membrane fuel cells. This has been driving the adoption of proton exchange membrane fuel cell-powered vehicles and is thus expected to drive the market during the forecast period
In the maritime sector, fuel cell ships are at the demonstration stage in various segments (ferries,and shuttles, etc.) and regulatory push is creating the opportunity for more rapid development. Hydrogen fuel cells can also be used to replace on-board and on-shore power supply, currently often based on diesel or fuel oil, to eliminate pollutants emissions (NOX, SOX and particulate matter) at harbors, while avoiding expensive installation costs for electrical connections at the harbor. For long-distance ship runs, liquefied hydrogen is now being considered as a potential option to meet the International Maritime Organization's greenhouse gas (GHG) emission reduction target of 50 % by 2050 (UNFCCC, 2018).
The Asia-Pacific hydrogen fuel cell market forecast is anticipated to expand as a result of the increased demand for clean energy due to concerns about the environmental impact of energy generation from conventional sources such as coal and natural gas. The development of the Asia-Pacific fuel cell market has been partly constrained by relatively high cost and being a new technology. Transportation sector is expected to witness significant growth during the forecast period, owing to various factors such as increase in investments in hydrogen cars, and rise in number of fuel cell-based vehicles in the region. The growing demands for electrical energy to sustain global development requires consistent heavy investments in energy efficient and clean energy sources. Japan has dominated the expansion of the fuel cell market.
The country is leading in the region with vast applications of fuel cells, ranging from backup services for datacenters, combined heat and power for homes and automobile sector. In 2015, Japan launched the Ene-farm program, one of the most effective fuel cell commercialization initiatives. In response to the campaign, more than 120,000 residential fuel cell systems were installed. Under the Ene-farm program, Japan added almost 50,000 residential micro-CHP fuel cell devices in 2018 (about 35 MW).
The hydrogen fuel cell market of the U.S is directed mainly by the investments by the federal government and the favorable government plans & policies towards the manufacturing and adoption of fuel cells in the country. The steady investment towards the development of hydrogen refueling infrastructure and the increasing demand for space heating across the commercial and residential establishment are expected to lead the way to the hydrogen fuel cell market market growth. In 2016, the Energy Department of the U.S. announced an investment of $30 million, which includes 30 different projects designed with the aim to discover and develop low-cost hydrogen production and storage, and for fuel cells on light-duty vehicles.
China, the Republic of Korea, Japan, and Germany are often cited as leading the way in developing hydrogen solutions. Europe has the highest number of projects, especially on a large industrial scale (Hydrogen Council and McKinsey, 2021). In 2020, the European Commission published a hydrogen strategy and roadmap up to 2050, in which ambitious plans for the production and use of green hydrogen are outlined. In Germany, more than 30 power-to-gas demonstration projects are under way.
"Hydrogen is considered a key future sustainability technology, and the German Government has allocated 7 billion euro up to 2030 to support the development of hydrogen (Godske, 2021a). In early 2021, the Federal Ministry of Education and Research allocated 700 million euro to support three major projects for the serial production of electrolysis units, hydrogen production directly off-grid from offshore windmills, and the development of high-pressure tanks and pipes to store hydrogen (BMBF, 2021)."
The Russia-Ukraine war disrupted the chances of global economic recovery from the COVID-19 pandemic, at least in the short term. The war between these two countries has led to economic sanctions on multiple countries, a surge in commodity prices, and supply chain disruptions, causing inflation across goods & services, affecting many markets across the globe. Green hydrogen is in sharp focus as governments seek to slash carbon emissions amid record-high temperatures and to safeguard energy supplies hit by the invasion of Ukraine by oil and gas producer Russia.  
The Accelerating Clean Hydrogen initiative has over 200 members from 60 organizations, including public and private stakeholders dedicated to accelerating the development of the clean hydrogen economy. The initiative leverages its network of global organizations to collaborate on hydrogen. Example partners include IRENA, IEA, Hydrogen Council, Mission Possible Partnership and First Movers Coalition. Globally, industry is the largest end-use sector in terms of energy consumption, accounting for 38% of total energy demand. Approximately 6% of total energy demand is used to produce hydrogen, which is utilized primarily in producing ammonia and other chemicals. The International Energy Agency (IEA) reports that global industrial demand for hydrogen was 51 MMT in 2020 out of 90 MMT used in all sectors.  
Ballard Power Systems signed an agreement to launch a pilot project to develop a hydrogen fuel cell electric truck (FCET) for mining logistics and transportation with Adani Enterprises Limited (AEL), part of the diversified Adani portfolio of companies, and Ashok Leyland. This collaboration marks Asia's first planned hydrogen powered mining truck.
The demonstration project is expected to be led by AEL, a company focused on both mining operations and developing green hydrogen projects for sourcing, transporting, and building out hydrogen refueling infrastructure. Ballard, an industry leading PEM fuel cell engine manufacturer, is anticipated to supply the FCmoveTM fuel cell engine for the hydrogen truck and Ashok Leyland, one of the largest manufacturers of buses in the world, will provide the vehicle platform and technical support. The FCET is scheduled to be launched in India in 2023.  
The hydrogen fuel cell market analysis is segmented on the basis of type, application, end user, and region. On the basis of type, it is fragmented into proton exchange membrane fuel cells, phosphoric acid fuel cells, solid oxide fuel cells, molten carbonate fuel cells, and others. On the basis of application, the market is divided into stationary, transportation, and portable. On the basis of end user, the global hydrogen fuel cell market is categorized into fuel cell vehicles, utilities, and defense. Region wise, the market is studied across North America, Europe, Asia-Pacific, and LAMEA. Presently, Asia-Pacific accounts for the largest hydrogen fuel cell market share, followed by Europe and North America.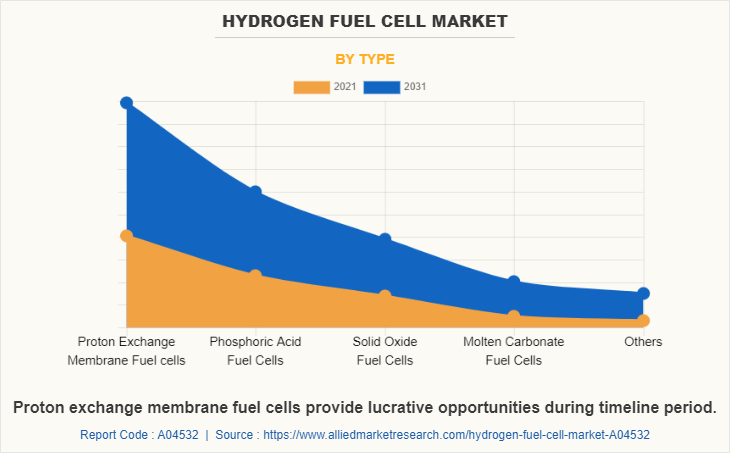 The proton exchange membrane fuel cells segment was the highest revenue contributor to the market. PEM fuel cells are largely used in transportation due to their potential environmental effects, such as the reduction of greenhouse gas emissions. Other applications include stationary and portable power generation. Owing to their high power density and superior dynamic properties when compared to other types of fuel cells, the majority of significant motor businesses focus exclusively on PEM fuel cells.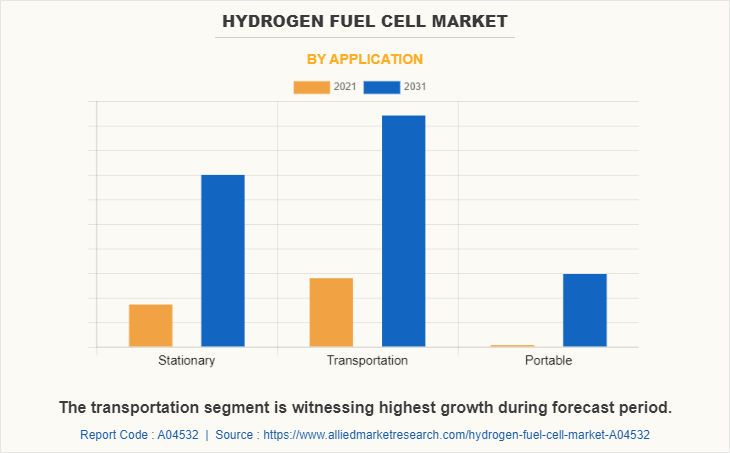 The transportation segment was the highest revenue contributor to the market. Global transportation has compelling reasons for reducing fuel usage, due to carbon dioxide emissions, and noise pollution. Transitions to alternative transportation technologies such as electric vehicles (EVs) have gained increased attention from the automotive industries.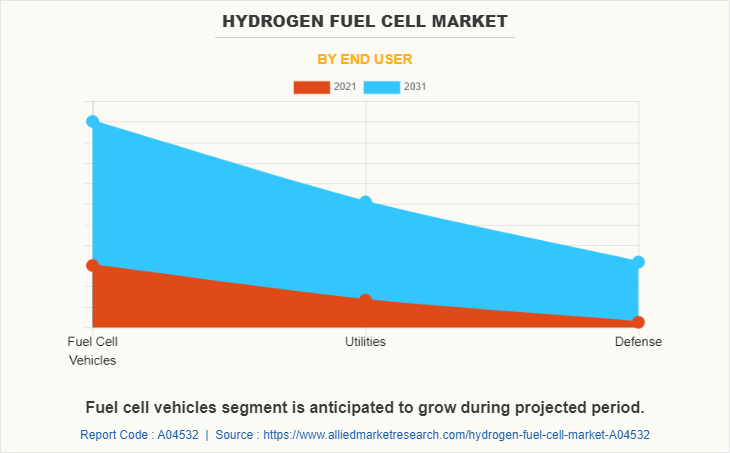 The fuel cell vehicles segment was the highest revenue contributor to the market. Increase in R&D activities related to hydrogen fuel cell technology has led to rise in joint developments and partnerships regarding adoption of HFCV market.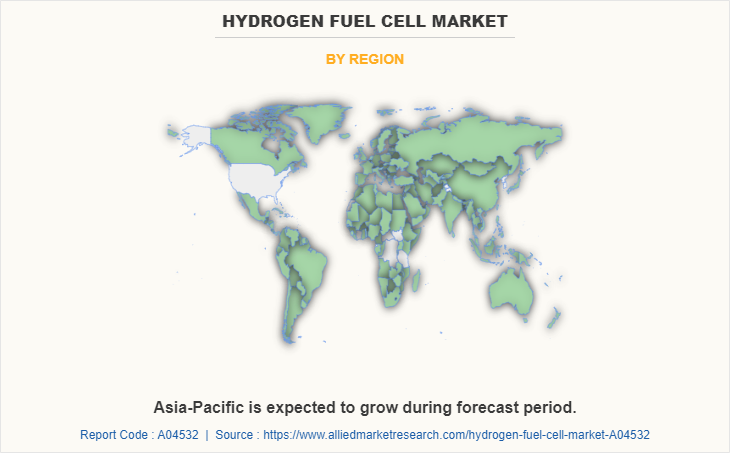 Asia-Pacific was the highest revenue contributor, and is anticipated to grow at the fastest rate during the forecast period growing economy and rising standard of living are driving greater energy demand. Furthermore, the region's rapidly growing economies are also the world's leading contributor to pollution. The hydrogen fuel cells have been found as the best alternative to other conventional fossil fuel energy sources for cutting carbon emissions and efficiently providing energy needs.
The major companies profiled in this report include AFC Energy plc, Ballard Power Systems, Bloom Energy, Ceres, Doosan Fuel Cell Co. Ltd, FuelCell Energy, Inc., Intelligent Energy, Nedstack Fuel Cell Technology, Plug Power Inc, and SFC Energy AG.
Key Benefits For Stakeholders
This report provides a quantitative analysis of the market segments, current trends, estimations, and dynamics of the hydrogen fuel cell market market analysis from 2021 to 2031 to identify the prevailing hydrogen fuel cell market opportunities.
The market research is offered along with information related to key drivers, restraints, and opportunities.
Porter's five forces analysis highlights the potency of buyers and suppliers to enable stakeholders make profit-oriented business decisions and strengthen their supplier-buyer network.
In-depth analysis of the hydrogen fuel cell market segmentation assists to determine the prevailing market opportunities.
Major countries in each region are mapped according to their revenue contribution to the global market.
Market player positioning facilitates benchmarking and provides a clear understanding of the present position of the market players.
The report includes the analysis of the regional as well as global hydrogen fuel cell market trends, key players, market segments, application areas, and market growth strategies.
 Hydrogen Fuel Cell Market Report Highlights
Aspects
Details
Market Size By 2031
USD 5.7 billion
Growth Rate
CAGR of 8.1%
Forecast period
2021 - 2031
Report Pages
437
By Application

Stationary
Transportation
Portable

By End User

Fuel Cell Vehicles
Utilities
Defense

By Type

Proton Exchange Membrane Fuel cells
Phosphoric Acid Fuel Cells
Solid Oxide Fuel Cells
Molten Carbonate Fuel Cells
Others

By Region

North America (U.S., Canada, Mexico)
Europe (Germany, France, Italy, Spain, UK, Rest of Europe)
Asia-Pacific (China, Japan, India, Australia, South Korea, Rest of Europe)
LAMEA (Brazil, South Africa,, Saudi Arabia, Rest of LAMEA)

Key Market Players
Doosan Fuel Cell Co.Ltd., Ballard Power Systems, SFC Energy AG, FuelCell Energy, Inc., Bloom Energy, Nedstack Fuel Cell Technology, Intelligent Energy, AFC Energy, Ceres, Plug Power Inc.