Hyperloop Technology Market Overview:
Global Hyperloop Technology Market is estimated to account for $1,350 million in 2022, and is projected to reach at $6,000 million by 2026, growing at a CAGR of 45.2% from 2023 to 2026. Hyperloop is a conceptual high-speed, intercity surface transportation system, which uses pod or capsule-like vehicle operating in a sealed vacuum tube with reduced pressure. Its average travelling speed is expected to be 600 mph with a maximum speed of 760 mph, which is faster than the alternative modes of transportation such as air, water, road, and rail. It comprises a sealed tube through which a pod or capsule travels free of air resistance or friction, conveying passenger and freight at high speed.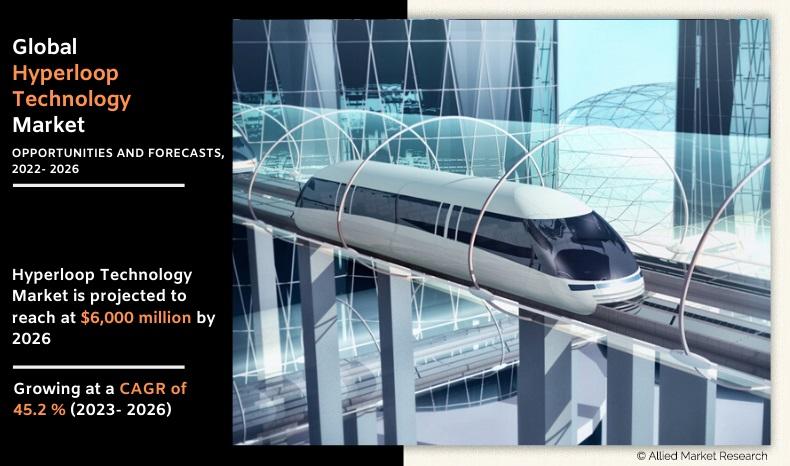 Rise in demand for faster transportation mode has majorly driven the demand for hyperloop technology. Furthermore, low cost of the transportation technology as compared to other transportation modes and energy-efficient & environment-friendly nature fuel the growth of the market. However, the possibility of technical glitches and shortage of power act as the considerable restraints of the market. Conversely, decongestion of traffic is anticipated to provide potential opportunities for market expansion.
AECOM, Dinclix Ground Works, Hyperloop India, Hyperloop One, Inc., Hyperloop Transportation Technology, Space Exploration Technologies Crop., Tesla, Inc., TransPod Inc., Uwashington Hyperloop, and VicHyper are some of the key players operating in the global hyperloop technology market.
Segment Overview
The hyperloop technology market is segmented based on carriage type, transportation system, and geography. On the basis of carriage type, the market is categorized into passenger and cargo/freight. The transportation systems considered in the study include tubes, propulsion, capsule, and route. Geographically, the market is analyzed across North America, Europe, Asia-Pacific, and LAMEA.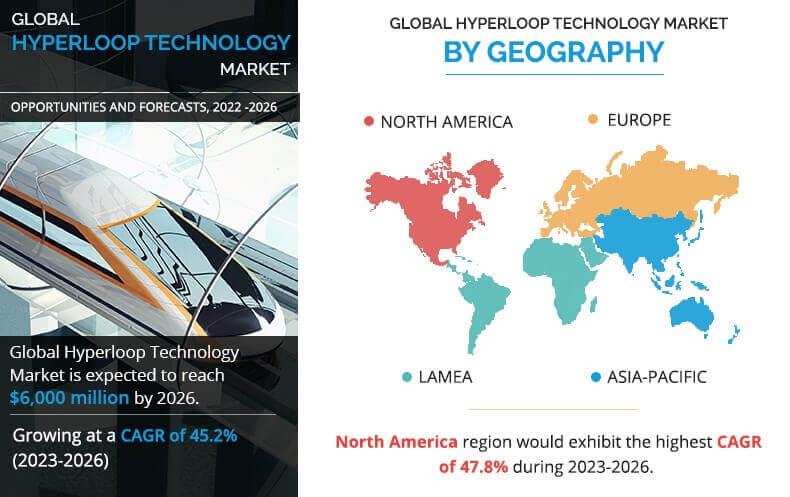 Top Impacting Factors
Factors that are expected to impact the growth of the global market during the forecast period are as follows:
High speed of hyperloop technology in comparison to other modes of transportation
Rise in environmental concerns
Low cost of hyperloop technology as compared to other similar technologies
Safety & security concerns
Decongestion of traffic
High speed of hyperloop technology in comparison to other modes of transportation
The hyperloop technology is a pod-like vehicle, which operates through a reduced pressure tube that reaches average speeds of more than 350 miles per hour. For instance, the time taken by the travelers to travel from Los Angle to San Francisco and vice versa is just 35 minutes for a distance of 347 miles. Conversely, the bullet train runs at a speed of 150 miles per hour, taking people from Los Angles to Las Vegas in 80 minutes for a distance of 229 miles. Moreover, the distance between San Francisco and Los Angle is six to eight hours, depending on traffic, but the hyperloop transportation technology cuts that commute to just 30 minutes. Hence, high speed of this technology as compared to other transportation modes is significantly driving the growth of the global market.
Rise in Environmental Concerns
Owing to rise in concerns of environment degradation and depletion of natural resources, various technologies are being launched in the market that support the eco-friendly concept. Moreover, increase in awareness towards the consequences of air pollution caused by the conventional transportation modes and rise in level of exposure to traffic & noise drive the adoption of hyperloop technology.
Safety & Security Concerns
Hyperloop technology has transformed the travelling experience, as it is the fastest mode of transportation. Furthermore, the benefits such as minimum cost, high speed, environment-friendly nature, and energy-efficient approaches are attracting investors towards it. However, safety & security concerns of passengers are expected to hinder the market growth. For instance, single breach in hyperloop can cause major damage, as air would rush into the tube at about the speed of sound.
Key Benefits
This study comprises analytical depiction of the global hyperloop technology market with current trends and future estimations to portray the imminent investment pockets.
The overall market potential is determined to understand the profitable trends to gain a stronger foothold.
The report presents information related to key drivers, restraints, and opportunities with a detailed impact analysis.
The current market is quantitatively analyzed from 2022 to 2026 to highlight the financial competency of the market.
Porter's Five Forces analysis illustrates the potency of the buyers and suppliers in the industry.
 Hyperloop Technology Market Report Highlights
Aspects
Details
By Carriage Type
By Transportation System

Tube
Propulsion
Capsule
Route

By Region

North America (U.S., Canada, Mexico)
EUROPE (UK, Germany, France, Russia, Rest of Europe)
ASIA-PACIFIC (China, India, Japan, Australia, Rest of Asia-Pacific)
LAMEA (Latin America, Middle East, Africa)

Key Market Players
UWASHINGTON HYPERLOOP, HYPERLOOP TRANSPORTATION TECHNOLOGIES, AECOM, HYPERLOOP ONE, INC., HYPERLOOP INDIA, TESLA, INC., TRANSPOD INC., DINCLIX GROUNDWORKS. (DGW HYPERLOOP), VICHYPER, SPACE EXPLORATION TECHNOLOGIES CORP.