Ice Cream Market Research, 2031
The global ice cream market was valued at $68,052.20 million in 2020, and is projected to reach $122,051.10 million by 2031, growing at a CAGR of 5% from 2022 to 2031.
Ice cream is a dairy product, which is sweetened with either natural sugar or artificial sweeteners. Various ice creams are provided by the companies present in the market, including hard ice cream, soft ice cream, light ice cream, low-fat ice cream, and others. Summer is an undisputed season for the consumption of ice cream and related products. The growth of the ice cream industry is driven by the availability of various flavored ice creams. As a result, the ice cream consumers pay a premium price for these products, which in turn increases the revenue of the market.
The impact of COVID-19 on the growth of the ice cream market was quite negative, owing to supply chain disruptions and lockdown restrictions.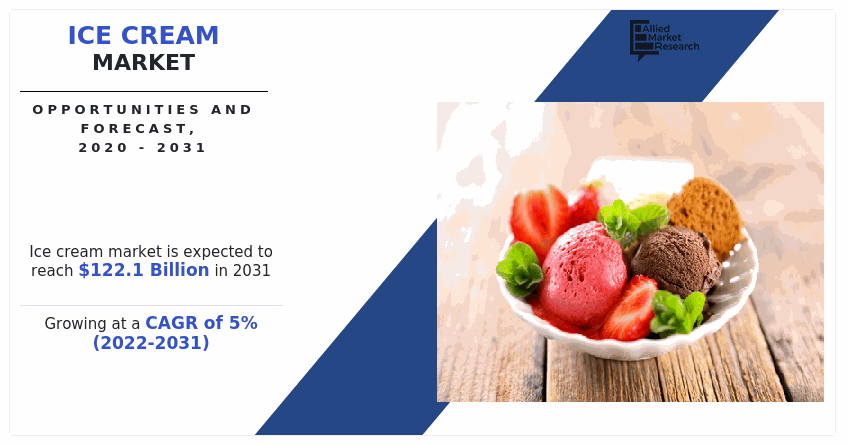 Manufacturers are increasing their product range by including functional ingredients, organic herbal fillings, and exotic flavors in product formulations to meet the changing consumers' demands. For instance, companies are including other exotic flavors such as tropical fruits, lemons, and coconuts to cater to changing taste of consumers. In addition, health-conscious customers prefer a low-calorie and low-fat ice cream called Skinny Cow. In this way, product innovation in ice cream products drives the growth and development of the market globally. Apart from this, retail channels such as hypermarkets, supermarkets, convenience stores, discounters, forecourt retailers, and grocery stores act as global marketing tool that assist in building an impressive premium image and increase brand exposure of wide variety of ice cream products. Expansion of these retail channels contributes to the growth of ice cream market size. However, the health concerns associated with ice creams restrain the ice cream market growth. Furthermore, rise in demand for innovative products and development of lactose-free ice cream provide growth opportunities for ice cream market size expansion.
The global ice cream market is segmented on the basis of product type, flavor, distribution channel, and region. On the basis of product type, the ice cream market is categorized into impulse ice cream, take-home ice cream, and artisanal ice cream. On the basis of flavor, the market is divided into vanilla, chocolate, fruit, and others. On the basis of distribution channel, it is categorized into supermarkets and hypermarkets, convenience stores, specialty stores, and online sales channel. On the basis of region, the market is analyzed across North America, Europe, Asia-Pacific, and LAMEA.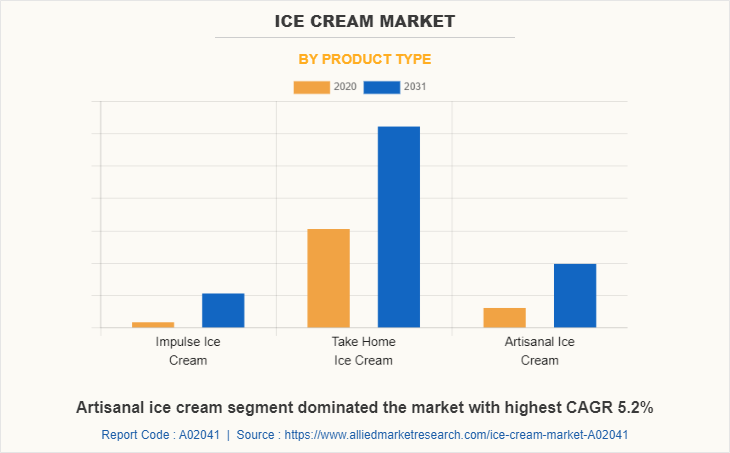 By product type, the impulse ice cream segment is the most lucrative in the global ice cream market, as it is easy to carry and owing to rising popularity of impulse ice cream globally. This kind of ice cream is in high demand, especially by children and teenagers.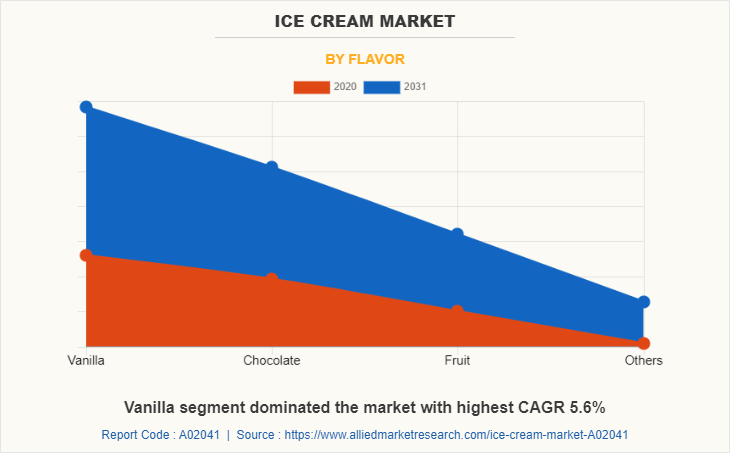 By flavor, the vanilla segment is dominating the market with the largest market share. This is attributed to surge in demand for vanilla ice creams. The vanilla ice cream is a traditional form of ice cream liked by people of all age groups.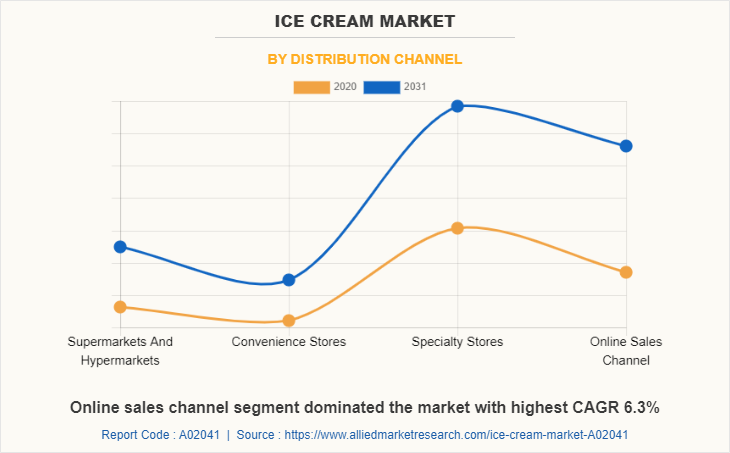 The online sales channel is the fastest growing segment in the global ice cream market. This is due to increase in internet penetration and rise in usage of smartphones. In addition, online sales channel provides benefits such as discounts and free home delivery.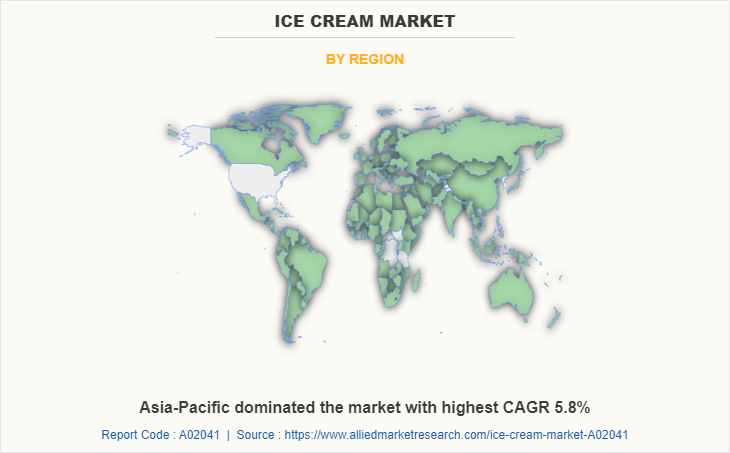 Asia-Pacific is expected to witness the highest growth rate, owing to rise in demand from the emerging economies such as India, China, Indonesia, and others. Moreover, increased disposable income and rise in standard of living boost the growth of market. India and China are projected to witness significant growth during the ice cream market forecast period.
Australia is the most attractive market for ice cream manufactures. Ice cream market in Australia is approximately 10% of the overall country's food industry. Sweden and the UK are the attractive markets for ice cream from European region, owing to growing regional demand.
Product innovation, economic growth, rise in disposable income, and retail market expansion are expected to have high impact on ice cream market. Product innovation will diversify the offerings and assist in meeting varying consumer demands while economic growth will continue to increase the spending power of customers.
Consumers consider ice cream as snack and it is one of the main reasons for the growing consumption of take-home segment. In 2020, the take-home segment accounted for the highest share, growing at a CAGR of 4.9% from 2022 to 2031. The growth is also projected because of increased disposable income, the introduction of new flavors from the manufacturers, and increased consumption of ice-cream as a snack option boosts the market for ice cream products.
LAMEA is also expected to show decent growth over the forecast period owing to rising demand for ice creams from younger demographics and emerging middle class. The LAMEA region accounted for one-sixth of the global ice cream market in 2020 and is projected to witness a CAGR of 5.3% from 2022 to 2031. Brazil accounted for approximately 50% of the LAMEA ice cream market share. The prolonged summer season in the LAMEA region is also expected to drive the demand for ice creams in countries such as South Africa, Saudi Arabia and others.
The key players profiled in the ice cream market report include Unilever Group Nestle S.A., General Mills, Inc., Mars, Blue Bell Creameries, Lotte Confectionery, Wells Dairy Inc., Turkey Hill, Mihan Dairy Inc., and Meiji Holdings Co. Ltd.
The other key market players (not profiled in this report) in the value chain include United Kaipara Dairies Company, Pure Ice Cream Company, International Foodstuffs Co., Baskin-Robbins, Cold Stone Creamery, and International Dairy Queen, Inc.
Key Benefits For Stakeholders
This report provides a quantitative analysis of the market segments, current trends, estimations, and dynamics of the ice cream market analysis from 2020 to 2031 to identify the prevailing ice cream market opportunities.
The market research is offered along with information related to key drivers, restraints, and opportunities.
Porter's five forces analysis highlights the potency of buyers and suppliers to enable stakeholders make profit-oriented business decisions and strengthen their supplier-buyer network.
In-depth analysis of the ice cream market segmentation assists to determine the prevailing market opportunities.
Major countries in each region are mapped according to their revenue contribution to the global market.
Market player positioning facilitates benchmarking and provides a clear understanding of the present position of the market players.
The report includes the analysis of the regional as well as global ice cream market trends, key players, market segments, application areas, and market growth strategies.
 Ice Cream Market Report Highlights
Aspects
Details
By Product Type

Impulse Ice Cream
Take Home Ice Cream
Artisanal Ice Cream

By Flavor

Vanilla
Chocolate
Fruit
Others

By Distribution Channel

Supermarkets And Hypermarkets
Convenience Stores
Specialty Stores
Online Sales Channel

By Region

North America (U.S., Canada, Mexico)
Europe (Finland, Sweden, Ireland, Denmark, Italy, U.K., Rest of Europe)
Asia-Pacific (New Zealand, Australia, Rest of Asia-Pacific)
LAMEA (Brazil, Argentina, South Africa, UAE, Rest of LAMEA)

Key Market Players
Mars, Turkey Hill, Mihan Dairy Inc., Wells Dairy Inc., Blue Bell Creameries, Meiji Holdings Co. Ltd, Nestle S.A., Unilever Group, General Mills, Inc., Lotte Confectionery