Incinerator Market Research, 2031
The global incinerator market size was valued at $14.8 billion in 2021, and is projected to reach $22.6 billion by 2031, growing at a CAGR of 4.2% from 2022 to 2031. Incinerators are the industrial equipment used for properly disposing off the waste by application of heat; thereby, igniting the waste within an enclosed chamber. 
The incinerator market was hampered during the outbreak of COVID-19 pandemic, owing to restrictions on manufacturing activities. In addition, incinerators could not be effectively installed in industries and municipal facilities through OEMs during the lockdown period.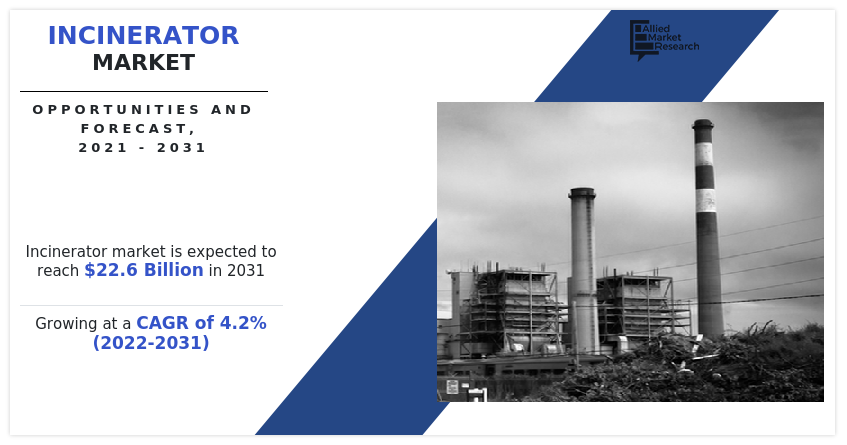 Waste generation is an inseparable part of any type of human activities, such as industrial or other day to day activities. If not disposed-off properly, the waste generated can lead to environment pollution, diseases, and unpleasant streets, facilities and homes. Moreover, traditionally the waste has largely been disposed via land-fill method. However, land-fill method leads to land, water and air pollution. To address this drawback of land fill, incineration technique is used. Incinerators combust the waste in controlled environment; thus, preventing harmful smoke to be released in the environment. Moreover, it reduces the volume of waste by a factor of around 80-90%, which makes it easier to manage and transport. In addition, this method does not require the use of valuable land. Thus, owing to such factors, the demand for incinerator is anticipated to rise during the forecast period.
Furthermore, global population and global trade is rising. This is driving the demand in industrial sector such as food & beverage, automotive, plastic, cosmetics, and other sectors. Such industries generate a large amount of hazardous and non-hazardous waste each year, which is responsible for land, air, and water pollution. Thus, such waste is often disposed via incineration; thereby, driving the demand for incinerators. Moreover, municipal waste such as plastic bags, rotten food, grass clippings, textiles and others are also disposed-off using incinerators. In addition to this, increase in old-age population, and increased onset of contagious and non-contagious diseases are few major factors driving the growth of medical and health-care sector. Since medical waste is often contaminated with various diseases, it needs to be incinerated to prevent any possibility of a disease out-break. Moreover, the heat generated from the waste is largely used for electricity generation. Furthermore, electronics manufacturing sector is also witnessing a rise owing to rise in technological advancements and disposable income of people around the world. Furthermore, development of methods that are expected to reduce the climate impacts of waste incineration is anticipated to provide lucrative opportunities for the incinerator market growth.  
Major players in the industry offer innovative incinerators to remain competitive in the market. For instance, incinerator manufacturers such as Inciner8 Limited, and ATI industries offer computer based semi-automated incinerators.
Incinerator Market

---
By Product Type
Rotary kiln segment is expected to hold a majority share of the market throughout the study period.
The novel coronavirus had rapidly spread across various countries and regions, causing an enormous impact on the lives of people and the overall community. It began as a human health condition and later became a significant threat to global trade, economy, and finance. The COVID-19 pandemic had halted the production of many components of incinerator due to lockdown. However, medical sector prevented the incinerator industry from taking a steep dive, and kept some demand alive. Moreover, owing to the introduction of various vaccines, the severity of COVID-19 pandemic has significantly reduced. As of mid-2022 the number of COVID-19 cases have diminished significantly. This has led to the full-fledged reopening of incinerator manufacturing companies at their full-scale capacities. Furthermore, it has been more than two years since the outbreak of this pandemic, and many companies have already shown notable signs of recovery.
Furthermore, various government initiatives that are meant to support the growth of the small-scale industries especially in the developing nations is anticipated to increase the number of industries, which in turn lead to more industrial waste. This is expected to provide further growth opportunities for the incinerators market.
Incinerator Market

---
By End User Industry
Municipal segment held a dominant position in the market, during the study period.
The incinerator market is segmented into Product Type, Operation and End User Industry. By product type, the market is categorized into rotary kiln, fluidized bed, liquid injection, and others. On the basis of process, it is bifurcated into controlled air incinerators, and excess air incinerators. And on the basis on end user, the market is categorized into municipal and industrial. Region wise, the market is analyzed across North America, Europe, Asia-Pacific, and LAMEA. Asia-Pacific dominated the market in 2021, accounting for largest incinerator market share. LAMEA is anticipated to grow with the highest CAGR throughout the forecast period. This is attributed to high growth rate of the region and a significantly large industry.
Incinerator Market

---
By Region
Asia-Paicfic is the largest market throughout the study period.
Competition Analysis 
Key companies profiled in the incinerator market forecast report include ACS Inc. Alfa Therm, Atlas Incinerator ApS, Babcock & Wilcox Co., Chuwa Industrial Corporation, Dutch Incinerators, Eco Concepts, EEW Energy, Haat Incinerator India Pvt. Ltd., Incinco Ltd, Inciner8 Limited, Keller Manufacturing, Inc., Ketek Group, Maximus Envirotech Pvt. Ltd., Shandong Better Environmental Protection Technology Co., Ltd., Vikas Incinerator, and Waste Spectrum Incineration Systems.
Key Benefits For Stakeholders
This report provides a quantitative analysis of the market segments, current trends, estimations, and dynamics of the incinerator market analysis from 2021 to 2031 to identify the prevailing incinerator market opportunities.
The market research is offered along with information related to key drivers, restraints, and opportunities.
Porter's five forces analysis highlights the potency of buyers and suppliers to enable stakeholders make profit-oriented business decisions and strengthen their supplier-buyer network.
In-depth analysis of the incinerator market segmentation assists to determine the prevailing market opportunities.
Major countries in each region are mapped according to their revenue contribution to the global market.
Market player positioning facilitates benchmarking and provides a clear understanding of the present position of the market players.
The report includes the analysis of the regional as well as global incinerator market trends, key players, market segments, application areas, and market growth strategies.
 Incinerator Market Report Highlights
Aspects
Details
Product Type

Rotary Kiln
Fluidized Bed
Liquid Injection
Others

Operation

Controlled Air Incinerators
Excess Air Incinerators

End User Industry

Minicipal

Waste Type

Municipal Solid Waste
Hazardous Waste
Medical Waste

Industrial

By Region

North America (U.S., Canada, Mexico)
Europe (Germany, France, Italy, UK, Spain, Netherlands, Rest of Europe)
Asia-Pacific (China, Japan, India, South Korea, Australia, Indonesia, Vietnam, Rest of Asia-Pacific)
LAMEA (Brazil, Argentina, Saudi Arabia, UAE, South Africa, Kenya)

Key Market Players
Eco Concepts, ACS Inc., Alfa Therm, Atlas Incinerator ApS, Babcock and Wilcox co., Chuwa Industrial Corporation, Dutch Incinerators, EEW Energy, Haat Incinerator India Pvt. Ltd., Incinco Ltd, Inciner8 Limited, Keller Manufacturing, Inc., Ketek Group, Maximus Envirotech Pvt. Ltd., Shandong Better Environmental Protection Technology Co., Ltd., Vikas Incinerator, Waste Spectrum Incineration Systems