India Heat Exchangers Market Outlook - 2026
The India heat exchangers market was valued at $454.4 million in 2018, and is expected to reach $890.0 million by 2026, registering a CAGR of 8.6% from 2019 to 2026. Heat exchanger is a device that transfers energy between two process fluids. Various types of heat exchangers have been developed for a wide range of applications such as steam power plant, chemical processing plants, transportation power systems, and others. 
The demand for heat exchangers is anticipated to grow, owing to numerous factors such as increase in number of food industries, rise in demand for energy, surge in number of chemical industries, and others. Furthermore, there is a significant increase in CO2 emissions because of energy generation from coal. Due to which the government of India has aimed to reduce its dependence on coal and move toward sustainable solution-generation of energy from nuclear power. Generation of the energy from nuclear power increases the adoption of heat exchangers. However, the rise in fouling problems have increased the maintenance cost for end-user industries, which is anticipated to hinder the market growth. On the contrary, the automobile industry is growing at a considerable pace, which is anticipated to create lucrative growth opportunities during the forecast period. Aluminum-based heat exchangers are mainly used in automotive applications as it offers advantages such as light weight, excellent corrosion resistance, high thermal conductivity, and others.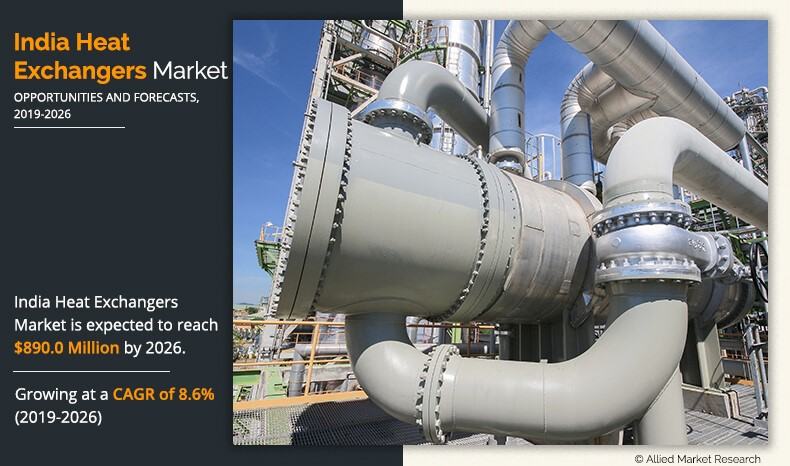 The India heat exchangers market is segmented based on type, material of construction, and end-user industry. Based on type, the market is divided into shell & tube, plate & frame, air-cooled, microchannel, and others. On the basis of material of construction, it is studied across carbon steel, stainless steel, nickel, and others. Based on the end-user industry, it is categorized into chemical, petrochemical, oil & gas, HVACR, food & beverage, power generation, and others. The India heat exchangers market share has been analyzed across all segments.
The India heat exchangers market analysis covers in-depth information of major industry participants. Some of the major players in the market include Alfa Laval, Danfoss, Heatex Industries Limited, HRS Process Systems Ltd., Kelvion Holding GmbH, KGC Engineering Projects Pvt. Ltd., REX Heat Exchanger (REX), Radiant Heat Exchanger Pvt. Ltd., Tranter, and Universal Heat Exchangers Limited.
Other players in the value chain of the heat exchangers market include BGR Energy Systems Limited, Flowtex Engineers, Abacus Heat Transfer Limited, JC Equipments Pvt. Ltd., KGC Engineering Projects Private Ltd, Kinam Engineering Industries, Comp Air Treatment System P. LTD., Modern Heat Exchangers, and others.
Key players are adopting numerous strategies such as product launch, acquisition, acquisition, collaboration, partnership, product development, agreement business expansion and others, to stay competitive in the heat exchangers market. For instance, Kelvion launched new exhaust gas heat exchanger and EcoMi modular economizer. Exhaust gas heat exchanger transfers heat produced by exhaust gases from combustion engines to a liquid. Both products launched are used in waste to energy plant. The company has extended their product portfolio to meet the growing demand from heat exchangers across the various geographies such as Asia-Pacific, Europe, and others.
India Heat Exchangers Market, by Type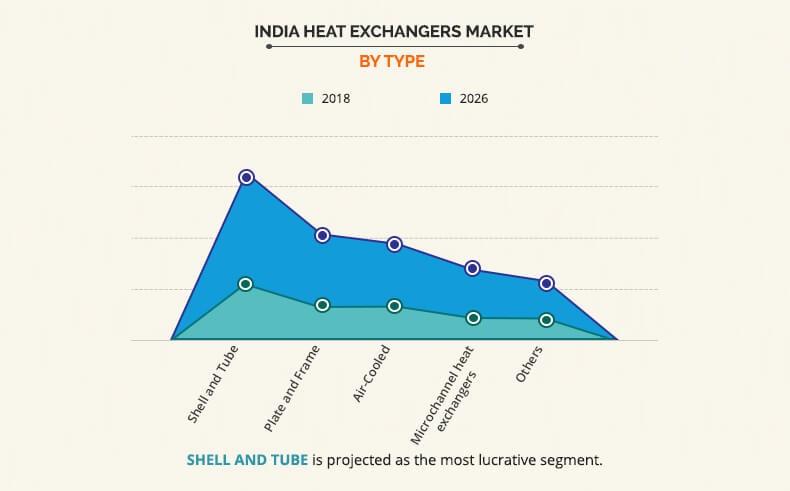 Based on type, the shell & tube segment is anticipated to grow at the fastest rate as well as gain a dominating share. Shell and tube heat exchangers are the backbone of many industries in India, as these can be used in extreme operating conditions such as high or low temperature, high pressure, and others. There is a significant increase in the adoption of shell and tube heat exchangers from fertilizers manufacturers. Some of the factors that hinder the growth of shell and tube are its cleaning and maintenance since a tube cooler requires more clearance and requires more space as compared to plate and frame heat exchangers.
India Heat Exchangers Market, by End-User Industry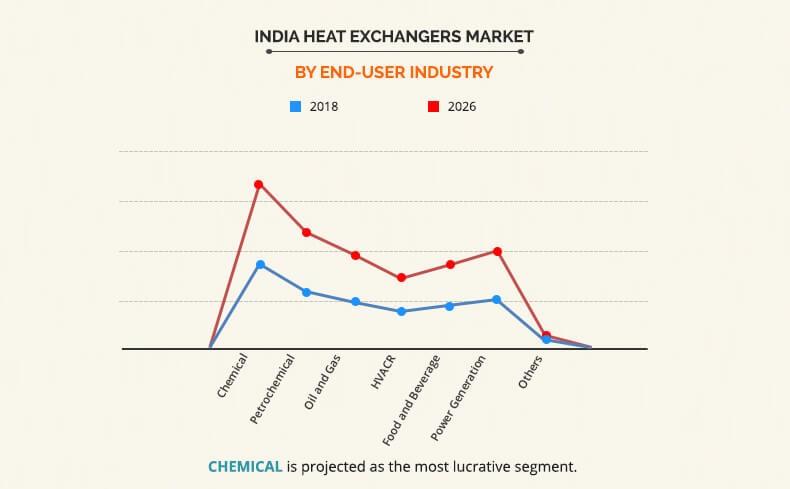 On the basis of the end-user industry, the chemical industry is expected to gain the highest market share. The chemical industry is growing at a noteworthy pace in India, owing to the rise in consumption of specialty chemicals. In addition, the oil & gas industry is anticipated to grow at the fastest rate this is because of the significant rise in consumption of oil which has resulted in an increase in investment in oil & gas projects. This factor is anticipated to the boost adoption of the heat exchangers in the chemical and oil & gas industries. Where heat exchangers play a vital role in both the industries by recovering waste energy as well as performing numerous application such as cooling, condensing, heating, and others. 
India Heat Exchangers Market, by Material of Construction
On the basis of the material of construction, the stainless steel segment is anticipated to garner the highest market share. Stainless steel is an ideal choice for the construction of heat exchangers owing to its characteristics such as durability, resistance to corrosion, cost effective, good heat transfer performance, and others.
Key Benefits for India Heat Exchangers Market:
The report provides an in-depth analysis of the forecast along with the current and future market trends
This report highlights the key drivers, opportunities, and restraints of the market along with the impact analyses during the forecast period
Porter's five forces analysis helps analyze the potential of the buyers & suppliers and the competitive scenario of the heat exchangers industry for strategy building
A comprehensive analysis of the factors that drive and restrain the India heat exchangers market growth is provided
The qualitative data in this report aims on market dynamics, India heat exchangers market trends, and developments.
India heat exchangers market size is provided in terms of revenue
An extensive analysis of government policies provides insights that are expected to allow companies to strategically plan their business moves
The profiles of key players along with their key strategic developments are enlisted in the report
 India Heat Exchangers Market Report Highlights
Aspects
Details
By Type

Shell & Tube
Plate & Frame
Air-Cooled
Microchannel
Others

By End Use Industry

Chemical
Petrochemical
Oil & Gas
HVACR
Food & Beverage
Power Generation
Others

By Material Of Construction

Carbon Steel
Stainless Steel
Nickel
Others

Key Market Players
Alfa Laval, Danfoss, Heatex Industries Limited, HRS Process Systems Ltd., Kelvion Holding GmbH, KGC Engineering Projects Pvt. Ltd., REX Heat Exchanger, Radiant Heat Exchanger Pvt. Ltd., Tranter, Universal Heat Exchangers Limited