The Indian laparoscopy devices market was valued at $621.4 million in 2019, and is projected to reach $729.2 million by 2027, registering a CAGR of 6.9%.
Laparoscopic surgery, also called minimally invasive surgery (MIS), band-aid surgery, or keyhole surgery, is a modern surgical technique. Laparoscopy is a minimally invasive procedure used to examine organs inside the abdomen or pelvic cavities by inserting a laparoscope through a small incision in the abdomen. A laparoscope comprises a long, thin tube with high intensity light along with high resolution camera in front. The camera transmits images to monitor as it travels through the abdomen. Laparoscopy is used for diagnosis as well as treatment of endometriosis, ectopic pregnancy, pelvic inflammatory disease (PID), cysts, and fibroids. Laparoscopy devices are routinely used in diagnosis as well as in therapeutic procedures of various diseases such as prostatectomy, pancreatic cancer, and gastrointestinal disorders. Use of these devices in surgical procedures ensure minimal bleeding and assist in maintaining hemostasis. These devices are preferred by surgeons as well as physicians, owing to high level of precision offered by such devices in surgeries. There are a number of advantages to the patient with laparoscopic surgery versus the more common, open procedure. These include reduced pain due to smaller incisions, reduced hemorrhaging, and shorter recovery time.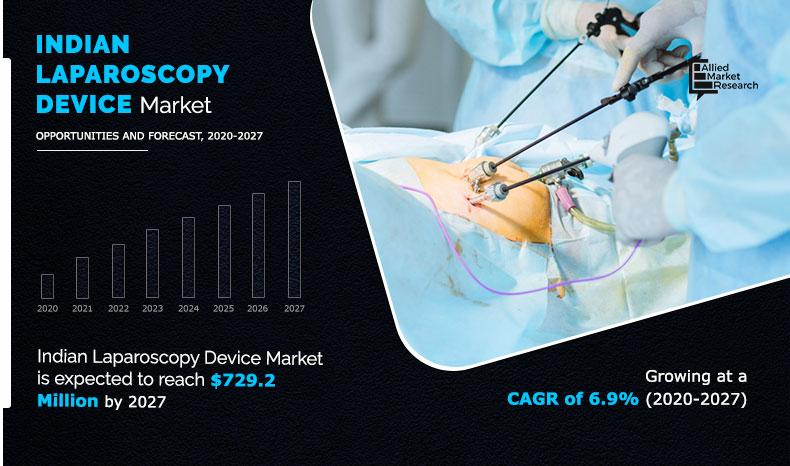 The key factors that drive the Indian laparoscopy devices market include rise in number of obese populations, growth in number of minimally invasive procedures along with surge in disposable income, growth in laparoscopic-based bariatric surgeries for weight reduction, and increase in technological advancements pertaining to these devices. However, lack of expertise in laparoscopic surgeries and high costs associated with these devices and procedures are anticipated to restrain the market growth. Moreover, the growing investments and funding in the healthcare sector will certainly create many lucrative opportunities for various regional key players in this Indian laparoscopy devices market.
COVID-19 Impact
The COVID-19 pandemic has resulted in nationwide lockdowns; thereby, impacting every industry vertical. Likewise, the laparoscopy device market is also affected by the pandemic. The COVID-19 pandemic has affected laparoscopy device as manufacturers of laparoscopy devices have shut down their operations due to the COVID-19 pandemic, resulting in a drop in laparoscopy device output. Some of the laparoscopic and surgical services have been postponed during the coronavirus pandemic. So, patients undergoing treatment lost access to services and no surgeries had happened due to lockdown in India. The services will be made available for patients who are suffering from life threatening conditions. The rules and regulations have been tightened by the government regarding working of medical staff and activities, including several sub-domains of healthcare. 
Product Segment Review
Based on product, the Indian laparoscopy devices market can be categorized into laparoscopes, energy devices, insufflators, robot assisted surgical system, suction or irrigation system, closure devices, hand instruments, access devices, and accessories. Energy devices used in laparoscopic procedures constitute light sources, camera heads, wireless display & monitors, laparoscopy cameras, carts, video processors & video convertors, transmitters & receivers, and others. The energy devices segment represents a very strong market for laparoscopic technologies. These tools are bare necessities for proper functioning of laparoscopes. Energy devices are essentially employed in laparoscopic surgeries, owing to continuous technological advancements. The need to close wounds after performing laparoscopic surgeries has resulted in development of new energy devices. This aids in improving efficiency and minimizing variability of laparoscopic surgeries. Growth in demand for single incision surgeries and other laparoscopic surgeries boost the requirement for energy devices in the laparoscopy device market.
Indian Laparoscopy Devices Market

---
By Product
Energy Devices segment holds a dominant position in 2019 and would continue to maintain the lead over the forecast period.
Application Segment Review
Based on application, the Indian laparoscopy device can be categorized into general surgery, bariatric surgery, gynecological surgery, urological surgery, colorectal surgery, and others. General surgery has dominated the laparoscopy devices market, owing to increase in cases of gall bladder removals, patients suffering from hernia, and surgical removal of appendix whereas. The bariatric segment is anticipated to grow at a fast pace during the forecast period, owing to its potential in the treatment of diabetes and conditions associated with cardiovascular diseases. In addition, laparoscopic bariatric surgery assists in the improvement of ailments associated with obesity such as type 2 diabetes, high blood pressure, unhealthy cholesterol levels, and sleep apnea.
Indian Laparoscopy Devices Market

---
By Application
General Surgery Segment is projected as one of the most lucrative segment.
End User Segment Review
Based on end user, the Indian laparoscopy device can be categorized into hospitals, clinics, and others. Others include ambulatory surgical centers and diagnostic centers. Among these, the hospitals segment dominated the laparoscopy devices market, whereas the demand for laparoscopy devices in ambulatory surgical centers and physician offices is expected to increase in the coming years.
The key market players profiled in the report include Johnson & Johnson (Ethicon, Inc.), Olympus Corporation, Medtronic PLC. (Covidien), Boston Scientific Corporation, Stryker Corporation, Karl Storz GmbH & Co. KG, Smith & Nephew PLC., Richard Wolf GmbH, B. Braun Melsungen AG (Aesculap, Inc.), and Dolphin Surgicals. The other players in the value chain of the Indian laparoscopy devices market include Medical Equipment India (MEI), Universe Surgical Equipment Co., Xcellance Medical Technologies Pvt. Ltd., Hospiinz International, INDIA PRIVATE LIMITED, Bharat Surgical Co, Masppo Medical Devices, Hib Surgicals, SI Surgical Pvt. Ltd, and Jay Shakti Industries.
Key Benefits For Stakeholders
The study provides an in-depth analysis of the global laparoscopy market, with current trends and future estimations to elucidate the imminent investment pockets.
Comprehensive analysis of factors that drive and restrict the indian laparoscopy devices market growth is provided.
Comprehensive quantitative analysis of the industry from 2020 to 2027 is provided to enable stakeholders to capitalize on prevailing indian laparoscopy devices market opportunities.
Extensive analysis of key segments of the industry, which helps in understanding the type of products and technologies used globally.
Key market players and their strategies are provided to understand the competitive outlook of the indian laparoscopy devices market.
 Indian Laparoscopy Devices Market Report Highlights
Aspects
Details
By Product

Laparoscopes
Energy Devices
Insufflators
Robot-Assisted Surgery Systems
Suction or Irrigation Systems
Closure Devices
Hand Instruments
Access Devices
Accessories
Others

By Application

General Surgery

Cholecystectomies
Hernia Repairs
Appendectomies
Anti-Reflux Surgeries
Others

Bariatric Surgery

Gastric Bypass
Sleeve Gastrectomy
Gastric Banding
Others

Gynecological Surgery
Urological Surgery
Colorectal Surgery
Others

By End User

Hospitals
Clinics
Other End Users

Key Market Players
B. BRAUN MELSUNGEN AG, BOSTON SCIENTIFIC CORPORATION, DOLPHIN SURGICALS, JOHNSON & JOHNSON, KARL STORZ SE & CO. KG, MEDTRONIC PLC. (COVIDIEN), OLYMPUS CORPORATION, RICHARD WOLF GmbH, SMITH & NEPHEW PLC, STRYKER CORPORATION