Industrial RT for Non-Destructive Testing Market Overview:
Industrial RT for Non-Destructive Testing Market size was valued at $491 million in 2014, and is projected to reach at $1,088 million by 2022, growing at a CAGR of 10.1% from 2016 to 2022. Utilization of industrial RT for NDT market is expected to witness a significant increase with rise in adoption from various industries to improve operations efficiency and government safety regulations across different geographical regions. Further, technological advancements augment the overall industrial development within a wide range of industries. Oil & gas, aerospace & defense, and energy & power are some of the leading sectors (commercial and government agencies), which use NDT techniques to ascertain the quality of end products, related material during manufacturing, and gain operational efficiency.
Increase in stringent government regulations across different geographical regions due to rise in incidence of infrastructure failures, need for extending the shelf life of obsolete infrastructure, and maintenance optimization by various industries for efficient operations & quality/safety assurance drive the adoption of RT system for NDT market.
The report provides Porters Five Forces analysis to understand the competitive scenario of the industry as well as determine the market shares of key players. The key market players profiled in the report are Vitrox Corporation Berhad, Shimadzu corporation, Anritsu, Nagoya electric Works CO., LTD, Yxlon international, Smiths Detection, ADANI, Rapiscan Systems, DuRR NDT GmbH & Co. KG, Krystalvision Image Systems Pvt. Ltd, Saki Corporation, North Star Imaging, Inc., Computerised Information Technology Ltd., RayScan Technologies GmbH, VJ Group, Inc., Metrix NDT Ltd, Nikon Metrology, Omron, Teledyne ICM, Vidisco, Zetec, 3DX-RAY, COMET Group, and Olympus.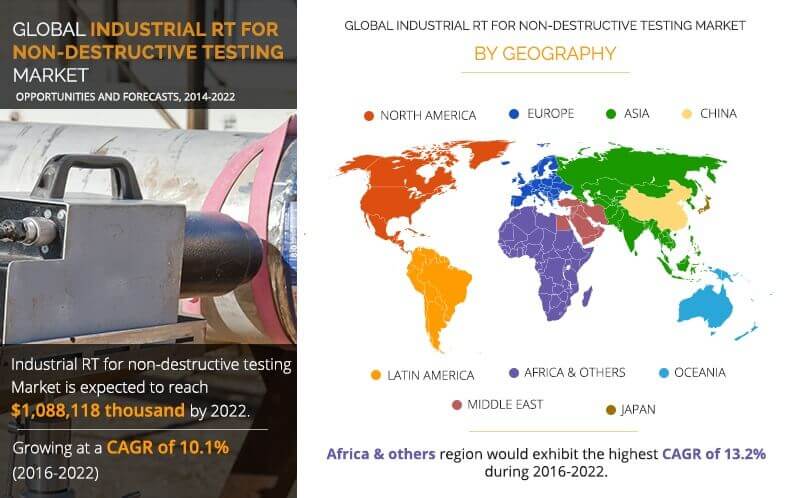 The report presents the analysis of the global industrial RT for NDT market based on system type, service, application, and region. Based on system type, it is subdivided into portable NDT, automatic X-ray inspection (AXI) system, X-ray inspection system, security check system, and computed tomography (CT) system. Portable NDT is the largest revenue contributor to the global market, as it is widely adopted in the oil & gas and automotive sectors due to its ease of operability and enhanced efficiency. By service type, the market is segmented into inspection & testing service, consulting service, and training service. Furthermore, the report analyzes the various application areas of RT systems such as aerospace & defense, automotive, construction, electronics & semiconductors, energy & power, explosive ordnance disposal (EOD) & improvised explosive device (IED), heavy industries, manufacturing, marine, oil & gas, security, transportation, food, drugs, & drinks, and others.
The market is segmented based on region into North America, Latin America, Europe, Middle East, China, Japan, Asia, Oceania, Africa, and others. North America is divided into U.S., Mexico, and Canada. Europe is classified into UK, Germany, France, Russia, and others. The countries covered under Asia are India, Taiwan, Korea, and others.
Top Impacting Factors
Increase in Applications of NDT in Oil & Gas and Nuclear Power Sectors
Increase in the number of oil & gas and power generation projects, particularly in the nuclear energy sector in the U.S., has significantly increased the adoption of RT system for non-destructive testing, as it plays a vital role in efficient functioning of these industries. Non-destructive testing equipment are used in oil and gas operations of critical assets such as tanks, vessels, heat exchangers & condensers, piping, and rotating equipment to identify potential damage. In addition, increase in the number of failures in oil & gas equipment and tools, especially pipes, fuel the need for non-destructive testing equipment in this industry. Moreover RT systems are used in nuclear power plants for safe and complete testing of critical parts of nuclear power plants without modification of the plant.
Stringent Safety Government Regulations
Stringent product usage specifications, quality control requirements, and government safety regulations drive the market. Government of various countries have taken initiatives to avoid mishaps in the past resulting due to leakage in nuclear reactors, pipeline explosions, and refinery blasts. The U.S. Government has mandated non-destructive testing equipment manufacturers to periodically engage in inspection activities. In addition, The European Committee for Standardization (CEN) is the recognized European organization for planning, drafting, and implementing European Standards across all areas of economic activity with exception in electro-technology and telecommunication. Therefore, the impact of this factor is expected to be high in the near future.
Lack of Skilled and Qualified Professionals
Lack of skilled technicians is a major restraint for the adoption of RT system in the NDT market. Technicians required for the inspection process are certified, but do not possess the essential skills to perform inspection with satisfactory levels of quality. In addition, most training institutes are not updated with the latest systems, and technicians are trained on outdated products that have become obsolete. This is a major hindrance for the growth of the RT system market, as it restricts the adoption of advanced products and technologies. Non-destructive testing system manufacturers have tapped on this opportunity, and have set-up their own training centers or academies. For instance, system manufacturers, such as Olympus, Carestream, and GE Measurement and Control Solutions have established training centers to train people on using all types of equipment. Increase in the number of training institutes is expected to neutralize the effects of this factor of the market growth in future.
Key Benefits
This study comprises analytical depiction of the Industrial RT for non-destructive testing with current trends and future estimations to depict the imminent investment pockets.
The overall market potential is determined to understand the profitable trends to gain a stronger foothold.
The report presents information related to key drivers, restraints, and opportunities with a detailed impact analysis.
The current market is quantitatively analyzed from 2014 to 2022 to highlight the financial competency of the market.
Porters Five Forces analysis illustrates the potency of the buyers and suppliers in the industrial RT industry.
 Industrial RT for Non-Destructive Testing Market Report Highlights
Aspects
Details
By System Type

Portable NDT
Automatic X-ray Inspection (AXI) System
X-ray Inspection System
Security Check System
Computed Tomography (CT) System

BY SERVICE

Inspection & Testing Service
Consulting Service
Training Service

By Application

Aerospace & Defense
Automotive
Construction
Electronics & Semiconductors
Energy & Power
EXPLOSIVE ORDNANCE DISPOSAL (EOD) & IMPROVISED EXPLOSIVE DEVICE (IED)
Heavy Industries
Manufacturing
Marine
Oil & Gas
Security
Transportation
Food, Drugs, & Drinks
Others (Archaeology and Forensics)

By Geography

North America
Latin America
Europe

UK
Germany
France
Russia
Others

Middle East
China
Japan
Asia

India
Taiwan
Korea
Others

Oceania
Africa and Others

Key Market Players
VITROX CORPORATION BERHAD, SHIMADZU CORPORATION, ANRITSU, NAGOYA ELECTRIC WORKS CO., LTD., YXLON INTERNATIONAL, SMITHS DETECTION, ADANI, RAPISCAN SYSTEMS, DURR NDT GMBH & CO. KG, KRYSTALVISION IMAGE SYSTEMS PVT. LTD., SAKI CORPORATION, NORTH STAR IMAGING, INC., COMPUTERISED INFORMATION TECHNOLOGY LTD., RAYSCAN TECHNOLOGIES GMBH, VJ GROUP, INC., METRIX NDT LTD, NIKON METROLOGY, OMRON, TELEDYNE ICM, VIDISCO, ZETEC, 3DX-RAY, BRUKER, COMET GROUP, OLYMPUS, NOVO DR LTD., LOGOS IMAGING LLC, NUCTECH COMPANY LIMITED, KUB TECHNOLOGIES, INC., MULTIVAC, YAMAHA MOTOR CO., LTD., ISHIDA CO., LTD., TEST RESEARCH, INC., RIGAKU CORPORATION, X-RIS, XAVIS, MARIETTA NDT, PONY INDUSTRY, CARL ZEISS, TOSHIBA IT & CONTROL SYSTEMS CORPORATION, SCANNA MSC