Industrial Cloud Market Research, 2031
The global industrial cloud market size was valued at $67.4 billion in 2021, and is projected to reach $352.6 billion by 2031, growing at a CAGR of 18% from 2022 to 2031.
The industrial cloud market was positively affected by the COVID-19 pandemic and showcased a positive growth rate during the period, due to accelerating demand for the cloud to support several crucial digital solutions in end users such as utilities and manufacturing and remote work.
Industry cloud is a cloud system that has been heavily customized to fit a specific industry in order to accommodate the business, operatory, legal, regulatory, as well as security and other considerations. The main focus of industry cloud is vertical integration and vertical solutions rather than horizontal ones, which is the focus of general cloud computing. This means that industry cloud solutions focus on creating more value within the bounds of the industry in which it is used rather than expanding the breadth of that industry. Further, industrial cloud computing platforms enable businesses to focus on operational and functional abilities. It also helps collect data from manufacturing processes to enhance performance, procure insights, and predict bottlenecks.
Factors such as growth in demand for optimum resource utilization, increase in demand for cloud services, and upsurge in demand for cloud services due to COVID-19 pandemic are key factors driving the the industrial cloud market growth. However, rise in concerns related to data privacy and lack of IT infrastructure in underdeveloped nations hamper market growth. Furthermore, increase in adoption of cloud in SMEs provide ample growth opportunities for the industrial cloud industry growth.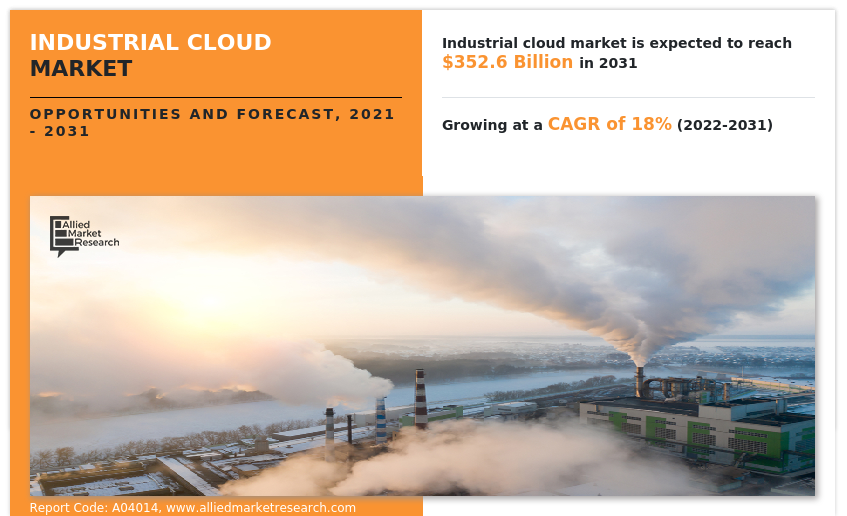 The industrial cloud market is segmented into Application, by Solution, Type, End-user, Cloud Type and Enterprise Size.
The industrial cloud market is segmented on the basis of offering, cloud type, type, enterprise size, application, and end user. On the basis of component, the market is bifurcated into solution and services. The services segment is further divided into professional services and managed services. By professional services, the market is further classified into training & education, integration & deployment, and support & maintenance. By cloud type, the market is segregated into public, private, and hybrid. By type, the market is fragmented into IaaS, PaaS, and SaaS. By organization size, it is categorized into large enterprises and SMEs. By application, market is classified into asset management, customer relationship management (CRM), enterprise resource management (ERM), supply chain management (SCM), project & portfolio management, and others. By end user, the market is bifurcated into process manufacturing and discrete manufacturing. Furthermore, the process manufacturing segment is further segmented into energy & utilities, food & beverages, and others. Furthermore, energy & utilities sector is divided into oil & gas, petrochemicals, and utilities. Moreover, depending on discrete manufacturing, the market is fragmented into automotive and transportation, industrial machinery & heavy equipment, high-tech & consumer electronics, aerospace & defense, and others. Region wise, it is analyzed across North America, Europe, Asia-Pacific, and LAMEA.
Some of the major players in the market are Alibaba Group Holding Limited, Amazon Web Services, Cisco System Inc, Dell Technologies, Google LLC, IBM Corporation, Microsoft Corporation, Honeywell Corporation, Siemens AG, Oracle Corporation, Hewlett Packard Enterprise, General Electric, Hitachi Ltd, PTC, Rockwell Automation, Crave Industry, and OptDyn. These players have adopted various strategies to increase their market penetration and strengthen their position in the industry.
Industrial Cloud Market

---
By Cloud Type
The hybrid cloud segment is anticipated to grow at a significant rate as hybrid cloud provides flexibility, scalability, complete visibility and efficiency of all processes on both clouds.
Get more information on this report :
Request Sample Pages
By cloud type, the industrial cloud market share was dominated by the public cloud segment in 2021 and is expected to maintain its dominance in the upcoming years. This is mainly attributed to the fact that the public deployment mode is the most accepted deployment model due to the easy access and low costs. However, private cloud segment is expected to witness the highest growth, as private organizations are deploying industrial cloud for asset building.
Industrial Cloud Market

---
By Region
Asia-Pacific countries are expected to adopt a high rate owing to increasing investments in cloud technologies and rise in number of SMEs in the region.
Get more information on this report :
Request Sample Pages
North America dominates the industrial cloud industry. North America industries have been the early adopter of the cloud computing services. In addition, this region has showed its willingness to embrace industrial cloud technology in every sector. The emerging sector for cloud computing services in the North America region is the manufacturing sector. The cloud computing services are adopted mainly in data recording and keeping in both manufacturing and process information. However, Asia-Pacific is expected to observe highest growth rate during the forecast period. The region has come up with Asia Cloud Computing Association (ACCA), a member driven association set up to accelerate the adoption of cloud computing services. Its member includes cloud service providers, governments, and cloud consumers.
The report focuses on growth prospects, restraints, and analysis of the global Industrial Cloud market trends. The study provides Porter's five forces analysis to understand the impact of various factors, such as bargaining power of suppliers, competitive intensity of competitors, threat of new entrants, threat of substitutes, and bargaining power of buyers on the global Industrial Cloud market share.
COVID-19 Impact Analysis
The global industrial cloud market has witnessed stable growth during the COVID-19 pandemic, owing to the dramatically increased digital penetration during the period of COVID-19-induced lockdowns and stringent social distancing policies, which further fueled the demand for automation and cloud services. According to a report published by Unqork, in May 2021, the average spending on cloud services rose by over 37% during the first few months of the COVID-19 pandemic. Moreover, with the limited workforce availability due to various social distancing policies during the pandemic, businesses further increased their cloud dependence to maintain the business productivity and efficiency. Such factors propelled the growth of the global cloud managed services market during the period. Such factors propelled the growth of the global industrial cloud solutions market during the period.
Top Impacting Factors
Upsurge in demand for cloud services due to COVID-19 pandemic
The COVID-19 outbreak has considerably boosted the growth of the cloud services market due to increase in demand for cloud to support several crucial digital solutions in manufacturing as well as energy & utilities sector for remote work and to improve operational efficiency.
In addition, the rapid growth in revenue of cloud service providers has been observed during the pandemic. For instance, Amazon Web Services Inc. generated revenue equaled to $12.74 billion in the fourth quarter of 2020, up 28% year-over-year. While, Amazon Web Services' competitor, Microsoft Corporation's Azure, also gained momentum in the third quarter of 2020. These factors have led to the upsurge in market size during the pandemic.
Increase in adoption of cloud in SMEs
Last few decades have shown a tremendous rise in entrepreneurs with their small and medium organizations. There is a great demand of cloud computing services due to the advantages offered such as cost cutting and business flexibility, which proves to be a boon to the startup businesses. The need for cloud computing services is rising due to the growth of these small and medium enterprises.
According to a survey conducted by Microsoft Corporation, it was observed that the small medium businesses contributed to nearly 76% in the any country's economy. Another fact that was discovered is that 79% of entrepreneurs believed that technology could make work more enjoyable.
Most of the IT enterprises in the SMB's need the advanced technology of cloud computing services to flourish their businesses and leave their footprints in various geographies. Furthermore, the cloud computing services offer various functional benefits and actively participate in the overall growth of the cloud services market. The functional benefits offered by cloud computing are no upgrading and instillation functions, operative use of IT staff and distributed resources. Eliminations of having regular upgrades and installation prove beneficial to the user as the responsibility of upgrade, patch, add on installations remains with the service provider. Moreover, use of cloud computing services reduces the workload of the IT staff in maintaining IT infrastructure and helps them to work in other projects making more operative use of IT staff. Moreover, the resources are evenly distributed and can be used by every individual in the cloud. The use of clouds also provides recovery and backup solutions, which improve the agility of the business.
Key Benefits For Stakeholders
This report provides a quantitative analysis of the Industrial Cloud Market Forecast, current trends, estimations, and dynamics of the industrial cloud market analysis from 2021 to 2031 to identify the prevailing industrial cloud market opportunities.
The market research is offered along with information related to key drivers, restraints, and opportunities.
Porter's five forces analysis highlights the potency of buyers and suppliers to enable stakeholders make profit-oriented business decisions and strengthen their supplier-buyer network.
In-depth analysis of the industrial cloud market segmentation assists to determine the prevailing market opportunities.
Major countries in each region are mapped according to their revenue contribution to the global market.
Market player positioning facilitates benchmarking and provides a clear understanding of the present position of the market players.
The report includes the analysis of the regional as well as global industrial cloud market trends, key players, market segments, application areas, and market growth strategies.
 Industrial Cloud Market Report Highlights
Aspects
Details
Market Size By 2031
USD 352.6 billion
Growth Rate
CAGR of 18%
Forecast period
2021 - 2031
Report Pages
354
By Enterprise Size
By Solution

Solution
Service

Service Type

Professional Services
Managed Services

By Application

Asset Management
Customer Relationship Management (CRM)
Enterprise Resource Management (ERM)
Supply Chain Management (SCM)
Project and Portfolio Management
Others

By Type
By Cloud Type

Public Cloud
Private Cloud
Hybrid Cloud

By End-user

Process Manufacturing

Sector

Energy and Utilities
Food and Beverages
Others

Discrete Manufacturing

Sector

Automotive and Transportation
Industrial Machinery and Heavy Equipments
High-Tech and Consumer Electronics
Aerospace and Defense
Others

By Region

North America (U.S., Canada)
Europe (Germany, UK, France, Italy, Spain, Netherlands, Rest Of Europe)
Asia-Pacific (China, Japan, India, Australia, South Korea, Singapore, Rest Of Asia-Pacific)
LAMEA (Latin America, Middle East, Africa)

Key Market Players
Rockwell Automation, Oracle Corporation, Google LLC, ALIBABA GROUP HOLDING LIMITED, Honeywell Corporation, General Electric, Hitachi Ltd, Hewlett Packard Enterprise, Amazon Web Services, Ptc Inc, Microsoft Corporation, Siemens AG, IBM Corporation, Crave Industry, OptDyn, Cisco System Inc, Dell Technologies
Analyst Review
According to the CXOs of leading companies, the industrial cloud market is going through enormous transformation and growth. As customer demand and expectations are evolving with rapid pace of digitalization, legacy infrastructures are making it difficult to accommodate these customer needs. This has compelled industries to adopt emerging technological change in its operating environment. Cloud has evolved to be the dominant technology in the race of technological changes. Hence, increase in adoption of cloud-based products is expected to grow the global market at an exponentially high rate in the coming years.
Next-generation digital business are leveraging cloud capabilities and preparing for a future of integrated solutions. These include vendor selection, migration tactics, process optimization, cloud security, multi-cloud environments, hybrid & digital infrastructures, data center outsourcing strategies, cloud optimization, cloud computing, PaaS, IaaS, SaaS and others.
Furthermore, extreme agility and accessibility capabilities of a cloud dominate the industrial cloud market. Moreover, reliability, scalability and the cost-efficient benefit of cloud makes it an incredible opportunity for corporations. Moreover, major cloud providers around the globe experienced year-over-year revenue growth due to the COVOD-19 pandemic during 2020. The pandemic-driven restrictions accelerated demand for the industrial cloud to support crucial digital solutions such as remote work.
The CXOs further added that the industrial cloud market is competitive and comprises number of regional and global vendors competing based on factors such as cost of solution and services, reliability, and support services. The growth of the market is impacted by rapid advances in the industrial cloud offerings, whereas the vendor performance is impacted by COVID-19 conditions and industry development.
Owing to the competition, vendors operating in the market are offering advanced industrial cloud products and services to improve the experience of their customers. For instance, in October 2020, Microsoft Corporation has partnered with SpaceX and SES S.A. to launch the tech giant's new cloud computing business for space.