Industrial Smart Motors Market Overview:
The global industrial smart motors market size was valued at $1,207.9 million in 2017 and is expected to reach $1,809.1 million by 2025, growing at a CAGR of 5.28% during the forecast period (2018‐2025). These specialized motors through the integration of Industrial Internet of Things (IIoT)-enabled services offer a superior performance to the end users.
The mechanical power transmission capabilities enable and provide huge scope for application of electric motors in numerous industrial activities and processes. Thus, these motors play a crucial role in various tasks such as material handling, pumps, compressors, conveyor systems, automation processes, and controllers. Among these, smart motors can be defined as specialized industrial motors that through the integration of sensors, processors, or electronic components offer services such as superior machine control, predictive maintenance, and advanced process control among others. Subsequently, these types of motors find substantial applications in smart manufacturing, motor driven equipment, processing equipment, material handling & packaging equipment, and original equipment manufacturer (OEM)-based products among others.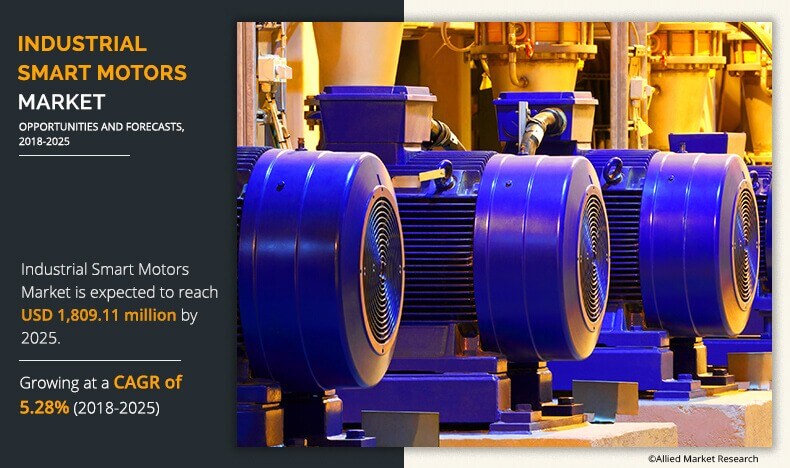 Factors such as rise in demand for motors with superior process control and increase in emphasis on reducing downtime drive the industrial smart motors market. Further, the integration of IIoT services has enabled services such as predictive maintenance, superior machine control, improvement in motor efficiency, and downtime reduction during maintenance are expected to fuel the demand for industrial smart motors in the coming years. In addition, continuous technological advancements influence the efficiency of smart motors that boost their adoption across different end users. This is anticipated to provide numerous profitable opportunities for the market players.
However, high cost of continuous predictive maintenance is expected to negatively influence the market growth of industrial smart motors market in small and medium enterprises (SMEs) during the forecast period.
The manufacturers of smart motors offer numerous products and services, such as periodic maintenance, services, repairs, and upgradation of applications for maintaining the efficiency of smart motors. Based on offering, the market is bifurcated into products, and services. The industrial smart motor can be used across different industrial processes as well as equipment and machinery such as pumps, material handling, conveyor systems, processing equipment, controllers, industrial process instrumentation, smart manufacturing, and industrial equipment & machineries. Thus, based on end user, the market is segmented into pumps, fans, compressors, and others. Moreover, by market vertical, the market is broadly categorized into power & energy, manufacturing, automotive, healthcare, and others. In addition, to gain diverse insights based on region, the market is analyzed across North America, Europe, Asia-Pacific, and LAMEA.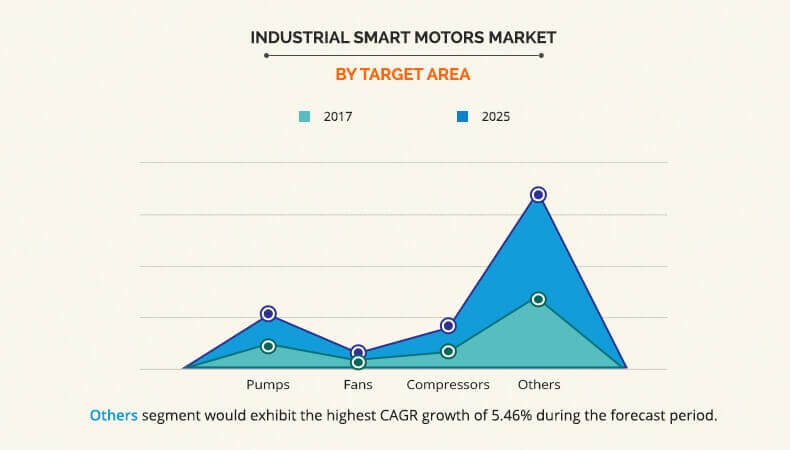 Increase in demand for energy efficiency and superior machine control of pumps drive the adoption of smart motors in pumps. However, increase in adoption of smart motors in material handling, process equipment, conveyor belts, and machinery among others has gained traction in the past few years. Thus, the others segment is expected to witness high growth at a CAGR of 5.46% from 2018 to 2025 and provide numerous profitable business opportunities for key players in the global industrial smart motors market. Moreover, based on market vertical, the manufacturing sector accounted for the highest share by revenue due to its large scope of application across different discrete manufacturing processes, equipment, machineries, and industrial tools. 
By region, Asia-Pacific dominates the industrial smart motors market due to high demand from manufacturing industries present in China and India. Increase in need to improve efficiency of manufacturing plants through superior smart motors application and integration of smart manufacturing practices are the major factors driving the growth of industrial smart motors market in this region. Further, upgrading and maintaining the existing smart motors are expected to drive the market growth of industrial smart motors market during the forecast period. Whereas, in developed regions such as North America and Europe, the integration of smart motors to improve efficiency and reduce the cost of energy are fueling the demand for smart motors across different market verticals. In addition, the investment toward aerospace and industrial robotics related projects is projected to propel the demand for the smart motors in the coming years in developed region. However, from a growth perspective, the LAMEA region is expected to witness the most lucrative CAGR growth rate of 5.97% from 2018 to 2025 due to high demand for superior motors in Middle East region.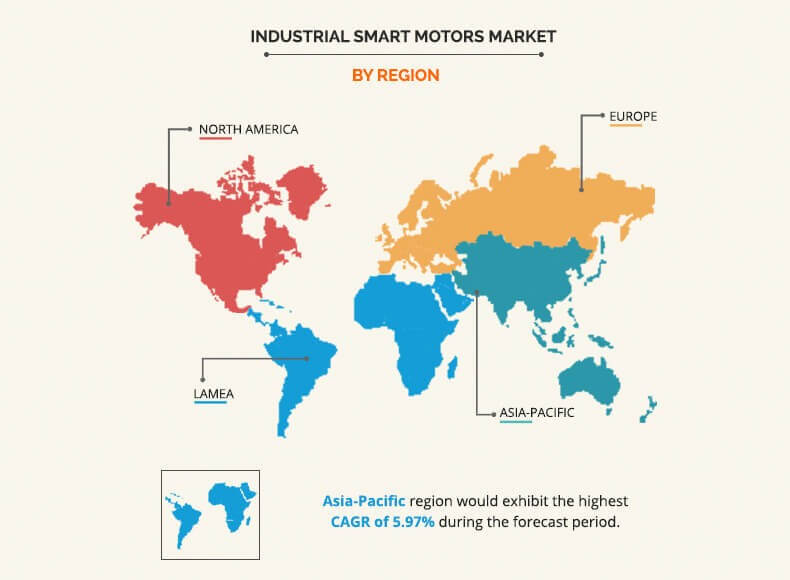 The report details a competitive analysis and profiles of the major players, such as CG Global, Dunkermotoren GmbH, HSD SpA, Nidec Corporation, Reliance Precision Limited, Rockwell Automation Inc., Schneider Electric, Somfy Systems Inc., TECHNOSOFT SA, and USAutomation in the industrial smart motors market.
Key Benefits For Industrial Smart Motors Market :
The report provides an extensive analysis of the current as well as emerging trends and dynamics in the global industrial smart motors market.

An in-depth analysis is presented by constructing market estimations for the key market segments between 2017 and 2025. 

An extensive analysis by following the key product positioning and monitoring of the top competitors within the market framework is conducted.

A comprehensive analysis of all regions is provided to determine the prevailing opportunities in these geographies.

The key market players are profiled, and their strategies are analyzed thoroughly to understand the competitive outlook of the industrial smart motors market.
Industrial Smart Motors  Key Market Segments :
By Offering
 By End User
Pumps

Fans

Compressors 

Others 
By Market Vertical 
Power & Energy

Manufacturing

Automotive 

Healthcare 

Others 
Key Market Players
CG Global

Dunkermotoren GmbH

HSD SpA

Nidec Corporation

Reliance Precision Limited

Rockwell Automation, Inc.

Schneider Electric

Somfy Systems, Inc

TECHNOSOFT SA

USAutomation