The global inhalation anesthesia market was valued at $1,137 million in 2018 and is expected to reach $1,549 million by 2026, registering a CAGR of 4.2% from 2019 to 2026. Anesthetic agents are used during surgical procedures to control pain, breathing, blood pressure, blood flow, and heart rate & rhythm. Inhalational anesthesia is primarily used for the induction of general anesthesia and sedation purposes. The most widely used inhalational anesthetics are sevoflurane, desflurane, and nitrous oxide. Inhalational anesthetics usually result in respiratory depression, reduction in arterial blood pressure and cerebral metabolic demand, and rise in cerebral blood flow. The most common side effect of inhalation anesthesia is nausea.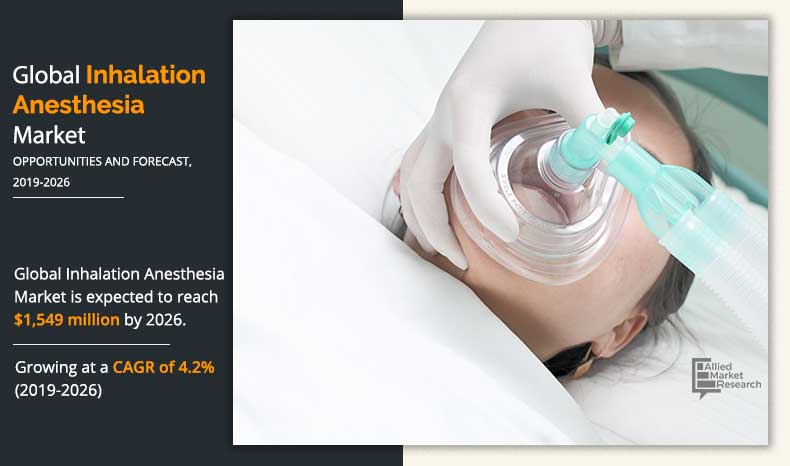 Significant rise in the number of emergency incidences and road accidents; surge in prevalence of various disorders such as cancer, respiratory diseases, and gastrointestinal disorders; upsurge in number of surgical procedures; and increased use of these in various disease diagnosis drive the inhalation anesthesia market growth. Further, there is an increase in incidence of various chronic diseases such as cancer, infectious diseases, and genetic disorders worldwide. According to the WHO, cancer is one of the leading causes of morbidity and mortality worldwide, with about 18 million cases in 2018 alone, and id expected to increase by about 70% over the next two decades. Infections known to be caused by strains of cancer are most prominent in low- and middle-income countries. In addition, factors such as innovations in these inhalation devices and governmental support regarding the use of inhalation anesthetics further fuel the market growth. However, risks associated with certain therapeutic and diagnostic devices for neonates and low adoption rate of new technologies, owing to reluctance from physicians for treatment, restrain the growth of the inhalation anesthesia devices market. In addition, environmental concerns regarding vigorous usage of inhalation anesthesia is anticipated to hamper the market growth. In addition, current trend in FDA drug approval exhibits drastic drop in pharmaceutical approvals compared to earlier authorizations, as FDA issued more rejections than typical rejections in past few years. Moreover, stringent regulations set by FDA in surgical procedures also hinder the growth of the inhalation anesthesia market. Moreover, significant rise in elderly population and increase in healthcare expenditures in developing economies are anticipated to provide lucrative growth opportunities for the market. In addition, emerging economies of Asia-Pacific and LAMEA offer lucrative growth opportunities for the expansion of inhalation anesthesia market, due to improvement in healthcare infrastructure and increase in demand for better healthcare. In addition, rise in incidences of road accidents, surgical procedures, and various diseases such as cancer and gastrointestinal disorders boost the demand for inhalation anesthesia.
Global Inhalation Anesthesia Market Segmentation
The market is segmented on the basis of product, application, end user, and region. By product it is segmented into sevoflurane, desflurane, isoflurane, and nitrous oxide. On the basis of application, it is bifurcated into induction and maintenance. By end user it is classified into hospitals and ambulatory surgical centers. Region wise, the market is analyzed across North America, Europe, Asia-Pacific, and LAMEA.
Inhalation Anesthesia Market

---
By Product
Desflurane segment is projected as one of the most lucrative segments.
Product segment review
By product, the sevoflurane segment accounted for majority of the market share in 2018 and is expected to exhibit a prominent growth rate in the near future. This is attributed to several advantages offered by it, such as favorable blood gas solubility coefficient and pleasant odor.
Inhalation Anesthesia Market

---
By Application
Maintenance segment is projected as one of the most lucrative segments.
Application segment review
By application, the maintenance segment dominated the inhalation anesthesia market in 2018 and is anticipated to maintain its dominance during the forecast period. This is attributed to the increased usage of inhalation anesthesia for maintenance of general anesthesia as they enable a more specific control of the anesthetic state at a low cost.
Inhalation Anesthesia Market

---
By Region
Asia-Pacific region would exhibit the highest CAGR of 6.0% during 2019-2026.
Region wise, North America held the largest share in the inhalation anesthesia market in 2018, followed by Europe. The factors that drive the overall growth of the North America inhalation anesthesia market include increase in government funds for R&D of novel inhalation anesthesia as well as surge in incidences of cancer. Furthermore, rise in prevalence of diseases and surgical procedures carried out for disease treatment and development fuel the market growth. However, Asia-Pacific is anticipated to grow at the highest rate during the analysis period. This is attributed to increase in disorders, such as cancer and respiratory disorders, that often require surgery. Moreover, the market growth in this region is supplemented by increase in demand for healthcare infrastructure, rise in number of hospitals in emerging countries, developing R&D sector, rise in healthcare reforms, and technological advancements in the field of healthcare
Comprehensive competitive analysis and profiles of major market players AbbVie Inc., Baxter International Inc., Fresenius SE & Co. KGaA., Halocarbon Products Corporation, Hikma Pharmaceuticals PLC., Jiangsu Hengrui Medicine Co., Ltd., Lunan Pharmaceutical Group Co. Ltd, Novartis AG, Piramal Enterprises Ltd, and Troikaa Pharmaceuticals Ltd are provided in this report.
Key Benefits for Stakeholders:
The inhalation anesthesia market share and analysis is based on a comprehensive analysis of key developments in the inhalation anesthesia industry.
The development strategies adopted by the key market players are enlisted to understand the competitive scenario of the global market.
The study provides an in-depth analysis of the market trends to elucidate the imminent investment pockets.
The global inhalation anesthesia market trends are studied from 2018 to 2026.
Information about key drivers, restrains, and opportunities and their impact analysis on the market size is provided.
Porter's five forces analysis illustrates the potency of buyers and suppliers operating in the industry.
The quantitative analysis of the global inhalation anesthesia market from 2019 to 2026 is provided to determine the market potential.
 Inhalation Anesthesia Market Report Highlights
Aspects
Details
By Product

Sevoflurane
Desflurane
Isoflurane
Nitrous Oxide

By Application
By End User

Hospitals
Ambulatory Surgical Centers

By Region

North America (U.S., Canada, Mexico)
Europe (Germany, France, UK, Italy, Spain, Rest of Europe)
Asia Pacific (Japan, China, India, Australia, Rest of Asia-Pacific)
LAMEA (Brazil, Saudi Arabia, South Africa, Rest of LAMEA)

Key Market Players
Halocarbon Products Corporation., Jiangsu Hengrui Medicine Co., Ltd., Lunan Pharmaceutical Group Co. Ltd., ABBVIE INC., Novartis AG., Piramal Enterprises Ltd., Fresenius SE & Co. KGaA, BAXTER INTERNATIONAL INC., Troikaa Pharmaceuticals, Ltd., Hikma Pharmaceuticals PLC