The instant dry yeast market size was valued at $619.5 million in 2020 and is estimated to reach $1,273.50 million by 2030, registering a CAGR of 7.6% from 2021 to 2030.          
Instant Dry Yeast has been developed from special strains of yeast that withstand drying. It comes in smaller granules than active dry yeast, absorbs liquid rapidly, and doesn't need to be hydrated or proofed before being mixed into flour and dry ingredients. Bread Machine Yeast and Rapid Rise Yeast are instant yeasts that may include bread improvers such as ascorbic acid.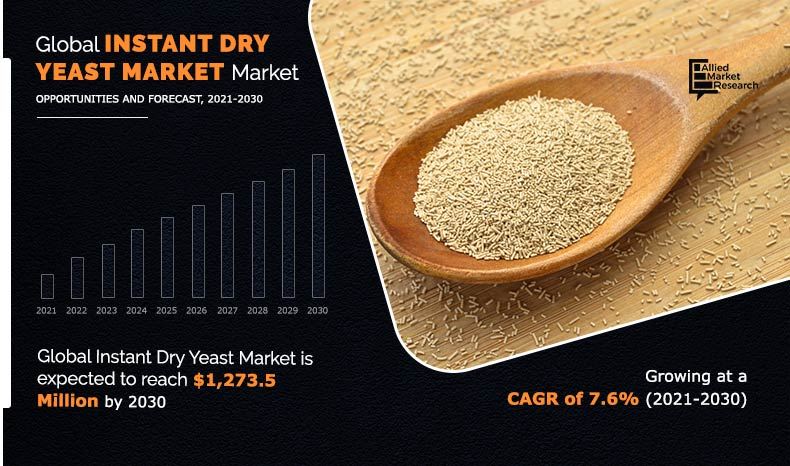 The production of active dry yeast is mainly from the molasses which is the end product of sugarcane/ sugar manufacturing plants, thus the production cost involved is also low. Hence, the available at cheap cost.
The instant dry yeast market is driven mainly by the end user industries such as bakery and confectionary. Yeast is a daily used item which is required at every home, which is used for fermentation process of various food items. Upsurge in working population has led to high demand for convenience or fast food, packaged food, and ready-to-eat food due to busy & hectic schedule. These foods are designed for ease of consumption such as shelf stable products, refrigerated or frozen products, and dry mixes, as they require minimal preparation. Furthermore, instant dry yeast are flavor enhancers, which alter the flavors of food products during processing to improve the quality and shelf life. In addition, these food additives help in enhancing the aroma, flavor, and taste of food products. Thus, due the benefits associated with instant dry yeast, they are increasingly used in ready-to-cook and ready-to-eat food products, which augments the growth of the global instant dry yeast market.
Outbreak of COVID-19 has negatively impacted the growth of the instant dry yeast market. This is attributed to the lockdown implemented across various countries, which has hampered food processing industries specially bakery and confectionary industry. Due to frequent lockdown practices, food services sector which includes fast food chains, hotels and restaurants are heavily impacted, which in turn, hampered the demand for instant dry yeast. Dry yeast is concededly used in the food services industries. 
According to the Instant Dry Yeast market analysis, the instant dry yeast market segmented into packaging type, distribution channel, end user and region. On the basis of packaging type, the market is categorized into Pouch, Bottle and Others. On the basis of distribution channel, the market is segmented into, Supermarket/Hypermarket, Convenience stores, E-Commerce and Others. By end user, market is categorized into, QSR, Food Services, Bakery and Confectionery, Household and Others. Region wise, it is analyzed across North America (the U.S., Canada, and Mexico), Europe (Germany, France, UK, Italy, Spain, Russia and Rest of Europe), Asia-Pacific (China, Japan, India, Australia, South Korea, Indonesia and Rest of Asia-Pacific), and LAMEA (Brazil, Argentina, United Arab Emirates, South Africa, Saudi Arabia and Rest of LAMEA).
On the basis of packaging type, the pouch segment was the highest contributor to the market, with $258.0 million in 2020, and is estimated to reach $494.8 million by 2030, at a CAGR of 6.86% during the forecast period. Pouch packaging has been gaining significant traction in food and beverages industries owing to benefits associated such as low shipping costs, flexible, durable, sustainable and customizable. Furthermore, food packaging industries are coming with innovative packaging solutions for end users such as zipper pouches  has gained considerable popularity as it can re-sealable. Thus, innovation in the pouch packaging and increasing demand for durable and flexible packaging is likely to garner the growth of instant dry yeast market during the forecast period.
According to the instant dry yeast market trends, on the basis of distribution channel, the supermarket/hypermarket segment has considerable share in global instant dry yeast market. Supermarket and hypermarket focus on maximizing product sales to increase their profit margins. Supermarket and hypermarket effectively display variety of yeast including instant dry yeast. In North America and Europe, supermarkets and hypermarkets are the most preferred retail outlets for purchase of consumer goods. Increasing urbanization, rising working class population and competitive pricing is boosting the popularity of Supermarket and hypermarket in the developed and developing region. Supermarket and hypermarket is one-stop shops for wide variety of products. In addition, easy accessibility and availability of different brands further increases the consumer base of Supermarket and hypermarket, which in turn favor the growth of instant dry yeast market.
On the basis of end user, The QSR segments are expected to witness significant CAGRs of 8.39%, during the forecast period, and is estimated to 266.1 million by 2030. Experimental food items, limited edition menu, and unique food combinations are the key factors that increase the popularity of quick service restaurant chains. McDonalds, Domino's and KFC are some of the prominent fast food chains operating worldwide. Customers prefer fresh, appealing, and appetizing food at a reasonable cost. Rapid changes in the supporting factors such as disposable income, consumer preferences, increase in working women population, and digitization increase the number of quick service, pop & shop, and other types of restaurants, thereby driving the growth of instant dry yeast market.
According to the instant dry yeast market opportunities. Region wise, Europe garnered a major share in product market in 2020, and is expected to maintain its dominance throughout the Instant Dry Yeast market forecast period.  With high disposable income, the demand for instant dry yeast among the European consumers is expected to rise, thereby boosting the growth of the market. Huge demand for ready meal, packed food products, and snacks is witnessed in the European market, which fuels the demand for instant dry yeasts, due to their increased use in end products. Natural instant dry yeasts are preferred in the European market, owing to increase in consumer awareness regarding side effects of artificial colors. Europe is traditionally a rich country in terms of taste and cuisine; thus, it exhibits high potential for the instant dry yeast industry, owing to different cultures and food practices.
The players operating in the global product market have adopted various developmental strategies to expand their market share, increase profitability, and remain competitive in the market. The key players profiled in this report include Lesaffre, Hagold Hefe Gmbh, Asmussen Gmbh, ACH Food Companies, Inc, Fleischmann's Yeast, LALLEMAND Inc, AB Mauri Food, Pakmaya, Angel Yeast and Keliff'.
Key Benefits For Stakeholders
The report provides a quantitative analysis of the current trends, estimations, and dynamics of the market size from 2020-2030 to identify the prevailing opportunities.
Porter's five forces analysis highlights the potency of buyers and suppliers to enable stakeholders to make profit-oriented business decisions and strengthen their supplier–buyer network.
In-depth analysis and the market size and segmentation assist to determine the prevailing market opportunities.
The major countries in each region are mapped according to their revenue contribution to the instant dry yeast market share. 
The market player positioning segment facilitates benchmarking and provides a clear understanding of the present position of the market players in the instant dry yeast industry.
Key Market Segments  
By Packaging Type
By Distribution Channel
Supermarket/Hypermarket
Convenience stores
E-Commerce
Others
By End User
QSR
Food Services
Bakery and Confectionery
Household
Others
By Region
North America
Europe

Germany
France
UK
Italy
Spain
Russia
Rest of Europe

Asia-Pacific

China
Japan
India
Australia
South Korea
Indonesia
Rest of Asia-Pacific

LAMEA

Brazil
Argentina
United Arab Emirates
South Africa
Saudi Arabia
Rest of LAMEA