Insurance Brokerage Market Outlook - 2027
The global insurance brokerage market was valued at $265.03 billion in 2019, and is projected to reach $395.04billion by 2027, growing at a CAGR of 7.3% from 2020 to 2027. An insurance broker plays a vital role in the growth of economic development and act as an intermediary between policyholder and insurers. Insurance brokers offer technical and professional advice about insurance products to their clients. The insurance products provided by brokers include medical insurance, property & casualty insurance, and health insurance. Insurance brokers work closely with their clients in order to cater to their needs with respect to coverage. Hence, insurance brokers represent consumers because they find proper terms, condition, and price and recommend them accordingly about the insurance policy that best fits the bill.
The COVID-19 outbreak had a negative impact on growth of the Insurance Brokerage Market due to decline consumer demand for insurance, shutdown of various insurance brokerage firms across the developing nations and shareholders of the publicly hold insurance brokers companies are withdrawing their contribution from the company to rise fund to fulfil their daily and conventional needs.
According to the WNS Holdings Ltd., the market has immense opportunities to grow across the world. It has been observed that insurance brokerage market reached up to $60 billion in 2019, owing to major contribution in insurance premiums accounted for more than 60% by the U.S. and European region. As digital technologies evolve, insurance broking firms are also looking for new ways to optimize their businesses. To enhance their processes, reduce cost and retain customers, insurance brokerage firms are highly investing in technologies such as AI, Big data while expanding the use of mobile devices, IoT, and others. These technologies provide extensive data and insights about clients to insurance brokerage firms and enable them to provide timely pertinent coverage based on individual needs.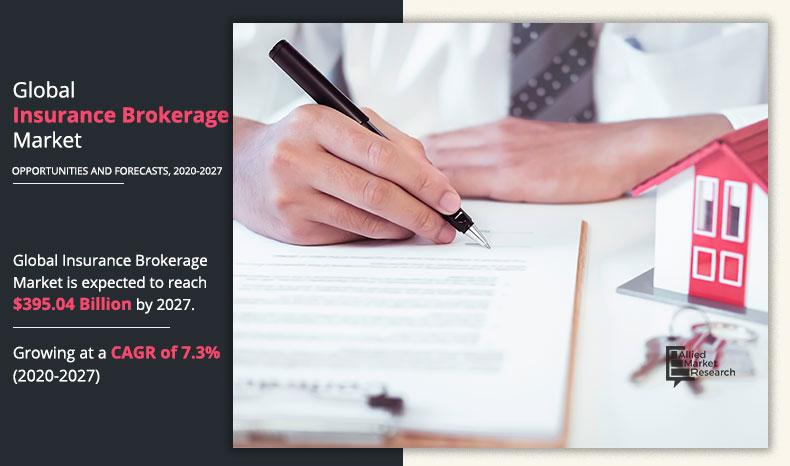 Increased demand for insurance policies, integration of IT & analytic solutions, and providing professional solutions and services are the major factors that drive the growth of the global insurance brokerage market. Moreover, direct purchases of insurance policies by customers and massive availability of alternative platforms for purchasing insurance policy hamper the growth of the market. Furthermore, implementation of technologies in existing products and service lines and government initiatives regarding insurance policies are expected to provide lucrative opportunity for the insurance brokerage market forecast period.
The life insurance segment is expected to garner a significant share during the forecast period owing to its various benefits provided to the end user which include guaranteed income, valuable return on investment, death benefits, tax benefits and others. However, the property & casualty insurance segment is expected to grow at the highest rate during the forecast period, due to rising awareness about the advantage of property & casualty insurance among the developing nations of Asia-Pacific and LAMEA.
Region wise, the insurance brokerage market was dominated by North America in 2019, and is expected to retain its position during the forecast period. The major factors that drive the growth of the market in this region include the presence of key players and help client find affordable home insurance, travel insurance, and health insurance. 
Moreover, several insurance brokers across the U.S. and Canada are making investment innovative technology to improve their customer retention rate and grow insurance brokerage market share. However, Asia-Pacific is expected to witness significant growth rate during the forecast period, owing to surge in adoption of mobile telematics technology by insurance companies among the developing nations such as China and India. 
The report focuses on the insurance brokerage market growth prospects, restraints, and trends of the global insurance brokerage market analysis. The study provides Porter's five forces analysis to understand the impact of various factors such as bargaining power of suppliers, competitive intensity of competitors, threat of new entrants, threat of substitutes, and bargaining power of buyers on the global car insurance market.
Segment Review
The global insurance brokerage market is segmented on the basis of insurance type, brokerage type, and region. In terms of insurance type, it is fragmented into life insurance and P&C insurance. Depending on brokerage type, it is bifurcated into retail brokerage and wholesale brokerage. Region wise, the market is analyzed across North America, Europe, Asia-Pacific, and LAMEA.
Insurance Brokerage Market

---
By Insurance Type
P&C insurance accounted for the largest market share
Competitive Analysis
The key players profiled in the insurance brokerage market report are Acrisure, LLC, Aon plc, Brown & Brown, Inc, Gallagher, HUB International Limited, Lockton companies, Marsh & McLennan Companies Inc., Truist Insurance Holdings, USI Insurance Services L.L.C, and Willis Towers Watson. These players have adopted various strategies to increase their market penetration and strengthen their position in the insurance brokerage industry.
COVID-19 Impact Analysis
The insurance brokerage market has witnessed significant growth in the past few years; however, due to the outbreak of the COVID-19 pandemic, the market is projected to witness a minute downfall in 2020. This is attributed to implementation of lockdown by governments in most countries and shutdown of businesses and public & private organizations across the world to prevent transmission of the virus. In addition, the shareholders of the publicly hold insurance brokers companies are withdrawing their contribution from the company to rise fund to fulfill their daily and conventional needs. For instance, according to survey conducted by Oliver Wyman in April 2020, the shareholders of approximately 50% of the top 30 insurance brokers have withdrawing their stocks during COVID-19 outbreak, which is negatively impacting the global insurance brokers market size growth.
Insurance Brokerage Market

---
By Brokerage Type
Retail Brokerage will secure the leading position during forecast period
Furthermore, significant rise in need of insurance brokers in insurance companies has been observed, owing to potentially decline in auto and home claims volumes during the COVID-19. In addition, leading insurance providers are showing more interest on insurance brokers for enhancing their business processes and provide immediate insurance services all across the globe.  Moreover, post COVID-19, it is expected that insurance brokers will be to provide more priority to different types of insurance services such as understanding customers insurance coverage requirements, simplifying insurance distribution process and delivering accurate policy comparison service.
Top Impacting Factors
Increased Demand for Insurance Policies
The insurance brokerage market has experienced an increase in the demand for the insurance policies such as health insurance policy, auto insurance policy, and life insurance policy, among others. This increase in the demand is mainly due to increased awareness toward insurance policy among consumers, learning about the importance of insurance policies, and numerous benefits provided to the policy holders. Therefore, increase in demand for the insurance policy has led to a boost in the market, as the policy holders need the services of a broker while purchasing a policy that is suitable based on their needs & preferences.
Government Initiatives Regarding Insurance Policies
Several government bodies are undertaking huge initiatives regarding insurance policies and allowing customers to avail benefits of wide range of coverage. In addition, through survey data & publications, governments are making customers aware of the various opportunities and risk coverages that can be covered under an insurance policy. Furthermore, government is providing various schemes which is helping the insurance industry to provide insurance policies to all the sections of the society. Therefore, these initiatives by government are expected to provide lucrative opportunities to the marker in the upcoming years.
Insurance Brokerage Market

---
By Region
Asia-Pacific would exhibit the highest CAGR of 9.3% during 2020-2027.
Key Benefits For Stakeholders 
The study provides an in-depth analysis of the global insurance brokerage market trends along with the current future estimations to elucidate the imminent investment pockets.
Information about key drivers, restraints, and opportunities and their impact analysis on the global insurance brokerage market size is provided in the report.
Porter's five forces analysis illustrates the potency of the buyers and suppliers operating in the industry.
The quantitative analysis of the market from 2019 to 2027 is provided to determine the market potential.
 Insurance Brokerage Market Report Highlights
Aspects
Details
By Insurance Type

Life Insurance
Property & Casualty Insurance

By Brokerage Type

Retail Brokerage
Wholesale Brokerage

By Region

North America (U.S, CANADA)
Europe (Germany, France, UK, Italy, Spain, Rest of Europe)
Asia-Pacific (China, Japan, India, Australia, South Korea, Singapore, Rest of Asia-Pacific)
LAMEA (Latin America, Middle East, Africa)

Key Market Players
MARSH AND MCLENNAN COMPANIES INC, USI INSURANCE SERVICES LLC, TRUIST INSURANCE HOLDINGS, ACRISURE LLC, LOCKTON COMPANIES, WILLS TOWERS WATSON, AON PLC, HUB INTERNATIONAL LIMITED, BROWN AND BROWN INC, GALLAGHER