The global health insurance market size was valued at $1.98 trillion in 2020, and is projected to reach $4.15 trillion by 2028, growing at a CAGR of 9.7% from 2021 to 2028. 
The unprecedented outbreak has accelerated the demand for COVID-19 specific as well as comprehensive health insurance among individuals, owing to sharp rise in medical costs and increased awareness towards policy benefits.
Health insurance covers medical expenses incurred during treatment of any disease, injury, or other mental & physical impairment. It acts as compensation in exchange for a monthly/semi-annual/annual premium or a payroll tax to provide healthcare benefits. The insurer is obliged to cover medical expenses for the policy holder up till the tenure and coverage of the policy. Depending on the policy, the coverage may vary for numerous factors, including diseases, age group, government policies, and others.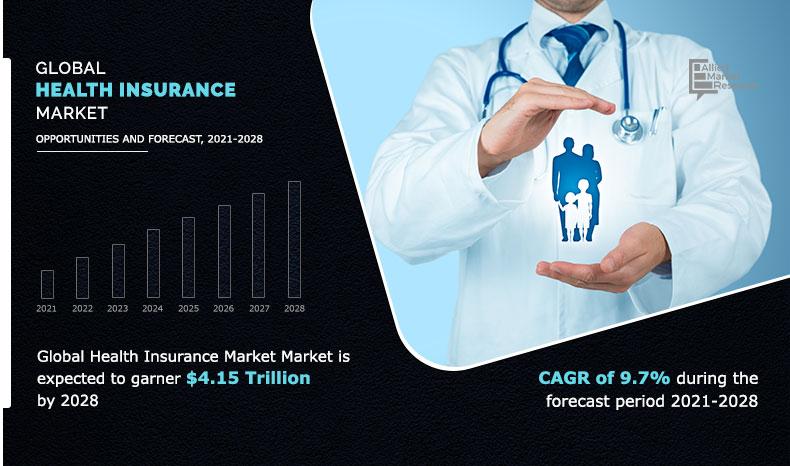 Increase in instances of several diseases, such as cancer, dengue, and diabetes, during the COVID-19 pandemic is considered as an important factor boosting the global health insurance market growth. In addition, improving claim management services and surge in awareness of health insurance in rural areas are some of the major factors that propel the market growth. However, lack of knowledge about coverages included in health insurance policy and increase in health insurance premium cost are some of the factors that limit the health insurance market opportunity. Furthermore, increased usage of advanced technology among healthcare professionals to treat chronic diseases, such as cancer and cardiovascular diseases, is expected to boost the medical treatment cost. Therefore, these high treatment costs become unaffordable to consumers and thus, adoption of health insurance is expected to grow tremendously in the coming years. 
The report focuses on growth prospects, restraints, and trends of the health insurance market analysis. The study provides Porter's five forces analysis to understand the impact of various factors, such as bargaining power of suppliers, competitive intensity of competitors, threat of new entrants, threat of substitutes, and bargaining power of buyers, on the health insurance market.
Segment review
The health insurance market share is segmented on the basis of distribution channel, insurance type, coverage, end user type, age group, and region. By distribution channel, it is segmented into direct sales, brokers/agents, banks, and others. By insurance type, it is bifurcated into diseases insurance and medical insurance. Based on coverage, it is segregated into Preferred Provider Organizations (PPOs), Point of Services (POS), Health Maintenance Organizations (HMOs), and Exclusive Provider Organization (EPO). By end user type, the medical insurance market is divided into group and individuals. Based on age group, it is segmented into senior citizens, adult, and minors. By region, it is analyzed across North America, Europe, Asia-Pacific, and LAMEA. 
Health Insurance Market

---
By Coverage
PPOs coverage accounted for the highest market share in 2020
The report analyzes the profiles of key players operating in the health insurance market such as Aetna Inc., AIA Group Limited, Allianz, ASSICURAZIONI GENERALI S.P.A., Aviva, AXA, Cigna, Ping An Insurance (Group) Company of China, Ltd., UnitedHealth Group, and Zurich. These players have adopted various strategies to increase their market penetration and strengthen their position in the health insurance industry.
COVID-19 impact analysis
The COVID-19 outbreak has impacted the life & businesses of all the individuals globally. The pandemic has increased the need for purchasing health insurance among customers to perceive better medical facilities & healthcare treatments amidst the growing spread of coronavirus. Furthermore, there is rapid growth in hospitalization due to the COVID-19 outbreak. Therefore, health insurance claims have increased tremendously. In addition, the spread of this health crisis across the globe is one of the major reasons behind the increase in health insurance premium as the situation has laid an enormous pressure on the insurance companies in the market.  
Health Insurance Market

---
By Age Group
Senior Citizens segment is projected as one of the most lucrative segments.
Top impacting factors
Surge in awareness of health insurance in the rural areas
The health insurance market trends is accelerating in rural areas at a faster rate as it offers numerous benefits such as reimbursing the insured person's illness treatment cost and paying a lump sum amount in prolonged case. In addition, customers in rural areas are more aware of health insurance comprehensive coverages, such as in-patient hospitalization expense, pre-hospitalization & post-hospitalization expenses, ambulance expenditures, and domiciliary hospitalization costs, which drives the market growth. Moreover, doctors and teachers in rural areas have increased the awareness of health insurance policy, which is propelling the growth of the health insurance market. Furthermore, government organizations, such as bank and co-operative bank, play a significant role to increase the penetration of health insurance products in rural areas as it delivers affordable insurance policy and streamlines the claim settlement process. Therefore, increase in awareness of health insurance in rural areas is propelling the growth of the market across the globe.   
Increase in health insurance premium cost  
Companies providing health insurance have increased the insurance premium cost, owing to rise in healthcare expenses such as cost of medicines, hospital admission charges, and cost of various other treatments. In addition, most of the consumers across the globe have been infected with several chronic diseases such as heart disease, Alzheimer's, and diabetes. Healthcare professionals have been imposing huge cost for the treatments of such chronic diseases. Therefore, insurance companies are responsible to address massive claim settlement cost, which hinders the market growth.  
Health Insurance Market

---
By Region
Asia-Pacific would exhibit the highest CAGR of 12.6% during 2021-2028
Key benefits for stakeholders 
The study provides in-depth analysis of the global health insurance market share along with current & future trends to illustrate the imminent investment pockets.
Information about key drivers, restrains, & opportunities and their impact analysis on the global health insurance market size are provided in the report.
Porter's five forces analysis illustrates the potency of buyers and suppliers operating in the health insurance market.
An extensive analysis of the key segments of the industry helps to understand the global health insurance market trends.
The quantitative analysis of the global health insurance market size from 2021 to 2028 is provided to determine the market potential.
 Health Insurance Market Report Highlights
Aspects
Details
BY DISTRIBUTION CHANNEL

DIRECT SALES
BROKERS/AGENTS
BANKS
Others

By Insurance Type

Disease Insurance
Medical Insurance

By Coverage

PREFERRED PROVIDER ORGANIZATIONS (PPOS)
POINT OF SERVICE (POS)
HEALTH MAINTENANCE ORGANIZATIONS (HMOS)
EXCLUSIVE PROVIDER ORGANIZATIONS (EPOS)

BY END USER TYPE
BY AGE GROUP

SENIOR CITIZENS
ADULT
MINORS

By Region

North America (U.S., Canada)
Europe (Germany, France, Spain, Switzerland, Netherlands, Rest of Europe)
ASIA-PACIFIC (China, India, Japan, South Korea, Rest of Asia-Pacific)
LAMEA (Latin America, Middle East, Africa)

Key Market Players
AETNA INC., AIA GROUP LIMITED, ALLIANZ, ASSICURAZIONI GENERALI S.P.A., AVIVA, AXA, CIGNA, PING AN INSURANCE (GROUP) COMPANY OF CHINA, LTD., UNITEDHEALTH GROUP, ZURICH