Internet Advertising Market Statistics: 2027
The global internet advertising market size was valued at $319 billion in 2019, and is projected to reach $1,089 billion by 2027, registering a CAGR of 17.2% from 2020 to 2027. Internet advertising is the process of using the internet as a medium to deliver marketing or promotional messages to an identified as well as intended audience. It helps to attract website traffic & brand exposure, and is designed to encourage the targeted consumer to engage in a specific action such as making a purchase. It is one of the most effective ways for all businesses to find new customers, expand their reach, and diversify their revenue streams. Businesses use internet advertising (such as banners, pay-per-call ads, pay-per-click ads, and pop-ups) in e-newsletters, on search engines, on compatible websites, and in online versions of magazines and newspapers as a way of reaching out to people who use the internet for shopping or to gather information. Internet advertising not only helps brands to find the right audience but it is also the fast & easy way of advertising, which helps keep the target audience engaged. 
Utilization of the social media during the COVID-19 pandemic has increased tremendously which resulted into increased use of social media platforms to promote the TV shows, movies, music, and other media content with the target audience which drives the growth of internet advertising in media & entertainment industry. The promotion and marketing of the entertainment and media content over Instagram, Facebook, and Twitter have become the trend in recent times, as the social media is helping in engaging the audience in the content and creating an excitement before it releases on the respective platforms.
On the basis of Ad format, the search engine advertising or search engine marketing segment exhibited the highest growth in the internet advertising industry in 2019, and is expected to maintain its dominance in the coming years due to the rise in number of consumers who are shopping and researching for products online. In addition, the increase in need of multinational companies to become more reachable, searchable, and visible across the internet propels the growth of the search engine advertising market. However, the social media advertising segment is expected to witness the highest growth as the due to the accelerating demand of social media platforms.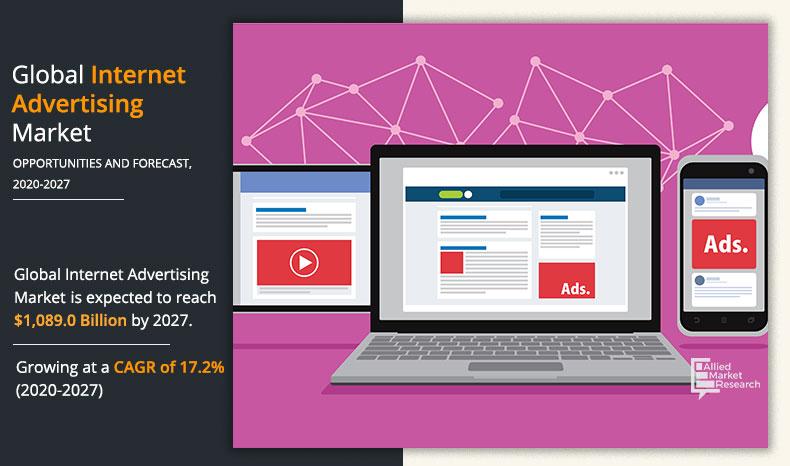 Get more information on this report : Request Sample Pages
By platform type, the global internet advertising market share was dominated by the mobile segment in 2019, and is expected to maintain its dominance in the coming years due to various factors such as increase in mobile device and mobile internet users, growth in popularity of social media, and time spent on mobile devices. Furthermore, the key players-operating in the mobile-based advertising industry create and develop mobile advertising content that can easily support mobile devices. Moreover, rise in trend of e-commerce and m-commerce further propels growth in internet advertising on mobile platform as more and more people use their mobile phones to browse the internet and enjoy internet-based shopping services.
Get more information on this report : Request Sample Pages
By industry vertical, the global internet advertising market share was dominated by the retail & e-commerce segment in 2019, and is expected to maintain its dominance in the coming years due to the rise in need for smaller businesses in the retail and consumer goods industry to compete with larger organizations in an increasingly competitive marketplace filled with innovation. Various retailers are advancing their internet advertising strategies to enable shoppers know about their business and drive traffic to their e-commerce site.
Get more information on this report : Request Sample Pages
North America dominates the internet advertising market due to the surge in advertisers' spending on digital advertising. This is a major factor that drives the growth of the market in this region. For instance, the Olympic Games in Tokyo and the 2020 elections are anticipated to boost ad spending in the U.S., helping to propel the internet advertising market growth. Magna Global, the strategic global media unit of IPG Mediabrands, expected the U.S. ad spending to increase at the rate of 5.1% in 2019 to 6.6% in 2020. However, Asia-Pacific is expected to observe highest growth rate during the forecast period as the proliferation of mobile, social media, and apps is the major driving factor for the progressively growing internet advertising market across the region. Particularly, in countries, such as India, China, and Indonesia, apps are growing importance due to the ubiquity of smartphone usage as well as gaming.
Get more information on this report : Request Sample Pages
The report focuses on the growth prospects, restraints, and internet advertising market opportunity. The study provides Porter's five forces analysis of the internet advertising industry to understand the impact of various factors, such as bargaining power of suppliers, competitive intensity of competitors, threat of new entrants, threat of substitutes, and bargaining power of buyers, on the internet advertising market trends.
Get more information on this report : Request Sample Pages
Segment review
The internet advertising market is segmented on the basis of type, platform, organization size, industry vertical, and region. On the basis of type, it is categorized into search engine advertising/search engine marketing, display advertising, mobile advertising, social media advertising, video advertising, online classifieds ads, and others. Based on platform, it is classified into mobile; laptop, desktop, & tablets; and others. As per the enterprise size, it is bifurcated into large enterprises and small & medium-sized enterprises. Depending on industry vertical, it is divided into automotive, healthcare, media & entertainment, BFSI, education, retail & consumer goods, transport & tourism, IT & telecom, and others. Region-wise, it is analyzed across North America, Europe, Asia-Pacific, and LAMEA.
Get more information on this report : Request Sample Pages
COVID-19 impact analysis
Post COVID-19, the value of the internet advertising market is estimated to grow from $359 billion in 2020, and is projected to reach $1,089 billion by 2027, growing at a CAGR of 17.2%. The current estimation of 2027 is projected to be higher than pre-COVID-19 estimates. The COVID-19 outbreak has low impact on the growth of the internet advertising market. It is predicted that various brands may reduce their advertising spend given the economic impact of COVID-19; however, the uptick in social media traffic has presented unique opportunities to engage with online audiences while keeping the brand awareness high. In addition, the coronavirus has spread uncontrollably and governments across the globe are still trying to contain it by closing public spaces, schools, and borders; this has transformed all businesses and marketers to update their online marketing strategies. In addition, businesses are expected to invest more in online advertising due to the pandemic, which fuels the market growth. For instance, according to the Interactive Advertising Bureau (IAB), it is estimated to witness 24% decline in traditional TV advertising spend in 2020 vs. 2019; however, connected TV advertising spend is estimated to grow at 19% year over year.
Get more information on this report : Request Sample Pages
Top impacting factors    
The growth of the global internet advertising market is driven by factors such as extensive adoption of smartphones, emergence of high-speed internet, proliferation of social media, rise in advertising spends on digital media across various industries, and increase in popularity of streaming platforms. In addition, the increase in interest of business owners for online advertising due to COVID-19 to increase brand awareness and to gain competitive advantage fuels the market growth. However, rise in adoption of ad-blockers to avoid online advertising hinders the market growth to some extent. On the contrary, emergence of advertising automation is anticipated to provide lucrative opportunities for the market growth. In addition, rise in adoption of identity-based pay-per-click marketing by businesses to achieve greater success in their marketing is expected to be opportunistic for the online advertising market growth during the internet advertising market forecast period.
Extensive adoption of smartphones and emergence of high-speed internet 
The use of smartphones has grown rapidly and the way consumers interact with various brands or sellers has transformed, owing to the accessibility of high-speed internet on smartphones. This factor is expected to fuel the internet advertising market growth as it has become crucial for brands to understand consumers' interests with the help of smartphone advertisements and to stimulate their decision to purchase. Smartphones provide real-time marketing opportunities for advertisers to engage with users who truly want to associate with their brands. In addition, the market players offer new internet advertising solutions due to the rapidly growing demand for smartphone-based internet advertising, which is expected to further drive the internet advertising market. For instance, in October 2019, Tech Mahindra, an IT services provider, collaborated with InMobi, a marketing cloud firm, to offer a video advertising solution. The solution enables advertisers to develop and distribute engaging and innovative video advertisements on mobile phones.
Emergence of advertising automation
Automation technologies are rapidly emerging into the advertising sector. This is opportunistic for the online advertising market growth as automated internet advertising has provided benefits, such as efficiency, scale, and low cost, to advertising. The rise in adoption of automation technologies can be observed across various advertising platforms such as Google and Facebook. For instance, Google has integrated advertising automation through automated bidding strategies, automated ad copy, and automated PPC reporting. On the other hand, Automated Rules by Facebook automatically check users' campaigns, ad sets, & ads and help them manage multiple ads they are running at the same time. It is expected that by the end of 2020, 80% of the internet advertising process will be automated and the remaining 20% will consist of the advertising elements that would constantly need human connection such as storytelling, brand value, and other experiential tactics. Therefore, the emerging trend of automation technologies in internet advertising is expected to provide numerous opportunities for the market.
Key benefits for stakeholders 
This study includes the internet advertising market analysis, trends, and future estimations to determine the imminent investment pockets.
The report presents information related to key drivers, restraints, and opportunities of the online advertising market.
The internet advertising market size is quantitatively analyzed from 2019 to 2027 to highlight the financial competency of the industry.
Porter's five forces analysis illustrates the potency of buyers & suppliers in the internet advertising market.
 Key Market Segments
BY PLATFORM TYPE

Mobile
Desktop & Laptop
Others



By Ad Format

Search Engine Advertising/Search Engine Marketing
Display Advertising
Mobile Advertising
Social Media Advertising
Video Advertising
Online Classifieds Ads
Others



By Pricing Model

COST PER THOUSAND (CPM)/COST-PER-MILLE (CPM)
Performance Based Advertising
Hybrid
Others



By Enterprise Size

Large Enterprises
Small & Medium-Sized Enterprises



By Industry Vertical

Automotive
Healthcare
Media & Entertainment
BFSI
Education
Retail & Consumer Goods
Transport & Tourism
IT & Telecom
Others



By Region

North America
Europe

UK
Germany
France
Russia
Italy
Rest of Europe

Asia-Pacific

China
India
Japan
.Australia
South Korea
Rest of Asia-Pacific

LAMEA

Latin America
Middle East
Africa



 Key Market Players
ALIBABA GROUP HOLDINGS LIMITED
GOOGLE LLC
BAIDU , INC.
MICROSOFT CORPORATION
AMAZON WEB SERVICES, INC.
INTERNATIONAL BUSINESS MACHINES CORPORATION
FACEBOOK ,INC.
TWITTER INC.
VERIZON COMMUNICATION INC.
HULU LLC.