IoT Insurance Market Outlook - 2027
The global IoT insurance market size was valued at $8.63 billion in 2019, and is projected to reach $304.31 billion by 2027, growing at a CAGR of 57.1% from 2020 to 2027.
With disrupting effects of coronavirus in 2020 on various sectors, many insurance service provider companies are adopting various business and marketing strategies, including innovating their product portfolio and trying to come up with more advanced & suitable solutions as per client needs. For instance, in July 2020, Telit launched high-security, low-power IoT module named as WE310F5, which is integrated with Bluetooth low energy module and 802.11n. It helps insurance companies to improve the speed of data collection and data sharing with their consumers.
IoT in insurance refers to use of IoT devices by insurance companies to collect, transmit, and sharing critical data of insurers. In addition, IoT devices help insurance service providers to improve their understanding related to risk management as well as to improve productivity of employees and organizations. Furthermore, it provides different benefits to end users, which include improved claim management service, immediate risk management service, and reduce operating cost of organization during claim settlement management services.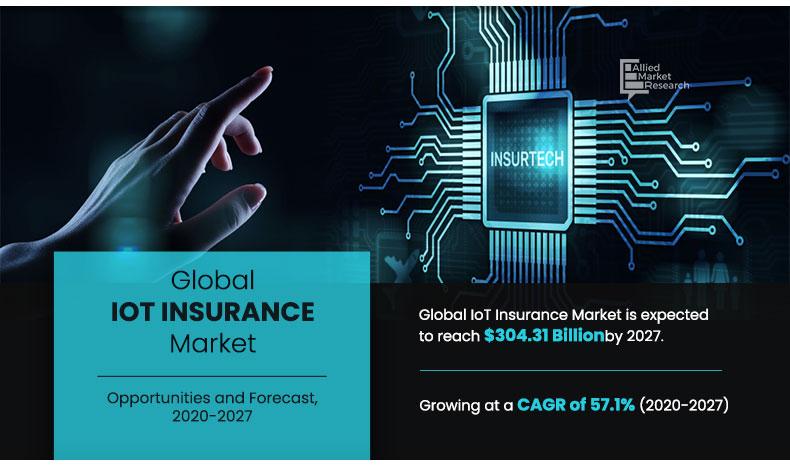 The key factors that drive the growth of the global IoT insurance market trends include rise in adoption of IoT product among business to receive data from a variety of sources and increase in adoption of telematics device among automotive and transportation sectors are some the important factors that boost the IoT insurance market across the globe. 
In addition, increase in investments by insurance companies in IoT technology to improve their operational efficiency propels growth of the global market. However, security and privacy issues of customer's personal information and lack of skills among workers for using IoT devices are restricting the IoT insurance market growth.  On the contrary, increase in adoption of advance technologies such as machine learning and artificial intelligence among the insurance industry is expected to offer remunerative opportunities for expansion of the global IoT insurance market during the forecast period. 
The property and casualty (P&C) insurance segment dominated the IoT insurance industry in 2019, and is projected to maintain its dominance during the forecast period, owing to rise in use of connected and telematics device among automotive and travelling industries and rapid adoption of IoT technology among the P&C insurance service providers for upsurging their revenue opportunity. 
Furthermore, life & health insurance is expected to grow at a significant CAGR during the forecast period, owing to surge in adoption of internet connected medical devices such as smartwatches, smartphones, and fitness trackers which are used constantly to collect user data and track their behavior or lifestyle is expected to offer lucrative opportunities for expansion of the global market.
Region wise, the IoT insurance market was dominated by North America in 2019, and is expected to retain its position during the forecast period. This is attributed to increase in awareness of smart devices among insurance companies and faster adoption of IoT product in the U.S. In addition, several major insurance provider companies such as Liberty Mutual, Progressive, and State Farm have been using IoT technologies to improve their risk assessment efficiency.
However, Asia-Pacific is expected to witness significant growth rate during the forecast period, owing to increase in use of IoT device such as drones, Wi-Fi dongles, wearables device, and inbuilt sensors among end-users that provides informative data. 
The report focuses on growth prospects, restraints, and trends of the global IoT insurance market analysis. The study provides porter's five forces analysis to understand impact of various factors such as bargaining power of suppliers, competitive intensity of competitors, threat of new entrants, threat of substitutes, and bargaining power of buyers on global IoT Insurance market.
Segment Review
The global IoT insurance market is segmented into component, insurance type, application, and region. As per component, the market is bifurcated into solution and service. In terms of insurance type, the market is fragmented into life & health insurance, property and casualty (P&C) insurance and others. Depending on application, it is bifurcated into automotive, transportation & logistics, life & health, commercial & residential buildings, business & enterprise, agriculture and others. Region wise, it is analyzed across North America, Europe, Asia-Pacific, and LAMEA.
Competitive Analysis
The key players operating in the global IOT Insurance industry include Accenture PLC, Aeris Group Ltd, Cisco Systems Inc., Concirrus, Google LLC, International Business Machines Corporation, Microsoft Corporation, Oracle Corporation, SAP SE and Telit. These players have adopted various strategies to increase their market penetration and strengthen their foothold in the IOT Insurance industry. 
COVID-19 Impact Analysis
Emergence of COVID-19 is expected to have positive impact on the IoT insurance market growth. This is attributed to increase in adoption of digital technology among insurance provider companies to receive client information for claim management. IoT technology is helping insurance industries during the present COVID-19 outbreak to securely collect patient health information through mobile cellular, wearable devices and sensor to deliver COVID-19 insurance service to customers.  
In addition, most insurance provider companies have been adopting IoT technology to delivers usage-based-insurance services for car, which drives growth of the market in this segment. For instance, Progressive Corporation, one of the leading insurance providers in the U.S have adopted IoT technology to deliver pay as you drive insurance service during the COVID-19 outbreak. This is considered as an important factor to boost the IoT insurance market during COVID-19 outbreak. 
Top Impacting Factors
Rise in Adoption of Iot in Developed and Developing Economies
Growth in awareness regarding IoT technology owing to its numerous benefits such as scalability, flexibility, security, and recovery are some of the major factors that are expected to drive adoption of IoT products among developed and developing economies. In addition, several insurance organizations are inclined toward integrated customization services, which has increased adoption of IoT product across the globe.
Moreover, rise in demand for IoT products among developing nations, owing to rise in connected devices among healthcare and automotive industries, which propels growth of the market. Furthermore, leading technological innovators, especially cloud service providers are striving to innovate APIs that help insurance companies integrate workloads and applications into cloud with ease. Several market players have introduced new APIs in developing nations of Asia-Pacific and LAMEA to increase their market value and to surge their revenue opportunities, which drives growth of the market.
Growth in Demand of Cloud Platform and Other Value-Added Services in Insurance Industry
Rise in adoption of cloud platform among insurance industries across the globe drives growth of the market. In addition, various insurance companies are rapidly adopting cloud-based platform, owing to its numerous benefits, which include increase in reliability and scalability of organizations and lowering infrastructure costs. Furthermore, various large and small size enterprises are integrating their assets on cloud platforms, which helps them to monetize investments in their business data and application logic.
This increases demand for cloud products among insurers to fully exploit advantages of cloud computing model. In addition, as cloud-native approach develops applications as micro-services and executes them on a containerized and dynamically orchestrated platforms, demand for these services is expected to propel growth of the market.
Key Benefits For Stakeholders     
The study provides an in-depth analysis of the global IoT insurance market forecast along with current trends and future estimations to elucidate the imminent investment pockets.
Information about key drivers, restraints, and opportunities and their impact analysis on global IoT insurance market share is provided in the report.
Porter's five forces analysis illustrates the potency of the buyers and suppliers operating in the industry.
The quantitative analysis of the market from 2020 to 2027 is provided to determine the market potential.
Key Market Segments
By Component
By Insurance Type
Life & Health Insurance
Property and Casualty (P&C) Insurance
Others
By Application
Automotive, Transportation & Logistics
Life & Health
Commercial & Residential Buildings
Business & Enterprise
Agriculture 
Others 
By Region
North America
Europe 

UK
Germany 
France
Italy
Spain
Netherlands
Rest of Europe

Asia-Pacific 

China
Japan
India
Australia
Taiwan
South Korea
Rest of Asia-Pacific

LAMEA

Latin America 
Middle East 
Africa
Key Market Players
Accenture PLC
Aeris Group Ltd
Cisco Systems Inc.
Concirrus
Google LLC
International Business Machines Corporation
Microsoft Corporation
Oracle Corporation
SAP SE
Telit