The global jet mill market size is expected to reach $185.7 million in 2027 from $138.7 million in 2019, growing at a CAGR of 4.9% from 2020 to 2027. A jet mill or jet pulverizer can grind average particle size between 1 and 10 micron. Jet milling is the process of reducing primary particle size by utilizing high pressure and compressed air to generate high velocity collision between particles. Collision between particles reduce particle size significantly. Jet mills are widely used for friable or brittle materials such as chemicals, pharmaceuticals, ceramics, polymers, and others. 
The COVID-19 pandemic has hindered the demand for jet mills especially during the first few quarters of 2020 owing to the halt in manufacturing activities, globally.
Rapid growth in cosmetics and lifestyle industry is expected to surge demand for jet mills. In current scenario, the cosmetics industry is significantly growing, owing to rise in demand for different makeup and healthcare products. Sanitary advantages of milling in jet mills make them a viable choice for applications in the cosmetics industry. Thus, growth in demand from the cosmetics industry is expected to drive growth of the jet mill market. Moreover, growth in demand from the pharmaceutical industry is one of the major drivers for the jet mill market. Jet mills are often adopted for manufacturing of pharmaceutical drugs and organic & inorganic pigments. Micronizing of drugs through jet mills offer better dissolving capacity in human body, which increases potency of drugs and reduction in dosages. Thus, growth in demand from the pharmaceutical industry is expected to drive growth of jet mill market.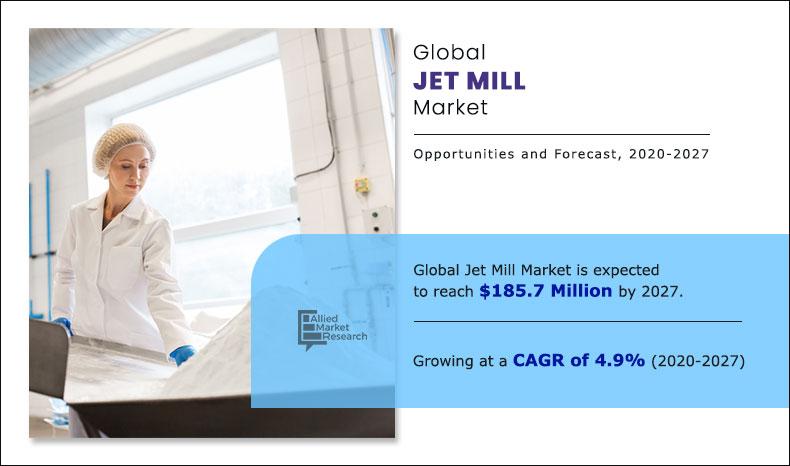 However, lower efficiencies offered by jet mills is a major restraining factor for the jet mill market. Jet mills require high energy for generation of air, which can be uneconomical for small scale users. This hinders growth of the jet mills market. In addition, the COVID-19 pandemic has resulted in halt of operations in industries, owing to prolonged lockdown in 2020. This has not only affected production of jet mills but also reduced their demand from end-user markets, which hampered growth of the jet mill market in 2020.
On the contrary, technological developments in industrial grade jet mills and increase in awareness regarding jet mills is expected to create opportunities for growth of the jet mill industry. Rise in expenditure on R&D facilities for development of jet mill products is expected to surge the market growth during the forecast period.
The global jet mill market is segmented into type, end-user industry, and region. On the basis of type, the jet mill market is categorized into spiral jet mill, fluidized bed opposed jet mill, and others. By end user industry, it is classified into chemical, pharmaceutical, minerals, and others. Based on capacity, the market is classified into less than 200 kg/h, 201 to 1000 kg/h, and more than 1000 kg/h.
Region wise, it is analyzed across North America (the U.S., Canada, and Mexico), Europe (Germany, France, Italy, and rest of Europe), Asia-Pacific (China, Japan, India, and rest of Asia-Pacific), and LAMEA (Latin America, the Middle East, and Africa). Asia-Pacific held the largest market share during 2019 and LAMEA is expected to grow at the fastest rate throughout the forecast period.
Competition Analysis
The key market players profiled in the report include Erich NETZSCH GmbH & Co. Holding KG, Fluid Energy Processing and Equipment Company, Freund, Ltd., Hosokawa Micron Corporation, Kurimoto, Ltd., Promas Engineers Private Limited, Shandong Alpa Powder Technology Co., Ltd., The Jet Pulverizer Company, Inc., Kunshan Unique Machinery Co., Ltd., Midas Microtech Engineering Private Limited.
Key Benefits For Stakeholders
The report provides an extensive analysis of the current and emerging global jet mill market trends and dynamics.  
In-depth analysis of the market is conducted by constructing estimations for the key segments between 2019 and 2027. 
Extensive analysis of the market is conducted by following key product positioning and monitoring of the top competitors within the market framework.
A comprehensive jet mill market opportunity analysis of all the countries is provided in the report.
The global jet mill market forecast analysis from 2020 to 2027 is included in the report.
The key market players within the market are profiled in this report and their strategies are analyzed thoroughly, which help to understand the competitive outlook of the industry. 
Global Jet Mill Market Segments
By Type
Spiral jet mill
Fluidized bed jet mill
Others
By End User Industry
Chemical
Pharmaceutical
Minerals
Others
By Capacity
Less than 200 kg/h
201 to 1000 kg/h
More than 1000 kg/h
By Region
North America
Europe

Germany
France
Italy
Rest of Europe

Asia-Pacific

China
Japan
India
Rest of Asia-Pacific

LAMEA

Latin America
Middle East 
Africa
Key Players
Erich NETZSCH GmbH & Co. Holding KG
Fluid Energy Processing and Equipment Company
Freund, Ltd.
Hosokawa Micron Corporation
Kurimoto, Ltd.
Promas Engineers Private Limited
Shandong Alpa Powder Technology Co., Ltd.
The Jet Pulverizer Company, Inc.
Kunshan Unique Machinery Co., Ltd.
Midas Microtech Engineering Private Limited